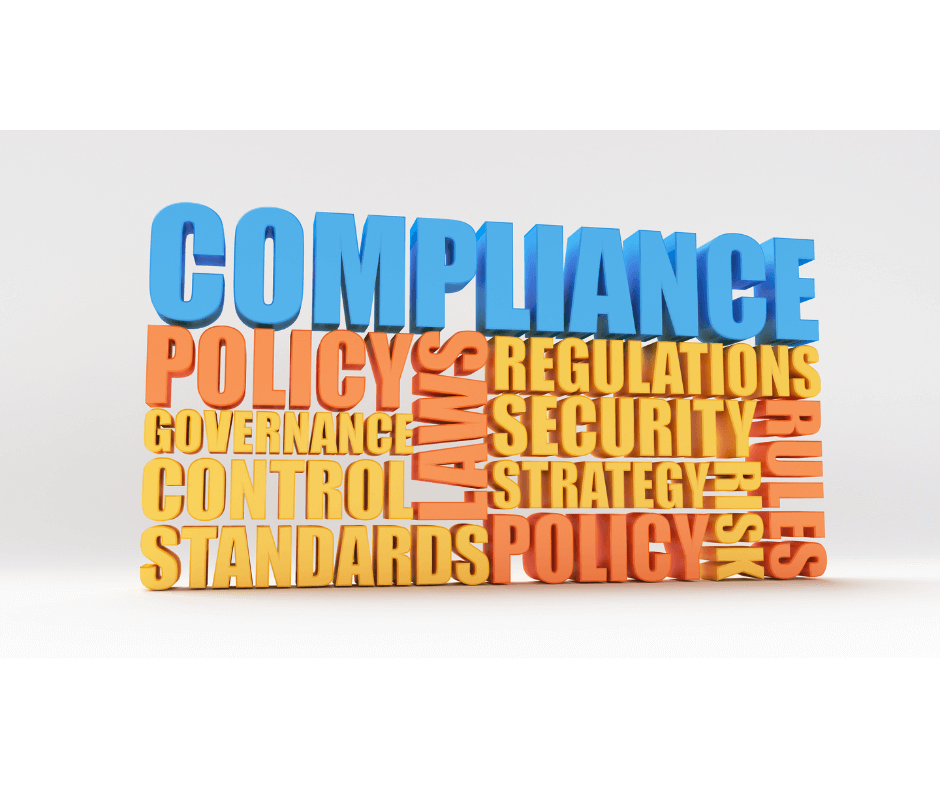 Editor's Note: Originally published on Apr. 17, 2020, last updated on Nov. 4, 2022.
Getting set up to sell on Amazon in 2022 or trying to end the year on a high note? Complying with Amazon rules, policies, and guidelines will make your life easier. Whether you're just starting out or you're an experienced Amazon seller trying to refresh your memory, here's a 5-minute crash course on Amazon selling rules.
With the sales season in full swing, it's important to have strict rules in place. That's something Amazon excels at. So, it should come as no surprise that there are countless Amazon rules to keep in check the nearly 2.5 million active sellers who handled 57% of sales this year.
Amazon's overarching policy is customer centricity. Creating positive experiences for customers is every seller's duty. But they must follow all the rules on the official Program Policies page. Here are the most important rules for anyone wanting to sell on Amazon in 2022:
First things first – sign your seller agreement. You do this when you set up your Amazon account. You can terminate it any time by contacting Amazon's representatives. It's a simple contract with straightforward terms. But pay special attention to the sections that mention these 10 caveats:
Amazon can withhold your funds if your performance is poor.
If you owe Amazon money, they can collect by any lawful means.
Amazon can impose transaction limits (the norm with novice sellers).
Amazon must give you 30 days' notice before terminating the contract.
If you're warned and you don't 'cure' in 7 days, you resort to illegal activity, or your actions harm customers or Amazon, they can terminate the agreement on the spot.
Amazon can only be held liable for amounts paid by sellers over the last 6 months.
You must indemnify Amazon for any expenses, including attorney's fees, rising from a third-party claim.
If your revenue exceeds the insurance threshold, then you must have excess liability insurance.
Sellers in North America consent to resolving legal disputes through binding arbitration.
If your password is compromised, you must change it immediately.
A. General Policies
Once you become an Amazon seller, you're bound to a series of Amazon rules. Some are general policies. Others apply to specific selling programs (e.g. FBA Small and Light, Amazon Handmade, etc.). Let's look at universal selling Amazon rules and how to avoid breaking them:
    a.  Selling Policies and Seller Code of Conduct
Sellers often break the Code of Conduct. When they do, they get suspended in a heartbeat. But these suspensions are completely avoidable. Simply read the rulebook before you start selling. If you want to sell on Amazon in 2022, here are 10 basic Amazon rules to remember: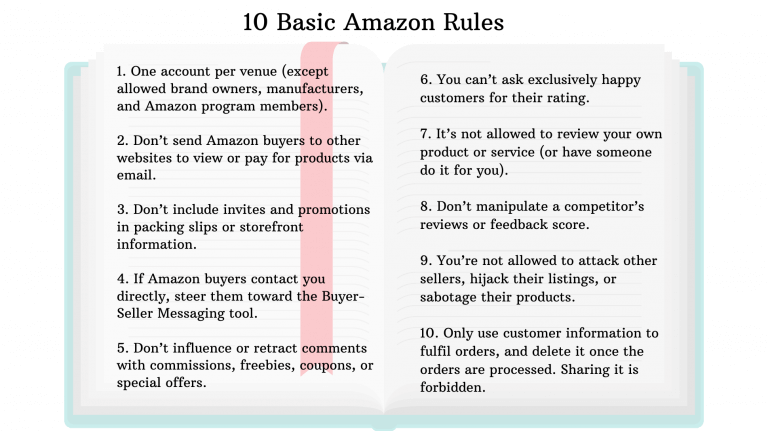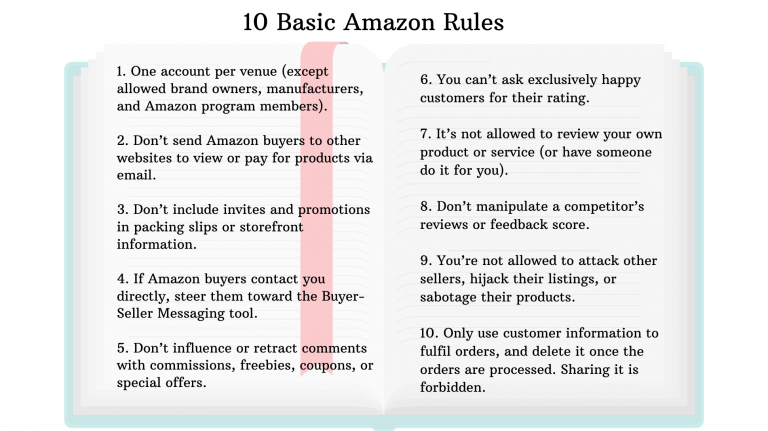 b.  Customer Product Reviews Policies
Aside from points 5 to 8 above, there are a few other Amazon rules to do with product reviews. Amazon has a zero-tolerance policy toward sellers who break these rules. To avoid suspension, lawsuits, deleted reviews, as well as being named and shamed, remember this:
Don't use review clubs or closed social media groups (e.g. Facebook groups) to solicit reviews.
Don't pay reviewers in private (e.g. via Paypal) for writing a review.
Don't divert negative feedbackA performance rating on a scale of 1 to … More while sending only positive reviewers to Amazon.
Don't create variations of the same product to accumulate product reviews.
The Account Health Rating (AHR) program policy help page explains that this rate is a score from 200 to 1,000. Every new seller starts at 200 and builds it up with stellar metrics. Here are some of the metrics that matter the most to third-party sellers:
But as seen above, AHR can also be affected by policy violations. A drop is based not only on their severity, but also on the level of repetition. Amazon is working on a new feature for the Account HealthAccount Health is an Amazon page which c… More dashboard that measures the graduating effect of repeat violations.
A new paragraph in the AHR policy also states that 2 types of repeat violations are especially harmful. Sellers who violate infringement policy 5 times and restricted Selling certain product categorie… More product policies twice over 180 days risk having their account deactivated. So, let's look at what that entails.
Intellectual Property infringement is a big deal. So big that you can get suspended with no prior warning if there's even the slightest chance that you broke these basic Amazon selling rules. To make your case, you need ironclad arguments. 'I didn't know' won't cut it.
We talked about IP infringement before on our blog. Our advice is for you to read our post titled How to Handle IP infringement Issues. It can help you get a grasp on concepts like trademark, patent, and copyright. Also, make sure you understand that you must sell:
Authentic items only, in line with the Amazon Anti-Counterfeiting Policy.
Items that don't violate IP rights, as per Amazon Intellectual Property Policy.
Items with the Amazon badge only when you comply with Trademark Usage Guidelines.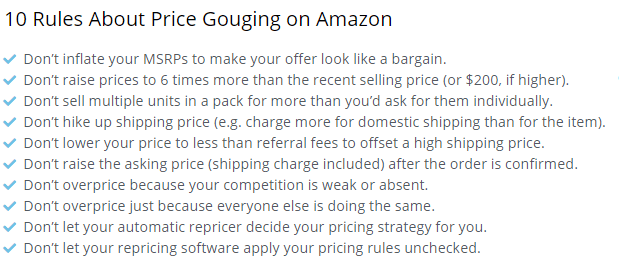 There are undisclosed limits to the number of new listings a seller can make. Amazon will go over them every week. So, make sure you don't create duplicate listings, sell multipacks instead of legitimate bundles, or list product variations that are not entirely accurate and consistent.
    c.  Category and Product Restrictions
Product restrictions include, but are not limited to, legal requirements. Expired products, testers, age-inappropriate or offensive products are just a few examples of products you can't sell on Amazon in 2022.
But there are also products that can only be sold in new condition or only through seller fulfillment. A tool like Profit Bandit can warn you about product restrictions before you buy an item, so that you're not stuck with inventory you can't sell.
When it comes to product categories, some are 'gated'. That's seller jargon for "requires approval". Storefronts like Made in Italy and restricted brands like Nike are gated. So too are warranties like the Watch Protection Plan.
The list of restricted categories includes Jewelry, Video, DVD, & Blu-Ray items. As eCommerceBytes explains, the Toys & Games category is also restricted, but only over the holidays.
Aside from restricting the sale of products, Amazon can also ban them entirely. For example, products that make unfounded claims about curing, treating, or preventing disease or holding regulatory or environmental accreditation can't be listed on any of its venues.
For example, the label on a dietary supplement bottle may claim that it's 'FDA-approved' or 'healing'. But the FDA does not approve dietary supplements or any other product that is not scientifically shown to cure, prevent, or treat health conditions. So, you can't list such an item.
The Quick Start Guide to listing on Amazon covers all the basics. The rules apply to all the sections of a product listing that a buyer can see. Here are some examples of forbidden content on Amazon's product detail pages:
code (e.g. HTML, JavaScript), except for line breaks (</br>) in descriptions.
contact information, URLs, prices, conditionProducts can only be listed on Amazon if… More or availability information.
spoilers, reviews, quotes, dates, and testimonials.
watermarks, borders, drawings, animation, and text on images.
anything other than a white background for your images.
images including items that are sold separately but don't have a listing of their own.
titles over 200 characters long, with capital letters (except initial letters), special characters, and references to promotions or product popularity.
Product categories should be classified correctly during the listing process. It's best to use the Product Classifier or the Browse Tree Guide. Also, check your Inventory Templates for special fields, because some categories come with special requirements. For more guidance on product image best practice, read these 7 Tips on Product Images.
There are three flavors of product guidelines on Amazon: product-based, category-based, and condition guidelines. Let's start with the guidelines that only refer to specific types of products. Sellers aren't allowed to list or sell these products on Amazon:
Software that is not available as a full retail version (i.e. promotional version or Beta).
Textbook whose cover or ISBN doesn't match the listing (e.g. paperback).
Promotional sample, bundle, or advance book copy.
Any expired or soon-to-expire product.
Items deemed unsellable or earmarked for disposal by the supplier or manufacturer.
Some of these Amazon rules are category specific. As mentioned in a previous post, cameras can only be sold in their original packaging. Unless the title says otherwise, that is. And computers without the original packaging can only be sold as 'Acceptable' on Amazon, unless they are part of the Certified Refurbished, Renewed, or Off Lease program.
But whatever the category, the item must be original, clean, and easy to use. It shouldn't need any repairs or servicing. And it shouldn't have any stains, corrosion, mold, or missing parts (usually). As you choose the condition and write the description, you should always follow these 7 Condition Guidelines: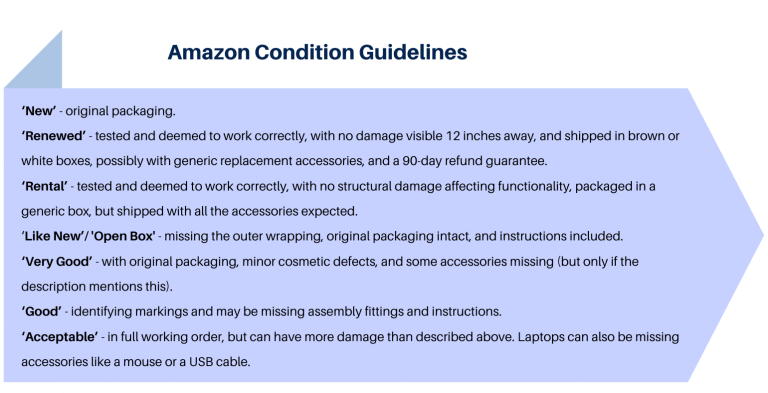 That's everything you need to know before you start to sell on Amazon in 2022. Why bother reading up on all these Amazon selling rules? It's very simple: buyers' expectations are very high, and they don't always read descriptions, policies, or storefront A storefront is the page Amazon u… More information.
To protect yourself from unfounded claims, help your business last, and make customers happy, keep up with these policies. And be prepared to politely remind your buyers often of just what the latest Amazon rules have to say.
Meanwhile, as you grow your business, make sure to sign up to our newsletter and follow our blog for all the latest news. And don't forget; we're here to help with expert advice from our Services team and clever repricing software like Sellery.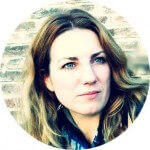 Melanie takes an active interest in all things Amazon. She keeps an eye on the latest developments and keeps Amazon sellers up to speed.