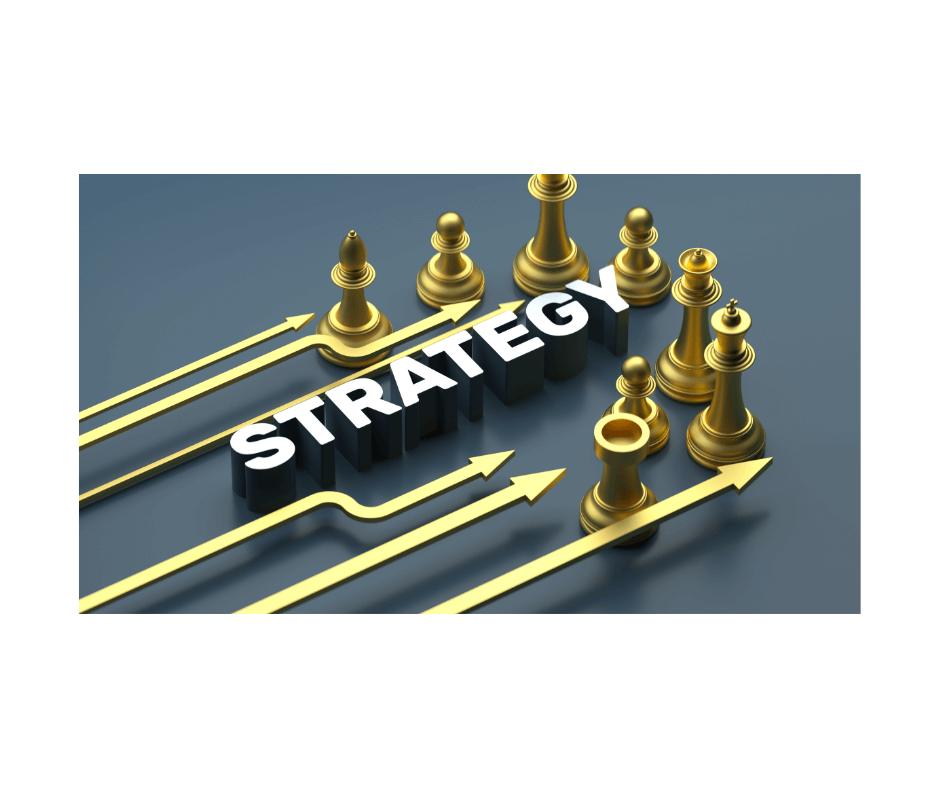 Editor's Note: Originally published on July 10, 2020, updated on May 4, 2023.
It's as good a time as any to start selling on Amazon. But do you have what it takes? With a few easy Amazon seller strategies and tips, you just might. Learn how to sell on Amazon in 2023, and turn this into your main earner.
If you're thinking about selling on Amazon, you've probably read the Beginners' Guide, heard about New Seller Incentives, and followed our series titled "How to Sell on Amazon in 2023". But are you ready? Pull out all the stops with these simple Amazon seller strategies for newcomers.
Marketing Strategies

Be Customer-Centric
Amazon's mantra is 'customer obsession'. If you're selling on Amazon, it follows that you should have a customer-centric approach too. But it's hard to make customers happy if you don't know what their tastes, budgets, and life circumstances are. Which brings us to buyer demographics…
Understand Your Customers
When you sign up for Brand Registry, Amazon helps protect your brand from counterfeiters. You can see it at work thanks to the Impact Dashboard. But you also gain access to other key tools, such as Brand Analytics.
On Amazon, a buyer's personal information is encrypted. So, you don't have enough buyer data to inform your marketing strategy and boost customer engagement; not unless you sign up for Brand RegistryAmazon Brand Registry is a tool that ena… More. It enables you to get to know your buyer, which is key to successful selling on Amazon.
Aside from valuable SEO data, this tool features the Consumer Behavior Dashboard. It's here that you'll find your Buyer Demographics data. You'll be able to see their age, gender, marital status, education, and income.
This dashboard breaks down your sales into age groups and income brackets. It gives you a rough idea who to target with your campaigns. So, you can choose your keywords and phrase your listings so that you attract that specific demographic (e.g., wealthy baby boomers, single millennials).
Advertise with Intent
There are many tools you can use when you're selling on Amazon to make your products reach more buyers. You can make your listing more appealing with the A+ tool, for instance. But when you're new to selling on Amazon, PPC campaigns are the most convenient way to highlight your offers.
You should opt for both Sponsored Brands Pay-Per-Click (PPC) ad platform f… More and Sponsored ProductsPay-Per-Click (PPC) ad platform for Amaz… More campaigns until you get the hang of things. Make sure your brand banner and USPs display well. And as for your sponsored product, check the look and location of your ad snippet on various types of devices.
To gauge your returns, use the advertising stats below provided by AdBadger and Influencer Marketing Hub. But before you spend on ads, make sure these products are what the buyers wanted. Alternate between manual and automated campaigns with Amazon's Automatic Targeting tool, and pay extra attention to negative keywords!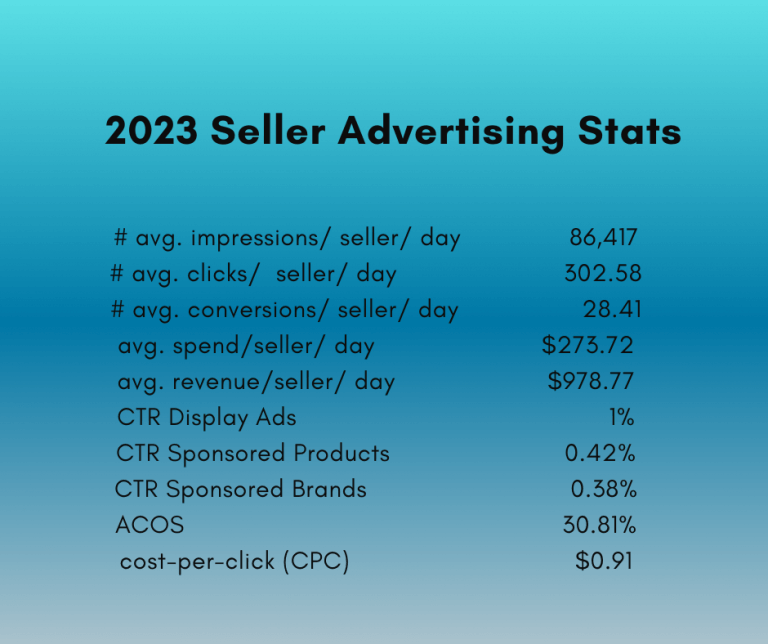 Know Your Products
There's a page in Seller Central that shows you what your customers think of your products, among other things. It's called Voice of the Customer. It enables you to see buyer comments, edit listings, create removal orders, and resolve item issues quickly. Products rated 'Fair' or worse could be troublesome.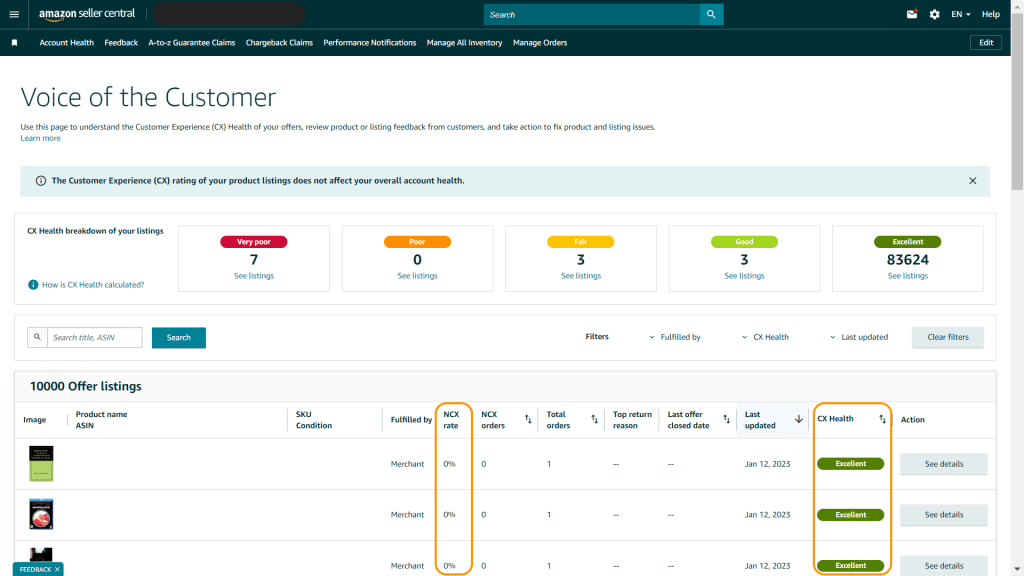 Sales Strategies

Keep Tabs on the Competition
Being successful at selling on Amazon comes down to profit, not turnover. And competitors can be a major thorn in your side when it comes to profit. That's why it's a good idea to keep up with the competition. Monitor their storefronts, listings, sales volume, keywords, and promotions as shown here.
To get an understanding of their packaging, equipment, locations, business model, internal practices, etc. place some test orders. But don't stop with your immediate competitors. Use a tool like Sellery to identify competitors from across your product category, especially if you sell private labelThis is what you call products manufactu… More items.
Monitor Your Own Sales
Obviously, the faster you sell the greater the demand for your product. But sales velocity also ties in with stock levels and pricing. If you don't reach your velocity limit, you can use sales velocity data to streamline your inventory management, boost turnover, and maximize profits.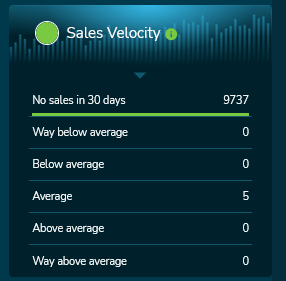 With BuyBoxBuddy analytics, you can view every item's sales velocity as well as its price history charts. This enables you to keep an eye on it using Smart Lists (groups of items with built-in filters). That way, you can raise prices for top-selling items, lower them for slow-movers, or direct BuyBoxBuddy to tweak it based on other factors like the Buy BoxThis refers to the situation where a sel… More price.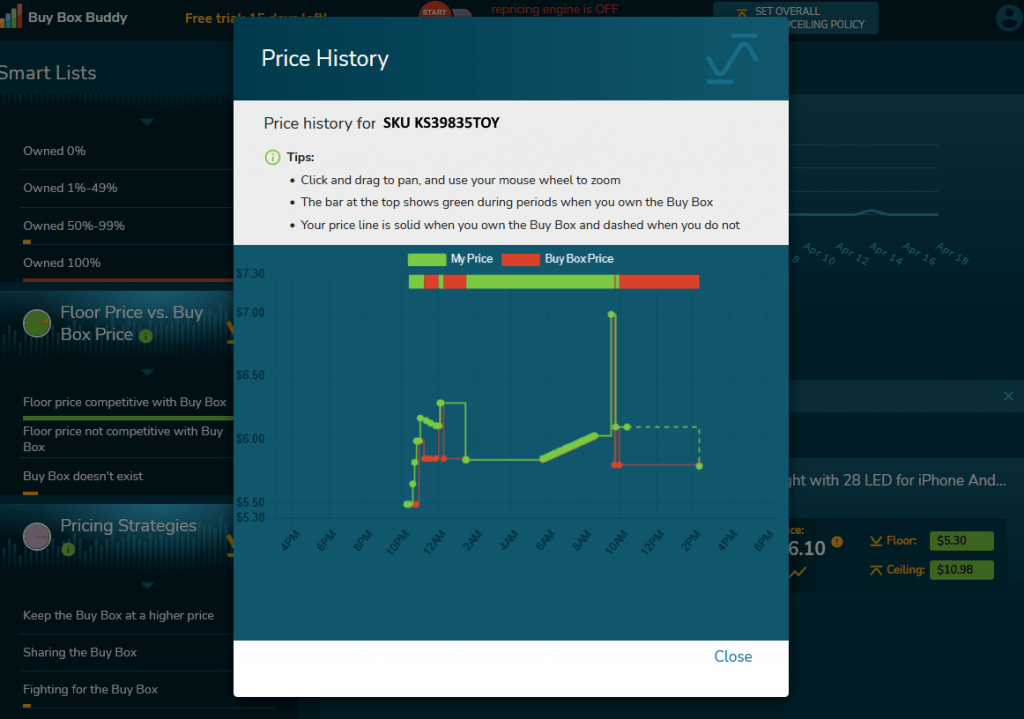 Manage Your Costs
The funny thing about the cost of selling on Amazon is that it's not so straight-forward. Sure, you have up-front costs like Amazon's selling fees, which amount to about a quarter of your revenues. But there are many other add-on fees for returns, chargebacks, FBA slow-movers, etc.
Sellers might also not factor in their start-up costs, trademark registering fees, or the cost of sourcing UPC labels, for instance. Then there are repackaging, restocking, and removal costs. And let's not forget that Amazon's fees change all the time. Yet another reason to use a tool like BuyBoxBuddy.
It automatically calculates all your Amazon fees, shipping expenses, and other costs. As soon as Amazon updates its fees, it takes them all into account, so your costs are always accurate. Within hours, any change will be reflected in your price calculation. But that's just one way it keeps you from losing money.
Pricing Strategies

Make the Most of Buy Box Rotation
Gone are the days when sellers decided what and for how much to sell based on abstract numbers. More specifically, sales rankThe sales rank of products on Amazon ind… More and lowest price Simply the lowest price an Amazon… More. Today it's all about the Boy Box. Owning it for just a few hours can make up for hefty losses due to undercutting It's a technique many sellers u… More.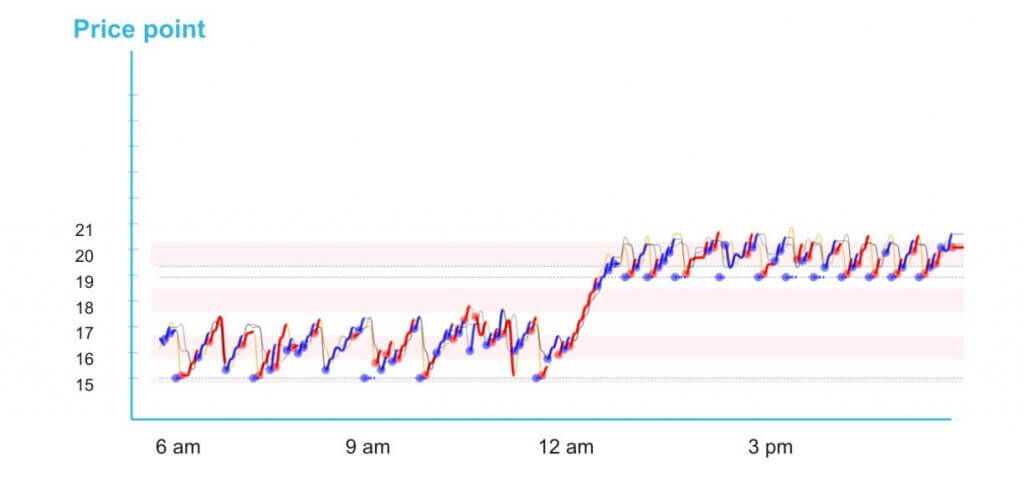 The Buy BoxThis refers to the situation where a sel… More gets a reshuffle every few minutes, as shown above. The zigzagging offers pictured in red and blue take turns owning it. These sellers raise their price (gray line) as soon as they seize the Buy Box. But there's also a third seller at the bottom (also blue) who doesn't reprice.
That's a missed opportunity. The Buy Box gets reshuffled when sellers change their prices (either lowering or raising them). So, you won't earn the Buy Box just for having the lowest price Simply the lowest price an Amazon… More. As seen above, sellers with flexible pricing sell for more and for longer than those who stay put.
Tip #1: Once you have the Buy Box, you can steadily increase your price to maximize profits.
Target the Buy Box Winner
Buy Box rotations aren't just fast. They're also biased. Usually towards the seller with the best 'price + customer experience' combo. That last part has a lot to do with the fulfillment channel. FBA and SFP take precedence here. But switching fulfillment isn't the end-all for 3PThird-party sellers are independent indi… More sellers.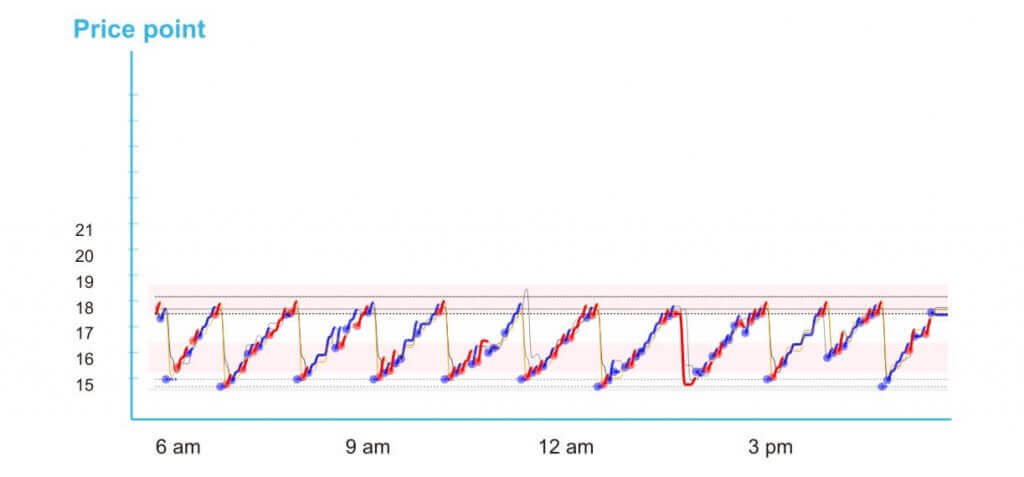 If there's a clear "favorite", ignore other sellers. Undercut their price only, like the red seller did in the graph above. But be sure to only take into account the Buy BoxThis refers to the situation where a sel… More price that corresponds to your conditionProducts can only be listed on Amazon if… More category. If you're selling a used item, undercutting It's a technique many sellers u… More the New Buy Box price won't work.
Tip # 2: If you don't have the Buy Box, undercut the winner in your category (Used/New).
Get a Fast Repricer
Using a repricing tool like BuyBoxBuddy can be of great help in a highly competitive landscape. You can't change your prices manually 24/7, like an automated repricer would. So, your chances of winning the Buy Box are virtually nil. And it's not just the rate at which you reprice.
Speed matters too. Whenever you edit a listing manually, there's a time lag before the change goes live. But in that time, your competitor's software will have picked up on your upcoming price change. And as your price goes live, their new one does too. Can you guess who has the better price?
Tip # 3: Real-time repricing means you're always 2 steps ahead of the competition.
That's where BuyBoxBuddy has the upper hand. It's not just fast. It reprices in real time! As your competitor picks up on your price change, you can cook up another one in the background and beat them to it. If you're about to start selling on Amazon, try it for free for 15 days, and make the most of these Amazon seller strategies and tips!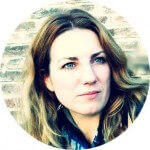 Melanie takes an active interest in all things Amazon. She keeps an eye on the latest developments and keeps Amazon sellers up to speed.