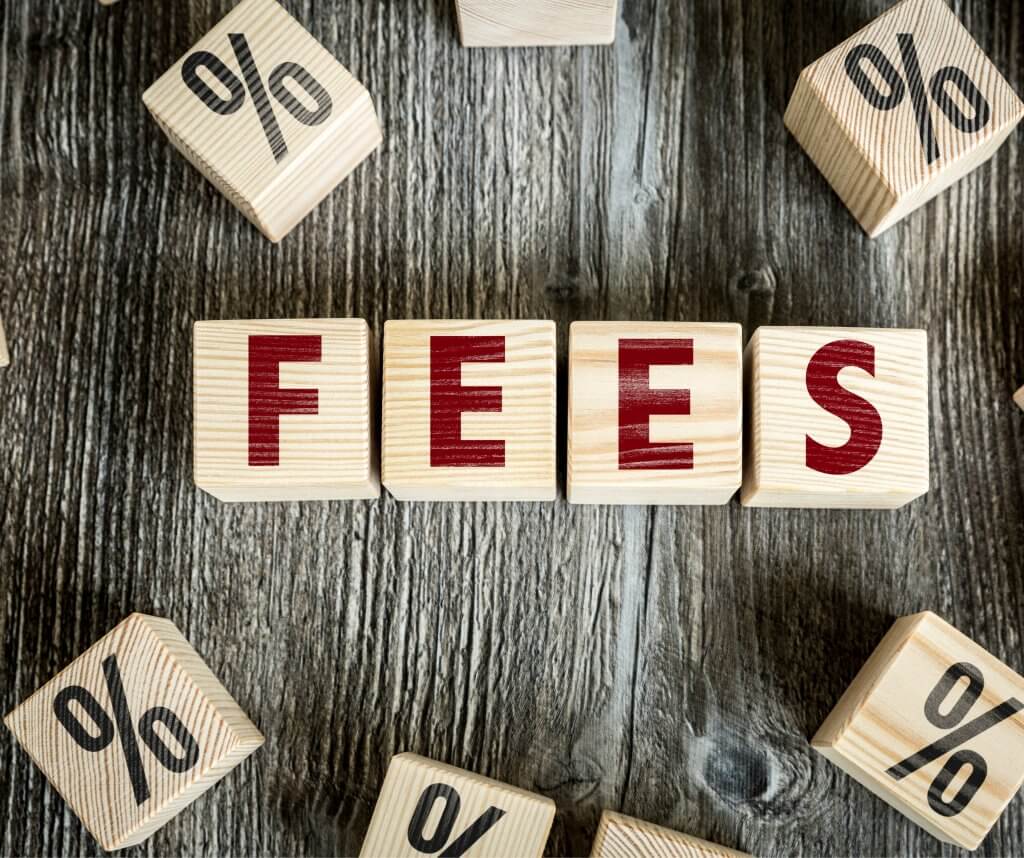 You may not know exactly what your current Amazon fees are, but you know for a fact that you can't dodge them. To help you budget for the months ahead, read our list of Amazon fees for 2020. It comes complete with handy little visuals.
Every seller wants to know how much it costs to sell on Amazon. So, we dedicated several of last year's posts to Amazon fees and costs. But seeing as we're well into the new year and some things are changing today, we thought we'd share with you an updated list of 2020 Amazon fees.
Current Amazon Fees for Third-Party Sellers
2020 Monthly Subscription Fee
As the name suggests, this fee is due every month, even if you have no orders. It's a venue-specific fee for sellers with a Professional selling plan. But sellers with a unified account only pay it once. On Amazon.com, Pro Merchant Amazon fees for 2020 are $39.99/month.
Individual (Basic) sellers don't pay it. Instead, they pay a $0.99/item fee on each sale. But when they sell more than 40 items per month, it's best to switch to Pro. That's because the Pro subscription fee offsets the Individual per-item fee for those 40 items (40 x 0.99 = 39.6).
Sellers are free to switch between the two types of selling plans. Their seller account will stay the same, with no change to basic listing features, feedbackA performance rating on a scale of 1 to … More score, product reviews, etc. However, most merchants who want to scale their business by selling on Amazon invariably switch to Pro.
Professional sellers have access to order and inventory tools (i.e. data feeds, reports, bulk listing, third-party tools), bespoke shipping rates, promotions (Sponsored Products), gift services, Buy Box eligibility, Tax Calculation Service eligibility, free access to Amazon Business, and access to the AWS.
2020 Selling on Amazon Fees
They're called selling fees because they apply to each transaction. According to the Selling on Amazon Fee Schedule, sellers pay one to three of these fees for every new order. Here are your dues, based on the type of subscription, category, and item you sell:
Per-item fee of $0.99 for merchants with an Individual selling plan, as mentioned above.
Closing fee of $1.8 for media items only.
Whichever of these two referral fees is higher:

$0.3/item.
percentage fee based on category and sale price, usually 15% of sale price.
As of Feb. 18, 2020, this referral fee percentage will change for five types of products. For three of them, they'll be falling. Rates will go from:
18% to 15% for Shoes, Handbags & Sunglasses priced above $75.00 (shipping included).
15% to 10% on anything above $200 for Outdoor furniture, which becomes part of the Furniture category.
15% to 8% for Personal care appliances priced $10.00 max. And they all become part of the Health & Personal Care category.
Also, the percentage will now be set at 17% for Activewear, which becomes part of the Clothing & Accessories category. And it's about to rise to 45% for Ring accessories, which now fall under the Amazon Device Accessories category. More on this here (sign-in required).

2020 Amazon Fees for FBA Fulfillment
The FBA Fee Preview report can give you an indication of what your fees will be, provided your category, size, and weight info is correct. If you don't have time to read this section, scroll to the image below showing existing and upcoming FBA Amazon fees for 2020.
FBA Fulfillment Fee A flat fee charged by Amazon for … More Changes. Third-party sellers will be affected by FBA fulfillment fee changes this year. Like selling fees, these will change on Feb. 18, 2020.
With the exception of clothing items and dangerous goods, small and large standard sized products fulfilled by FBA will be subject to 'core fee tiers', meaning the rates will rise from 9¢ to 16¢, depending on size. However, FBA fees for oversize products will stay the same.
As for clothing items, the fulfillment fee will rise by 11¢ to 29¢ per unit for standard sized units. Oversize clothing will be charged the same as regular oversize products, using the 'core' fee schedule.
For dangerous items, excluding clothes, the rise amounts to 6¢ to 16¢ per unit for standard size units. Dangerous clothing items, however, will incur a fee rise of 8¢ to 29¢, depending on size.
For a quick estimate of fulfillment and selling fees, sellers can use the FBA Revenue Calculator available for the Amazon US marketplace or for European venues (UK, Italy, Spain, France, Germany, and the Netherlands).
Storage Fee Changes. From October to December, monthly storage fees will stay the same in 2020. However, according to the new fee schedule applicable this March, it will cost 6¢ more to store a unit from January to September.
There is no mention yet of any changes to Long-term storage fees. So, anything that's still in the warehouse on the 365th day will start to incur a $6.9/ft3 on the 15th day of every month, when the inventory cleanup is due.
Removal Order Fees. On Feb. 18, these fees will drop based on shipping weight for standard size items below 2lb by 10¢ to 25¢. But oversize and special items will cost more to handle. Anything weighing 1lb. or more will be 10¢ to $1.30 more expensive to ship. There's now also an extra $0.20/lb. charge for any weight over 10lb.
Disposal Fees will be charged on every unit by weight band. Instead of the fixed 15¢ rate for standard size items and 30¢ for oversize units, Amazon US will charge anything from 10¢ to $1.60 more. And there's also an extra $0.20/lb. charge for weights above the first 2lb. (standard size) or 10lb. (oversize).
FBA Manual Processing Service. When you ship boxes to the fulfillment center, you're free to skip the box information section and allow Amazon to match your items with their boxes. Amazon will then automatically apply a fee of $0.15/unit (Nov.-Dec.) or $0.10 (Jan.-Oct.), as stated here.
FBA (Re)Furbishing Service. This is a free service. It's up to Amazon to decide what can and can't be refurbished. Sometimes even minor issues like missing shrinkwrap will make the item ineligible for refurbishing, and you'll need to pay removal or disposal fees instead.
Repackaging Service. If buyers return your product in a damaged or different box, Amazon will replace it for you automatically and prepare it for the fulfillment, in return for a fee. The fee will depend on the size and weight of the product but expect to pay about three times as much as you would for planned prep.
Planned Prep Service. If you enable the Planned Prep Service and give Amazon the go-ahead to prep and label your FBA products for you, the fee varies from $0.50 to $1.20 per standard size unit, and $1.00 to $2.20 for oversize units.
MCF Branding. If you sell on a multi-channel basis and you want a custom-made packing slip with your brand on it, Amazon will charge about 7¢ per box. However, the service has many limitations, including only being able to print them one-by-one.
Label Service. Amazon can apply barcodes to your products at the fulfillment center in exchange for a per-item fee. As of Feb. 18, the FBA Label Service costs $0.30 per unit. That's 10¢ more than before.
Unplanned Prep Service. Any item that requires an Amazon barcode that arrives at a fulfillment center without one will be subject to an unplanned prep service fee. For more information, see here.
Small and Light Fees. The new S&L fee schedule will treat these items more like regular products. Long-term storage fees of $0.50 are being discontinued for these items. Instead, Amazon will apply standard FBA storage fees, which are $0.15 per unit.
S&L fulfillment fees will be fixed at $1.97 and $2.39 for items weighing less than 4oz. And 10oz., respectively. There's also a new per-unit fee of $0.10 for the Label Service, and removal fees for items over 4oz. but no less than 10oz. in weight will rise by 5¢, from $0.25 to $0.30.
Return Fees. FBA products from certain categories also attract a returns processing fee. So, if the customer decides to return a handbag to Amazon, for instance, you're charged not only refund fees (see below), but also return fees. In reality, though, Amazon will simply withhold your FBA fulfillment fee.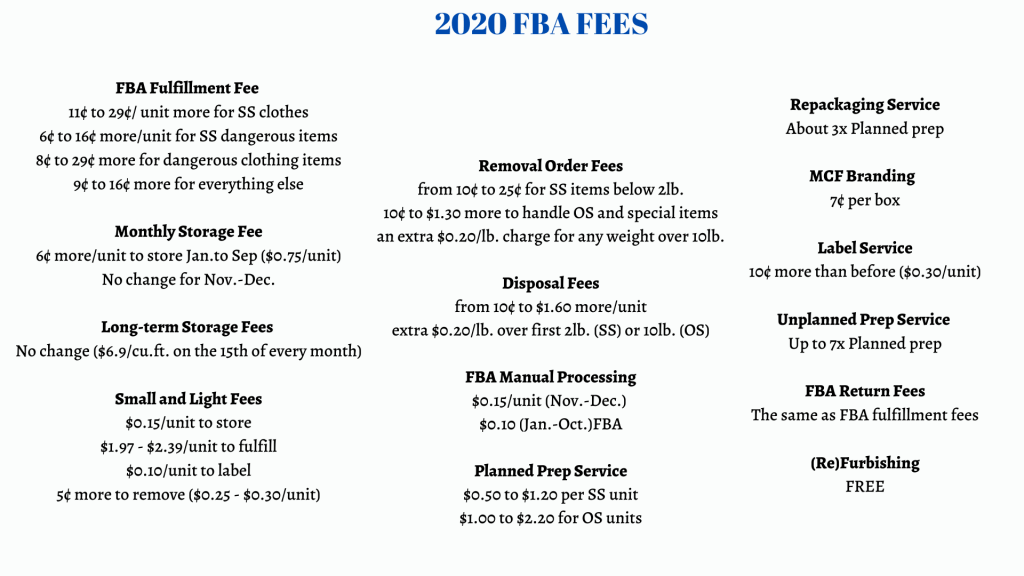 Other Amazon Fees for 2020
Refund Fees. Based on the type of product you sell and the fulfilment channel you use, Amazon may retain some administration fees. You get all your fees back on a fully refunded media order. But on a partially refunded media order, you forfeit the $0.99 fixed closing fee (if you're not a Pro seller), the variable closing fee, and a portion of your referral fee.
For non-media orders, Amazon keeps 20% of the order fees for every item in the order, up to a maximum of $5 per item. However, for 2 or more units of the same product, Amazon will only charge $5 per order.
The only exception here is partially refunded Software and Video games sold by an Individual seller. In this case, Amazon also gets to keep the variable closing fee. More on this here.
High-Volume Listing Fees. The way this charge works is that Amazon calculates the total number of active listings you have and how old they are. If you have over 100,000 listings that are over 1 year old and have not produced a single sale (i.e. shipped order) in that time, you're charged.
The monthly High-Volume Listing Fee is $0.005 for every listing above that threshold of 100,000. This amounts to $1,000 for 300,000 unproductive listings, $2,000 for 500,000, $3,000 for 700,000, and so on. High-Volume Listing Fees are not, as of yet, subject to any changes this February.
Overage Fees. FBA inventory overage storage fees will stay the same this year. They amount to $10/ft3 for anything that goes above the storage limit. Amazon will impose stock limits this year on Apr. 1st, July 1st, and Oct. 1st, respectively. For more on this, read our Amazon IPI Score and Overage Fees post.
However, this year's first check evaluation weeks start on Feb. 17, May 18, and Aug. 17. Even if you meet the criteria for stock limit enforcement on the day, you still have just under 35 days before your next evaluation week to improve your IPI score. Overage can dwarf other 2020 Amazon fees, so be careful.
Restriction Fees. If you're new to Amazon and you'd like to sell a 'Gated' Brand, you must also pay a non-refundable one-time fee, provided Amazon grants you permission. This fee can go as high as $3,000 for every brand you want to sell. Most other Amazon fees for 2020 pale in comparison.

There you have it; a quick run-through of 2020 Amazon fees. Of course, if you're planning on selling on Amazon or scaling your business, don't forget to factor in all the other costs. To get an idea of what you'd end up paying, check out our 10 Hidden Costs of Selling on Amazon post.
If you've come across any new Amazon fees for 2020, don't hesitate to share with us and fellow Amazon sellers using the comment section below. And if current Amazon fees and costs are all a bit too much to handle, read this to find out how Sellery can help. Sign up now and try it for two weeks. It's on us!
Disclaimer: The 2020 Amazon fees and costs mentioned in this blog post are accurate, to the best of our knowledge. However, they are subject to change. Please carry out your own inquiries before committing to selling on Amazon.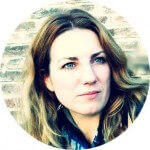 Melanie takes an active interest in all things Amazon. She keeps an eye on the latest developments and keeps Amazon sellers up to speed.