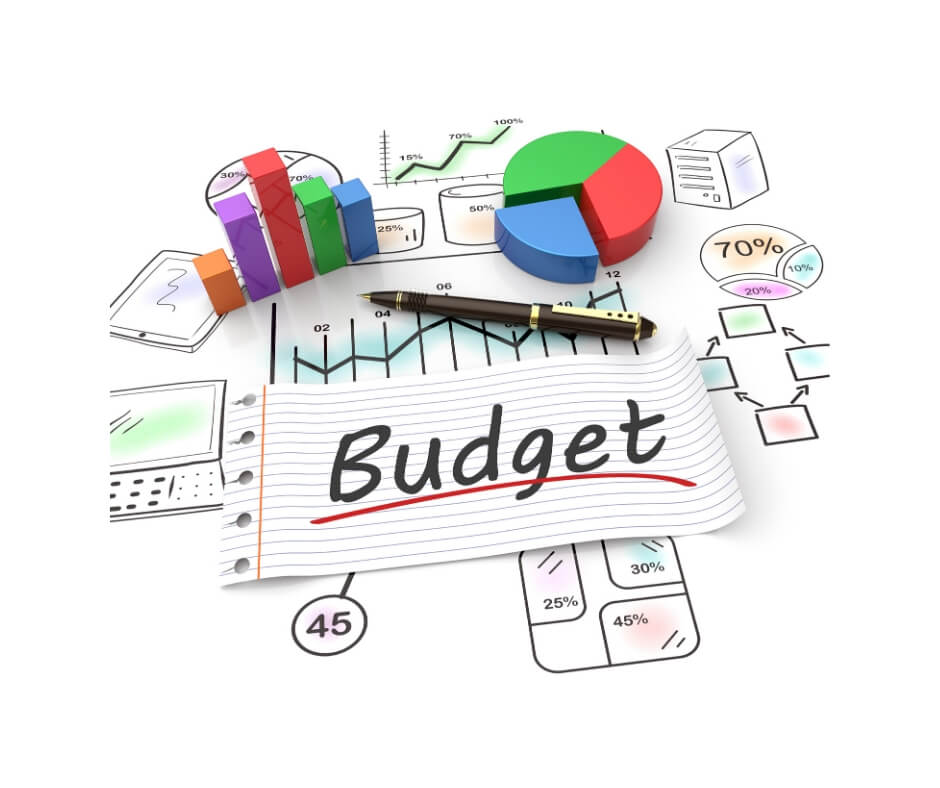 If you're reassessing your priorities, then you might be wondering what it takes to sell on Amazon in 2020. 
In this article, you will find out how to choose the right fulfillment, budget for Amazon, and make the most of your investment.
We're already mid-way through our introductory series for new Amazon sellers. In this edition, we discuss two topics of interest to anyone looking to sell on Amazon in 2020. First we'll look at how to budget for Amazon, and then how to choose the right fulfillment for your budget.
With everything going on in the world today, people are more cautious with their spending. So, whether Amazon will be your main source of income or just a side hustle, you're probably pretty budget-conscious already.
Here is a list of things to consider:
How to Budget for Amazon Sales in 2020
According to Jungle Scout, private labelThis is what you call products manufactu… More sellers put in over $3,800, on average, to start their business on Amazon. Oddly enough, the ones who invest less tend to get into business quicker and last longer. But don't assume a few hundred dollars will cover your startup costs.
Setting Up Your Amazon BusinessAmazon Business is Amazon's wholesale … More
Here's a rough breakdown of the costs you will come across when you start selling an item on Amazon. To tighten those purse strings, address each of them and make savvy decisions.
Note that we didn't include conventional startup costs (incorporation, bank setup, realtor fees, etc.).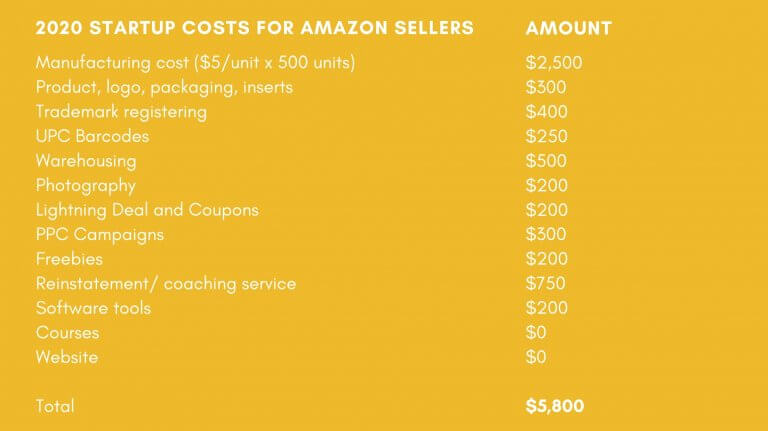 Software Tools
There's no shortage of them. Some are versatile and others are highly specialized. Some are free and others are volume-based.
But monthly subscriptions usually go into double digits. Here are just some of the types of software tools new sellers should look into:
Product scouting apps that check prices, sales ranks, and restrictions (e.g. Profit Bandit).
Keyword and ASIN research tools like Sonar and Amazon ASIN.
Inventory managers that show and update listing information (e.g. SellerEngine Plus).
Email automation tools that build templates (also a SellerEngine Plus feature).
FBA shipment managing and label printing tools (SellerEngine Plus' forte).
Listing builders and optimizers (Listing Builder from Jungle Scout).
Automated repricers (Sellery re-prices in real-time and factors in your every cost).
Sales tracker tools (Sales Analytics from Jungle Scout).
Sellers today use a variety of tools to keep their edge. So, costs can soar to three-digit figures quickly.
Use free trials to compare and choose tools that match your product, sales volume, and budget.
Be sure to check for these three major vulnerabilities:
Time-lag. This is how long it takes the tool to update your listing data (e.g. price, conditionProducts can only be listed on Amazon if… More note, etc.). Sellery, our automated repricer, updates listings in real-time, giving you precious minutes to reach customers before competitors update their prices.
Lack of accuracy. You need up-to-the-minute data and you need to have the full picture. But many sellers are unaware that there are two Buy Boxes; one for New and one for Used products. With Sellery, every available Buy BoxThis refers to the situation where a sel… More is shown, along with the exact selling price in real-time.
Violations. Some tools may violate selling policies. For example, there are tools that enable you to only send feedback requests to buyers who are likely to be satisfied.
Designing the Product
You can't put a price on a professional designer's contribution. But if you must look at it from a cost perspective, expect to pay several hundred dollars. This will probably include the design of your product, logo, packaging, inserts, and some tweaks to your listing page.
Manufacturing or Sourcing Your Item
If you don't manufacture the products yourself or through a PL supplier, then skip this part. But since Nielsen claims Private LabelThis is what you call products manufactu… More growth is outperforming FMCG, it's safe to assume that many of our readers are PL enthusiasts.
According to Statista, about half of private label products on Amazon sell for under $20. The rest usually sell for $20-$50.
If you plan to price your product just over $20, then your landed cost should be no more than a fifth of that ($4).
Here's why: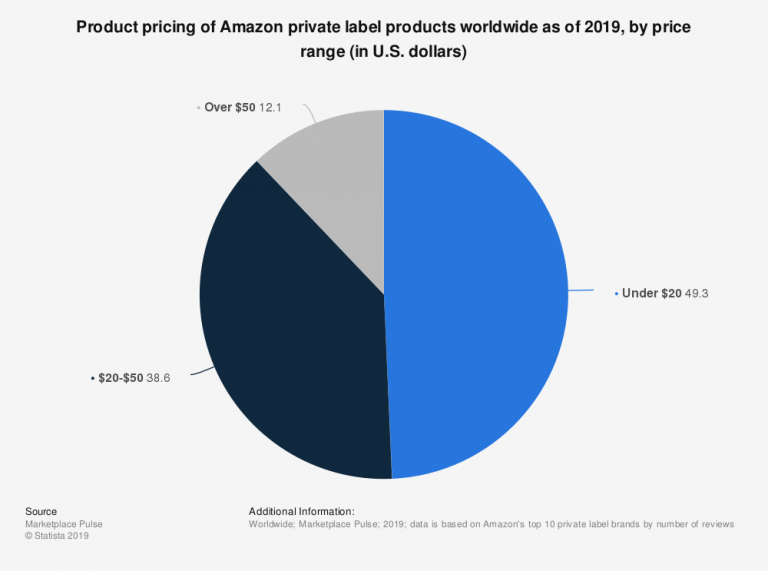 As you'd expect, the bulk of a seller's initial investment goes into manufacturing or sourcing. Sellers refer to it as 'landed cost'. This includes the cost of materials, labor, delivery to the warehouse, customs, and other costs.
Then, most retailers also set a 'wholesale price' or 'absolute minimum price'. That's about double the manufacturing cost.
That way, their profit margin per sale will be at least 50% no matter what. This should cover warehousing, administrative expenses, and Amazon fees.
Also, retailers usually expect a markup of about 60% (or 40% if they sell apparel), according to Shopify.
So, for an item that costs $5/unit to manufacture or source, the absolute minimum selling price should be $10. Using the formula below, for a 60% markup, the full retail price becomes $25.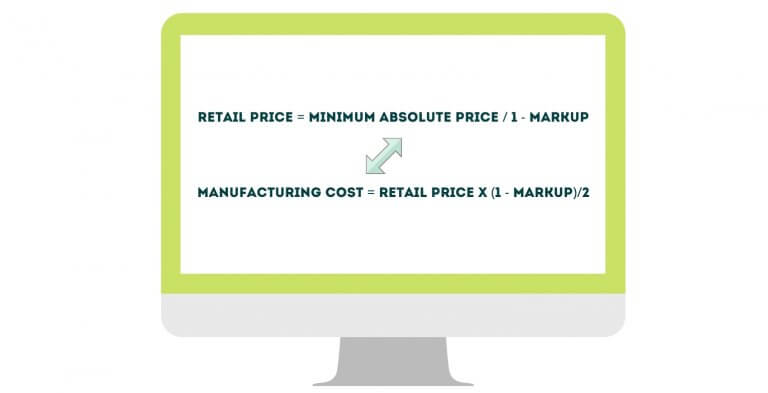 So, roughly speaking, if you want to sell a product for $30 on Amazon and keep 60% of the revenue, you should try to pay no more than $6/unit (one fifth of the selling price) to make or source it.
With Sellery, you can adjust margins and markups dynamically to tweak your price.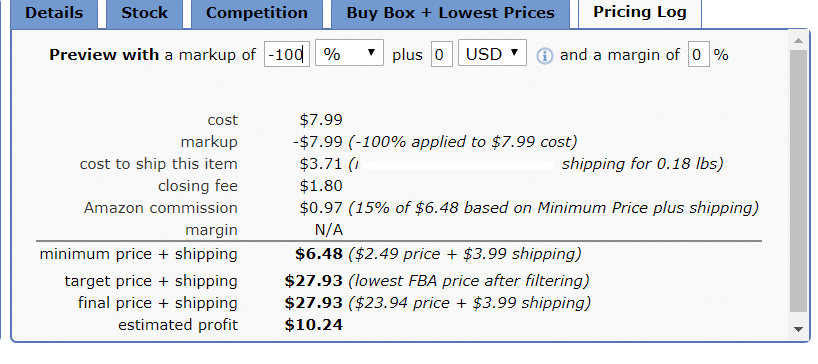 Branding Your Products
It's not enough to look up and find a phrase on the Shopify brand name generator. To take advantage of the safeguards Amazon has in place for brand owners, you should first register your trademark with the USPTO (or EUIPO in Europe). Then you can apply to be on the Brand Registry for free.
This will take several months and cost up to $400 if you go through a local Intellectual Property attorney. But if you sign up to Amazon's IP Accelerator Program, you could be looking at upwards of $2,400 for brand review and trademark application. Please read up on the basics of IP registration and infringement.
Buying UPC Barcodes
Buying cheap barcodes from resellers isn't an option anymore.
As of 2016, Amazon checks that all items have valid UPC Barcodes that match the manufacturer's identifiers.
So, be sure to buy from GS1. Prices start from $250 per unique product, for 1-10 items.
Some product categories, such as bundles and some media items, are exempt. But only if brand owners apply to Brand Registry and ask for their GCID (Global Catalog Identifier).
If you've already bought your GTINs, use the official online search tool to check that it's valid.
Storing Your Inventory
Even if Amazon handles order fulfillment for you, you should still factor in warehousing costs. Some labor, equipment, depreciation, overheads, IT, admin, and storage space costs will still apply.
Whether you process every order or only shipments to and from Amazon fulfillment centers, you'll pay for storage.
Prologis gives us a figure of $1.1/ sq. ft. /month for a 5,000 square foot warehouse, excluding utilities.
But warehousing companies charge 6 times that, according to this survey. So, you're better off with a makeshift office for now. Add a few hundred dollars per month to the tally for pick-and-pack and overheads on a handful of sales per day.
Photography
Virtually anyone can put together a makeshift photo studio (or buy one for $200) and snap 9 product images for an Amazon listing. But there are a few basic image requirements sellers should know before they take the snaps. And we also have some lesser-known rules.
If you're not happy with your product images, there's no shortage of specialized Product Photography services for Amazon sellers. Charges start at $25/image for large orders, but most sellers pay double that. So, you should set aside $300-$400 for images alone.
But if your item is already in Amazon's warehouse and you're just not happy with the quality of your images, you could also give the Amazon Imaging Service a go. For $50 to $150, you get at least 2 good quality images that are bound to be compliant with the guidelines.
AdvertisingAdvertising is a means of communication … More
Once the listing goes live, you'll be dying to promote it. But don't rush into bidding for clicks. On Amazon, advertising costs can spiral out of control fast.
Instead, set up an initial budget of a few hundred dollars for Lightning Deals and Coupons. As sales pick up, set aside another $300 per month for sponsored ads, and take it from there.
Alternatively, you could also try the new Amazon Posts tool for free. It lets you create your own Instagram-like brand feed with custom text and images for mobile devices. Adlucent and Macarta have more information to share on the topic.
Freebies
Amazon's Vine program is temporarily suspended, Adlucent say. When it reopens, you can enroll for free and give away products to vetted reviewers. But be sure to apply to Brand RegistryAmazon Brand Registry is a tool that ena… More and have at least one 'New' FBA unit in stock and less than 30 product reviews.
Until then, offer a few units to influencers, reviewers, and friends of friends. But make sure to follow Amazon's strict guidelines and policy on reviews. Factor in the manufacturing cost of these units, as well as any membership or travel costs for distributing these freebies.
Ideally, you should try to give away your products at trade shows and other seller events. But you might find it harder to network in Q2. Luckily, there's always the Early Reviewer Program. For $60 per SKU, Amazon's reviewers will provide 1-5 reviews.
Account Services
Continuity is very important to Amazon sellers. Suspended listings and selling rights will throw a wrench in the works. Whenever you appeal a decision, you can expect not only a demand for a Plan of Action, but also delayed disbursements and withheld funds.
Coaching, listing reinstatement, account rescue, and store monitoring are just some of the services you can outsource when you need to deal with an account issue. They don't come cheap, so be sure to set aside a few hundreds of dollars as your sales start to pick up.
Workshops and Courses
As a new seller, you have your work cut out for you. But don't assume that expensive training courses will pay off. Ignore the hype around 'Amazon experts' for now. You don't need them when you start out. Especially not when you have countless free resources like Seller University.
Creating Your Website
Now is not the time to invest in a new website. Put all your resources into your Amazon sales for now. Then, as you build up a reputation on Amazon, you can drive sales to your website organically. If you'd like to sell on several websites simultaneously, you can also sign up for Multi-Channel Fulfillment and let Amazon drop-ship those orders for you.
How to Choose a Fulfillment Channel
Setting up your Amazon account is free and easy, as seen here.
You are only charged $39.99 per month in selling fees if you sign up for the Professional selling plan. And if you sell more than 40 items per month, the plan pays for itself (because it spares you that per/item fee of $0.99).
But as shown in our post titled 2020 Amazon Fees Explained, there are other fees.
For seller-fulfilled orders, they're pretty straight-forward. In a nutshell, the latest Amazon Fees and Costs List says that sellers pay only the following fees for orders that they fulfill themselves:
closing fee of $1.8 (media items only).
referral fees of $0.3/item or a percentage of the sale price (usually 15%, depending on category) – whichever is higher.
If you're thinking about paying Amazon to do it all for you, tools like the FBA Revenue Calculator or Sellery can give you an initial cost estimate per unit. But don't just compare MFN seller fees with these up-front FBA fees. You're not comparing like-for-like figures.
MFN fees are charged immediately, whereas FBA fees can build up over time.
So, even though it might seem like you'd sell more and make more money off of FBA now, your long-term fees might be higher if you don't manage your inventory properly.
Here is a breakdown of what a seller might end up paying 13 months after first shipping to Amazon. Notice that the bulk of FBA fees (in red) refer to overage, long-term storage costs, and prep penalties. These could have easily been avoided with better inventory management.
Without all these handling add-ons and storage penalties, it would have been much cheaper to sell through FBA. It would have even been slightly cheaper than FBM.
If you're not sure you can handle it all, but you don't want to hand over your entire stock to Amazon either, go hybrid.
Only send Amazon items that are small, light, hardwearing, and inexpensive, but also useful, worthwhile, and profitable. And check your inventory regularly, whether it's fulfilled by Amazon or yourself. It's the only way to avoid runaway costs.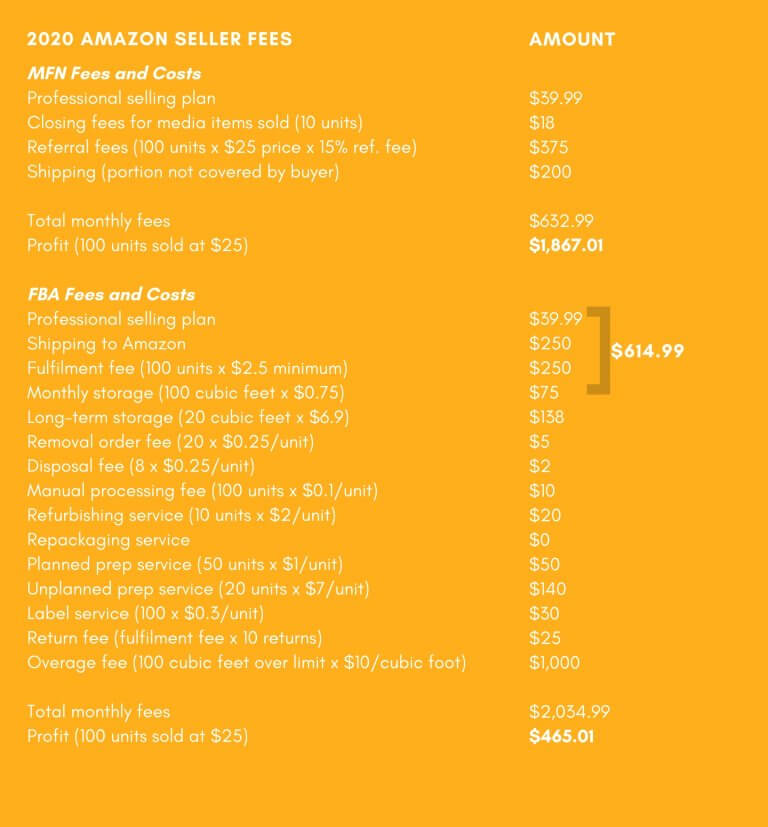 That's a wrap from us. Would you like to try an easier and faster way to budget for Amazon sales and choose the right fulfillment by default? Then please browse the website for more information about what Sellery can do for you.
If you want to sell on Amazon in 2020, there's no better tool to show you the way. It comes complete with all the latest Amazon fees and costs built in. And it can tweak your price, margins, and markups automatically, in real time. Sign up today and try it for free!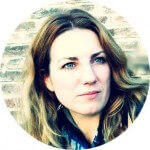 Melanie takes an active interest in all things Amazon. She keeps an eye on the latest developments and keeps Amazon sellers up to speed.