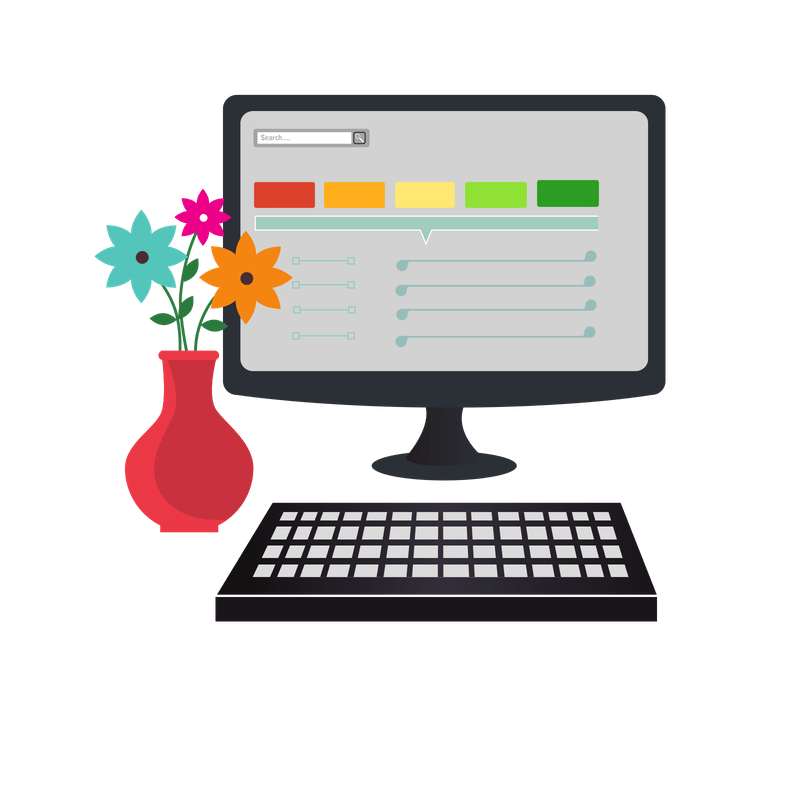 For a buzz-phrase,
Voice of the Customer
sure is a tongue-twister – one that marketers know all too well. But what does market research have to do with Amazon sellers? If you've heard about the VOC dashboard, but you don't know what to make of it, here's our take on Amazon VOC.
Customer Experience on Amazon
Amazon has always tried to be customer-centric. Bezos himself has a public email address. And he even passes on buyer complaints to his executives sometimes. But that customer-centric reputation wouldn't go very far if sellers weren't on board.
That's why there's such a thing as 'seller performance'. But things are changing. Performance metrics don't mean much these days. So, Amazon recently launched a new indicator for customer experience: Voice of the Customer.
What for, you ask? To help sellers visualize customer experience and meet C.S. standards. To put things into perspective, if you will. Don't worry; whatever you see when you sign in to the VOC dashboard, it won't replace current performance metrics or affect selling privileges.
What is This 'Voice of the Customer'?
A big chunk of Amazon's business is in e-tail. So, it makes data-driven decisions based on post-sale feedbackA performance rating on a scale of 1 to … More. And it expects sellers to do the same. But how could they, without a customer interface? This is where Amazon VOC comes in.
The VOC dashboard shows less-than-perfect testimonials and the products they refer to. Sure, the name can be confusing. After all, VOC is business speak for ways to track customer needs. But just think of it as a page in Seller CentralAmazon Seller Central is a portal or a h… More that shows you what customers think.
How does it know? Post-sale information is the lifeblood of Amazon's marketing research. So, it will leave no stone unturned to find it. Just imagine all the bots and employees that comb through customer feedback. But that's just the tip of the iceberg. There are at least four Amazon VOC channels:
Customer returns and refunds;
Customer service calls and chats;
Buyer-seller messages;
Product reviews (ahem…1-star only).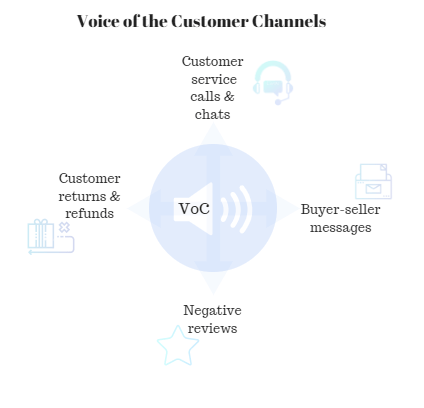 What's the point? The dashboard is designed to prevent returns and protect profits. None of the information on the VOC dashboard will affect selling privileges, so no need to panic. But it can point to issues that may lead to drops in feedback score, negative product reviews, and eventually even to suspended listings.
Why a dashboard? It's a user-friendly way to convey a lot of detailed information. But it's not just a dashboard. It's a hub. It lets you take immediate action. Here are some of the things you can do with Amazon VOC:
see a color-coded customer experience health rating per product;
find out how Amazon became aware of the issues (i.e. the channels);
read buyer comments for every product featured;
download all this information as a .csv file;
create removal and disposal orders, edit listings, and relist products.
How does it work? The dashboard displays two product-specific metrics: NCX rate and CX Health. They're shown as columns in a table containing offers with recent sales. Beside them is the Action column, which enables you to view comments and resolve the issue.
NCX is the negative experience rate. It shows how many orders from your total sales for a specific product lead to a negative customer report. In the VOC table, it's displayed as a percentage.
CX Health compares your NCX rate with that of similar offers (i.e. sellers with the same or nearly identical products). It's displayed in color-coded format from Excellent (dark green) to Very Poor (red). Any product with a Poor (orange) label is likely to have its listing suspended.
The CX Health breakdown section lies above the table. It counts current offers in each CX performance category. The 'View listings' link below displays them all in the table underneath. Amazon recommends that you check listings with orange or red labels regularly.
What's the catch? The VOC dashboard will be very helpful, in theory. But sellers are already pointing to several flaws. For now, you should try to remember that NCX rate and CX Health calculations include:
issues with labeling, damages, defects, and inaccurate listing;
all returns, even if the customers are happy;
orders from many weeks ago;
no negative delivery experiences;
no products that haven't sold recently;
no new listings.
Also, please bear these four things in mind:
The smaller the number of orders, the bigger the impact of a return, negative feedback, or unfavourable product rating on the NCX rate (i.e. get a Poor rating for one bad review because you only sold it once before).
If you signed up for the FBA Label Service, NCX rating can be based on commingled inventory, and you can only stop other people's products affecting your rating if you opt out.
CX Health rating takes similar offers into account, so some types of items will naturally have higher NCX thresholds than others (ex. clothes and shoes, where return rates are high).
In theory, there's no point of reference for a unique, handmade, niche product, so it wouldn't ever be given an NCX rating – for now.
That's all there is to it, folks. Hopefully, we've laid some of the rumours to rest and addressed some of your questions about the Voice of the Customer dashboard. We love to hear from our readers, so if you'd like to share your experience of using Amazon VOC with us and fellow sellers, please use the comment section below.

Melanie takes an active interest in all things Amazon. She keeps an eye on the latest developments, and keeps Amazon sellers up to speed