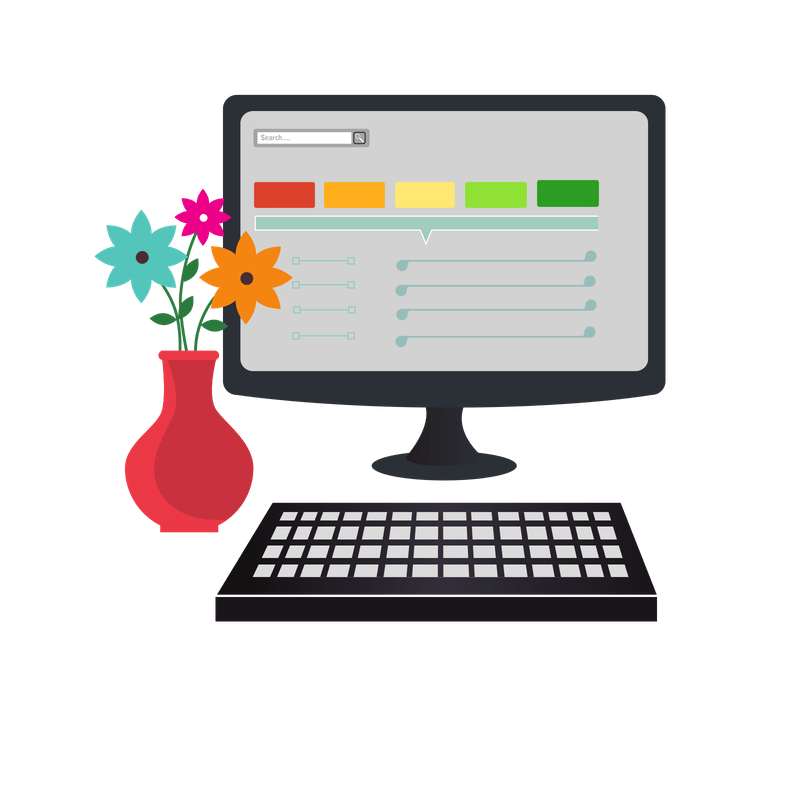 Editor's Note: Originally published on Mar. 26, 2019, last updated on Jan. 11, 2023.
For a buzz-phrase, Voice of the Customer sure is a tongue-twister. But when it comes to Amazon sellers, it can also be a head-scratcher. If you've heard about the VOC dashboard, but you don't know what to make of it, here's all you need to know about Amazon VOC and its many upcoming features.
Voice of the Customer on Amazon
Amazon's prerogative is customer obsession. It strives to be "the Earth's most customer-centric company". In fact, its foremost Leadership Principle is that "leaders start with the customer and work backwards". But this mission doesn't amount to much if sellers aren't on board.
That's why Amazon gives sellers access to a tool that can gauge customer experience: Voice of the Customer. Available in Seller CentralAmazon Seller Central is a portal or a h… More, this tool brings together customer opinions, testimonials, and other Amazon interactions that relate to the seller's product offering.
Voice of the Customer Dashboard
The VOC dashboard is a tool that grants sellers insight into their listings. None of the information on it affects selling privileges, so no need to panic. But it can point to issues that may lead to drops in feedbackA performance rating on a scale of 1 to … More score, negative product reviews, and eventually even to suspended listings.
This dashboard is a user-friendly way to convey a lot of detailed information. But it's not just a dashboard. It's a hub. It lets you take immediate action. Here are some of the things you can do with Amazon VOC:
see a color-coded health rating for every product.
find out how Amazon became aware of the issues.
read buyer comments for every product featured.
see the best and worst performing listings.
download all this information as a .csv file.
identify trends in customer concerns and views.
create removal and disposal orders and edit listings.

The VOC dashboard displays two product-specific metrics: NCX rate and CX Health. They're shown as columns in a table of recent sales. Right beside them is the Action column, which enables you to address any issues.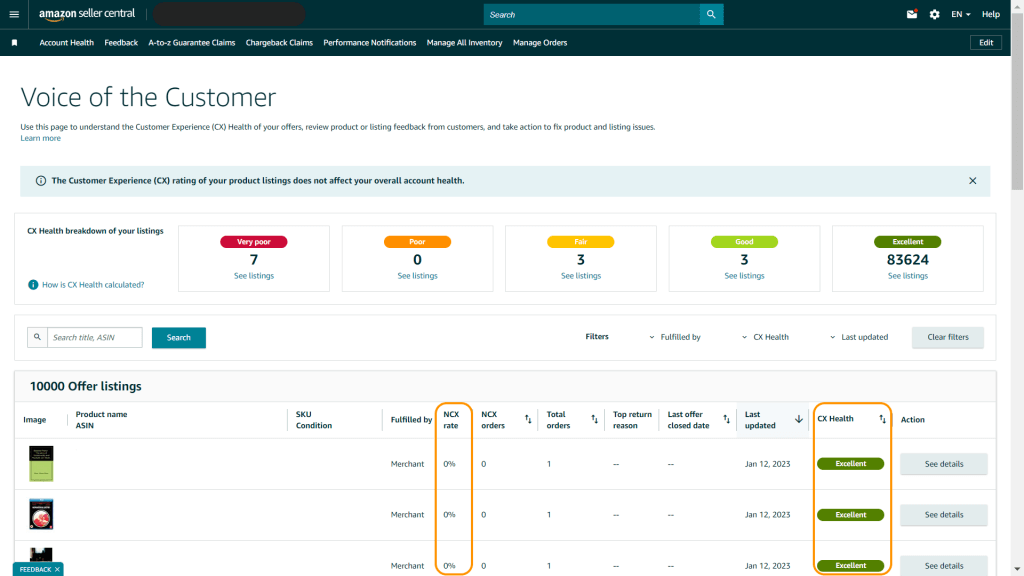 NCX Rate is the negative experience rate. In the VOC table, it's displayed as a percentage. It shows how many orders from your total sales for a specific product led to a negative customer report. You get it by dividing the next two columns in the table (NCX rate/Total orders).
CX Health compares your NCX rate with that of similar offers (i.e. either the same products or nearly identical ones). It's displayed in color-coded format going from Excellent (dark green) to Very Poor (red). Any offer labeled orange or red is likely to have its listing suspended.
Just above the table lies the CX Health breakdown section. It counts current offers in each CX performance category. The "See listings" link below displays them in the table underneath. Amazon recommends that you check offers with orange and red labels regularly.
VOC Detail Page
The Action column above displays a "See details" link for every item. This takes you to the VOC Detail Page. It displays a graph of NCX rate over 1-12 weeks, the item's top reported issue, recent feedbackA performance rating on a scale of 1 to … More, and an assessment of its performance relative to similar items.
VOC Action Library Page
In the example above, the listing was deleted, so no further action could be taken. But if you want to fix an active listing, simply click on the "Take action" button in the top right corner.
This takes you to the Action Library Page. Depending on the type of issue, you may have up to 2 options to resolve it, along with helpful hints about missing or confusing attributes:
Edit listing (e.g., change the size chart, image, product information, brand information for specific SKUs).
Remove or dispose of inventory (create removal orders for the entire inventory to get rid of damaged, mislabeled, or defective items).
Upcoming VOC Features
That's all well and good, but in the 3 years since the VOC dashboard has been released, it has stayed mostly the same. That all changed back in Sep. 2022, at the last Amazon Accelerate event. That's when a senior manager at Amazon, Keiko Akashi, announced a few great features due in 2023.
Amazon didn't go into too much detail. Here are some of the new capabilities sellers can expect from VOC in 2023:
Gather and consolidate feedbackA performance rating on a scale of 1 to … More data, both negative and positive, from new sources (i.e., not just reviews, returns, and C.S. interactions).
Use Machine Learning (ML) to better summarize, group, and filter insights so that sellers can drill down to the root cause of the problem (e.g., see more than just the return reason, order ID, and/or feedback from negative experiences).
Aside from showing an NCX rate graph of aggregated issues, also group feedback into themes and display new visuals (e.g., pie charts).
Additional options for resolving issues on the Action Library page, ideally personalized and linked to relevant help pages or videos.
More customized views that enable sellers to compare same-brand items as well as competitors' brands.
Access images of FBA inventory, so that they can compare the photos they send to Amazon against images from inbound audits, customer reviews, and inventory audits.
A rebranding that replaces terms like "health" with something more VOC-specific.
That's all for today, but be sure to check back again soon to find out what the latest Voice of the Customer updates look like. In the meantime, if you'd like to know more about the VOC dashboard or to find out why there's even such a thing as an Amazon VOC tool to begin with, please browse our blog and learn all there is to know in one go.
Don't miss the chance to get fresh Amazon News and Amazon expert insight articles right when we post them directly in your inbox.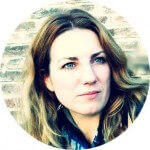 Melanie takes an active interest in all things Amazon. She keeps an eye on the latest developments and keeps Amazon sellers up to speed.