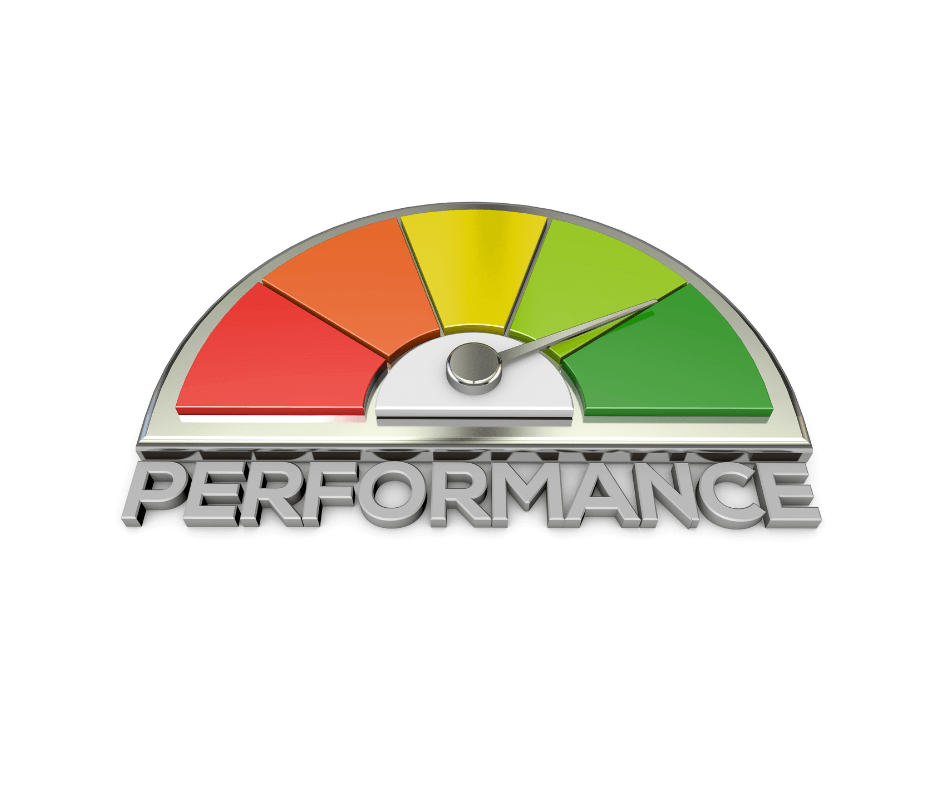 Editor's Note: Originally published on June 12, 2020, updated on Mar. 30, 2023.
Hard on the heels of this year's Spring Sale comes another pre-Prime Day rush to get your performance metrics on Amazon back on track and avoid an Amazon account suspension. Find out what it takes to sell on Amazon in 2023 and keep your metrics in check.
So, you're planning to sell on Amazon in 2023. If so, an Amazon account suspension could seriously rock the boat. For one thing, disbursement issues can shrink your top line and stunt your business growth. But it's not just the added uncertainty and disruption. There's also the risk of a domino effect.
The Basics of Amazon Account Suspensions
Amazon account suspensions are not only common, but also easily avoidable. We explained earlier in our series "How to Sell on Amazon in 2023", when we talked about Amazon's policies. Let's look at the ways in which Amazon account suspensions can be prevented, triggered, and dealt with.
The easiest way to prevent suspensions is to maintain an account health rating (AHR) score of over 250. This makes you eligible for a free program called Account Health Assurance (AHA). Once in, Amazon won't suspend you if they can reach you within 72h of finding an issue and you cooperate.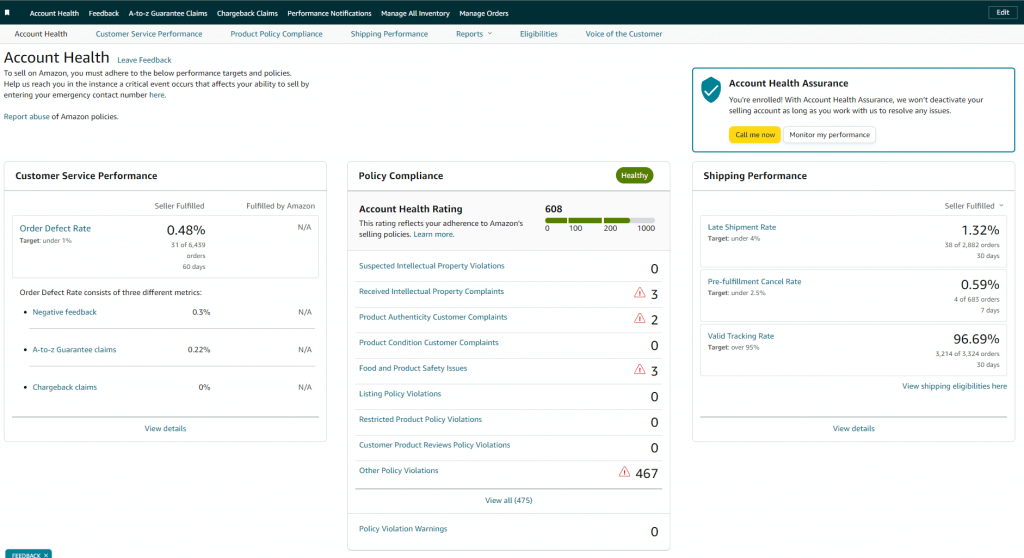 Sellers should keep an eye out for an email from Account Health Support. In the event that there's an issue, Amazon will use the emergency contact number on file, as set up in Notification Preferences. For more information, please check the Seller Forums and the AHA eligibility page.
7 Top Reasons for Amazon Account Suspensions
Whatever the reason, Amazon account suspensions can seem unfair. But whichever way you slice it, they're usually warranted. Even if sellers don't mean to break the rules, they don't work to prevent suspensions either. So, anyone hoping to sell on Amazon in 2023 should follow these simple seller tips:
Authenticity Claims

Offering knock-offs is against Anti-Counterfeiting Policy. When buyers question an item's authenticity, Amazon takes immediate action. Even a random phrase in a friendly email can be flagged up by Amazon's bots. So, you need to have itemized invoices from authorized suppliers for all your items.

Prohibited Product Claims

Prohibited Product Claims can be about things like medical benefits, eco-friendliness, and FDA approval. It's not just what's on the label that matters, but also what's not. If there's a stamp you didn't earn, a hidden ingredient, an unproven medical benefit, or a lapsed certification, don't list that item.

Seller Code of Conduct Violations

Owning more than one seller account per venue is a breach of Seller Code of Conduct. Addressing a multiple account violation takes time, so be sure you have a valid reason. Also, don't use the same contact information, I.P., MAC address, or bank account data on several accounts on the same venue.
Restricted Product Violations

Selling restricted products is not allowed. And for sellers who ignore the rules and tag along with a listing, pinning the blame on other sellers won't fly. So, before you invest in a product, exercise due diligence because lifting product restrictions will take time.

And if the items are bound for a fulfillment center, it's best to check the FBA prohibited items list. On it, you'll find the usual suspects (alcohol, batteries). But you'll also see items you wouldn't think of as problematic like gift cards, leaflets, and items with price tags or non-Amazon stickers.

The same applies to gated brands. But there are ways to know if a brand or category needs "ungating" before you invest in it. If it's already in Amazon's catalog, you can check for restrictions with a product scouting tool like Profit Bandit.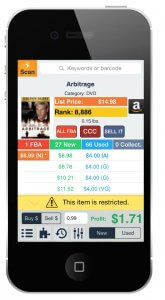 Product Condition Claims

Some products can only be sold on Amazon if they're brand new (e.g., medical devices). Some rare items may be classified as collectible (e.g., books, toys). But most other items fall under 7 'conditions' ranging from "New" to "Acceptable", as seen below. When the line is blurred, it's best to downgrade.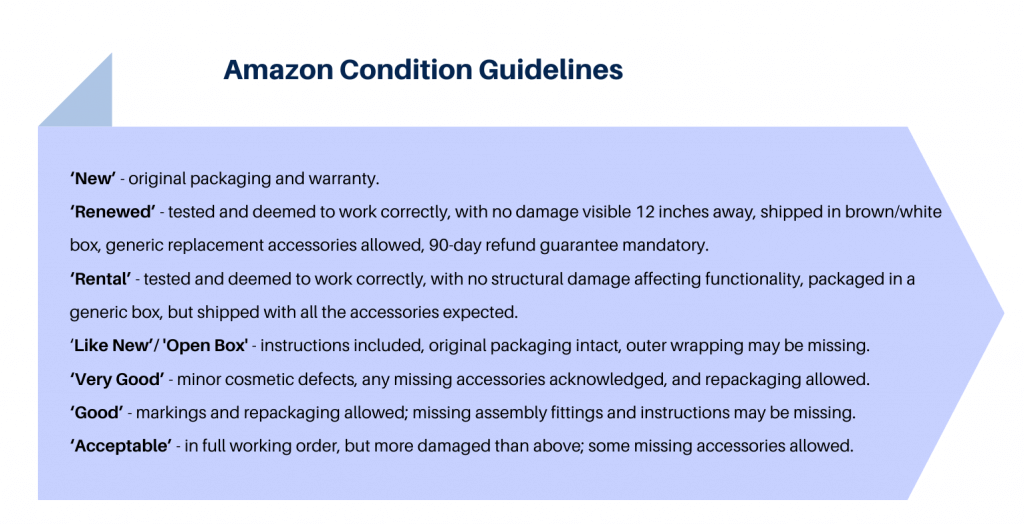 Anything that doesn't meet the criteria for the 'Acceptable' tier shouldn't be listed. For example, listing items that are incomplete or in need of repair is not allowed. Nor is it allowed to sell promo copies, expired items, inventory marked for disposal, or unprepped expiration-dated products.


To avoid squabbles, describe every unit using Condition Notes. Provide text and images (6 max). These will be displayed on the Offers Page. Mind you, not all buyers read Condition Notes, so you might still get complaints. But at least you'll be covered by Amazon's restocking fee policy.


Listing Policy Violations

One of the most common and preventable complaints is that the item doesn't match the listing. Buyers on Amazon expect to receive what they saw on the product page. So, when something like the shade, texture, edition, cover, or size of the item is different, they have every reason to complain.

According to Product Detail Page Rules, an item must match its listing to a tee. But if the information on the product page is wrong, you should let Amazon know. Sign into Seller Central and email Seller Support about the discrepancy before listing your item.

Poor Seller Performance

There's an unspoken rule that you should monitor your Account Health daily. Neglecting performance metrics goes against it. Especially since they change all the time. For instance, there used to be such a thing as a 'Return Dissatisfaction Rate' (10% max), but that's no longer 'the standard' for sellers.

Monitoring performance metrics on Amazon is easy. Just check the Account Health dashboard daily. It displays issues flagged up by Amazon in relation to 3 main topics: Policy Compliance, Delivery Performance, and Customer Service Performance.
Notice that there are four performance metrics displayed here: Order Defect Rate, Late Dispatch Rate, Valid Tracking Rate, and Pre-Fulfilment cancellation rate. Out of the 16 major performance metrics on Amazon, these are the most important for MFN sellers. The benchmarks are shown below.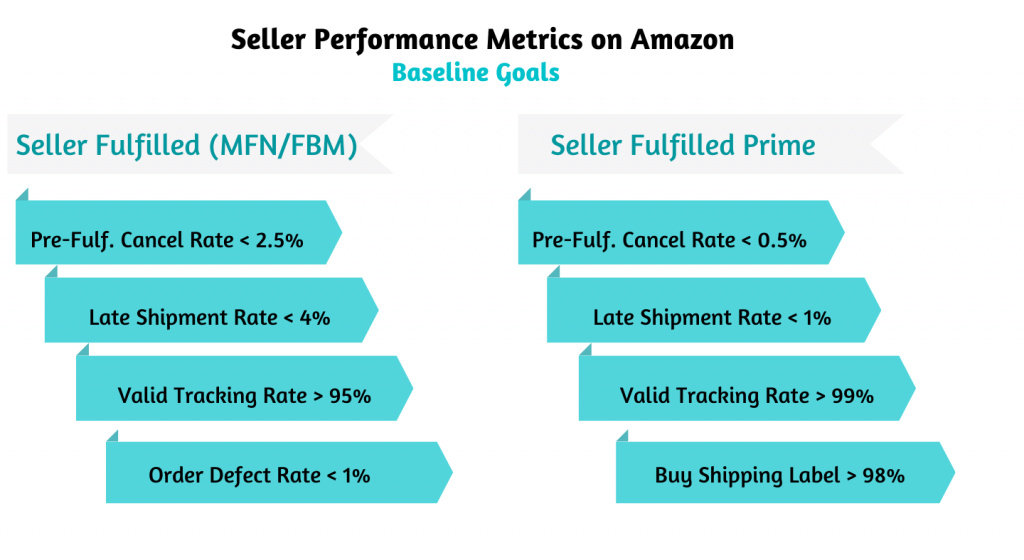 A suspension is usually preceded by a warning from Amazon. This happens whenever there's a complaint, a suspected violation, or a drop in performance metrics. If you want to continue to sell on Amazon in 2023 unabated, you should address it quickly.



Stellar performance metrics enable merchants to keep all their selling privileges on Amazon. And they sometimes come with perks. For instance, MFN sellers with a VTR of 98% and an On-Time Delivery Rate of 97% are eligible for reduced transit and handling times.
6 Tips for Handling Amazon Account Suspensions
If your selling privileges are suspended, you may not need the services of a reinstatement expert. But you should give it some thought. After all, subsequent appeals are less and less likely to succeed. If you're willing to go it alone, here are some tips for reversing your Amazon account suspension:
Make the Most of Your Time

You usually have a 17-day deadline to submit a Plan of Action (POA). This comes with unlimited tries, unless you're suspended for an authenticity claim. According to WebRetailer, Amazon applies a '2 Strikes and You're Out' rule in that situation. In your POA, you must show that you understood the root cause of the suspension and addressed the mistakes and their effects. You should set out some clear goals to prevent further suspensions, and even make some progress towards these goals. To maximize your chances of success, you should submit a clear, concise, and focused POA. And do so as quickly as possible. In the event that Amazon rejects your proposition, you can then submit a second POA before the 17-day window expires.

Do Your Research

It's not always obvious what triggered a suspension. For one thing, Amazon's notification emails can be vague. But they should be your first port of call. Then sifting through Amazon's recent warnings. And after that, check older notifications. Similarities could point to specific products. Also check your recent buyer-seller communications. Look for claims, messages, and feedbackA performance rating on a scale of 1 to … More that could link a buyer or a product to the suspension. Go through your database and look for items returned in recent days. Draw up a list of the reasons these items were returned.

Get Your Act Together

If you have a pretty good idea what caused the suspension, it's time to check other factors and effects. Let's say there was a delayed shipment from a supplier. So you shipped a 'Like New' unit you had on hand to avoid a drop in metrics. You then have 3 issues: the supplier, the stock-out, and the listing. Then take a long, hard look at the way you run your business. A change is probably in order. But if you're going to come up with ways to change the status quo, you should start with your KPIs. If possible, you should bring all your metrics back into "the green" before you submit your appeal.

Choose Your Words Wisely

Measure your words, clearly conveying a maximum of information with a minimum of words.
Take full responsibility for the suspension, even if you did nothing wrong.
In terms of corrective and preventive measures, show actionable ideas.
Test some of your ideas before you submit your POA.
Attach graphs, diagrams, workplace policies, a pro forma invoice from a new supplier, etc.
Your tone should be apologetic but firm.
Proofread the text before you submit it.
Refer to Supporting Documents

For seller support staff, the shorter your POA the better. So, if you have supporting documents (e.g. invoices), share them with Amazon and refer to them in the body of the POA. A picture is worth a thousand words. So, relevant images (e.g. product, packaging, or inventory images) are also welcome.

Submit When Ready

Once you submit an appeal, Amazon will only discuss it with you if you contact the relevant team or open a case. So, if you're happy with your POA, submit it and play the waiting game. If you're not sure, reconsider sending it. Here are 10 situations where you would do well to reassess your options:

Your POA reads like an essay, not a line-up of steps and solutions.
There are no actionable steps in the POA because you've done nothing wrong.
Some of the steps are missing, incomplete, or implausible.
There's no prioritization or timeline for your steps.
There's no reflective cycle showing what you learned.
You didn't pin-point the cause of the suspension.
You discussed several issues together without linking each one to a corrective measure.
There's no link between different solutions, so their individual impact can't be monitored.
Your POA is brief and well worded, but poor formatting makes it hard to follow.
The plan is flawless, but there's no supporting evidence.
Here we are, closer to Prime DayPrime Day was initially a one-day sales … More and near the end of our series, How to Sell on Amazon in 2023. We hope that our intro into Amazon account suspension has helped drive this message home: you can't succeed if you don't master your performance metrics on Amazon.
Don't miss the chance to get fresh Amazon News and Amazon expert insight articles right when we post them directly in your inbox.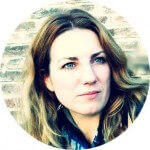 Melanie takes an active interest in all things Amazon. She keeps an eye on the latest developments and keeps Amazon sellers up to speed.