Editor's Note: Originally published on Jan. 9, 2020, last updated on June 23, 2022.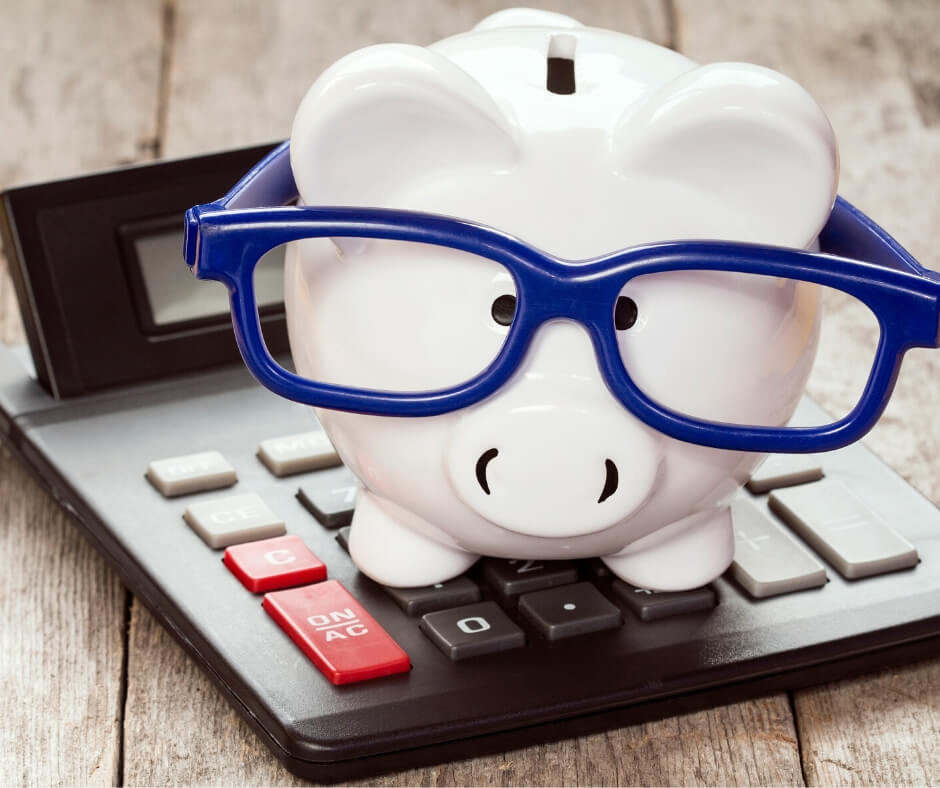 What happens when Amazon places a hold on your funds? And what in the world is an Amazon reserve? Have a quick read and find all the answers right here.
When Amazon withholds your funds, your first instinct is to look this up on the Seller Forums.
As soon as you do that, you learn that it's a common issue.
When sellers are low on cash or hit with an account suspension, they always ask for more convenient Amazon disbursements.
But there's some confusion over how funds are withheld with Amazon reserves and permanent holds.
And it's also not very clear how long and for what reason Amazon can put a hold on a seller's funds.
So, let's have a look at the basics of fund withholding on Amazon.
What is an Amazon Reserve?
In Amazon seller parlance, a reserve is any hold placed on funds for any reason and for any amount of time.
But there are different ways that Amazon may choose to withhold a seller's funds. They can all affect a seller's cash flow, but each situation calls for a different approach.
1. Delivery Date-Based Reserve
This amount shows up as a Deferred Transaction.
The funds are not released for disbursement The name of the payment Amazon ma… More until Amazon is satisfied that an item is delivered and there are sufficient funds to cover a claim, return chargeback, or refund request.
The funds are withheld based on the age-old "DD+7" policy; usually for 7 days on top of the EDD or actual delivery date.
So, the earliest they can be released is 8 days after delivery is confirmed or expected.
To find out when you'll be able to access these funds, go to the Deferred transactions page and check the "Payment release date" field.
Once the funds are released, the amount will move over to the Transaction View page.
Delivery date-based reserves are shown as individual values.
So, you should be able to see specific amounts and dates for every item of sale revenue currently on hold. They used to be displayed on the Payments dashboard as part of a lump sum under "Account level reserve".
As explained on the Account Level Reserve help page, this is a hold on funds that have already been released for disbursement The name of the payment Amazon ma… More.
Amazon will withhold the total value of all the sales that fall into any of these categories:
Ongoing A-to-Z claims. These can take weeks to resolve.
Unresolved chargeback claims from the last 30 days.
Performance metrics below benchmarks.
Account review. This could be due to sales fluctuations, unusual activity, or long EDDs on a new account.
Income tax owed. This will be based on tax registration status and local regulations.
| Note: On some venues, delivery date-based and account level Amazon reserves (points 1 & 2 above) are still treated as one. They may be referred to as Unavailable Balance. |
There's no clear timeline for lifting an account-level hold.
But it can only happen when Amazon no longer deems it necessary.
Merchants with substantial sales should expect some account-level reserves at all times.
| Note: Amazon's reserve policy took effect in August 2016. So, 'grandfathered' accounts may not be subject to it, unless they've been suspended and reinstated in the meantime.|
Another example of a deferred transaction is an Invoiced Order.
This is an order placed by an Amazon BusinessAmazon Business is Amazon's wholesale … More Customer.
This amount is not released for disbursement The name of the payment Amazon ma… More until the buyer settles the payment. It may take 30-45 days from the time the order was placed.
In the event that the EDD is longer than that, then clearing the Amazon reserve period may take a few extra days.
Just like delivery date-based reserves, the amounts and release dates for Invoiced Orders will be displayed on the Deferred transactions page.

These are amounts that Amazon will hold onto if it suspects deceptive, fraudulent, or illegal activity.
It can do this because of its Funds withholding policy.
The aim is to settle any claims, chargebacks, returns, or refunds that may take place within 90 days of suspension.
The funds become inaccessible to sellers as soon as their account is deactivated. But they can be released with a successful appeal.
There's a 90-day 'cooling off' period.
From then on, sellers who don't file a successful appeal can ask for their funds back.
If Amazon still deems the activity to be fraudulent, it can continue to withhold some or all of the funds.
Here are some examples of fraudulent activity: falsifying information, submitting forged documents, misrepresentation, and breaching Amazon's anti-counterfeit policy.
Amazon can even put a permanent hold on funds. This usually happens if there's an intellectual property A collection of ideas, concepts, … More issue, but there are many other causes.
The Funds Withholding Policy page has this to say:

5. Cleared Payment Delays
Amazon disbursements can take some time to process, as mentioned on the official Disbursement Tracker page.
Once a disbursement The name of the payment Amazon ma… More is cleared for payout, it can take a further 5 days for the funds to show up in the seller's bank accounts.
Sellers should bear this in mind too.
The Amazon Disbursement Timeline
Three main factors affect how long it takes to get paid on Amazon: EDD, tracking, and disbursement The name of the payment Amazon ma… More settings.
But virtually every seller will have some money tied up in Amazon, whether it's a cleared disbursement or a reserve that may never be released to them. 
As a new seller, you have the option to request daily disbursements into your bank account.
This can help offset the effects of an Amazon reserve.
For sellers with grandfathered accounts, disbursements happen automatically every 2 weeks.
On the upside, they don't usually have any reserves.
Why does it all matter? Selling an item on your own website would make the revenue available to you instantly, without reserves or payment holds.
But if you were to sell the same item on Amazon, it could take anywhere from 2 to 7 weeks to get paid.
Let's exemplify:
So, a regular US seller delivering domestically with a tracked service would get paid in 15-20 days. That's 2 business days (b.d.) standard lead time, 7 days to deliver, 7 days for the delivery date-based reserve to clear, and another couple of days for disbursement.
But what happens if the seller ships internationally, without a tracking number, and without daily Amazon disbursements?
It could take 50 days.
That's 2 b.d. for handling and up to 18 b.d. to deliver globally, bringing the EDD to 28 calendar days.
Add 7 days for the reserve to clear, up to 14 for disbursement, and some time for the money to appear in the bank account.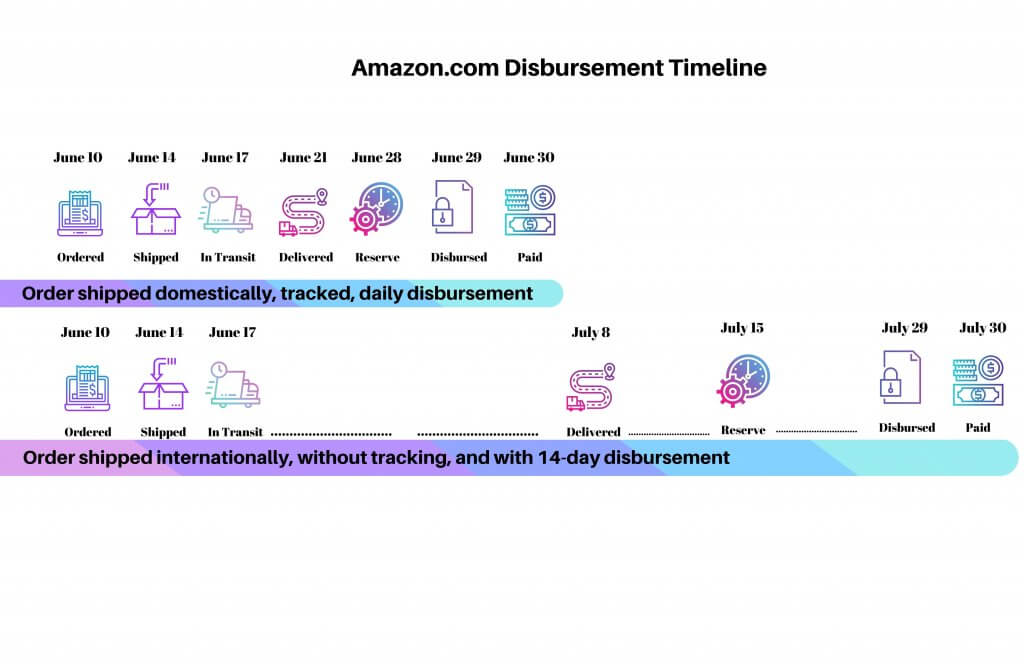 What Can You Do to Speed Things Up?
We've already mentioned some of the ways sellers can shorten this time frame.
Let's recap:
Check the banking and credit card fields in Seller CentralAmazon Seller Central is a portal or a h… More for any outdated information.
Declare your tax registration status.
Set up daily disbursements in Seller Central, if eligible.
Switch to FBA for items preferred by international buyers.
Confirm all shipments in Manage Order as soon as possible.
Upload valid tracking numbers on Amazon asap to bring down EDD.
Shorten

Lead Time to Ship

(LTS) or handling time if you can dispatch quicker.
Don't ship early without a tracking number. It won't affect your EDD.
Use integrated carriers and select the fastest shipping option available.
Address all A-to-Z claims and chargebacks promptly.
Draft and submit appeals quickly, ideally with help from Amazon experts.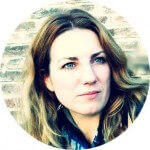 Melanie takes an active interest in all things Amazon. She keeps an eye on the latest developments and keeps Amazon sellers up to speed.