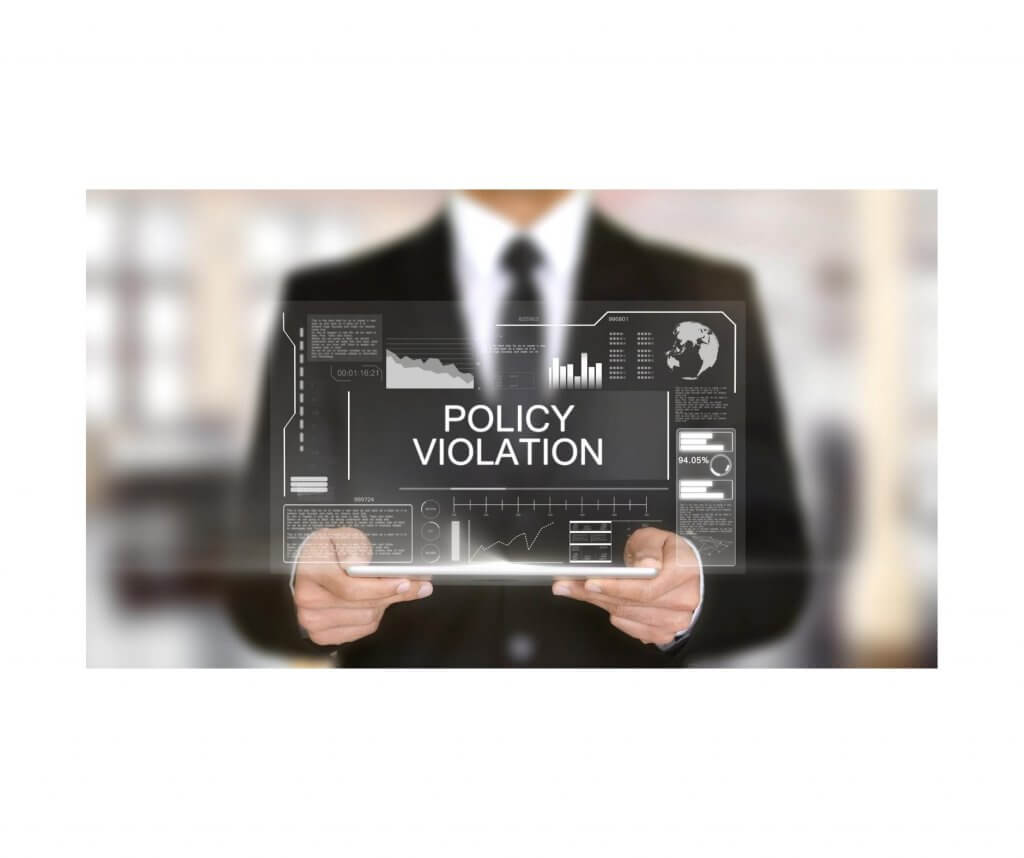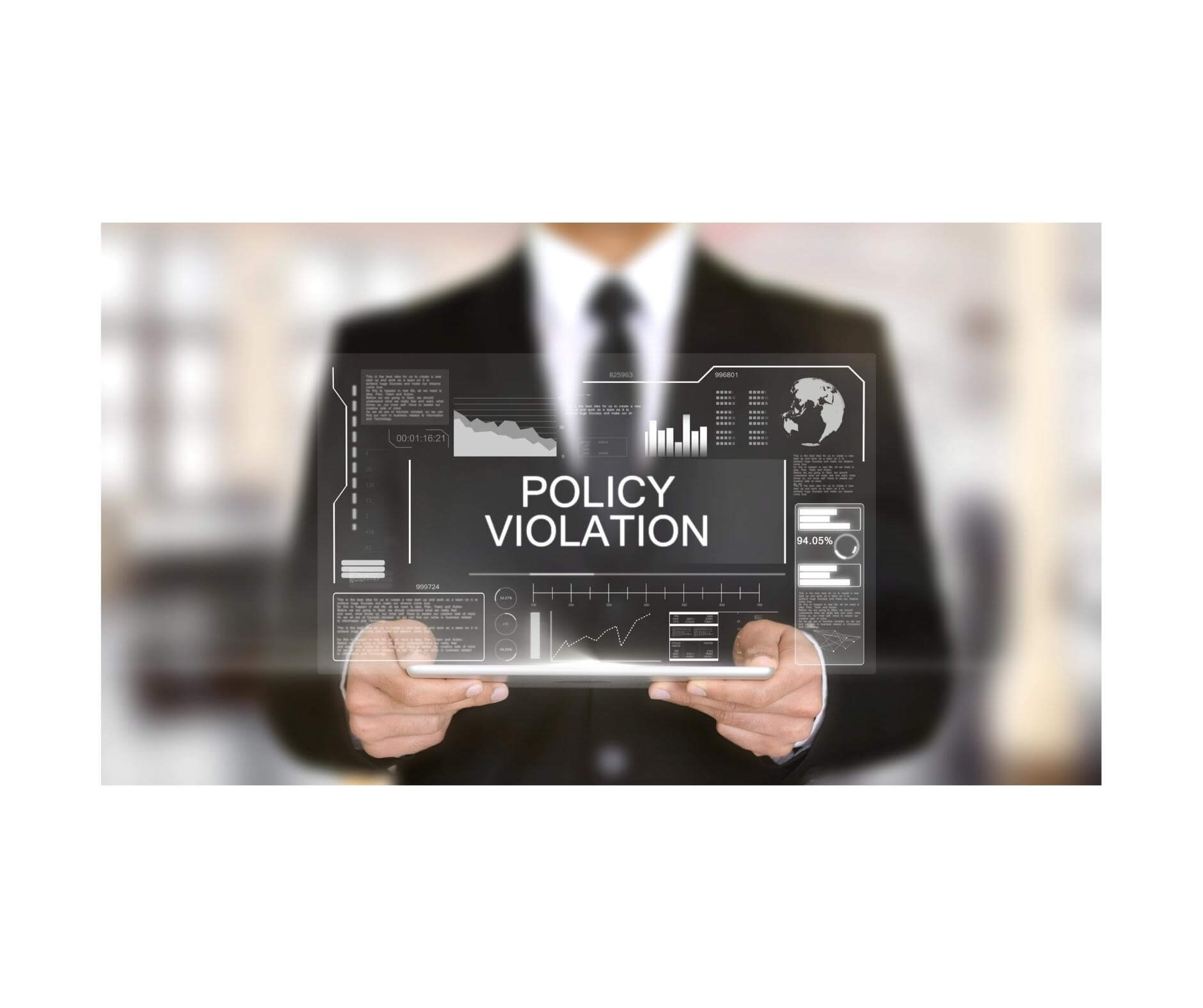 As sales pick up and supply orders are rolling out, it's time to think about Amazon policy violations. Join us as we discuss Amazon policy violation appeals.
This list of rules keeps growing. The latest addition to the Code of Conduct, for instance, is the reference to price fixing. But that's no excuse for not keeping up-to-date with the policies. Break any of Amazon's rules, and you can expect them to take action against your account, including:
Deactivating listings
Removing selling privileges.
Placing a hold on payments for up to 90 days, a.k.a. the 'cooling off' period.
Placing a permanent hold on disbursements.
How do you know if you've broken the rules? You should receive a notification that there's been a possible policy violation on your account. But that email might go missing. So, check your Account Health dashboard daily. You should be able to spot the notice under Policy Compliance.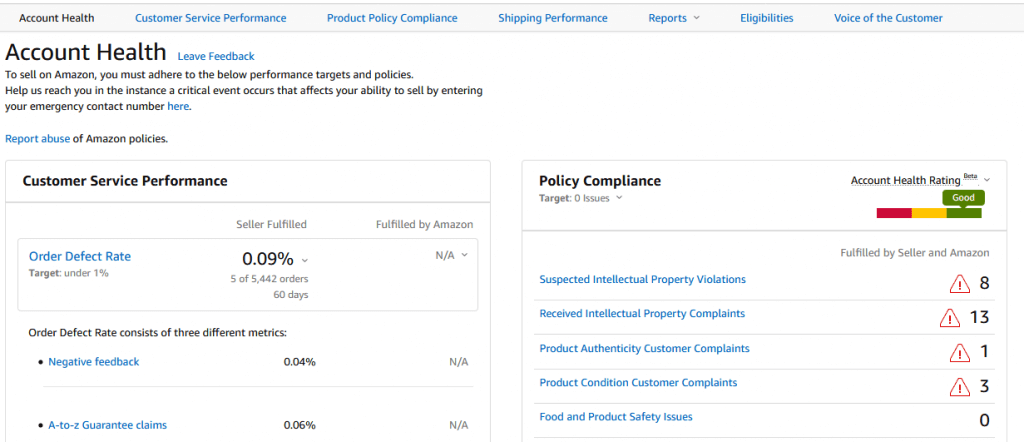 Note that a violation and a warning are two different things:
Policy warnings (red danger signs) are displayed for up to 180 days in your dashboard, but they don't affect you once you stop doing whatever triggered the warning message (e.g. delete the listing, change the title).
Policy violations (under "Target: x issues") stay with you until you prove to Amazon that the issues are resolved and that they won't happen again. That is, submit successful Amazon policy violation appeal letters with practicable plans of action (POAs).
Also, your account healthAccount Health is an Amazon page which c… More rating (AHR) might take a beating. That's because any unresolved policy violations and warnings will affect your account's integrity. Your AHR might even slide into the red ('Critical') end of the scale.
How to Address an Amazon Policy Violation
You'll often hear us say that, on Amazon, change is the only constant. Over the years, we've seen Amazon adopt a variety of approaches to policy violations. Sometimes it's zero-tolerance, where they suspend an account and nothing the seller says can change their minds.
Sometimes, it's a "suspend now, ask questions later" approach. They are only willing to listen after suspending selling privileges and disbursements. There was even a pre-POA phase, where they gave sellers the benefit of the doubt. They only suspended accounts as a last resort.
Nowadays, they're using an auto-reply type of appeal response. Everything is automated, with replies due in as little as 3 days. Every type of violation comes with a different solution. So, knowing how to approach specific violations is essential to maintaining your selling privileges.
1. Amazon Listing Policy Violation
A listing policy violation happens when a listing's attribute is tampered with by a seller. This can be due to a genuine mistake. But it can also be because of a hijacking attempt. Bear in mind that some products can't be listed on Amazon unless they meet certain conditions:
Cameras can only be sold in their original packaging or, if the title mentions it, plain boxes.
Computers without their original packaging can't be sold as anything other than 'Acceptable'.
Software can only be sold if it's the full retail version (not promotional or Beta version).
Textbooks can't be sold if the ISBN or jacket type (e.g. paperback) doesn't match.
Some can't be listed at all. This includes:
Promotional samples, bundles, and advance copies.
Expired or soon-to-expire products.
Items deemed unsellable.
Items are earmarked for disposal by the supplier or manufacturer.
Items with stains, corrosion, mold, or missing parts.
If your listing is suspended for breaking these rules, you'll probably go through the appeals process. You'll be asked to submit a plan of action (POA)This is a written account of how you int… More. It should cover 3 essential aspects: root causes, corrective action, and preventive measures.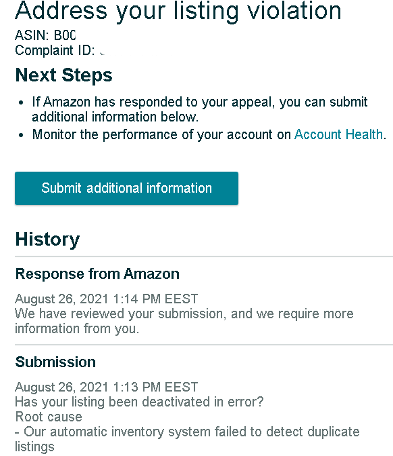 Depending on the issues raised in the notice, you have a variety of ways to tackle this type of violation. Assuming your listing wasn't hijacked, here's how you could go about this:
Show that the product matches its listing, including UPC code, brand name, images, and description.
Show that you've never sold or had an active listing for the item.
Send before-and-after photos, supplier invoices, photos of your inventory, and show your item was shipped 'New' etc.
Provide proof that your listing isn't a duplicate, stating your product's USP and special features.
If you're selling multipacks, show Amazon what's in them and what individual items are priced at.
If you're selling bundles, send Amazon the ASINs and details of all the items included.
For variations, show that your descriptions are accurate, consistent, and priced fairly.
Share the identity of your authorized distributor with the Seller Support Team.
Contact the authorized distributor and ask them to vouch for you.
Share their letter of authorization or other legal documents.
2. Amazon Product Safety Violation
Amazon has a Product Safety Team. It's tasked with handling safety complaints and incidents. Because safety standards change all the time, this team might have new requirements from one day to the next.
Safety violation claims can come in waves. Our readers might remember last year's toy purge. But they are common with FBA products. These items are subject to very strict expiry rules, as well as storing, prepping, and labeling requirements.
If this happens to you, you'll be asked to submit an Amazon policy violation appeal letter. And you won't be able to submit if you're missing any documents. Here's what Amazon might expect to see from a seller trying to appeal a safety violation suspension:
Dispose of the items.
Move them to more lenient countries and markets.
Change storage conditions.
Add warning labels.
Provide setup instructions.
Carry out periodic testing with a certified laboratory.
Get ISO accreditation (e.g., ISO17025 for electronic devices).
Obtain and keep (M)SDS documents.
Get liability insurance.
3. Amazon Restricted Products Policy Violation
Any item listed on Amazon must comply with Amazon's rules and the law. Listing and selling restricted Selling certain product categorie… More products like prescription drugs is strictly prohibited. Expired products, testers, offensive items and those that are not age appropriate are as well.
To sell products like these, you need to show Amazon that they are registered with a local authority. They'll probably need a label rehash too. For instance, to be sold in the USA, pesticide products must come with an EPA registration number.
Some items can only be sold if they are in new condition or fulfilled via FBM. But how would you know? Profit Bandit will warn you about product restrictions before you buy an item. So, you're not stuck with inventory you can't sell.
Aside from restricting products, Amazon can also ban them altogether. Products with lapsed certification or those that falsely claim to have FDA approval (e.g. dietary supplements) are fine examples. So is any product that makes bold, prohibited claims to cure, prevent, or treat conditions.
When it comes to writing an Amazon policy violation appeal letter for this type of violation, there's not much that can be done to defend the product. Instead, sellers should focus on showing Amazon that they went through the effort to permanently rid listings, inventory, and suppliers of these products and claims.
4. Amazon Restricted Category Violations
Some product categories are 'gated'. That means they come with restrictions. These can be temporary, seasonal, or permanent. Some of the best-known restricted categories are Video, DVD, & Blu-Ray and Toys & Games (but only over the holidays).
But storefronts, brand, and warranties can also be gated. Take, for instance, the Made in Italy storefront, restricted brands like Nike, and the Watch Protection Plan warranty. It can take a lot of time and money (up to $5,000) to 'ungate' any one of them.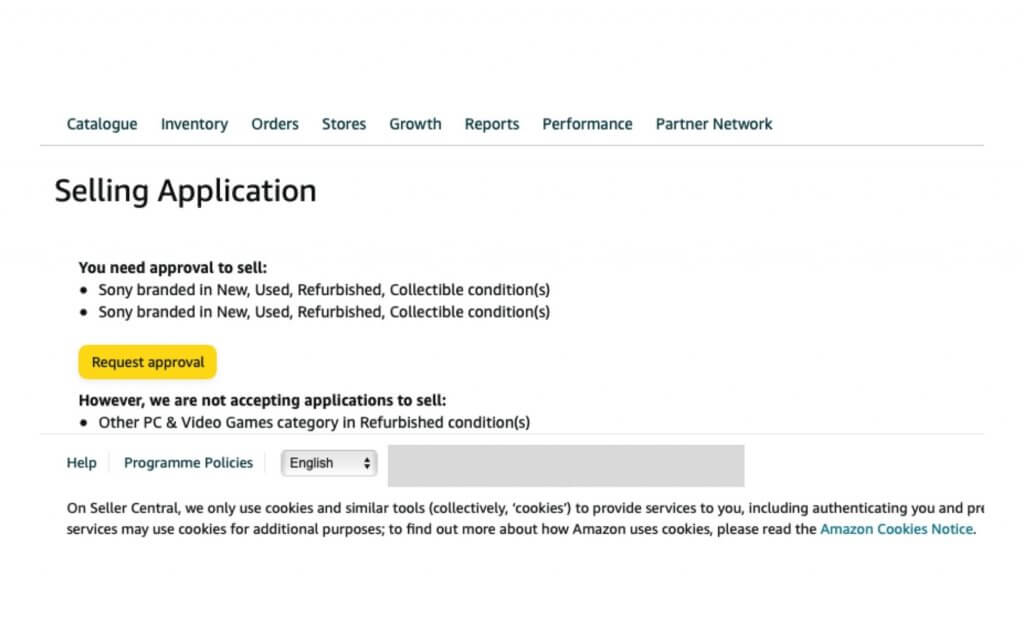 Our scouting app Profit Bandit can warn you when there's a restriction. Even before you've bought, let alone listed an item! But what if you've already listed it? If you're notified of a new category restriction that will affect existing listings, here are your options:
Delete your listings for the restricted Selling certain product categorie… More product.
Prove to Amazon that your product is licensed.
If you got your product from an authorized distributor, share that information with the Seller Support Team.
Ask the authorized reseller to vouch for you.
5. Amazon Authenticity Violations
Amazon's bots can pick up certain words. It can be from buyer messages, feedback, listing descriptions, or keywords. If these words point to a violation of anti-counterfeiting policy, they'll flag up your account.
It's also not unheard of for competitors or buyers to make false claims. If you don't suspect foul play, give your inventory a once-over and write to Amazon. You may not need to send a POA. But you'll most likely be expected to do the following:
Provide itemized invoices with the right letterhead, contact details, and date range.
Prove that your supplier is authorized to sell.
Contact the authorized distributor and ask them to vouch for you.
6. Intellectual Property Violation
A Brand Registry user, brand owner, or legal team, may contact Amazon with an IP complaint. In doing so, they accuse other sellers of using their intellectual property A collection of ideas, concepts, … More unlawfully. It doesn't matter if they share a listing with them or not.
But there are other situations where you can end up with an IP violation notice. Let's say an AI bot flags up your listing because you mentioned a brand that isn't yours or hasn't been approved.
It was placed in the title, brand field, keywords, SKUs, or description. This goes against Brand Policy.
But you can still break the rules, even if it's your own brand. Adding product identifiers (brands, titles, ASINs, etc.) to hidden keyword attributes is not allowed. It's classed as 'misuse of search and browse'.
We talked about IP infringement before on our blog. Our advice is to read our post titled How to Handle IP infringement Issues. There we explain the difference between trademark, patent, and copyright. After you go over some of this material, make sure you understand that you must:
Sell authentic items only.
List only items that don't violate the IP policy.
Never use the Amazon badge if it goes against Trademark Usage Guidelines.
If you're served with an IP violation notice, not knowing the rules is no excuse. You need ironclad arguments. And you usually also need the Rights Owner's approval. There are several steps you can take to address an IP violation:
Check your inventory and your listings to make sure this is the only incident.
If you have IP rights, prove to Amazon that the claim is baseless.
If you don't, pester the Notice Dispute team for their contact details, as explained here.
Write to the Right Owners and get them to retract the complaint.
Contact the authorized distributor and ask them to vouch for you.
Check that your supplier's license to sell hasn't expired.
Provide an authorization letter from your supplier.
Check that the claim isn't more than 6 months old, in which case you can ask Amazon to remove it hassle-free.
7. Used Sold as New Violation
Amazon flags up this kind of violation because there's a valid complaint about an item's conditionProducts can only be listed on Amazon if… More. Even if your items are new, buyers can still have a negative experience due to damage, product faults, missing parts, or disappointing presentation.
These claims fall into the safety category. They're linked with counterfeit claims, so you risk losing your selling privileges over them. In extreme cases, if your supplier is on a supplier blacklist, you might even be expected to break up your collaboration.
Here's what Amazon might expect you to do so you can prove that your listings should stand:
Check your self-fulfilled inventory and request a bin check from FBA.
Rethink the way you store and handle items (e.g. polybagging or shrink wrapping).
Set up new packing procedures or a quality control department.
8. Customer Review Policies Violation
Amazon doesn't allow sellers to review their own products or a competitor's items. It's also forbidden to ask a reviewer to make, change, or remove a review. That's with or without incentives like refunds and discounts.
When this kind of violation is claimed to have taken place, Amazon will sanction everyone listing that item. It doesn't matter if it's a deliberate hijacking. If your listing is suspended, you must justify your reason for wanting to have your offer reinstated. Here are your options:
Show Amazon your product variations are described and priced accurately and consistently.
Show your reviews are verified and genuine.
Speak to a member of the Catalog Team from the venue where the violation took place.
Ask that they cross-check your account details with the reviewer's IP address, if you suspect a hijacker hired professional review providers.
Speak to the local Seller Support team, and report the reviewer for engaging in Prohibited Seller Activities.
If you'd like to know more about appeal letters and POAs for Amazon policy violations, please don't hesitate to give our blog a peek.
For even deeper insights, our Account Health Monitoring team is happy to help.
And should the unthinkable happen, our Account Rescue service is standing by with extensive expertise in Amazon Policy Violation appeals and reinstatements.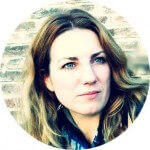 Melanie takes an active interest in all things Amazon. She keeps an eye on the latest developments and keeps Amazon sellers up to speed.