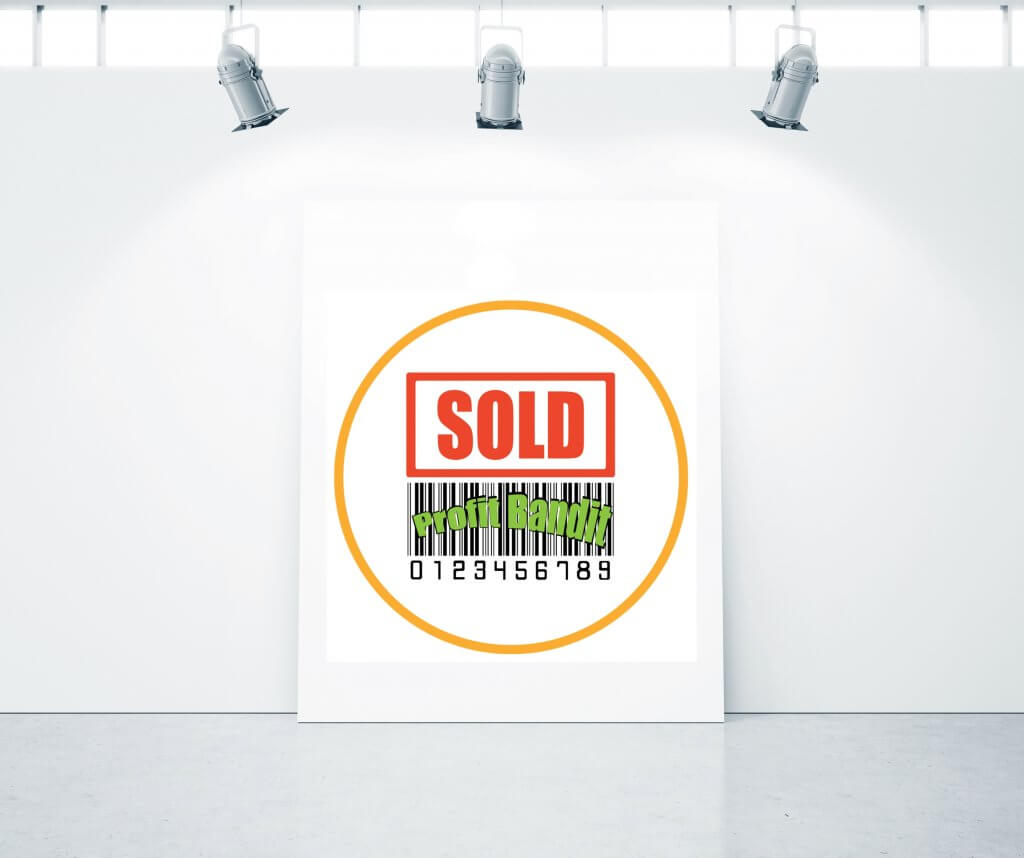 Partial to profit? If you like making money on Amazon, then you need an Amazon scouting app like Profit Bandit. Find out what the best-value real-time Amazon sourcing tool on the market can do for you. With or without an Amazon pro merchant account.
We often come across Pro Merchants who've never used an Amazon sourcing tool like Profit Bandit. And we feel it's our duty to let Amazon sellers know that, whether they have an individual account or a pro seller subscription, they'd do well to use an Amazon scouting app.
Profit Bandit shows you real-time data, so you're one step ahead of the competition.
It relays data from Keepa, CamelCamelCamel, and other marketplaces.
It lets you know if products or brands come with restrictions on Amazon. And it gives you a much broader perspective over a product than other Amazon sellers have.
Profit Bandit App Evolution Over Time
Back in 2012, we announced that Profit Bandit became part of the suite of SellerEngine software tools. And even though Profit Bandit keeps a pretty low profile when it comes to advertisingAdvertising is a means of communication … More, we've been busy adding features to it and growing its user base ever since, with dedicated developers and support crew.
So, over the past couple of years, Profit Bandit has changed a lot. We've made it compatible with various platforms, marketplaces, fulfillment channels, software tools, and hardware. And we've been busy showing Amazon sellers how to:
We then stepped it up a notch and released some unique features. We made a version of Profit Bandit available to Individual sellers as well (Non Pro Merchant sellers), and we decked it with clever tools. So, scouts can look things up without even having an Amazon Pro Merchant account. And they can also use the scan history feature too.
So, let's go over some of the basics of setting up and using an Amazon Non-Pro Merchant account with Profit Bandit.
The Non-Pro Merchant Version
Q: Why was the Non-Pro Merchant version developed?
This update will let people without an Amazon Pro Merchant account – or any Amazon seller account, for that matter – sign into Profit Bandit. We developed it because Amazon sellers pointed out to us that they need Profit Bandit all the time. Even if they don't have a Pro Merchant account, or they can't log into it.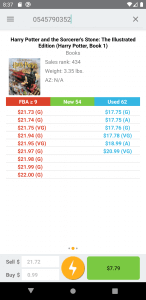 Q: Does it have all the features from the Pro Merchant version of the app?
The Non-Pro Merchant version doesn't give you access to some of Profit Bandit's best-loved features.
So, you can't see the Buy List or access Search Results from other websites. And you can't use Vibration Alerts or the Batch Scan Mode.
But it does display Sales RankThe sales rank of products on Amazon ind… More and Price History graphs: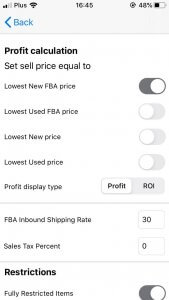 Q: How does it maximize ROI and Profits?
Unlike other Amazon scouting apps, Profit Bandit displays lowest prices for both the New and the Used category, fulfilled via MFN and FBA. It also makes it easy to instantly work out both the Profit and the maximum ROI. Simply use the slide next to the "Profit display type" field. These features are available for Pro and Non-Pro users alike.
Q: Is it available to sellers on all venues?
The Non-Pro Merchant version of Profit Bandit app is currently available for the USA venue only. However, the version dedicated to Amazon Pro Merchant sellers is available for these venues: USA, CA, UK, DE, ES, IT, FR, AU.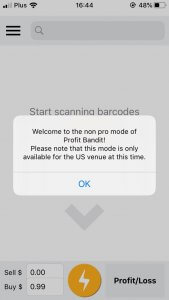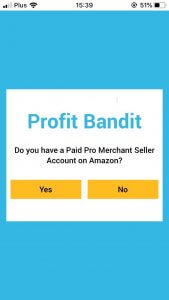 Q: How do I choose the Non-Pro Merchant version when I install the app?
When you create your account in the smartphone app, you are asked whether you have a Pro Merchant account or not. Selecting 'No' will take you to the Non-Pro Merchant version of the app.
When you create your account on our subscription website, you will see two options to choose from, Pro Merchant or Non-Pro Merchant.
Q: What if I change my mind after signing in?
You can always swap from one mode to the other from the Settings menu.
Simply use the Switch Mode feature shown here.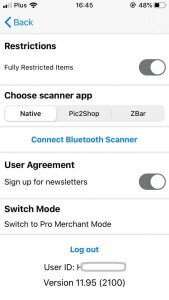 Q: What if I need help?
For questions and support, you can contact us at profitbandit@sellerengine.com.
We're also available on Facebook.
Better yet, you can write to us using the dedicated eMail Support button in the app, shown here. Thanks to the autofill feature, the email will be sent straight to the relevant department.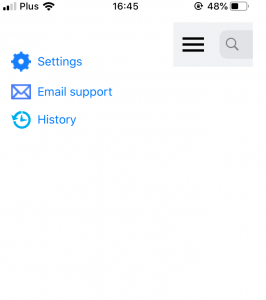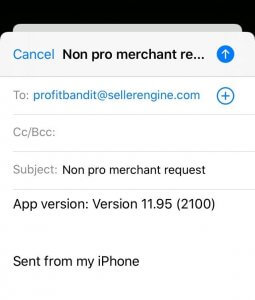 Signing Up to the Non-Pro Merchant Version of the App
Q: How do I Sign Up for a Profit Bandit Non-Pro Merchant Account?
You can sign up on the official page at Profit Bandit Subscription Center.
You can also subscribe through your iTunes account or Google Play account.
Q: What are the OS requirements to use the app?
The minimum OS requirements are: iOS 10 or Android 5.
Q: Where do I see subscription details?
For subscriptions purchased on our website, you can see the details here.
For subscriptions purchased through iTunes, go to Settings > iTunes & AppStore, tap on your Apple ID at the top of the screen, and select View Apple ID. Then select Subscriptions.
For subscriptions purchased through Google Play, go to Google Play Store > Subscriptions.
Q: What happens if I change my phone?
If the subscription was created on our website, all you have to do is download the app from the App Store / Google Play Store and then sign in using the same Profit Bandit account.
If the subscription was created through iTunes or Google Play, you must use the same App Store / Google Play account.
Q: Are you working on other features for the Non-Pro Mode?
We've recently added scan history by popular demand. Moving forward we want to do the same thing, so please let us know what other features you'd like to see added and we will prioritize them.
Be sure to try it today to see how a real-time Amazon scouting app can help your bottom line for the low price of $9.99/month. Pro merchant or not, you can't put a price on having the most current information at your fingertips with the foremost Amazon sourcing tool.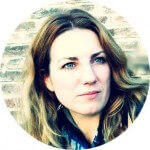 Melanie takes an active interest in all things Amazon. She keeps an eye on the latest developments and keeps Amazon sellers up to speed.