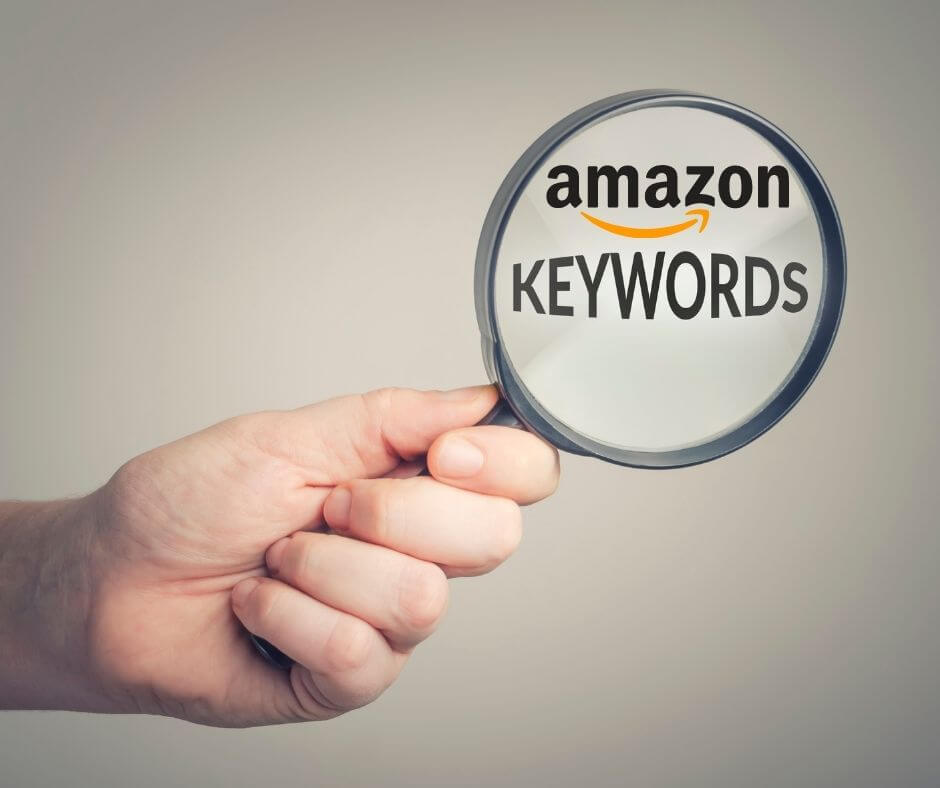 There's a new blackhat tactic spreading like wildfire: Amazon keyword sabotage. And just because you haven't had any hijacked listings doesn't mean you won't. Here's how this hostile Amazon SEO strategy can affect you, and how you can protect your account from dishonest competitors.
With Prime DayPrime Day was initially a one-day sales … More 2022 just around the corner, it's time to draft a contingency plan.
But this year, you might have to contend with more than bogus IP claims.
There's been a surge in reports of hijacked listings, pointing to a widespread Amazon keyword sabotage campaignSellers and vendors have a variety of ad… More.
It appears that dishonest sellers have found a way to bring down countless listings for months on end.
Reports have been pouring in since Oct. 2020, and the forums haven't stopped buzzing since. The identity of the saboteurs isn't clear. But here's their operation mode (modus operandi):
Stage 1. They take a US competitor's ASIN, copy the listing, and launch it on another venue. It's typically an English-speaking marketplace like CA or UK, but venues like JP and NL are also affected. Whatever the marketplace, the listing is in English.
This suggests that:
The perpetrators are (working for) Amazon.com sellers trying to bring down competitors with similar products.
A language barrier prevents them from creating listings on other venues in the local dialect.
They don't have the time, resources, or need to translate product details, so they may be professional hijackers.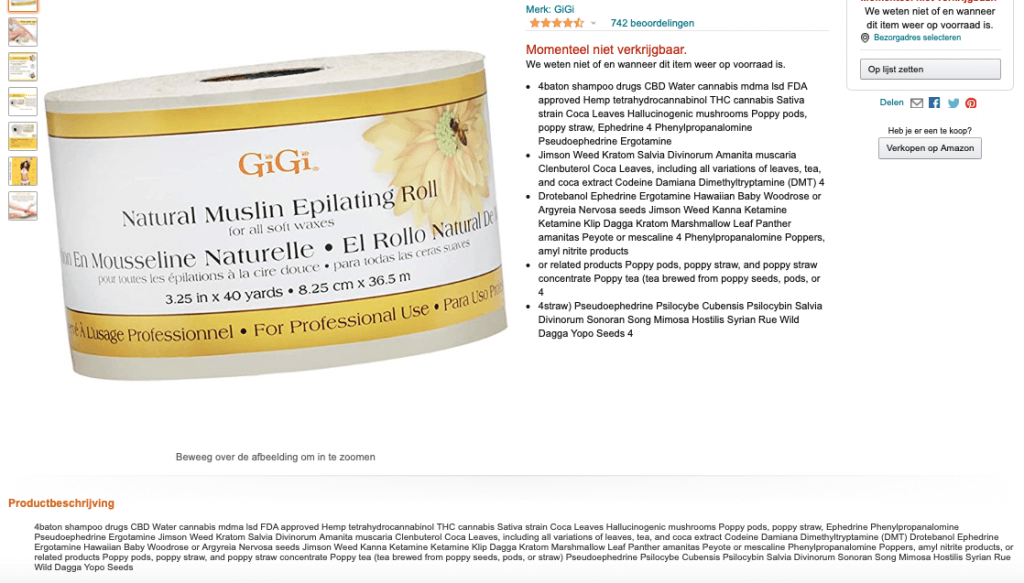 Stage 2. Once the listing is live, they edit the title, bullet points, and description sections.
They stuff the listing with keywords (in English) related to prohibited products. They use the same phrases and the same typos for multiple products.
Sometimes the keywords are simply copied from the Drug help page.
For example, the snippet below was cited by multiple sellers, but hardly raised an eyebrow from Seller Support.
What's more, hijacked listings such as these are sometimes featured by Amazon affiliates.
"…4baton shampoo drugs CBD Water cannabis mdma lsd FDA approved Hemp…"
On the new venue, you won't usually find the hijacked listing with a title or ASIN search. But you can find it online.
Just google the phrases from the bullet points or the description. And you might even find multiple hijacked listings on Amazon using the same phrase.
This suggests that:
The perpetrators use a combination of backend keywords (hidden search terms meant to boost visibility) and front-end ones.
They can suppress bogus listings so that buyers and brand owners won't see and report them to Amazon.
They may be using software and insider expertise.
Stage 3. When a bot picks up the keywords, this triggers a policy violation notice and a drop in the seller's Account HealthAccount Health is an Amazon page which c… More rating.
The listing is closed on Amazon US.
On what grounds? Giving conflicting information across venues, as well as listing prohibited items.
When the seller files an appeal with US Seller Support, the claim is rejected. It doesn't matter if the listing is active or not, or if the product is clearly not prohibited and has been selling on Amazon US for years. It also doesn't matter if the seller is the manufacturer or brand owner.
The Seller Support team will disregard proof of brand ownership and legal compliance. There's every chance that it will send a canned response. In it, it might ask the seller to edit the new listing and remove the offending keywords.
Unfortunately, the seller will be unable to do so. It could be because the new listing is already suspended and inaccessible. The product category might be gated Selling certain products and bran… More. Or the seller doesn't have an account on the new venue or hasn't signed up for Brand RegistryAmazon Brand Registry is a tool that ena… More on it.
Sometimes sellers report that by the time the listing is cleared, the saboteurs launch another bogus one on a new venue. This time, it triggers a different kind of violation notice. And the situation repeats itself with new ASINs, leading to a cascade of closed listings.
In the time it takes the seller to clear up the issue, important sales events will have passed.
FBA inventory will have been rejected at the gate, stuck on the shelf or removed.
Competing products will have sold out.
And rankings will have plummeted.
Amazon Keyword Sabotage and How to Fight Back
It's very important for all sellers to keep an eye on their Account HealthAccount Health is an Amazon page which c… More.
And it's especially important to address every Restricted Selling certain product categorie… More Products policy violation as soon as the notice comes in. Here's what you can do if you're a victim of Amazon keyword sabotage:
1. Keep Tabs on Your Competition
The tell-tale signs of Amazon keyword sabotage are clear. What's not clear is if there's a connection between hijacked listings.
With help from certain tools and friendly sellers, you may be able to connect those dots faster once a saboteur strikes.
You may even find a pattern.
For instance, if you've only had one listing suspended, then a black hatter may be trying to wipe out the competition indiscriminately.
If you have several suspended listings, then a competitor may be targeting you in particular.
Either way, it's worth keeping a list of your main competitors for every product you sell. A tool like Sellery can help, as shown in our Private Label post.
If your listings are suspended, you can then compare notes with friendly competitors, and report the black hatter.
2. Don't Waste Time
Lots of sellers with suspended listings try to get round the issue by creating variations. But in this case, it won't work.
If Amazon's suspended one of your listings already, there's every chance that any new version of the item will also get struck down for the same reason.
And listing your products on other venues won't help either.
It might even be seen as suspicious.
Finally, escalating the issue to the Captive Team or higher is also likely to lead nowhere.
So, don't try to outmaneuver Amazon. Focus on reinstating your existing listings.
3. Talk to the Right People
When you have hijacked listings, your go-to is the Catalog Team in charge of the marketplace where the bogus listing was made.
So, if your saboteur opened a listing on Amazon.ca, then you must get in touch with the Canadian Catalog Team.
Otherwise, your back-and-forth with the US Seller Support team will lead nowhere.
But how can you get through to the foreign Catalog Team? It depends.
You should be able to do so yourself through Seller CentralAmazon Seller Central is a portal or a h… More, but you may need to go through Seller Support.
If you already have an account on that marketplace, then these handy step-by-step instructions from My Amazon Guy should help you contact them in Seller Central.
If you don't have an account, your best bet is to look for a local Contact US page that accepts queries from outsiders, like the European one.
If there is no public Contact Us page, then you may need to ask for a callback from the US Seller Support team, and then ask them to put you in touch with the foreign Catalog Team.
4. Cut to the Chase
A member of the Catalog Team can only offer tech support.
They won't be able to reinstate your US listings if the hijackers keep coming up with new bogus listings.
But they can see who is making them. And they can help you edit them.
So, if you get through to the right Catalog Team on the right marketplace…:
Let them know you suspect you're a victim of keyword sabotage. Say you didn't create or edit the listing that triggered the policy violation notice and suspension.
If you have a seller account on that marketplace, give the Catalog Team the details. They can cross-check it and see that it doesn't match the hijacker's account details.
Briefly describe the products involved, their sales history on Amazon, and your proof of compliance (photos, list of ingredients, CPSC certificates, FDA conformity, etc).
Let the Catalog team know you're the manufacturer, brand owner, or authorized seller.
Talk about any exclusivity rights you have.
Discuss Brand RegistryAmazon Brand Registry is a tool that ena… More and if you've signed up on their venue.
5. Report the Hijacker for Amazon Keyword Sabotage
Once the Catalog Team is certain that your listing was hijacked, they can reinstate the foreign listing and help you edit it.
But you must insist that the hijacker is never allowed to list again on any venue.
Ask for an investigation and request that the local SS team is notified.
If you have an account on that venue and the hijacker's details, you can report them yourself.
Use the official Report a violation of selling policies help page.
Simply change the domain name on it to the one corresponding to the venue where the hijacking happened.
Make it clear that the hijacker engaged in Prohibited Seller Activities.
Mention that they are culpable of Misuse of Search and Browse.
Quote the section about providing misleading catalog information in titles, keywords, etc.
Add that the Catalog Team agrees with you.

6. Reinstate Your US Listings
If the Catalog Team hasn't already done this for you, you can submit an appeal with the US SS team yourself.
Describe the facts (Catalog Team's decision, violation report number, foreign SS case number, etc.).
Remember: the aim of your appeal is to reinstate your US listings and your Account HealthAccount Health is an Amazon page which c… More rating. To do so, you must convince US Seller Support that there won't be a repeat of this hijacking. So, point out that you have the Catalog Team's reassurance.
7. Make a Proactive & Coordinated Effort
With so many hijacked listings, it looks like this is a complex Amazon keyword sabotage campaignSellers and vendors have a variety of ad… More.
The best way to avoid having hijacked listings is to beat them to it.
This involves making sure that you coordinate efforts, resources, tasks, and know-how.
So, your account management team, your brand performance team, and your SEO team must work together.
A. Account Managing Tasks
A proactive account management team could consider opening seller accounts on most Amazon venues.
Amazon IN and CN are the exceptions because they don't accept sellers based abroad. But you could build up a Global Selling without breaking the bank, as follows:
Ask US Seller Support for a Unified North American Account. This enables you to sell on Amazon US, CA, and MX with a single interface and a single Professional seller subscription fee.
Open an Amazon Marketplace European Account. This lets you list across the UK, FR, ES, DE, and IT venues. You use a single account and pay a single Professional seller monthly fee.
Unify these and any other accounts into a single, Global Account, as explained here.
B. Brand Performance Tasks
The next step would be to sign up for Brand RegistryAmazon Brand Registry is a tool that ena… More on as many venues as you can, if you have the authority.
This will give you exclusivity over the listings and flat file uploads. Most reports of hijacked listings refer to Amazon CA and UK, so start with these two venues.
Note that you need to have a registered trademark and it must be active in each country you plan to enroll in.
A good brand performance team should be able to sort this out with the local trademark offices, though it may take weeks or even months to issue your certificates.
C. Amazon SEO and Listing Tasks
If you list your products on every venue, you can then report copycat listings as duplicates.
Consider using the Build International Listings (BIL) tool.
Then deactivate the listings. You could change the quantity to 0 or raise the price – but without breaking the MFP rule.
Try to create international listings in the local dialect.
Keep a record of the titles, bullet points, descriptions, and keywords you used.
In the unlikely event that the saboteurs infiltrate your listings again, you can show this data to Amazon for cross-checking.
We'll wrap up here with another reminder that Prime DayPrime Day was initially a one-day sales … More is mere weeks away and there's no better time to work on your listings.
So, please heed our advice. Use our simple tips to minimize your risk of Amazon keyword sabotage and deal with hijacked listings quickly.
Don't miss the chance to get fresh Amazon News and Amazon expert insight articles right when we post them directly in your inbox.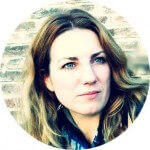 Melanie takes an active interest in all things Amazon. She keeps an eye on the latest developments and keeps Amazon sellers up to speed.