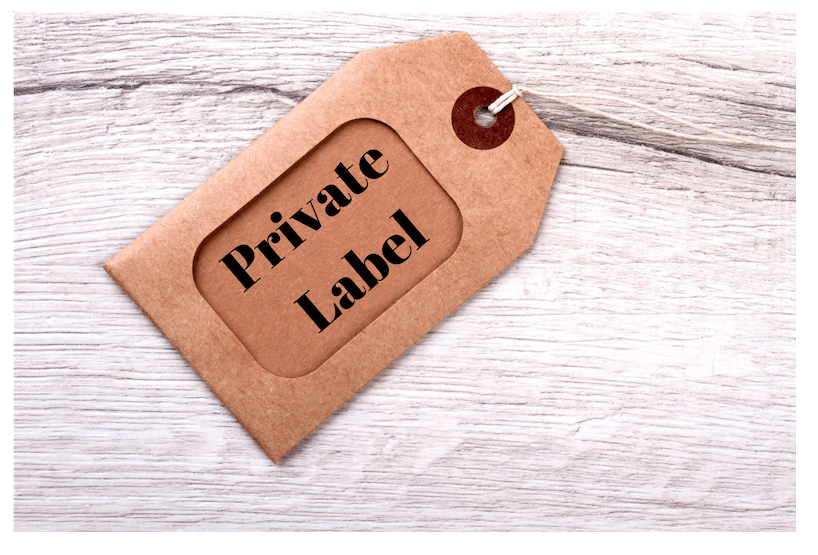 Selling
private label
This is what you call products manufactu… More
on Amazon has its rewards. But what if you could build a scalable PL sales model with only a couple of software tools and a few tweaks? Learn how to outsmart your competition on Amazon today.
Last week, we started talking about selling private labelThis is what you call products manufactu… More on Amazon. More specifically, we discussed sourcing for PL sellers. We also briefly talked about ways to defend your brand on Amazon. This week, let's see what it takes to find and outsmart your competition on Amazon.
The PL Seller's Competitors
1. Amazon PL Brands and Exclusives
Type "Amazon Brand" into your Amazon.com search box. Or click here to see the dedicated Amazon UK Private Label page. TJI research claims there are 135 such PL brands and 330 Amazon ExclusivesBrand owners who enter into an online ex… More or Own Brands. And the number keeps rising suddenly every Q1 and Q3, so right after the sales season.
As it streams shopping data from sales, Amazon can spot "unmet market needs" better than any seller. And what better time to learn about market trends than Prime DayPrime Day was initially a one-day sales … More or the winter holidays? And all the while, it's promoting its existing PL Brands in the Top Rated section of a query result.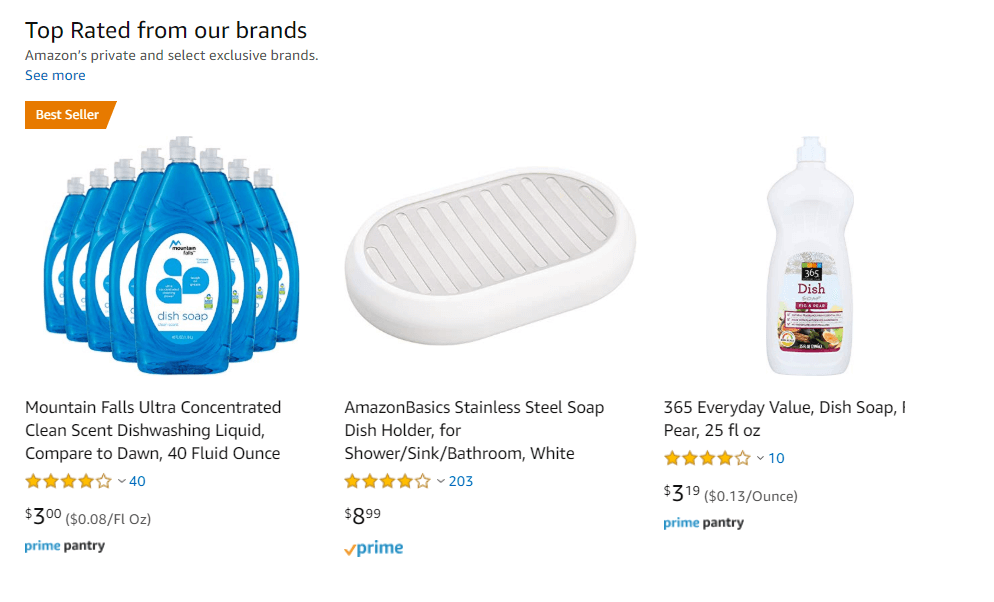 Analyst Keith Anderson of Profitero claims Amazon's own PL strategy focuses on big market trends like sustainability and eco-friendliness. Being able to tap into these market needs led to last year's PL sales. They were estimated at $7.5 billion. And analysts believe this figure will more than triple by 2022.
2. Top Search Results
But PL sellers don't compete with Amazon only. They also face off with Amazon's recommendations. The most eye-catching products are the ones with badges, such as Best Sellers, Amazon's Choice, and BOGOF items. And some BOGOF badges are very similar to the ones Amazon uses.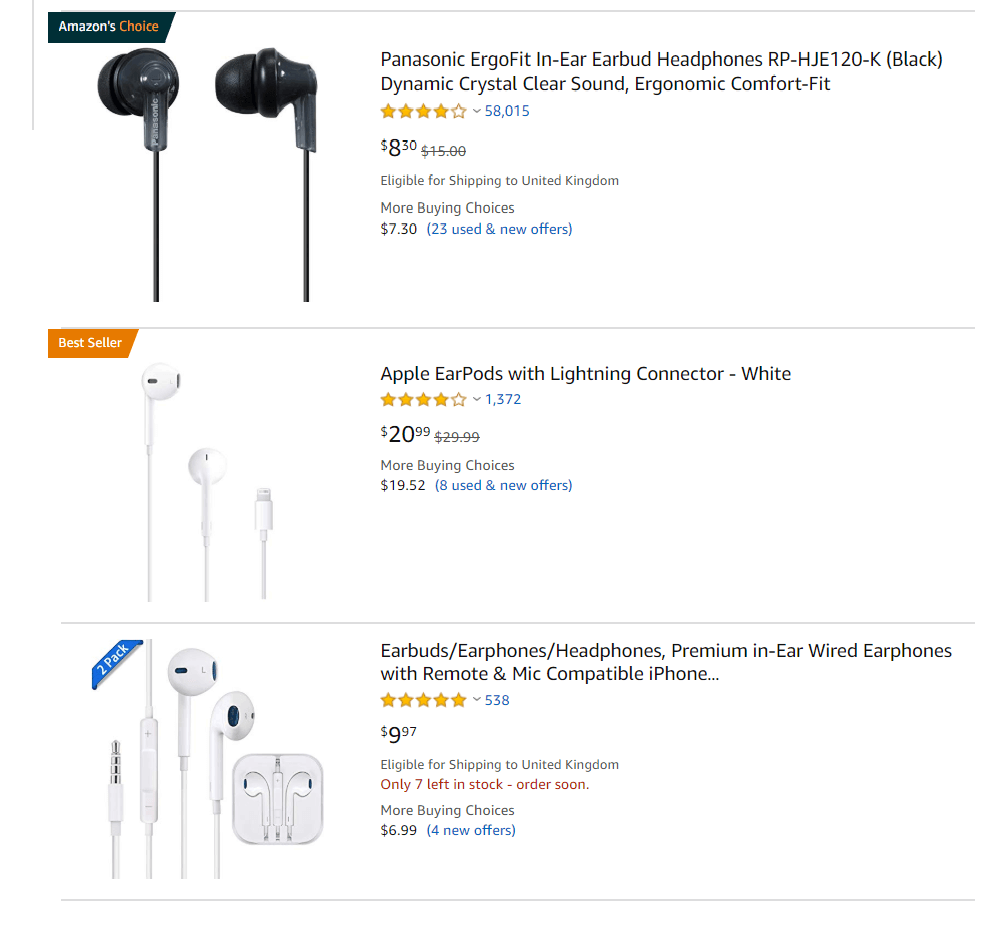 3. Other PL Sellers
Aside from Amazon's own offers and other top search results, you should keep an eye out for paid ads. Headline Search Ads and Sponsored ProductsPay-Per-Click (PPC) ad platform for Amaz… More feature not only on the search result page, but also on your product page, and all over a buyer's home page. Of course, it's always a good idea to use the tools in our competitive analysis post to pin-point your main competitors too.
How To Stay Competitive on Amazon
Now that you have a pretty good idea of how to find and sort your competition on Amazon, how do you set yourself apart and keep your edge? You can promote your products using social media, paid Amazon ads, and the Amazon VineA reviewer program available exclusively… More Program. But only after you tick these boxes:
1. Optimize Your Listing
To outrank other PL sellers, you also need perfect listings. It all starts with finding good keywords for your SEO strategy and writing high-converting copy. You'll find plenty of listing optimization tips and best practices on our blog.
You should also have engaging photos. The Amazon Imaging or Product Photography may be of help. If you'd also like to upload a compelling video, first check the Video Shorts page for inspiration.
Before anything goes live, you should carry out some A/B or Split testing first using special software. This enables you to run two tests for similar listings simultaneously and see which changes are the most effective.
2. Price it Right
You need smart tools to keep an eye on your sales and other PL sellers. With Sellery, you can keep tabs on the competition, designate the products you want to compete with, and reprice in tandem.
It's a customizable "set it and forget it" kind of tool, and the only one that reprices in real-time. It can spot market changes and counteract their effect, so that sales and profits stay up. Simply look up some keywords and let Sellery know what product or PL seller you'd like to compete with.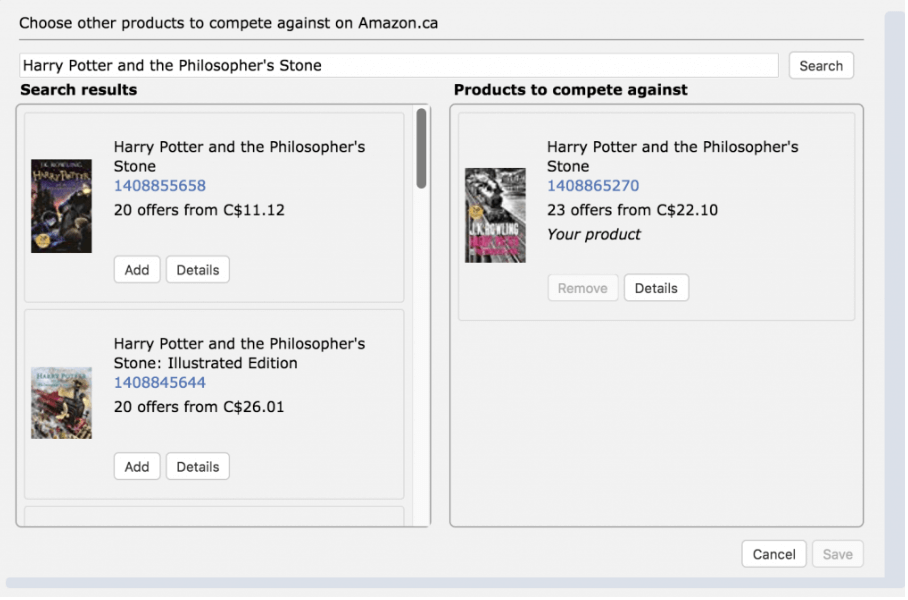 One thing to keep in mind is that the higher your search rank, the more you sell on Amazon. But your search rank depends on your sales velocity. If you're new to Amazon, you may need to bid more on PPC campaigns and sell at a loss for a while, just to build up that sales volume.


3. Keep Metrics Up
If you've registered your own brand, you're probably not that bothered about the Buy BoxThis refers to the situation where a sel… More. But the same performance metrics that increase Buy Box percentage for third-party sellers will drive sales for you, raise your IPI, and reduce your storage fees. So, take a few minutes to read up on them.
4. Rehash and Rewind
Amazon likes to mix it up and see what catches on. Take its Happy Belly trail mixes, for example. But two can play at that game. Repromote your product with new variations, product bundles, or with frustration-free packaging.
You may not compete with Amazon or other PL sellers for these new ASINS; at least not at first. But you can still use Amazon's price as reference. Or check the top selected products page to find new potential competitors.
5. Build a Website
If you don't already have a website of your own to help sell your product, don't waste any time building one. Whether you've registered your brand on Amazon or not, there's no reason to sell exclusively on Amazon. Unless you signed up for Own Brands, of course.
As more and more people sign up to Own Brands, Amazon's brand family grows. So, more PL sellers will go toe-to-toe with Amazon. To outlast your competitors, you need a strategy for scalable sales. But you can't have it if Amazon is your only sales channel and source of income.
In the meantime, make sure your customer service can cope with a rise in queries as sales pick up, without compromising on quality of service. Luckily, the Voice of the Customer dashboard can help pinpoint buyer issues in a flash.
That's it for today, but please follow our blog for our next post in the series, where we'll go into a bit more detail about pricing and advertisingAdvertising is a means of communication … More for private label on Amazon. Until then, stay tuned for our Prime Day Prep post with last-minute tips to boost your PL sales.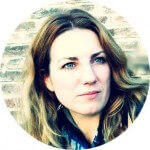 Melanie takes an active interest in all things Amazon. She keeps an eye on the latest developments and keeps Amazon sellers up to speed