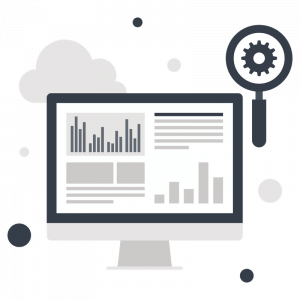 Amazon listing optimization – a catchy phrase that motivates sellers to keep their competitive edge? Or an overused sound bite that puts some sellers off? If you feel like you're falling behind, here's how you can master the art of optimizing your Amazon listings with minimal effort.
Optimizing your Amazon listing can be hard work, because keywords and rankings are equally important in ensuring your visibility. So, as a follow-up to our post Top 10 Habits of a Successful Amazon Seller, we'd like to share with you what it means to optimize your Amazon listings and how you can go about it.
What Amazon Listing Optimization Really Means
Amazon listing optimization is more than tweaking keywords, because Amazon is more than a search engine. Unlike Google or other search engines, on Amazon the customer comes first. So, sales and margins per search are more important than browsing time or click-through-rates.
What users type into the search box doesn't matter as much as what they're really looking for. With 500+ million products, according to ScrapHero, Amazon can afford to try mind-reading as an alternative to offering the customer a substitute or a close match.
Likewise, onpage optimization takes center stage here. No amount of backlinking will affect your ranking on Amazon, and it won't do much for your sales, for that matter. That's because, for the most part, your buyers would already have been searching on Amazon when they came across your product.
Luckily, the Amazon listing optimization algorithm, A9A9.com is the branch of Amazon that deve… More, doesn't go through major changes nearly as often as other search engine algorithms. So, once you get the hang of creating unique, attractive, and productive listings, you can start to loosen up and enjoy selling on Amazon.
How To Optimize Amazon Listings
Given Amazon's complexity, it's obvious that a successful approach to optimization needs to be comprehensive. It goes beyond what's displayed on the product page. Here's what we think you should focus on, where possible:
Make Your Listings Foolproof
Go Prime
Of all the people who ever signed up for Amazon Prime, 100 million are currently active members. It's a well-known fact that Prime members spend roughly twice as much on Amazon every month than non-members.
It also goes without that saying that Prime members are  more likely to buy products eligible for (free) Prime delivery. Hence, making your products available for sale with Amazon Prime is the first way to optimize your listings. To do so, you first need to become eligible by signing up for FBA and maintain a good sales record, then enable your products to qualify for the service.
Fill Out All Product Fields
When you fill out your inventory files, enter an ASIN in the product field to drive traffic to your listing, even if you're not among the highest ranking sellers for that product. Look at the URL in your browser search box. Add it to your product fields. Then make sure you include the name of your brand when you list your item, along with a good price.
Get the Category Right
Products are accessible on Amazon based on their classification via the 'Browse Tree Guide'. When you download your guide from the Inventory File Templates section, bear in mind that customer searches are refined. Once customers click on a search result, all the images available to them from that point on will be for products in the same category. So, think hard before you select a category or a sub-category.
Optimize Product Page Content
Work On Your Keywords
You have two types of keywords on Amazon: primary and hidden. Here's the difference:
Primary keywords: should be included in title, bullet points, and product description for visibility.
Hidden keywords: unlimited, not visible to customers, but

they qualify for ranking

.
Tweak Your Titles
On Amazon, your title is your shop sign. It's your best chance to be featured in a search result, so it maximizes your visibility. If you can capture the essence of your product in 500 characters or less, you're halfway there.
There's the age-old formula: Brand + Model Number + Model Name + Product Type, Color. If it doesn't really work for you, then take a peek at your competitors and see what their titles look like. There's also the Amazon autocomplete feature to fall back on.
Improve Your Product Images
It's safe to say that product images can make or break a sale. You need high-def, professional grade shots in .tif, .tiff, .jpeg, .jpg, .gif, or .png format. Drawings and illustrations are not allowed. The AmazonBasics Portable Photo Studio and app may help you achieve those crisp photos, and these 7 Product Image Optimization Tips can help you perfect them.
A good listing features at least 5 photos, but it's entirely up to you. Here's what kind of product images you absolutely need to have:
Main image: frontal, main product only, 85% of frame, large (ideally more than 1,000 x1,000 pixels), pure white background (RGB 255, 255, 255), no text, displayed in search results.

Detail images: white background or environment, showing the product from a different angle.

US (unique selling proposition) images: stand-out features, written details, special features, buttons, packaging, return policy, warranties, product information, etc.

Lifestyle images: show the product in a practical setting

Video
Perfect Your Product Features
You know them as 'bullet points'. You should have one keyword per bullet, prioritizing the list based on relevance. It's very important to include care instructions and brief set-up options, size, dimension, warranties, and product guarantees.
Get Creative with Your Product Description
The keyword-laden product description is meant to be the most creative and captivating section on the page. Many sellers don't take advantage of this opportunity to praise their products. Others simply copy/paste pre-existing content from other channels.
Bear in mind that, save for product reviews, this content may be the only detailed information buyers have about the product and the manufacturer. It needs to address the main pain points, be concise, and highlight the best features.
Rev Up Your Reviews
Product reviews generate traffic and make sales happen. But offering products for free and expecting a review in return is not an option. Instead, you can maximize your reviews via cross-marketing. Also, check your competitor's product reviews and complaints regularly, focus on their failings and change your listings to show your products are superior.
Optimize Marketing and Pricing Strategy
Price is a major factor in determining your ranking on Amazon. So, it's extremely important that your price is always right. To increase your chances of reaching the right audience, you'll need to couple your pricing strategy with your marketing efforts.  
Monitor Competition Prices
Easier said than done. There aren't enough hours in the day to keep records on tens or hundreds of prices every day. Even if there were, not many sellers have the resources to analyze that data effectively. That's where Sellery comes in, keeping track of price changes, reacting immediately and optimizing prices in real time to make your offer more attractive.
Keep an Eye on Complementary Item Prices
It's not just competing products that you should monitor, but complementary goods as well. What are those? They're essential accessories that aren't normally sold with the main product. Think cartridges, cases, protectors, carriers, or proprietary software.
In theory, if the price of a complementary good goes up, then demand drops for your product too, not just for the complementary product. Ex.: if you sell cases for a specific tablet and its price goes up, your sales may drop until buyers' budgets adjust to the change.
Product Bundling
One way to shield your sales from fluctuations in the price of competing or complementary products is to sell various complementary items together at a discounted rate (i.e. product bundling).
Fig. 2 Example of a bundle sold on Amazon
Take travel kits, for example. They can come with chargers, adaptors, hardshell cases, waterproof and shatterproof cases, etc. As long as they comply with product bundling guidelines, bundles will reach far more people than standalone listings because you'll have more hidden keywords and fewer competitors. More on this here.
Basic product bundling rules:
Unlike multipacks, these items can't be identical.

The primary product can't be a BMVD item.

You should pair products that go well together to avoid alienating your buyers.

You can only list the bundle in one category.

You can never modify a bundle once you've created it.
Try Enhanced Content / A+ Ads
Enhanced Content (A+), is available to vendors only and, according to Amazon, offers better marketing tracking and boosts sales by up to 10% by improving search results alone. You'll need the resources to maintain a detailed listing page with professionally written copy, clear comparison charts, more images (including a hero image) and videos with a more contemporary layout. The set-up is either self-service or outsourced to Amazon.
That's all for today, but please follow our blog for upcoming posts on successful e-tailing habits for savvy Amazon sellers. We've covered the basics, and hopefully you'll be able to take it from there. If you'd like more in-depth information, or you'd like to learn more about our Business Coaching service, please don't hesitate to get in touch.
Melanie takes an active interest in all things Amazon. She keeps an eye on the latest developments and keeps Amazon sellers up to speed.