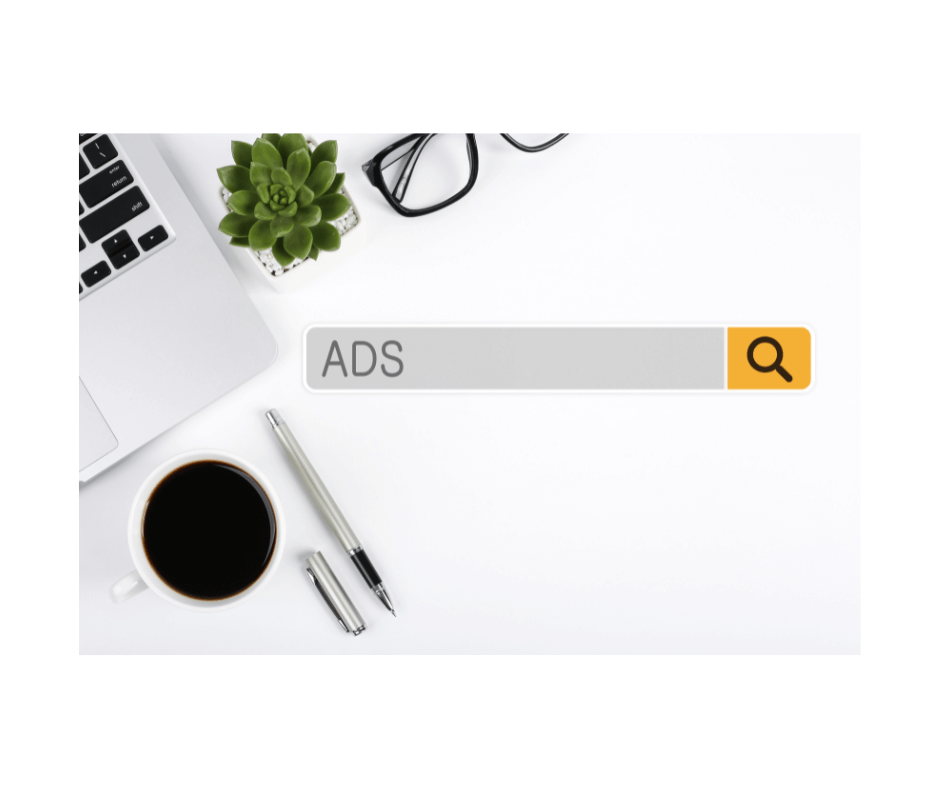 Editor's Note: Originally published on Apr. 18, 2019, updated on June 8, 2023.
Tempted to try Amazon ads to promote your product? You'd better start budgeting for your Amazon campaigns, then. But what exactly are they and how much do they cost? Let's take a look at all the ways you can make your items stand out with Amazon PPC.
When goto.com came up with Pay-per-click advertising (PPC) in 1997, it launched the world's most successful online advertisingAdvertising is a means of communication … More model. Here we are, 26 years later, still trying to reap the benefits of this tool on Amazon, the e-commerce giant that continues to buck the trend.
Amazon's marketing ecosystem is growing fast. The Amazon Ads page keeps changing, in line with a burgeoning demand for advanced marketing tools. So, if you're going to spend your marketing money on Amazon campaigns, you should first get to know your options.
Advertising on Amazon
Amazon users are "buyers", not window shoppers. They come to Amazon with specific products in mind. So, based on their search terms, Amazon will only display certain products to them. These unbiased recommendations are called "organic results".
They'll see plenty of "paid results" too. Scattered on the search results page, they can be banners or reels with images, title snippets, logos, video content, and animations. The layout varies with browser, device, and display settings. But organic and paid results are easy to tell apart.
Amazon PPC Vs. Organic Results on Amazon
PPC (pay-per-click) or CPC (cost-per-click) advertisingAdvertising is a means of communication … More is where a business places an online ad on somebody's website and pays them for every time a user clicks on it. Advertising with Amazon PPC isn't all that different from conventional PPC advertising.
Amazon ads are there so that you can climb higher on search engine results pages, a.k.a. Amazon SERPs. Successful Amazon campaigns can improve organic rankings and help you gain visibility, ultimately boosting sales.
Types of Amazon Ads
None of the Amazon advertising products currently available come free. But all the best advertisingAdvertising is a means of communication … More real-estate on Amazon is reserved for paying sellers. On Amazon, ads come in different flavors, and here are the 7 main options for sellers, vendors, and registered brands:
Sponsored Products
These cost-per-click (CPC) ads showcase individual items. Buyers see Sponsored Products at the top, beside, or within search results, as well as on product pages. Below is an example of what desktop buyers would see, but the ads may display differently for Amazon app users.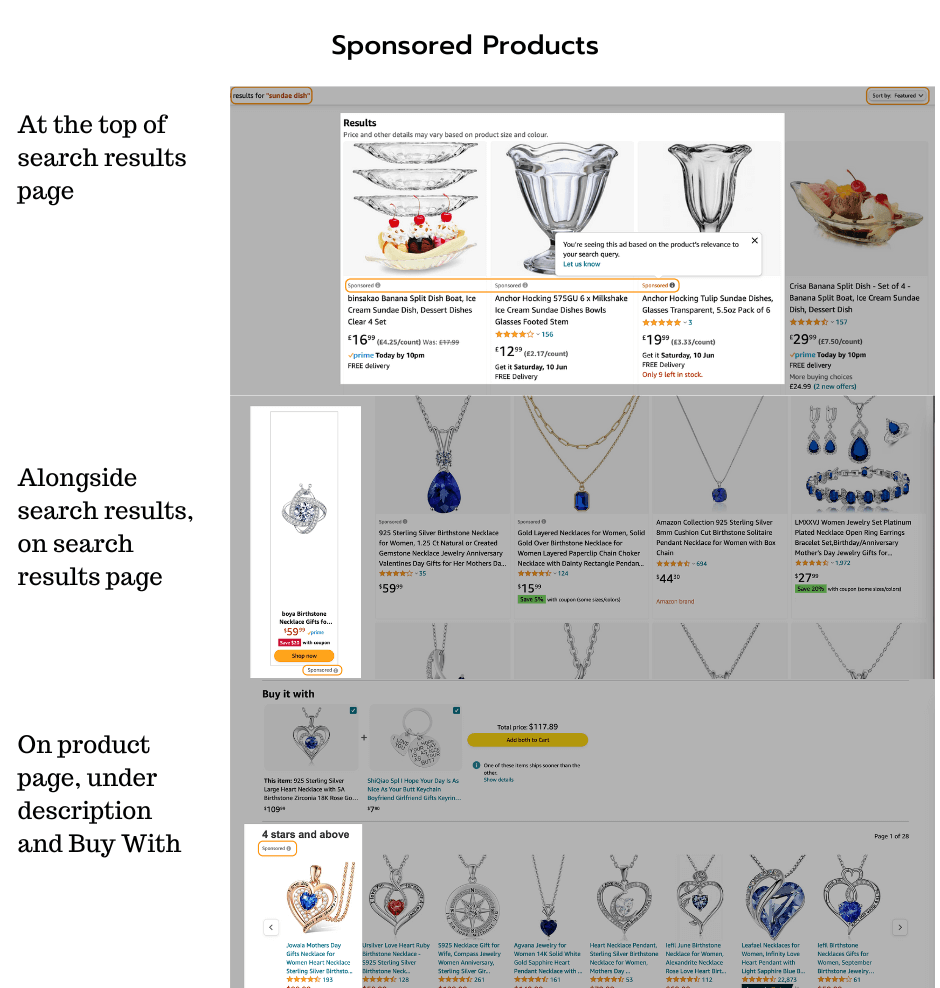 They can be set up in minutes with a few well-chosen keywords, set to run in the background with automated keyword targeting, and displayed based on the amount you're willing to bid. If you win the bid and the customer clicks on your offer, you pay your bid price.
Sponsored Brands
These Amazon PPC ads are similar to the ones above, but they showcase a brand rather than a specific item. Pro sellers enrolled in Brand Registry can set up the run time and budget for their Sponsored Brands campaigns, select which items to feature, keywords to target, and click bid amounts they prefer.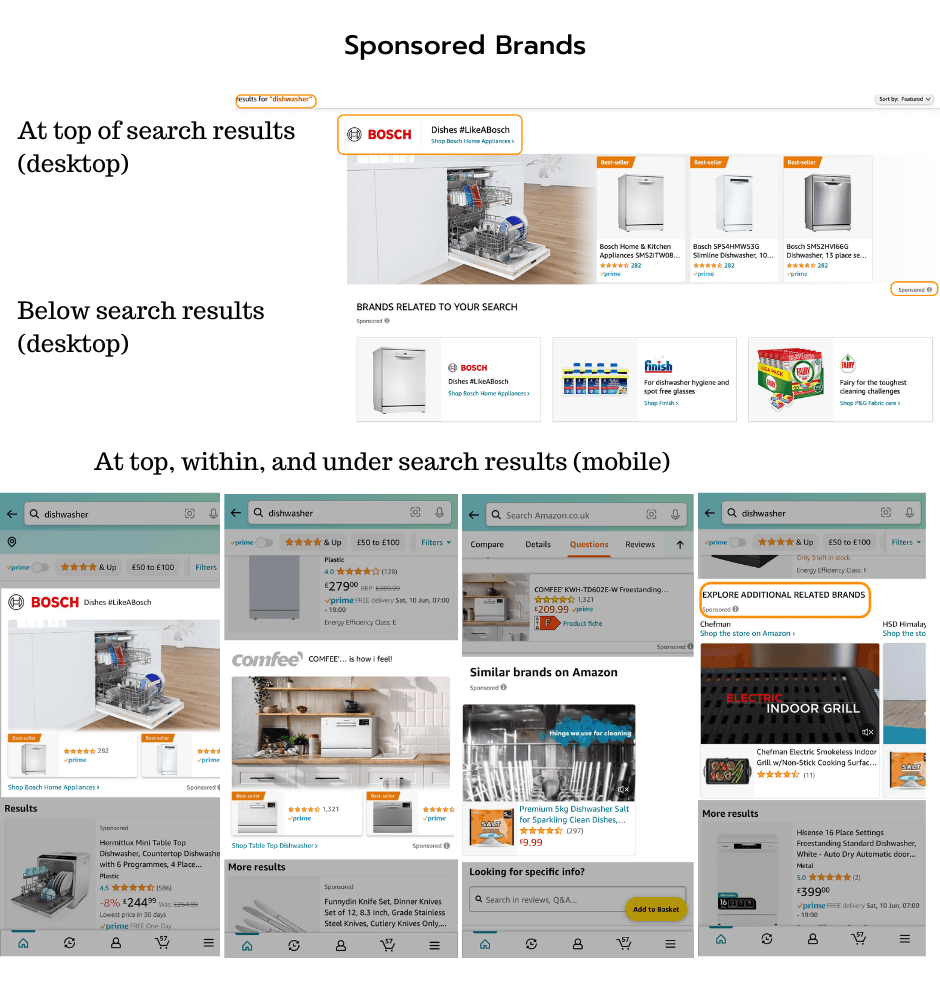 They can come with spotlight ads, custom images, and product range reels. Just like product ads, they can be displayed at the top, side, or within search results. They may also be included in brand recommendations on the product page.
Sponsored Display
Formerly known as headline search/ product display ads, these are meant to engage with buyers both on and off Amazon. Sponsored Display ads highlight a specific product, either as a headline banner or as a card, and they're available to registered brands and vendors only.
These ads can be CPC or vCPM, so you can pay for every click or for every 1,000 views. There's no minimum bid and you can pause or cancel your campaignSellers and vendors have a variety of ad… More anytime. There's no need to worry about keywords either, because everything is automated and contextualized for maximum reach.
The best thing about these self-service ads is that they are 'retail aware'. If you run out of stock or you lose the Buy BoxThis refers to the situation where a sel… More, the ads stop running. These ads also have more customization options and they can help reengage and convert missed sales opportunities.
Amazon DSP
The Amazon Demand-Side Platform (DSP) is a self-service or managed-service platform that enables advertisers to buy their display ads programmatically and manage them all on a single dashboard, including the ones displayed off Amazon. The managed option comes with a minimum spend of $50,000.
Video Ads
Aimed at large brands with hefty budgets, the Video Ads service enables advertisers to share video ads online and via streaming services. Currently supported by Freevee, IMDB, TNF, Twitch, FireTV, and Amazon Publisher Direct, it showcases full-screen, non-skippable, in-stream, and out-stream ads on TV and online.
Audio Ads
Brands can also showcase their items on Amazon Music, Twitch, and Alexa News. With interactive Audio Ads that last 10 to 30 seconds, they can reach a wide audience within connected homes. The option is available to existing Amazon DSP users and brands that have an account executive.
Custom Ads
Large brands can go even further with their campaigns and opt for Custom Ads. They're featured across Amazon and its subsidiaries both online and offline. Custom ads can feature on boxes, bottle labels, trucks, and virtually any other surface.
Amazon PPC Requirements
So, which of these is right for you? If you're a small or newly launched seller, your best bet is Sponsored ads. They mingle with organic search results and they're great value for money. But be sure to read up on Amazon Seller Strategies and go over these advertisingAdvertising is a means of communication … More stats before you start budgeting for your Amazon campaigns.
If you think you're ready to spend on Amazon PPC, look into requirements as well. There are a few basic prerequisites for anyone who wants to set up an Amazon campaignSellers and vendors have a variety of ad… More. Sellers and vendors interested in Sponsored Ads should have:
a professional seller account with excellent feedbackA performance rating on a scale of 1 to … More rate;
a variety of products with good product reviews;
the infrastructure in place to ship items across the USA;
Amazon PPC Placement
To make sure your ad goes live, you need to have the highest bid and your product must have a good click-through rate. On top of that, vendors also need to make sure that their product is profitable, otherwise Amazon will restrict their ads.
Because Amazon campaigns work on an auction basis, you need a daily budget for your Amazon ads. The greater this budget is, the more likely it is that your bid wins and your ad is displayed. So, before you start pouring money into Sponsored Brands Pay-Per-Click (PPC) ad platform f… More or Products, you need to know how to maximize your return on ad spend.
The sure-fire way to make the most of your money is to find the right keywords for your product. And to do that, you need to gauge your competition for those keywords. Then and only then will you have a realistic budget in mind.
But keywords are a conversation for another time. Now that we've discussed the importance of advertisingAdvertising is a means of communication … More real-estate on Amazon, please follow our blog for more information on Amazon PPC and ways to set up successful Amazon campaigns.
Don't miss the chance to get fresh Amazon News and Amazon expert insight articles right when we post them directly in your inbox.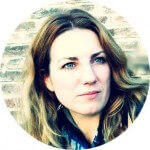 Melanie takes an active interest in all things Amazon. She keeps an eye on the latest developments and keeps Amazon sellers up to speed.