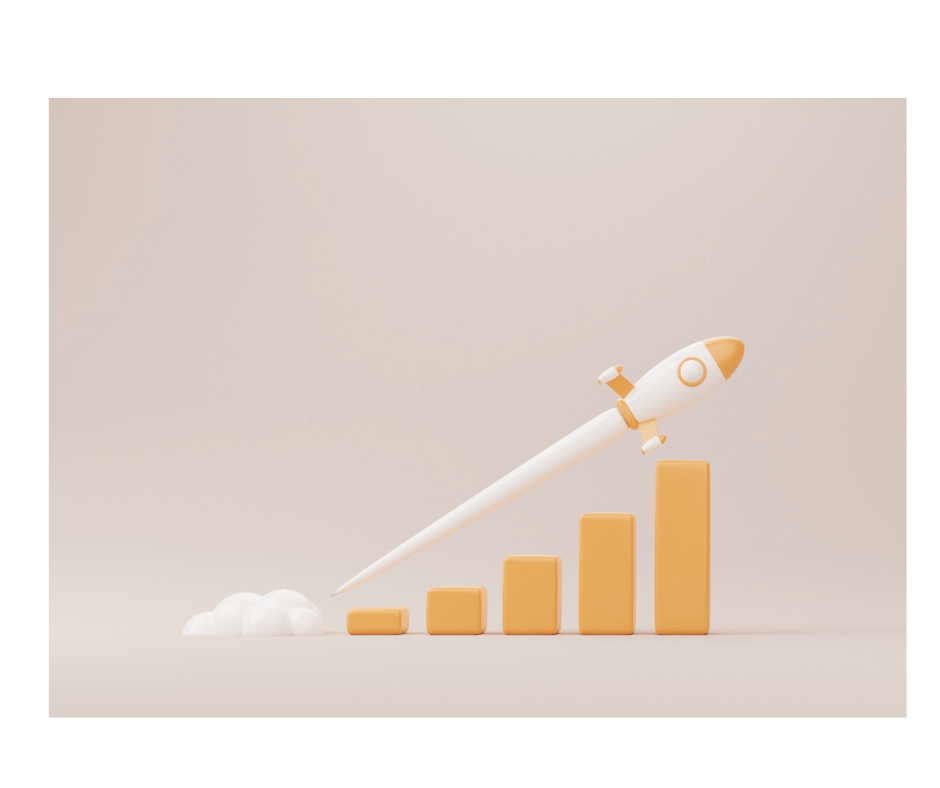 Editor's Note: Originally published on May 28, 2020, updated on Mar. 16, 2023.
There's more to launching products on Amazon than setting up some pages. Find out what it takes to list on Amazon and sell on a tight budget in this comprehensive guide. Skim through and get ready to sell on Amazon in 2023!
Getting Ready to List on Amazon
Listing Restrictions
Earlier in the series, we talked about budgeting and risks for those who plan to sell on Amazon in 2023. But caution extends to every aspect of the business, including launching products on Amazon. So, what is the first thing you should do if you plan to list on Amazon? Check for restrictions.
Amazon has brand, product, and category restrictions. It also has storage limits and performance requirements. With a product scouting tool like Profit Bandit, checking restrictions on items already in the catalog is easy. It tells you if a product, category, or brand is "gated Selling certain products and bran… More" on the spot.
But if you're trying to add a new product to the catalog, you shouldn't stock up or manufacture it without doing your research. "Ungating" a brand or lifting a restriction can be a lengthy process. Please read our blog post on open, restricted, and gated categories and brands before you proceed.
Valid Product ID
This is a unique GTIN code, as explained in our post titled Barcodes on Amazon. You need one for every variation of your product (e.g. colors, sizes, weights). Any product already in Amazon's catalog has one. So, if you're selling something that's already listed, you don't need a new GTIN.
For private label, handmade, and resold items that came without a GTIN code, Amazon may be able to waive this requirement. Please watch this Amazon Seller University video to see how to request a GTIN exemption.
Adequate SKU
Before you list on Amazon, you should first come up with a formula to generate your own Stock Keeping Units. These codes are important because they enable you to track, check, compare, replenish, and analyze your inventory. Using tools like Sellery, you can even reprice items with specific SKUs.
Amazon can generate SKUs for your MFN items, but they'll be random. Also, whatever you send to FBA will be assigned a code called FNSKU. But even if you only sell via FBA, you still need a system of your own for SKUs, since you may receive and store damaged FBA items from time to time.
Rather than use online SKU generators that give you generic codes, make your own. Think of unique identifiers for your suppliers, warehouses, shelves, competitors, and discounts at the time of listing. Better yet, use tools like Sellery (shown below) or SellerEngine Plus to generate them automatically.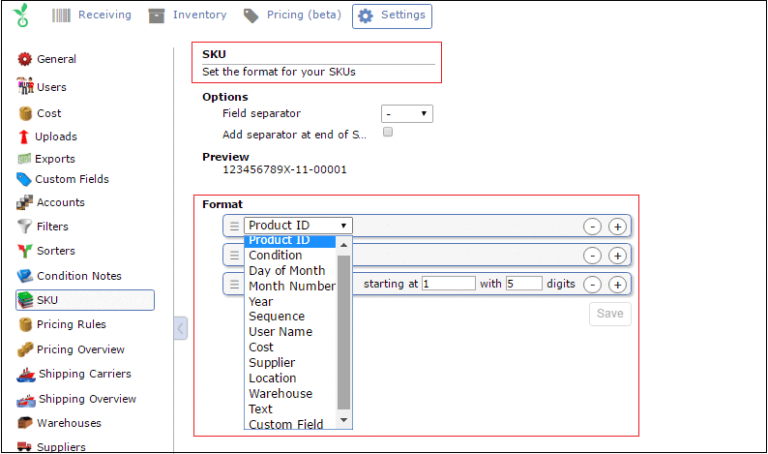 Gathering Product Page Content
On Amazon, there can only be one product page for every item or variation thereof. If your product already has a product page, you're off the hook. You can skip to "Match a Listing" below. But if you're the first to list it, you need to come up with relevant and compliant keywords, images, and descriptions.
Good Search Terms
You need a few keywords for your titles, bullet points, and description (including brand name). But you should also think of a few more search terms. Sellers refer to these as 'hidden keywords' or 'backend keywords'. For example, you could come up with synonyms of your primary keywords.
But don't include plurals, different spellings, or generic terms. Forget about subjective, exaggerated, or time-sensitive statements. Also, please leave out any seller names. And most importantly, never include other brands in these search terms. Sellers who try it often face intellectual property A collection of ideas, concepts, … More complaints.
Relevant Title
Amazon has a series of style guides for each product category and page section, starting with titles. There's even a Brand guide. But for some sellers, they're not the end-all. Sometimes, buyers actively seek out non-compliant titles (e.g., they say "compatible with X, Y, and Z model").
There is one rule of thumb, though. Titles should have this simple structure: Brand Name > Product > Key features > Size > Color > Quantity. Ideally, you should also optimize your titles, using keywords and USPs from the start. But none of this matters if your title doesn't comply with guidelines.
Amazon has 3 basic title requirements for FBA and MFN items alike. But sellers must also comply with several generic rules. We listed them below for sellers who don't want their listings suppressed. Bear in mind that sensitive words (e.g., "covid", "healing", "respiratory") can trigger suspensions too.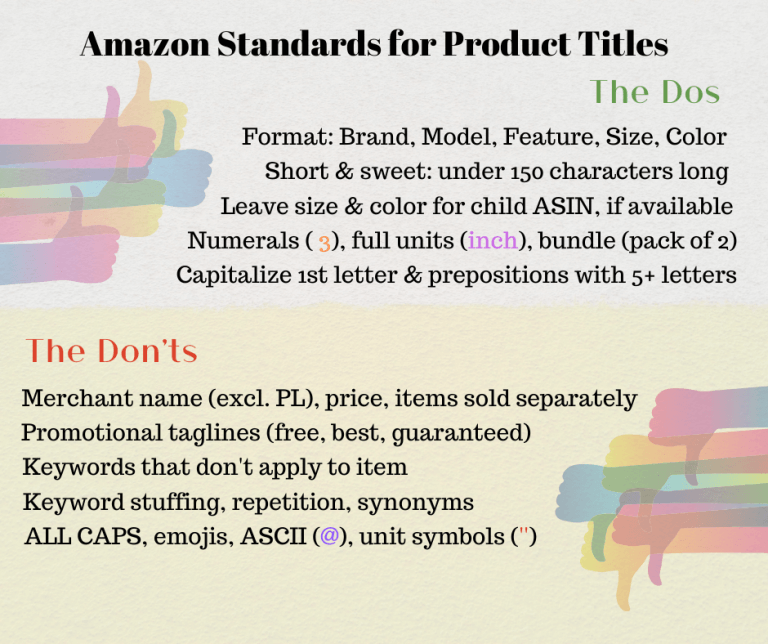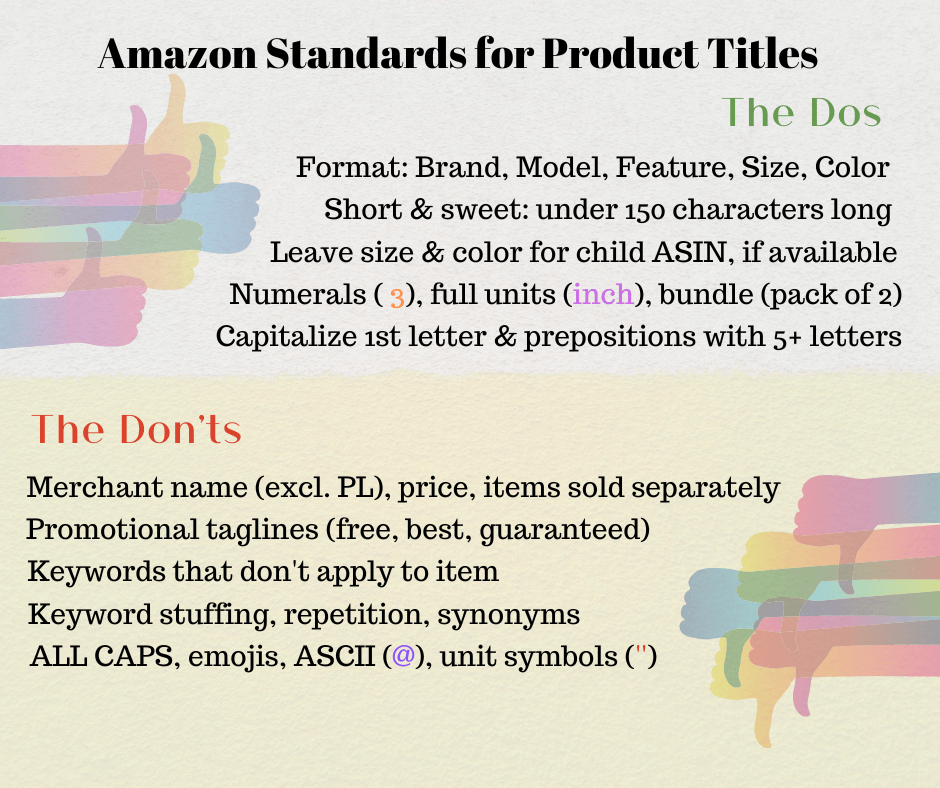 Appealing Images
The images you display on the product page must be clear and informative. You can upload up to 9 images, but they must comply with basic requirements. And certain product categories (e.g. Jewelry, Pet Supplies) come with restrictions of their own. So, please check the style guide first.
There are a few other guidelines worth mentioning. These have to do with quality issues like infinity curves, flash, orientation, etc. It may be worth outsourcing this part of the listing phase to an imaging service, such as those listed in Amazon's Service Provider Network.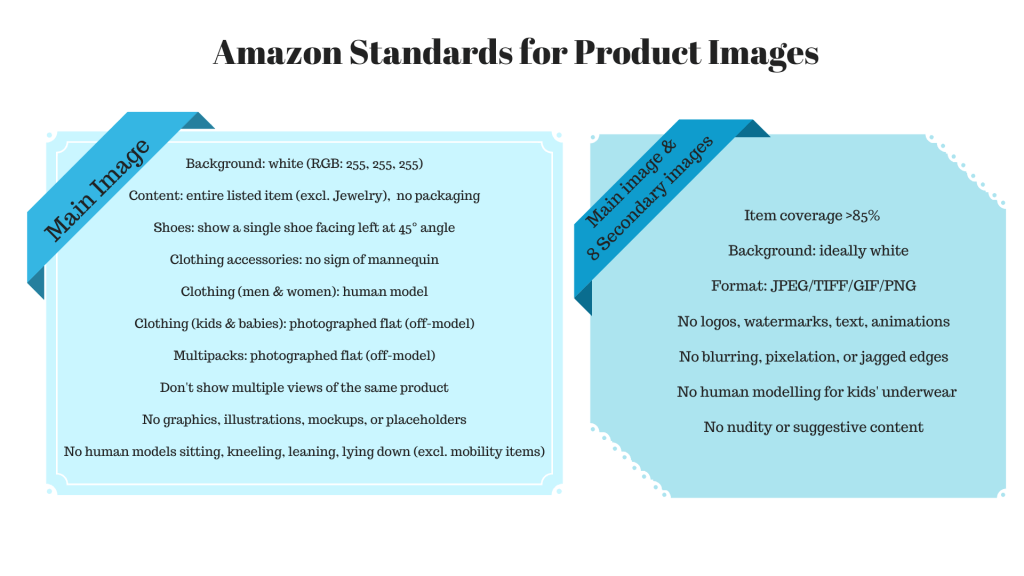 Engaging Bullet Points
The "About this item" section consists of up to 5 bullet points. As it's indexed into organic search results on Amazon, this is the highlight of your product page. If it's good enough, customers might not even need to scroll down. So, you're looking for keyword effectiveness, not keyword stuffing.
Note that the Dos and Don'ts listed above apply here too. But you want this section to sound natural and address practical issues. Each bullet point has a recommended limit of 100 characters. So, start with a 1-2-word description or USP and follow up with an explanation (e.g., Foldable: Sturdy metal legs fold neatly under table).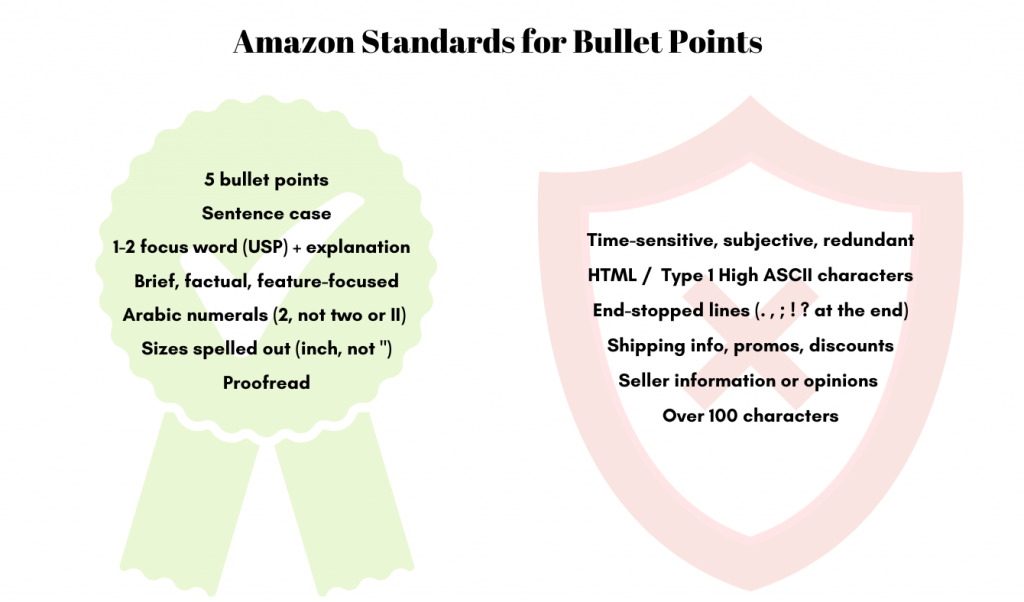 Detailed Product Descriptions
This is not to be confused with the ConditionProducts can only be listed on Amazon if… More Notes section. That's on the Offers Page and it describes the condition of the unit you offer (with text and up to 6 images). The Product Description section is on the Product Page. It's what customers scroll to after reading the title and bullet points.
You can use up to 2,000 characters (around 300 words). It should include features, size, and other relevant details. Don't forget about care instructions, compatibility details, and warranty information. Company-specific information, URLs, contact details, and references to promotions are forbidden.
Listing on Amazon
List a New Product
You can add products to the catalog one by one. Simply access the Add a Product tool from the Inventory tab in your Seller CentralAmazon Seller Central is a portal or a h… More account. Aside from the fields mentioned above, you need to enter information about the product manually. This includes the size, weight, manufacturer, price, and quantity.
Match a Listing
If your items are already listed on Amazon, you must create an offer on the same page using the Add a Product tool or the Sell Yours link under the checkout button. Amazon insists that you enter your own product description and bullet points, even if you know they won't be featured on the product page yet.
Note: If you're selling a used or collectible product, you can also add up to 6 thumbnail images to your offer.
List in Bulk
To list several products at once, you can use the Add a Product via Upload option from the Inventory tab. You'll be able to download a template file (a.k.a flat file, inventory file, etc.) with instructions, guidance, and examples. Once you enter all the relevant information, upload it and give it 24 hours to go live.
If you're listing against an existing product, then you can also add your MFN units to the catalog in bulk with inventory management tools. Sellery, for instance, can not only reprice in real time, but also add units instantly, update quantities, and keep track of titles that are running low.
Create an FBA Shipment
When it comes to FBA products, it's not so much the listing that takes time, as it is creating the shipments. And unless your operation is streamlined, it will take much longer than 24 hours for your products to reach Amazon's fulfillment centers and become available for sale.
So, when you list your FBA units, you need a tool like SellerEngine Plus. It adds and edits listings in a flash, prints FNSKU labels, creates all your shipments at once, and displays split shipments before you seal the box (ATTN: 1 SKU can go to several fulfillment centers!).
Here's a quick SellerEngine Plus guide if you'd like to know more about creating FBA shipments. While we're on topic, please don't forget Amazon's temporary fee waiver for sellers who sign up to the FBA New Selection Program.
Launching on Amazon
On Amazon, popularity is a vicious circle. If a product is doing well in the rankings, it's going to sell. And if it's going to sell, it's bound to rank high on the search results page. So, the more coverage an item gets the more it sells and vice-versa. Here's how you get a new product featured at the top of the SERP:
Optimize your listing so that it's clear, compliant, appealing, and it addresses people's needs.
Gather product reviews to build your reputation, inspire trust, and attract your following.
Bring margins and markups down to boost sales (and if you're eligible, win the Buy BoxThis refers to the situation where a sel… More).
Invest in PPC campaigns to put the word out.
Do it all over again.
Optimize Your Listings
Even if you have a listing to be proud of, there's always room for improvement. But don't let listing guidelines stifle your creativity. If there's one thing you can take away from our blog post titled Amazon Listing Optimization, it's the fact that you can give your creativity free rein on Amazon.
Bundles, quirky hidden keywords, engaging descriptions, and borrowing listing tips from the competition – all valid ways to make the most of your product pages. But make sure that you come up with a storefront A storefront is the page Amazon u… More description that follows along the same lines, and that all the information there is above board.
Gather Product Reviews
The Early Reviewer Program A program whereby sellers can pay… More, exclusive discounts for your client email list, freebies for influencers, or trade show swag bags. These are just some of the ways to boost the review tally. Granted, it's harder to network with the current health crisis. So, why not focus on your buyers, and send thoughtful hand-written Thank You notes detailing how your company is helping to make the world a better place?
Lower Margins and Markups
Try as you might, you probably won't be able to influence your product's ranking and popularity unless you bring the price down. But the sad thing is it might not make much of a difference, because your competitors will be using cutting-edge software to undercut you on an identical or similar product.
Automatic repricers can match a price within minutes. Some can even anticipate the next move. But they also have a major flaw: a mind of their own. Undercutting It's a technique many sellers u… More quickly spirals into a price war. Before you know it, you end up losing money. And that's exactly what the competition wants.
So, if launching products on Amazon is something you want to go ahead with, you need a tool like BuyBoxBuddy. It's a revolutionary real-time repricer. It updates your listing with no time lag. So, it's already on to your next price before your competitor even works out your last move.
When competitors try to pull you into a price war to make you lose money, BuyBoxBuddy stands its ground. It will only go as low as your Floor Price. Also, you can use it to make your prices more competitive, monitor Buy Box offers (New/Used), and fight to keep the Buy Box at the highest possible price.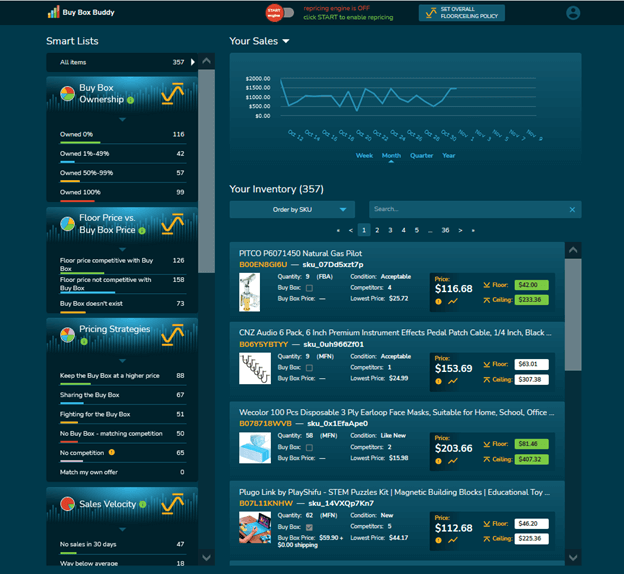 Invest in PPC Campaigns
When it comes to advertisingAdvertising is a means of communication … More, Pay Per Click is the most popular option for launching products on Amazon. It's an on-platform option for Amazon customers. And Amazon's customers are already keen to buy. So, it's much more effective than off-platform advertising.
Also, with these ads, you have full visibility into keyword conversion data. You can adjust keywords as you go. And it's also the most cost-effective option for advertising on Amazon. But we'll discuss this topic in greater detail later on in our series, "How to Sell on Amazon in 2023".
Until then, if you're launching products on Amazon this year, be sure to follow our blog and soak up all of this information we're sharing with sellers. Whether you're new or a seasoned merchant, make sure you're up to speed with the latest changes and tools before you list on Amazon.
Don't miss the chance to get fresh Amazon News and Amazon expert insight articles right when we post them directly in your inbox.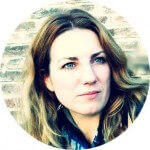 Melanie takes an active interest in all things Amazon. She keeps an eye on the latest developments and keeps Amazon sellers up to speed.