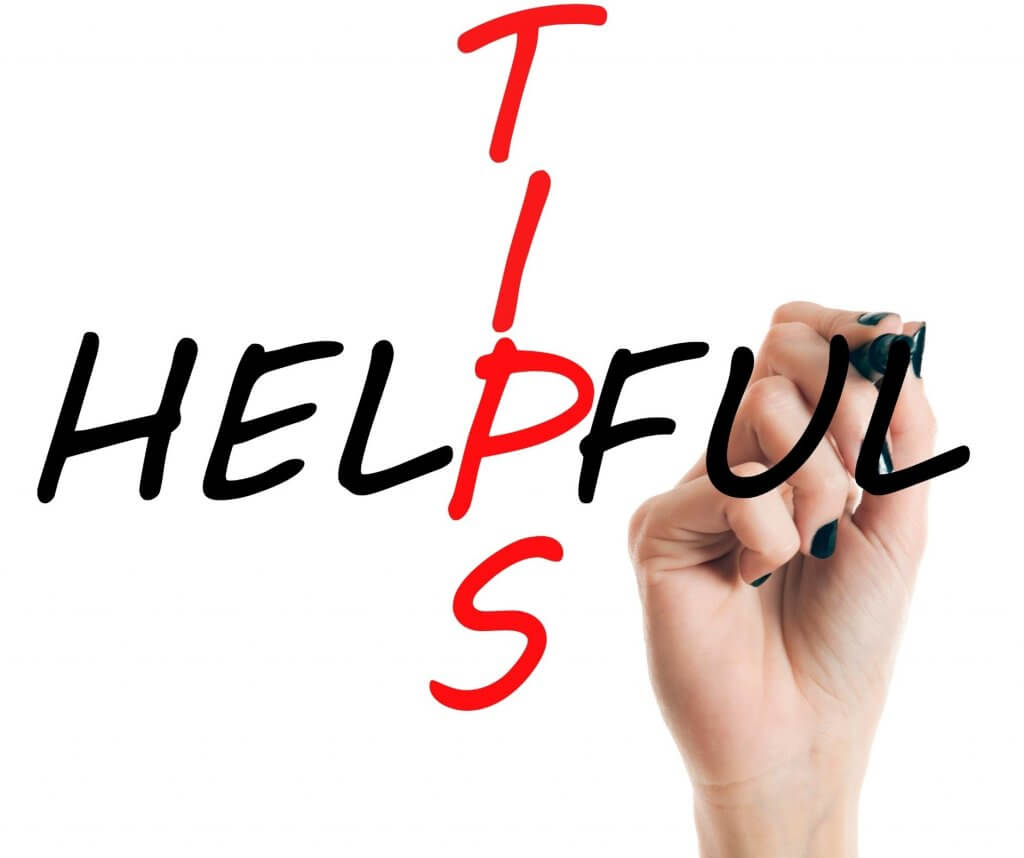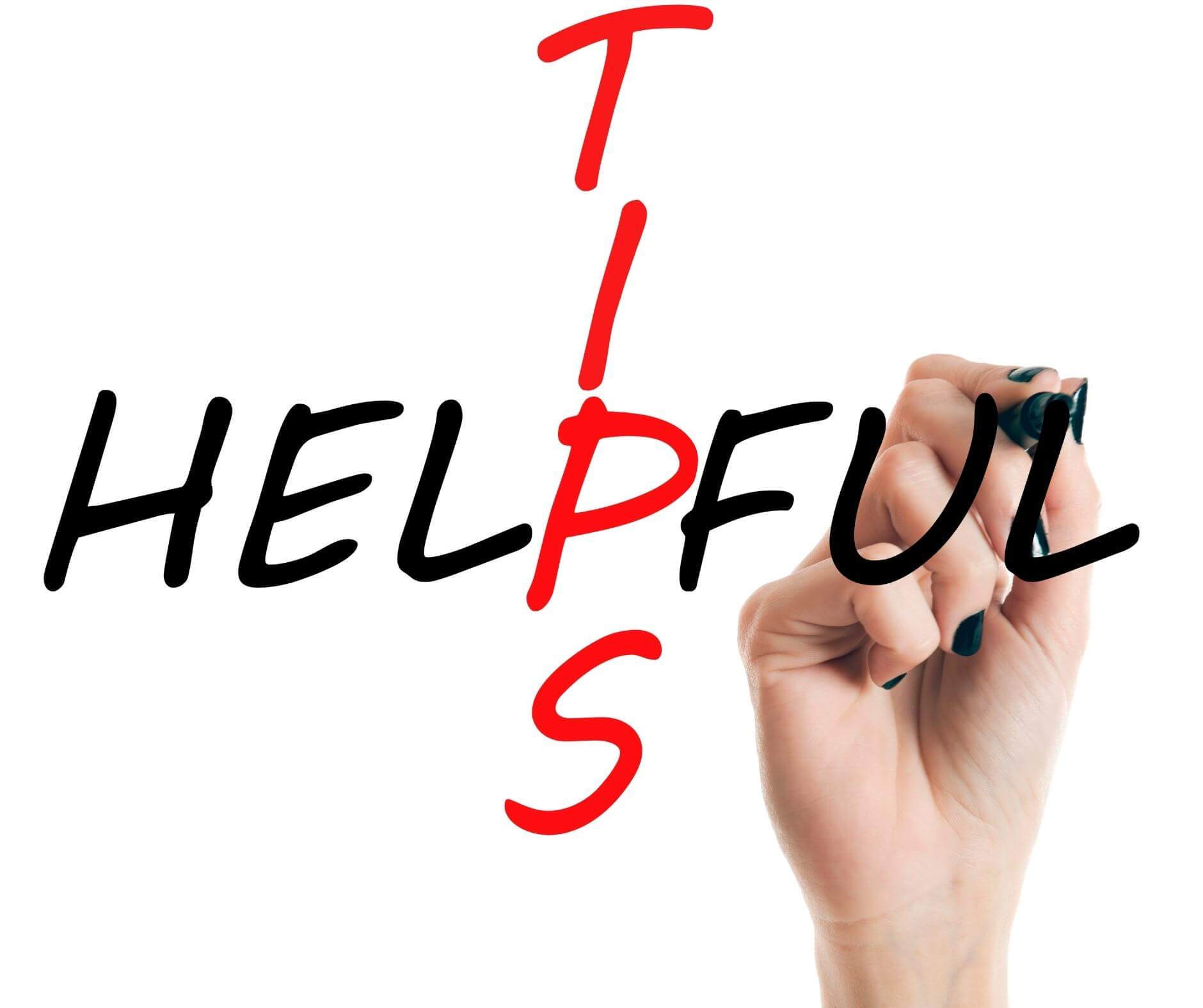 We're edging closer to Amazon Prime DayPrime Day was initially a one-day sales … More. Amazon has just announced the dates: July 12-13, and you could cut the tension with a heavily discounted butter knife. But no need to worry. Our list of Amazon Prime Day 2022 tips should help defuse it. Here are 5 major Amazon Prime Day seller tips based on this year's market context.
There's no shortage of Amazon Prime DayPrime Day was initially a one-day sales … More seller tips online. Ever notice how repetitive they are, though? Everyone says the same thing. We bring you our list of Amazon Prime Day 2022 tips, hammered out with a great deal of research, analysis, and forecasting.
Amazon Prime Day 2022 Seller Tips
Online shoppers are a diverse bunch. According to Tidio, it's Gen X customers who shop the most and Baby Boomers who spend the most. As for Gen Z shoppers, they're the thriftiest of all, as nearly half of them compare prices on multiple online outlets before they buy.
But it's Millennials (Gen Y) who make up Amazon's main user base, Practical Ecommerce claims.
These are people interested in pet products, self-care, and eco-friendliness, according to Influencer Marketing Hub.
They also want to save money, buy now-pay later, and make up for lost time due to pandemic restrictions.
Whatever the age group, though, this year's Prime DayPrime Day was initially a one-day sales … More shoppers are likely to feel the sting of recent spikes in inflation and fuel costs.
With people looking for a bargain, make sure you have something lined up.
Whether it's Deals, Coupons, Subscribe & Save, or Prime Exclusive Discounts, they'll build towards your CTR and boost organic ranking.
You might be tempted to rehash last year's strategy and stock the same number of products you did for June 21, 2021.
But last year's event was an isolated incident.
There was a lot of uncertainty, and there was even talk of two separate Prime Day events. As mentioned in our Prime Day 2021: Lessons Learned post, Prime DayPrime Day was initially a one-day sales … More has never before taken place so early in the year or with such short notice, and it certainly won't this time around.
What does timing have to do with it?
Last year's Prime Day happened in the middle of the Q2 stock limit enforcement.
This means sellers who failed their mid-Feb and end-of-April IPI checks probably didn't send their FBA items for Prime Day and most likely disposed of any excess stock to avoid paying hefty overage fees.
But this year, FBA sellers have until the end of June to get their IPI in check for the Q3 review.
Even if they fail it, they have a few more weeks to sort out their stock and decide which items to focus on for Prime Day 2022.
Then there was a range of unprecedented issues last year that won't catch sellers off guard again: China's shipping crisis, early Lightning Deals submissions, and account-level warehouse restrictions.
There are a few ways to make sure you're ready to face your competition this Prime Day. But it all starts with a stock level analysis.
Use your inventory manager to evaluate your stock levels for items you expect to sell this July. Then consider taking the following steps:
If you estimate your stock is not enough:

→ don't overdo it with the discounts and try to avoid out-of-stock situations that could hurt your metrics and performance in the long run.

→ try to find similar or substitute items that are already in Amazon's catalog.

→ look into the option of shipping direct to FBA from your wholesale supplier.
If you estimate you have enough stock untill the next replenish:

→ focus on profitability and brand awareness on Prime DayPrime Day was initially a one-day sales … More.
→ this can be a good time to test coupon strategies, ad strategies, and price strategies.

→ remember it may be difficult to rank organically on Prime Day, so have a look at the Ad spend suggestions below.
3. Check out the competition
There are all sorts of blackhat tactics and software tools used by sellers on Amazon.
We don't condone or recommend their use.
With so much at stake, sellers should use safe tactics instead.
For instance, they can monitor their competitor's stock levels with a simple Add to Cart trick.
If you'd like to try it, simply pick an item your competitor's selling.
If you see a Quantity field, select any number from this box (usually up to 30 units), and add them to your shopping cart.
Then go to the cart and try to edit this number.
Type in 999 and click Update. Amazon will instantly report the number of units in stock.
You can also proceed with the checkout and add multiple competing items to your cart. Then try to change the quantity by entering 999 units for each product. You will get an alert with the total number of units available, as well as a very helpful delivery estimate based on the total number of units (which may be stored in several FBA facilities).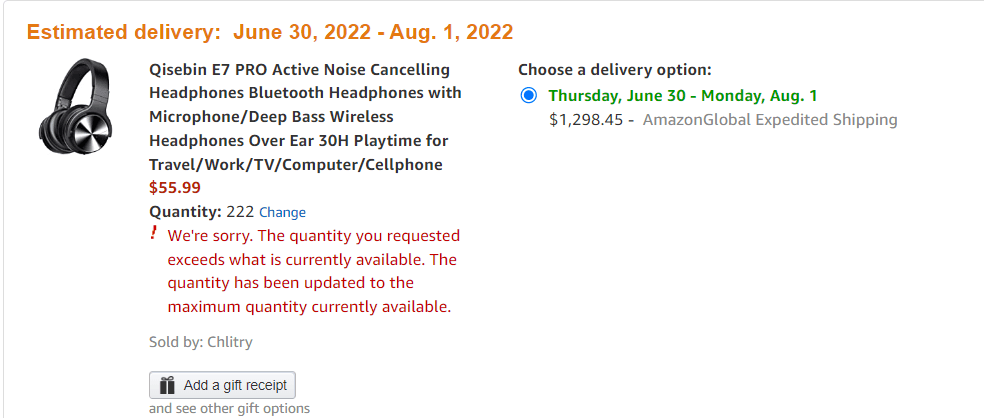 If you notice a large number of units, expect your competitor to have and apply complex strategies on Prime DayPrime Day was initially a one-day sales … More, with plenty of discounts and lots of ad spend.
Adjust your own strategy accordingly, with an eye on your own budget and stock levels, as well as the item's popularity and availability from suppliers.
But try not to go overboard spying on competitors.
Checking a listing when your competitor has the Buy BoxThis refers to the situation where a sel… More only works in their favor.
It raises their Buy Box percentage, even if you don't buy a thing from them because it boosts their page views.
This raises the likelihood that they will win and keep the Buy Box for longer.
Let's not forget that two new tabs, Amazon Brands and Own Brands, were featured on every single page last Prime DayPrime Day was initially a one-day sales … More.
This may have skewed sales in Amazon's favor, as mentioned in our post titled Prime Day 2021: Lessons Learned.
It might even explain why small sellers had only a 28% share of sales at the last event.
So, do we have any Amazon Prime Day seller tips that touch on the topic of advertisingAdvertising is a means of communication … More?
We sure do.
The list starts with a quick reminder to review your Ad strategy.
Don't go overboard with Ad spend this Prime week because CPC is bound to soar.
Stake out your competitors and estimate if they might run out of ad spend after Prime DayPrime Day was initially a one-day sales … More. Wait patiently until then and boost your bids while they're out of the game.
Monitor your stock levels in real time or regularly throughout the day, so you can adjust your ad spend accordingly and avoid stockouts.
Decide if you want your Ad strategy applied across the board, or if you'd rather single out a few items and focus your Ad spend on them.
Make sure you review previous Amazon Prime Day results in terms of metrics, clicks, coupons, CTR, etc.
Decide if it's a good idea to limit bids and lower budgets in the lead up to Prime Day 2022, when people are still holding out for the best possible deals. Conversely, you could maintain your bids and build awareness over those critical few days, even if CTR is lower.
That's all well and good, but none of these tips will make any difference unless you adjust your pricing strategy to Amazon Prime DayPrime Day was initially a one-day sales … More 2022.
What can you do to make sure the price is always right?
There are a few ways to go about it, including:
Use a tool like Sellery to keep track of your sales and build a stock-driven pricing strategy.
Make sure you know your item's price elasticity (the extent to which a price change will affect sales).
For products priced over $100, offer percentage discounts because they stand out more (30% looks better than $30 off an expensive item).
For products priced under $50, offer numeric discounts because buyers will appreciate these more (10% will make less of an impact than a $5 discount on a cheap item).
Make sure you are comfortable with your margins and don't overdo it with the price cuts. Use a tool that shows your chosen margins and guarantees that they'll be upheld.

Try to estimate sales using a reference point like Q4 or previous Prime DayPrime Day was initially a one-day sales … More sales, but base your projections on this year's market conditions as well.
Start developing your return strategy using this Brief Guide On Amazon's Return and Refund Policy.
Make full use of any tools readily available to you this Prime Day, such as:
               – Keepa for visualizing historical price data, patterns, and trends that can inform your price strategies.
              – Sellery for repricing, stock level management, keeping tabs on Private LabelThis is what you call products manufactu… More competitors, etc.
              – SellZone for keyword research for your own listings as well as competitors.
This concludes our list of Amazon Prime Day 2022 seller tips.
But please follow our blog, subscribe to our newsletter, and avail yourself of our software suite with generous trial offers, so you can enjoy our Amazon Prime Day seller tips while they're still hot off the press.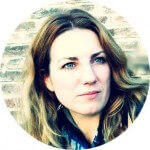 Melanie takes an active interest in all things Amazon. She keeps an eye on the latest developments and keeps Amazon sellers up to speed.