It seems like only yesterday that we first brought up the topic of Prime Day 2021 on our blog. And it was only at the start of June that, we shared the exact date of Amazon Prime DayPrime Day was initially a one-day sales … More 2021 with our readers.
Two weeks on from the greatest sales event of the year, it's time to do the maths and draw some lessons from what happened on Prime Day 2021. 
Here's what we make of the figures released by Amazon:
Prime Day 2021 in Amazon's Eyes
To start with, Amazon claims that 70 million products were bought from small businesses this year. 
But some 250 million items were sold to Prime members globally, in total. 
So, that's a 28% share for small sellers. 
Back in 2019, Forbes said sellers had half the market.
Amazon Prime Day 2021 as Seen by Experts
According to MarketplacePulse, you'd expect every new Prime DayPrime Day was initially a one-day sales … More event to top the one before by around 50%.
 Last year, Amazon boasted that there had been a 60% increase for small businesses over Prime Day 2019, for instance.
But this year, MarketplacePulse claims growth figures were in the single digits. In fact, reviews were unfavorable across the board, and PracticalEcommerce called the event "subdued".  
It also looks as though the market is changing. 
PracticalEcommerce cites a Numerator survey that shows this year's Prime Day shoppers in the USA were mainly high-income suburban middle-aged women.
And Prime Day spending is also changing. 
Nearly half of orders were under $20 this year. 
And the average value was $44.75. 
That's about $10 less than in 2019. 
So, even though membership numbers swelled up over the years, Prime members are spending less.
What Happened on Prime Day 2021?
Where do we start? 
A lot has changed for Prime DayPrime Day was initially a one-day sales … More since 2015, when Amazon hosted its first birthday party. 
In fact, it's nearly unrecognizable now. Here are 10 things that stood out on Amazon Prime Day 2021:
1. The Amazon app and several venues featured a simpler layout with all-new icons, as seen below. 
But navigating was via vertical scrolling rather than page selection.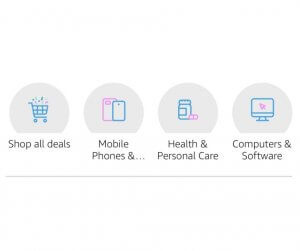 2. The main US Prime Day page featured a live-stream widget via Amazon Live, hosted by influencers, with promotions for big brands and Amazon's private labelThis is what you call products manufactu… More.
3. For the first time ever, the focus was on pet care brands (e.g. Wag) and household items (e.g. Presto kitchen rolls), rather than the usual tech offering (Kindle, Ring).
4. Unsurprisingly, the top categories sold were the ones with the most advertisingAdvertising is a means of communication … More, namely Health & Beauty, Consumer Electronics, and Household Essentials.
5. Also for the first time in history, the main Prime Day page drew a clear line between Amazon Brands and Amazon devices, as Modern Retail duly noted.
6. All pages other than the homepage featured the Amazon Brands or Own Brands tab. This is said to have tipped sales in favor of Amazon rather than sellers.
7. The Amazon app featured the top 4 trending and top 4 rated deals, with more available via click. But there was no mention of the qualifying criteria anywhere.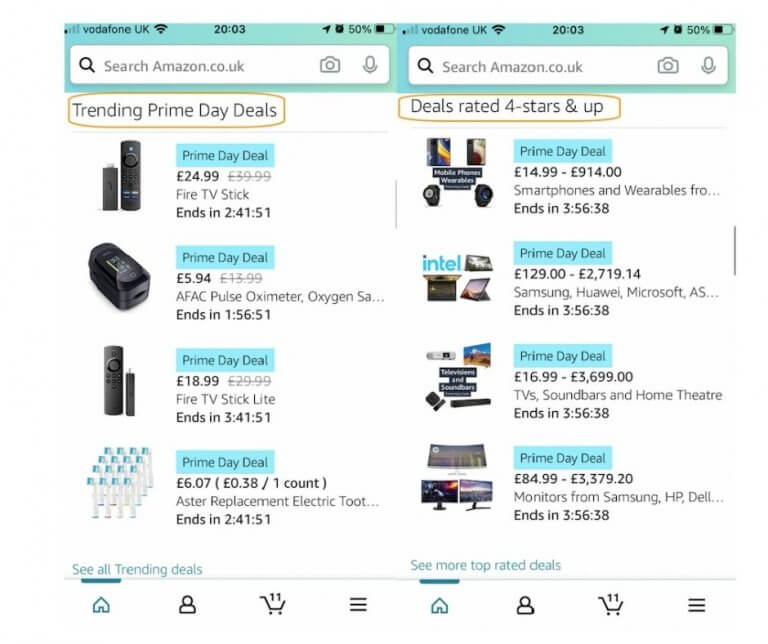 8. Last year's "Spend $10, Get $10" promo crossed over to this Prime Day too. It raked in $1.9bn in sales for small businesses, compared to last year's $900 million.
9. The app and some Prime DayPrime Day was initially a one-day sales … More pages featured a timer, as shown below. But even with TV and radio ads, it's likely many people didn't know it's Prime Day, so they didn't shop on Amazon or see the timer.
10. The best-sellers list includes the most heavily promoted items: Olay and L'Oréal beauty products in China, Japanese tea in Japan, Italian coffee in Italy, and Shark vacuum cleaners in the UK. And some of them were also last year's best-sellers.
Prime Day 2021: Boom or Bust?
It's easy to see why things might not have gone swimmingly for Amazon sellers this Prime DayPrime Day was initially a one-day sales … More. 
Amazon moved the date forward by a month with virtually no prior warning.
 This led to inventory issues, which were made worse by China's shipping crisis.
Also, the Lightning Deals window closed in April, making it near impossible for late comers to promote their products. 
Finally, changes were made to warehouse restrictions (from the ASIN level to the account level) and they were applied the same day.
As for buyers, people on a monthly payroll may have found it hard to budget for a shopping spree in the second half of June. 
That's especially likely if they were saving up for a vacation, and their finances were stretched too thin after Easter.
How to Make the Most of Prime Day
Let's not forget: Prime DayPrime Day was initially a one-day sales … More is primarily a recruitment event, not a shopping event. 
As such, sales growth doesn't really matter. 
What matters to Amazon is the number of people who signed up to Prime in the days leading up to June 22.
Bezos mentioned there were already 200 million global Prime members in his Q1 results report. That's 50 million more than last Prime Day. 
It's likely that this latest sales event brought the total figure close to a quarter of a billion subscribers.
So, it makes no difference to Amazon that sellers had only an 8 month hiatus between the last two Prime Day events. Or that they waited for 15 months for a Prime Day last year.
Or that it's anyone's guess when the next Prime Day takes place.
It's up to sellers to be on the lookout for these events and to start preparing for them earlier in the year. 
And when it comes to Prime DayPrime Day was initially a one-day sales … More, the best way to prepare is to budget for sponsored ads and to submit your Lightning Deals on time.
As Bobsled Marketing reports, sellers who invested in Sponsored Brands Pay-Per-Click (PPC) ad platform f… More campaigns performed very well on Prime Day 2021, with an average ROAS of 30% on the first day. 
Likewise, CPCs grew by a quarter this time round for Sponsored ProductsPay-Per-Click (PPC) ad platform for Amaz… More ads.
So, if you want to jump-start your business growth, there's no better way than to take heed of what we shared with you today. 
Look at what happened on Prime Day 2021 and start planning. Check your ad spend for Prime Day 2021 and step up your budget well ahead of schedule.
Don't miss the chance to get fresh Amazon News and Amazon expert insight articles right when we post them directly in your inbox.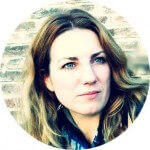 Melanie takes an active interest in all things Amazon. She keeps an eye on the latest developments and keeps Amazon sellers up to speed.