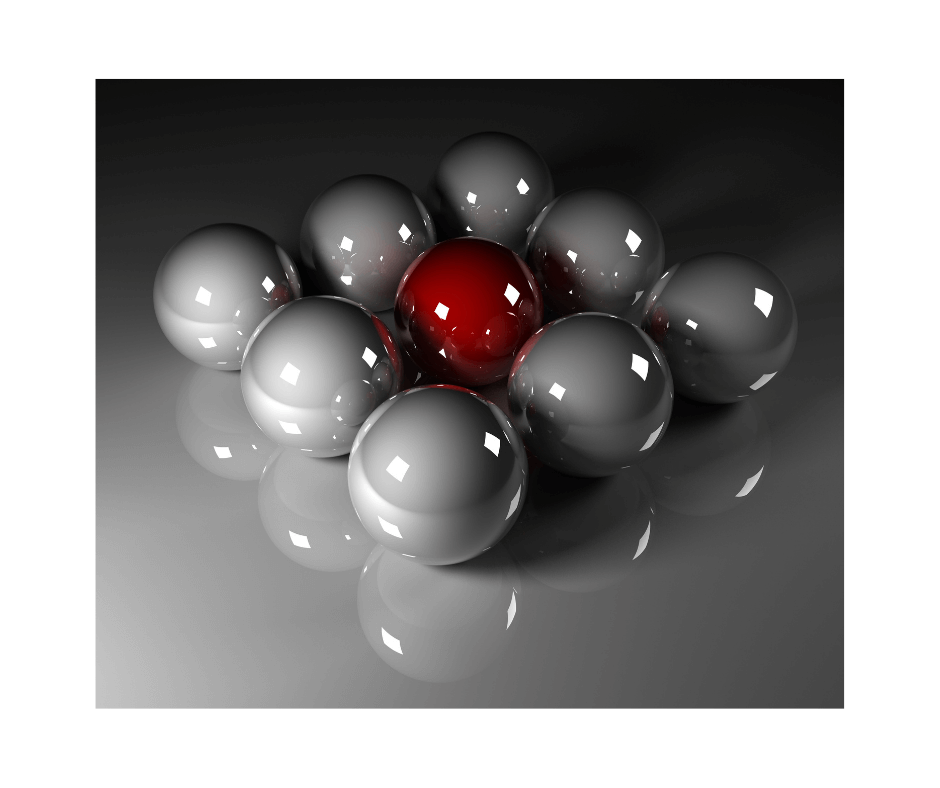 Editor's Note: Originally published on Nov. 18, 2020. Last updated on Dec. 12, 2022.
Amazon's Choice has been around for 7 years. But what is the Amazon Choice badge and how does it affect you, as a third-party seller? We bring you a list of eligibility criteria for Amazon's Choice, as well as a few handy tools and tips in this latest SellerEngine update.
There's more to Amazon's Choice than badges and Alexa voice orders. Over the last 7 years, it's become clear that it can change a seller's fortunes. Let's take a look at what it means and how you can obtain the benefits of listing a product hand-picked by Amazon.
What is Amazon Choice?
Amazon's Choice is a distinction given by Amazon to listings that best fit a buyer's search query, based on a series of algorithms. It's displayed as a black banner with white and orange lettering on the Amazon app and website. If available, you'll find it on the search results page in a listing carousel called "More Results". That's under Sponsored listings and above non-featured listings.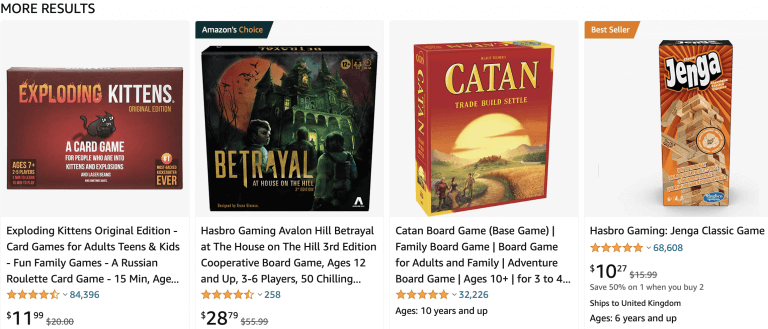 You're unlikely to find it if you sort by price, customer reviewReview and feedback are sometimes used i… More, or other factors because of the sheer number of items listed on Amazon. Luckily, the default selection for results sorting is "Featured".  So, the Amazon's Choice badge should be on the first search results page, usually above the fold.
Look for the Amazon's Choice badge right underneath the Sponsored ads reel. With some products, you may need to scroll down a bit to find it, though. If so, it could be under a carousel like the ones below called "Highly Rated", "From Customer's Preferred Brands", and/or "Climate Pledge Friendly".
In fact, a listing with the Amazon's Choice badge can be a sponsored offer too. So, it can also show up in carousels like the ones above. For instance, as we were writing this, the board game Betrayal managed to pop up in the Customer's Preferred Brands carousel, after an ad reshuffle.
So, an item that has been selected as Amazon's Choice can be featured several times on the first search results page. But it can never have more than one badge. So, if it has the Amazon's Choice badge, it can't also be the designated Best Seller for that search result.
Why Does Amazon's Choice Matter?
Sellers call it the "Amazon's Choice badge" for a reason. It serves as an incentive for buyers because it's a token of Amazon's approval, which carries a lot of clout. After sponsored ads, it's the first offer people see when they look something up on any Amazon venue using the default "Featured" sorting.
Also, unlike sponsored ads, it doesn't go away once the campaignSellers and vendors have a variety of ad… More budget runs out. As you can see below, there's a brief delay between the time a product runs out of stock and the time the badge is taken away.
Sellers can use this to their benefit. In fact, to make sure their offer is as successful as possible, they can run Sponsored Products ads as soon as they have their badge. That way, the listing will only stop being featured when the campaignSellers and vendors have a variety of ad… More ends, the badge is taken away, and they run out of stock.
Crucially, the badge also appears on the product detail page. So, when buyers click and compare search results, they are constantly reminded of Amazon's recommendation. But what's this badge got to do with a buyer's decision? More than you'd think.
Amazon's Choice and Voice Shopping
Huffington Post claims Amazon launched this badge in 2015. The idea was to let Alexa buy things on behalf of its owner from Amazon. But not just reorder things they'd already bought before on the website. No; the point was to let Alexa buy new stuff, without a purchase history.
So, how does the badge play into it? As seen on the official Alexa Voice Shopping page, Amazon's Choice also happens to be Alexa's first choice. But only if its owner never bought that particular item before on Amazon, or the one they bought is no longer available with a Prime offer.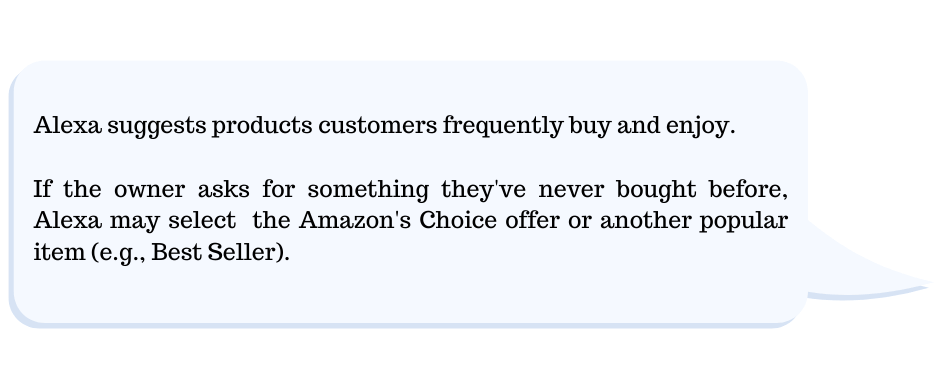 Since people often impulse buy and new products are listed every day, Alexa often ends up picking the black badge. So, if you sell newly-listed non-essential items, and can live with Amazon's free return policy for non-digital Alexa Voice purchases, you should do your best to earn the badge.
With 75% of households forecast to own smart speakers by 2025, according to Statista, it's no wonder OC&C Strategy Consultants say voice shopping is "the next disruptive force in retail". But Alexa is more than a voice shopping assistant, as its YouTube channel reveals.
Also, Alexa voice shopping is bound to grow. Large brands are developing new ways to make it work with their own voice assistants (e.g., Bixby, Brandon, Atika) through the Voice Interoperability Initiative, without users even having to use her wake word.
Things You Should Know About Amazon's Choice
Amazon Choice is an especially elusive badge. You can't just enable it. As the Amazon Choice FAQ page mentions, it's available to sellers, but it can't be bought and it's not linked to seller performanceA measure of how well Amazon sellers are… More. It is, after all, awarded to an item, not a seller.
But there are 4 other things you should know about Amazon's Choice, aside from these FAQ nuggets. Here is what seasoned sellers have to say about this badge:
It's keyword dependent. For instance, when you look up lava rock steak, lava rock stone, and lava rock oven on Amazon.com, you may be shown the same product on the first results page.
It's temporary. A popular product may show up again and again for a specific search phrase or its variations. But it won't always be Amazon's Choice for that search phrase.
It's only available for in-stock Prime eligible offers. This doesn't mean that the buyer will always end up ordering a Prime item, with or without the Buy BoxThis refers to the situation where a sel… More. But it goes to show that one FBA unit alone (even if it's a competitor's) can affect the badge's continuity.
You don't need massive sales volume and velocity to qualify for it, unlike the Best Seller badge. But you should do your best to make sure your product attracts the right people: new Prime buyers who trust Amazon and don't have time to browse and compare.
How to Get the Amazon's Choice Badge
If you're looking for ways to boost your eligibility, there's no point worrying about individual performance metrics too much. Here are a few things you can look at instead to boost the chances of your product being featured:
Prime eligibility.
Stock levels.
Availability to ship.
Return rates.
Popularity & sales.
Product reviews.
Price competitiveness.
Once you've addressed each of these points and you've identified your weaknesses, move on to actionable solutions. Below are 7 examples of steps you can take to make your products more appealing to buyers, as well as Amazon.
7 Tips for Earning the Amazon's Choice Badge
      1.  Optimize Your Listings
To get buyers to click on your product, you want to make a great first impression because the competition is fierce. So, the images and product information you share must be appealing as well as compliant with Amazon's listing rules. Here are a few tips on optimization for product images, titles, and bullet points.
      2.  Refresh Your Keywords
Your product description, bullet points, and title must be easy to read and rich in keywords. But you should also work on the keywords that users can't see. Access the Keywords tab from the "Edit Product Info" screen in Seller Central, and enter your backend keywords in logical order and with single spaces.
Make sure that there are no repetitions or duplicates, no brand names or ASINs, no stop words (e.g. an, by, such), and no typos (unless you're doing it on purpose because the product is often misspelled). Keyword stuffing is another big no-no, since buyers usually go for short phrases when they look up items.
      3.  Improve Organic Sales
Easier said than done. But there are ways to boost sales on Amazon without advertising or dishing out vouchers and coupons. You could try boosting your product ratings or winning the Buy Box more often. Brush up on Buy Box ownership and repricing tips with a glance at our post titled "What is the Buy Box and How It Affects Your Sales."
      4.  Reprice Intelligently
To keep prices as low as possible without losing money, while also winning and keeping the Buy Box, you should use Sellery, our real-time repricer. In our post titled Amazon Buy Box Secrets and Strategies to Win It, we show you how to compete with top sellers, Brand Owners, and price gougers.
      5.  Advertise to Boost Visibility
There are several ways to advertise on Amazon, and we talk about them in more detail in our Quick Guideline to Advertising on Amazon. Third-party sellers usually opt for sponsored ads and bid on high-velocity keywords. But bear in mind that these ads only go live and bring you sales when you own the Buy BoxThis refers to the situation where a sel… More.
      6.  Keep An Eye on Stock Levels
It only takes Amazon a few minutes to pass the badge onto a different product if stock levels plummet. So, if you have the tech and you're keeping an eye on a competing item's stock levels, you can swoop in and earn yourself the badge just by having a decent chunk of Prime eligible inventory on hand.
To check their stock levels manually, just add the item to your cart and try to change the quantity from the cart. The maximum number available will be displayed in the drop-down list.
      7.  Use FBA as Backup
Prime shipping is an important factor in Amazon's decision. To make sure that you offer Prime shipping and stay eligible for the badge for as long as possible, split your inventory between FBA and MFN, and charge a bit more for the first.
Alexa shoppers will go straight for the Prime offer. But other buyers will likely choose MFN offers instead. As long as you always have at least 1 FBA unit in stock, you tick the 'availability' box, as far as badge eligibility is concerned.
This brings us to the end of today's post. We leave you with a reminder that the benefits of the Amazon's Choice badge are hard to quantify because it passes on quickly from one product to the next. But sellers would be wrong to underestimate the importance of Amazon's Choice this holiday season and beyond.
Now that you know what is the Amazon Choice badge- and what it isn't-, what better way to put what you've learned into practice than with Sellery? It's the one tool that lets you monitor and take control of your stock levels, price, and Buy BoxThis refers to the situation where a sel… More eligibility for all your items, be they Used or New, FBA or MFN.
Win the Buy Box more often and accelerate sales
No Credit Card needed. Easy sign up for free trial.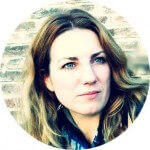 Melanie takes an active interest in all things Amazon. She keeps an eye on the latest developments and keeps Amazon sellers up to speed.