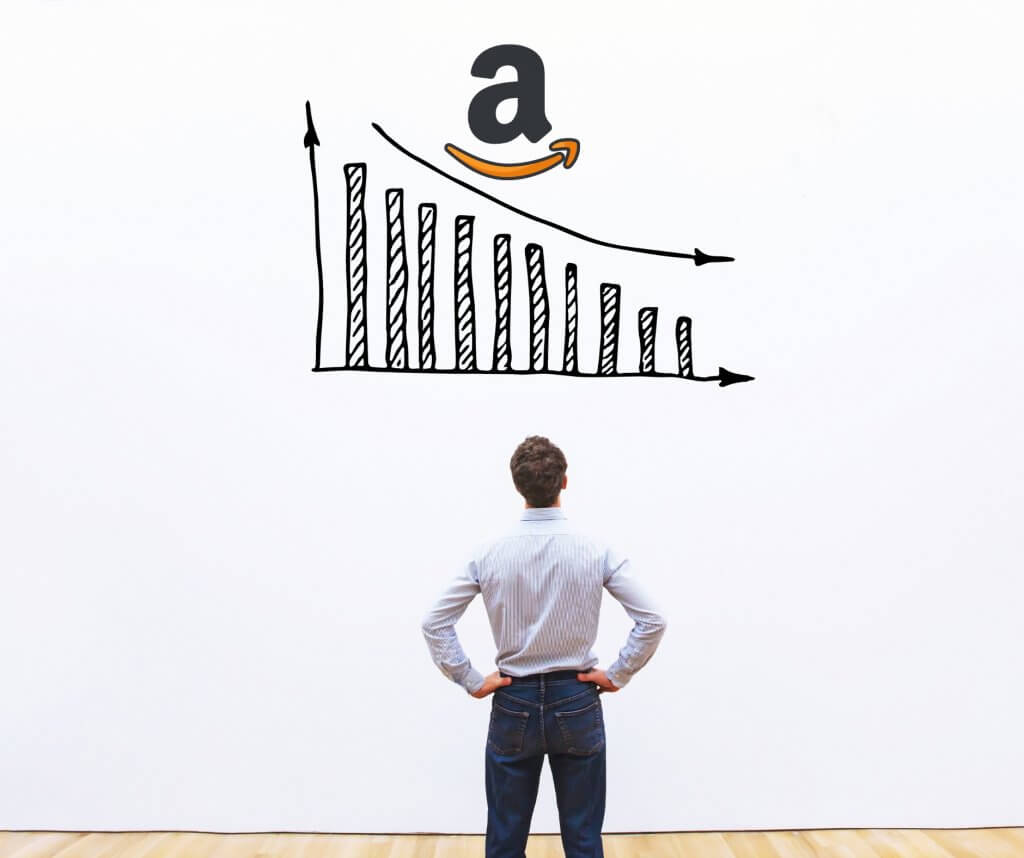 This was the best holiday sales season on record for Amazon sellers. But fast forward to February, and sales on Amazon are flat. On the other hand, returns are piling up. To fight all that, here are 7 tips to break out of your sales slump on Amazon, turn that frown upside down, and change it into an orange smile/arrow.
Third-party sellers shipped over a billion items this holiday season, according to a recent press release. But after booming winter sales and January stock clearances, sellers are feeling the sting of the February sales slump on Amazon.
And it's not just flatlining sales that bothers them. It's high return rates, replacements, removal orders, refunds, and fast-approaching sales tax deadlines. It's a perfect storm. But waiting for the storm to pass is not the answer. The only real option is to work towards boosting sales on Amazon.
How, you ask? Unlike a conventional retailer, marketplace sellers can't reinvent themselves, revamp their window displays, and target new markets. But all is not lost. To overcome the slump, boost Amazon sales, and improve your bottom line, try to better leverage your time and money with our simple tips.
7 Tips to Boost Sales on Amazon
1. Re-Price to Sell
Assuming you're a Pro merchant with automated, synced, and fully optimized listings across a variety of venues, your biggest problem is probably the price. After all, landed price (i.e. price after discount + shipping + import fees + tax) is the most important factor for most buyers.
But on Amazon, prices change all the time. You need something that works 24/7 to find that sweet spot where the price is low enough to sell, but high enough to reach your profit target. There's only one thing that can do this and boost Amazon sales in the process – an automated repricingIt's the practice of controlling and c… More tool, aka repricer.
But not just any repricer. To boost sales on Amazon, you need one that changes your price faster than your competitors do: Sellery. It reprices in real time. For most other repricers, a price change is always subject to a lag between their instruction and Amazon's server.
"Lag" is not part of Sellery's vocabulary. Neither is "Loss". It calculates your minimum price based on the margins and markups you set. And unlike other repricers, it never drags you into a price war. So, it takes both human and software error out of the equation. It's as simple as that. Read our Product Spotlight to see what makes Sellery special.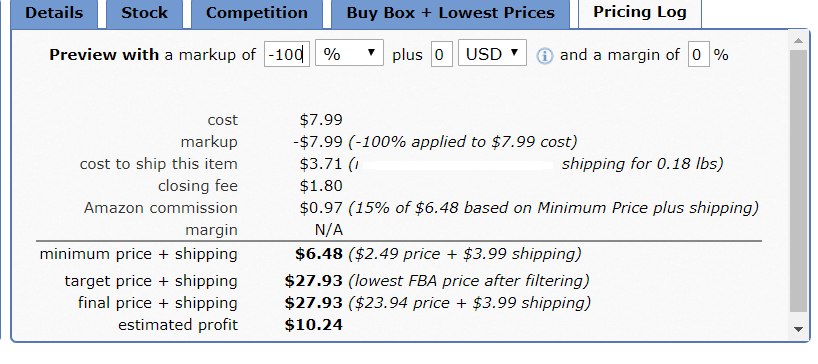 2. Win the Buy Box
With more competitors than ever before, it's important to capitalize on every opportunity to set your product apart and sell. And there's nothing like owning the Buy BoxThis refers to the situation where a sel… More to boost Amazon sales. Whether your product is Used or New, you should always strive to win the Buy Box or upstage the winner.
The secret is in our 'SmartLists'. With Sellery, you can filter your listings and group them into Smartlists to monitor BuyBox ownership more easily.
Setting Up SmartLists takes seconds. And once that's done, you can start setting pricing rules in bulk or individually. To make sure you have the upper hand over other sellers, you can then use the 'Buy Box + Exceptions' tab. It lets you set up custom-made rules to help you compete for the Buy Box.
The Pricing Rules and Strategies video below (timestamp 2:30) shows you how to tweak your prices. Even if your competitor owns the Buy Box (be it the New or Used one), you can still upstage them. Just be sure to check the Buy Box + Lowest Prices tab underneath first (@ 3:45).
3. Boost Organic Ranking
This seasonal sales slump on Amazon can be overcome with opportunities like St. Valentine's Day gifts. And it can't hurt to check out our seller calendar for more inspiration. But whatever it is you plan to list, you're going to need good ranking if you want to boost Amazon sales.
There are various ways to have your listing shown above the fold. One is to find keyword-targeted URLs. Simply look up competing ASINs with a keyword finder tool to make a list of every ranking keyword and the competitor using them. Then use your own combination of keywords to maximize visibility.
Some sellers use 2-Step URLs, which is forbidden. They link searches for particular items to their stores and make it look like they had organic searches. Even though their rankings may see a boost, Amazon tracks the links and wipes any new product reviews as soon as it flags up this kind of manipulation.
4. Check Feedback, Reviews, Comments, and Q&As
A good feedbackA performance rating on a scale of 1 to … More score isn't the be-all and end-all, but it certainly helps. The same goes for product reviews. You don't need us lecturing you for not having perfect ratings. But you should keep up with all the ways sellers maximize review counts, as well as the underhand tactics they sometimes resort to.
Buying fake reviews, offering incentives, and upvoting reviews are some of the oldest tricks in the book. And as Amazon cracks down on one of them, another one comes along. The best way to make sure your products appeal to buyers organically is to work on Q&As, as well as feedback and review comments.

As you know, "Questions & Answers" come before product reviews on the product page. So, a buyer can stop scrolling down to reviews if the Q&As are confusing. That's why dishonest sellers have been known to buy competing products and then flood their product pages with fake answers.
Mind you, sellers can make matters worse all by themselves with things like bad templates. Below is a comment on a product review for an item with an inaccurate description. Phrases like "giving me feedback", "respond to this email", and "defective unit" clearly doesn't apply. Not to mention the fact that the offer is a flagrant abuse of review policy.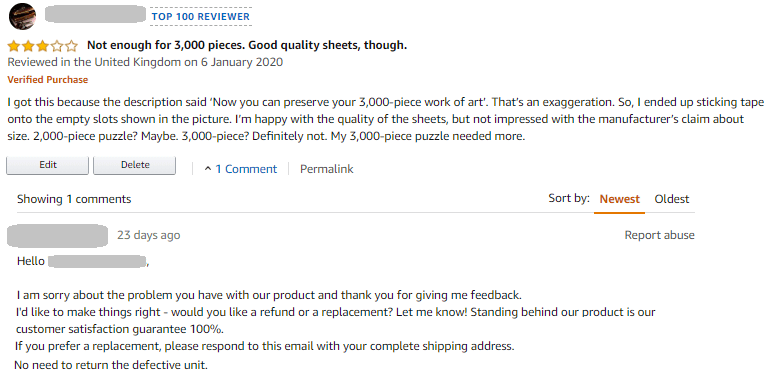 5. Switch Market and/or Fulfilment
For sellers who don't have the resources and the capacity to compete with other sellers on price, keyword ranking,
feedback
A performance rating on a scale of 1 to … More
score, and delivery speed, there's always FBA. The same goes for sellers who want to streamline fulfillment. It's also a good fit for those who want to focus on other sales channels. But most sellers have a complex business model, combining MFN, FBA, SFP,
private label
This is what you call products manufactu… More
, etc. Sellery can help you boost sales on Amazon and maximize profits by showing profit estimates for specific types of fulfilment and markets. Here's an example of estimated profits for two items, the first fulfilled via FBA and the latter via MFN on different markets. Notice the 'Is FBA' checkbox.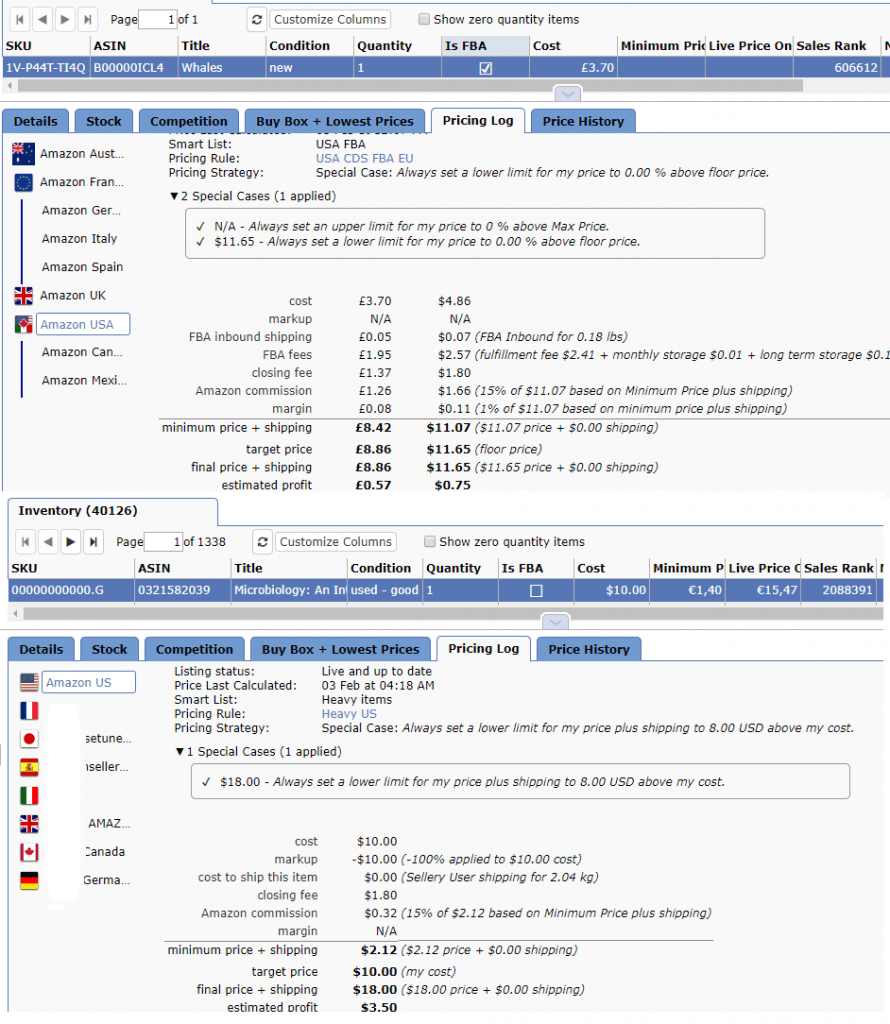 6. Polish Your Campaign
There are three ways to advertise on Amazon: Sponsored ProductsPay-Per-Click (PPC) ad platform for Amaz… More, Sponsored Brands Pay-Per-Click (PPC) ad platform f… More, and Stores. The third one is free, and the first two consist in setting up PPC campaigns. Sponsored Products campaigns are available to third-party sellers, and they can boost sales on Amazon considerably. If they're set up right, that is.
Timing is crucial. It helps to keep a campaignSellers and vendors have a variety of ad… More calendar. That way, campaigns won't run out just before an important sales event. It's also easier to sync campaigns across social media platforms when you've marked all your campaigns on a calendar.
Don't forget to set up a purchase limit too. Otherwise, you're inviting drop-shippers to source your item and resell it on other venues. And once they get wind of one item, there's nothing keeping them from doing the same with virtually every item you sell at a discount.
Also, if you set up custom labels for your products with references to prices and discounts, be careful not to use SKUs and other codes that point to prices. Competitors can use them as markers to undercut your products en masse.
7. Advertise Everywhere
There are several ways to boost Amazon sales from the outside. For instance, creating stories or feeds on social media and networking platforms like Instagram with links to your products and promo codes. It's also allowed to use higher quality content on other websites than you do on Amazon, now that the parity rule no longer applies.
E-commerce platforms like Shopify also allow you to link your Amazon FBA account, tag products on Instagram, and create stand-alone sales channels. With this model, Amazon fulfils your orders, and buyers continue to do their shopping on your Shopify store.
If you have a website or blog of your own, you could consider joining the affiliate program. It enables you to not only promote your products, but also monetize other people's products. You can also refer Amazon's own services and programs to your customers through the Bounty Program.
Then, of course, there are influencers. To stay in Amazon's good graces, you need to work with someone who has signed up to the official Amazon Influencer Program. There are several software tools that can help find them. But you're also allowed to offer an influencer a freebie at a trade show or similar event, as long as there's no mention of a review.
We could go on about building up sales on Amazon, but that's a story for another day. Until then, remember to check seller metrics daily, maintain a healthy account, keep a decent amount of stock, and make customers happy. After all, this probably won't be your last sales slump on Amazon. And you can't hope to boost Amazon sales without an active and well-oiled account.
If you are looking to try out a reliable repricing software, take advantage of two weeks of free trial and try Sellery now. It's the best time to test and see what a repricer can do for your Amazon businessAmazon Business is Amazon's wholesale … More.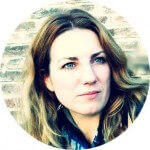 Melanie takes an active interest in all things Amazon. She keeps an eye on the latest developments and keeps Amazon sellers up to speed.