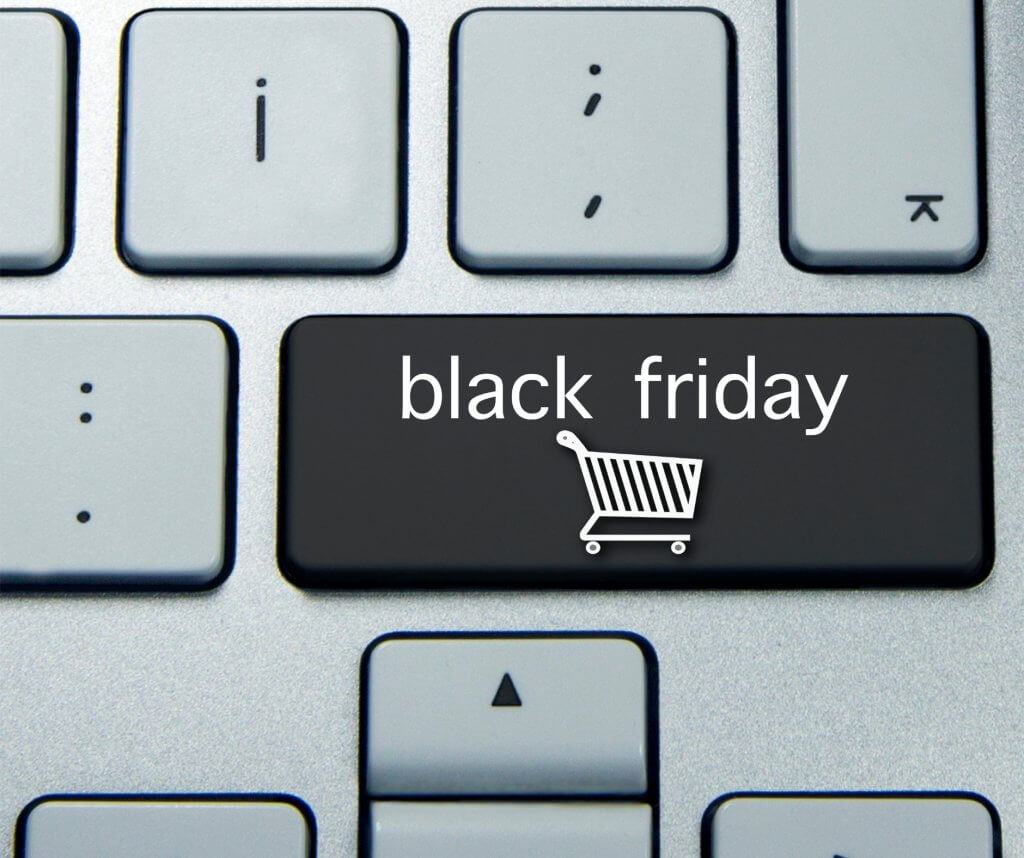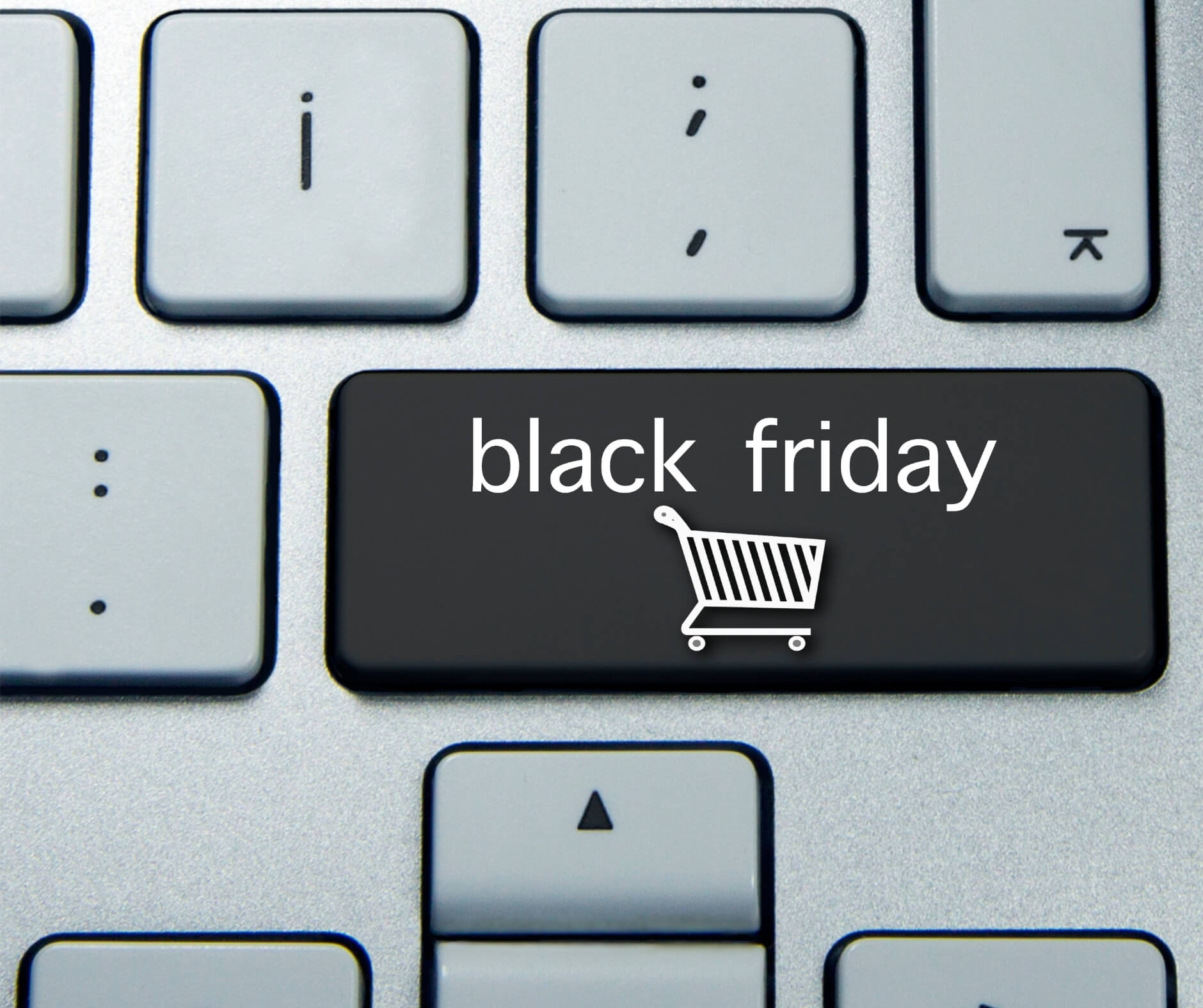 The numbers are in and we can safely say that Black Friday 2020 was a resounding success for online retailers. But has this Thanksgiving weekend changed your fortunes, as an Amazon seller? More importantly, will Black Friday Cyber Monday 2020 affect you in the long run?
For Amazon sellers, Black Friday 2020 was unique. It lasted 5 weeks (Oct. 26 – Nov. 30) thanks to an impromptu "early deals" event. And it was amplified by 'Fear of Missing Out', aka the FOMO effect. So, buyers shopped earlier and spread out their spending, but also gave into impulse buying more often and spent more.

But as the dust settles and Amazon sellers look back, it's important to point out that this shift was unavoidable. And it was also years in the making. For ages, consumers had been growing weary of Black Friday stampedes – a throwback to the '50s. And retailers weren't impressed either.
In 2016, pollsters pointed out that Black Friday shoppers didn't look forward to the in-store mayhem. Half of their responders planned to shop online instead. And as for retailers, most didn't even take part in Black Friday. Only 1 in 5 planned to offer any Black Friday sales at all. How things have changed!
As early as 2017, when Amazon coined the term 'Turkey 5' and launched a 10-day event, it became clear that the Black Friday bonanza, as we knew it, was dwindling. Then in 2018, Cyber Monday upstaged Black Friday for the first time in the history of the USA. And so it was that BFCM (Black Friday – Cyber Monday) was born.
In 2019, BFCM went global. But more importantly, as Adobe's Holiday Shopping Report was quick to point out, the holiday season effectively started on Veteran's Day last year (Nov. 11). This helps explain Amazon's rush to dish out deals and discounts so soon this year – 11 days after Prime DayPrime Day was initially a one-day sales … More.
With the pandemic in full swing and with shops closed or deserted, we're now fully aware that Black Friday is truly gone. The shopping sprees of yore have moved online. As for sellers, some ran out of stock too early. For others, BFCM 2020 inventory is still spreading into the holidays.
Black Friday 2020: Amazon's Report
Meanwhile, in a recent blog post, Amazon reported some phenomenal results for BFCM 2020. Based on its estimates, some third-party sellers and vendors came out on top this year. But with so many businesses hanging on to government grants for dear life, the list should be taken with a pinch of salt:
Independent businesses grew 60% YoY this BFCM event.
Merchants sold over $4.8 billion globally and created 2.2 million jobs.
71,000 SMEs cashed in over $100,000 this holiday season.
US-based SMEs sold 9,500 units/min., on average.
As for brand owners, it seems that the tables have turned. As you'd expect, brands like Echo, Ring, iRobot, Nintendo, Revlon, and 23andme did very well. But Instapots, Samsung, and Disney's Frozen 2 no longer headlined the bestseller lists. Also, there were 2 massive changes this year:
Iconic toy brands like LEGO, LeapFrog, Hot Wheels, and Learning Resources made up for lost ground, now that Disney Frozen and L.O.L. Surprise dolls aren't all the rage.
There were many newcomers to the top list, some established (Intimately Beckham, BlissLights) and some recently launched (Rocketbook, Lady Gaga's Haus Laboratories).
Finally, Amazon probably has many more reasons to celebrate this year – in the range of billions. But since it won't make its sales figures public, we must make do with the official list of BFCM 2020 accomplishments:
Amazon Pharmacy is already gaining traction due to low rates on payments without insurance.
Over 50,000 of the products listed this holiday season had the Climate Pledge Friendly badge.
Buyers had more alternative delivery locations like Amazon 4-star and Amazon Books shops.
Free same-day delivery to Amazon stores or Amazon Hubs with no minimum spend.
More sustainable shipping thanks to recyclable paper padded mailers.
BFCM 2020: The Bigger Picture
Data journalists outdid themselves again this year, promptly sharing their BFCM 2020 sales data with the readers.
Statista reports that, in the USA alone, $29.6 billion worth of sales took place this Thanksgiving weekend. That's roughly 17% more than in 2019 and nearly 30% more than in 2018.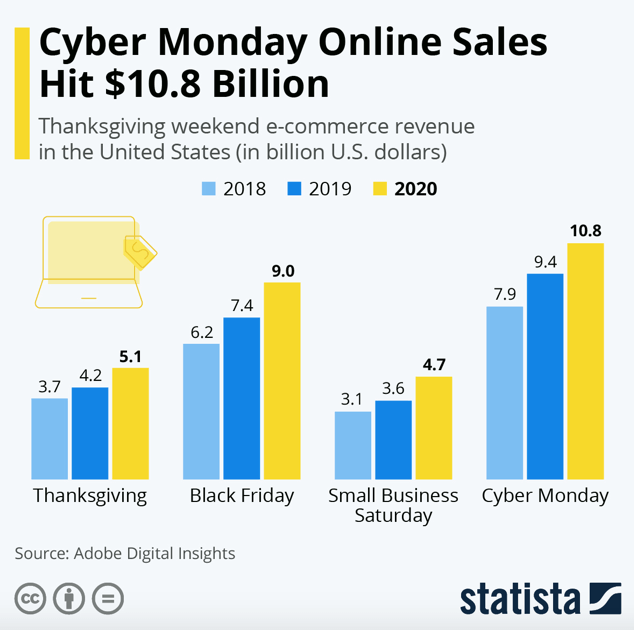 Cyber Monday 2020 is officially the greatest online shopping day in the history of the USA. At its peak, it recorded a spend of $12 million per minute, according to Adobe. Impulse buying is on the rise. For Amazon sellers, this could lead to an untenable rise in return rates in the next two months.
5 Key Takeaways from Black Friday 2020
The pandemic has created a Pandora's box of new challenges and opportunities for Amazon sellers. And whatever the outcome of the pandemic, this box may not seal for years to come. After the events of Black Friday 2020, we can see at least 5 areas of opportunity for sellers:
Family Life & Quality of Life
Buyers are more interested in educational toys, luxury bedding, high-end make-up products, and home comforts than in previous years. Unless sellers design or resell truly revolutionary products in these categories, they will find it difficult to compete with established companies that are very protective of their high-end brands.
Big-Ticket Budgets Drop
As quarantines and staycations are now the norms, people across the globe put off events like moving house, having a big wedding, or taking a sabbatical. Hence, buying large appliances, furniture, and gadgets is out of the question. But coming up with new DIY, repair, and restoration products may help fill a gap in this growing market.
Transforming Society
People are developing new interests and the changes are lasting. Sports, hobbies, and pet products will likely maintain their appeal beyond BFCM 2020, as people cling to their current lifestyles. Sellers would do well to ride this wave and list products that have a positive impact on people's physical, mental, and emotional health.
Inventory Matters
Stock availability affects sales and campaign duration, as well as eligibility for the Buy Box and the Amazon's Choice badge. It's best to time your FBA inventory at least a month in advance and keep shipping small batches so that the units trickle in constantly. With a tool like SellerEngine Plus, you can streamline these shipments, their listing, and their pricing.
Also, to maintain a steady flow of goods, purchase orders for MFN and FBA items should be sent well in advance of previous years. Profit Bandit can help you look up individual items, while Sellery can help you search a supplier's entire catalog for worthwhile ASINs.
Return Trouble
This festive season, two different phenomena will affect sellers' return rates. Social bubbles are smaller, so people spend more on fewer gift recipients. But with bigger price tags come greater expectations and possibly higher chances of buyer remorse.
Secondly, people's life circumstances are changing overnight. Amazon's extended return policy can be a blessing for the buyer, but a curse for the seller. Read up on restocking fees and update your return policy in preparation.
Now that we've said our piece on BFCM 2020, it's only fitting that we acknowledge Amazon sellers' contribution to its success. This Thanksgiving weekend, as we celebrated a special anniversary at Seller Engine, we were reminded of just how much we owe the people at Amazon and the merchants who make a living from it.
We give our belated thanks to our readers, our clients, and to all the people we owe this momentous Black Friday 2020 event to.
Don't miss the chance to get fresh Amazon News and Amazon expert insight articles right when we post them directly in your inbox.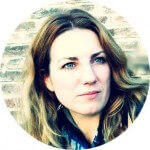 Melanie takes an active interest in all things Amazon. She keeps an eye on the latest developments and keeps Amazon sellers up to speed.