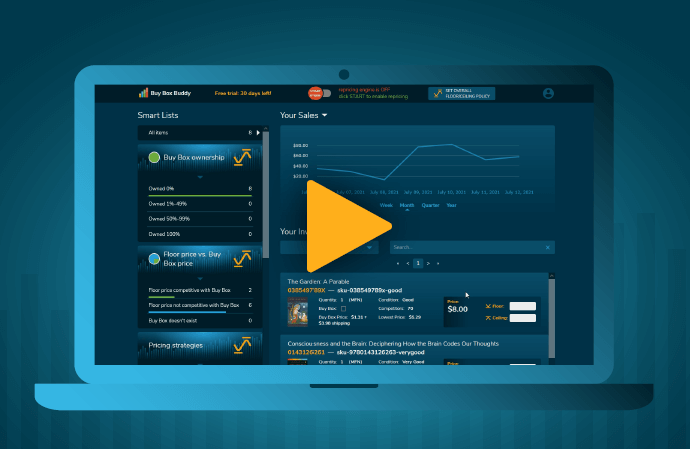 There's no shortage of Amazon repricing software. But this Q4, it's time to bring in the heavy artillery. Let's talk about Amazon AI repricing. And let's see how BuyBoxBuddy's unique analytics and Amazon repricing insights can give you the edge on the competition.
In our introductory post on BuyBoxBuddy, we talked about Amazon repricing software and how it must be fast, responsive, and fail-proof. You'll also find hints in this post as to why it's important to use an automatic Amaon repricer this Q4. To recap: 
Amazon repricing is the practice of updating prices based on factors like costs, stock levels, the number of competitors, and their own prices. 
Amazon repricing software comes in two flavors: rule-based and algorithmic (a.k.a. AI-powered). 
Both can deploy a repricing strategy and win you the Buy BoxThis refers to the situation where a sel… More. But algorithmic ones are automatic, set-and-forget types of tools. 
Sellery is a rule-based repricer, while BBB is algorithmic. They both reprice in real time, but BuyBoxBuddy is more self-reliant.
BuyBoxBuddy comes with a range of Buy Box analytics about ownership, price comparisons, and eligibility, offering Amazon repricing insights that inform your decision-making process. 
Algorithmic repricers are only as good as their fail-safe. For BBB, that fail-safe is twofold: unwavering price limits and a manual override function.   
BuyBoxBuddy is designed so that it doesn't drag you into price wars, or make you vulnerable to Buy Box suppression. 
Today we'll go into a bit more detail with our Amazon repricing insights. We'll show you what makes BBB essential to Amazon sellers. 
BuyBoxBuddy Adapts to a Changing Market
On Amazon, competition changes by the minute. So, no single change you make can guarantee that you win the Buy BoxThis refers to the situation where a sel… More on Amazon.
As we explained in How to Win the Amazon Buy Box in 2021, you must first satisfy these criteria:
You have a Professional selling plan.
Your seller metrics meet current standards.
You have a great 'price + shopping experience' offer.
Amazon repricing software can help you fulfill these criteria. It can improve your price, shopping experience, and seller metrics. Then you can draft your Amazon repricing strategies. This will help maximize your chances of winning the Buy Box. 
But the best tools go even further. They don't just find the right price point to win the Buy Box. They use their algorithm to raise the price as soon as you win the Buy Box. Just so that you keep it for as long as possible. That's BuyBoxBuddy's specialty.  
BuyBoxBuddy Factors in Not Just Costs
BuyBoxBuddy spares you the trouble of blindly entering thousands of prices in Seller Central by hand, and then doing it over and over again because of pesky price alerts and deactivated listings. Just give BuyBoxBuddy your min. and max. price once, and let it figure out your optimum price for every item. 
It factors in all the costs, fees, and pricing rules. And it adjusts prices as needed, 24/7. 
And as mentioned in Why Invest in an Amazon Repricing Tool, our repricers are private label-friendly. They treat MFN and FBA items differently and display both Buy BoxThis refers to the situation where a sel… More offers. Also, they can schedule price tweaks (e.g. shift slow movers quarterly, well ahead of IPI checks).
BuyBoxBuddy Brings You Analytics
Amazon AI repricing may be the latest craze in seller software development. But Amazon repricers aren't created equal.
Let's quickly recap how BuyBoxBuddy analytics can help you not just win the Buy BoxThis refers to the situation where a sel… More, but keep it for longer using our fancy filters called 'Smart Lists':
Buy Box Ownership. This shows you listings where you don't own the Buy Box 100% of the time; so, it flags up opportunities to make a price change for the win. 
Floor Price vs. Buy Box Price. It shows if your price can compete against the Buy Box price in your category (New/Used).
Buy Box doesn't exist. Items on this list are either out of stock or the listings were suppressed. 
Items not eligible for the Buy Box. It flags up Buy Boxes you might be able to win with a few tweaks that don't relate to price (e.g. fulfillment). 
These analytics translate into unique Amazon repricing insights that can give you an edge in a very competitive ecosystem. Whether you're a seasoned seller or you've recently crossed over to a Professional selling plan, BuyBoxBuddy will make a trusty repricing partner. 
BuyBoxBuddy - Your Essential Amazon Repricing Partner
That's not all BuyBoxBuddy can do for you. Here are 3 of the features we're most proud of:
Comes with Pricing Strategies. 
Pricing Strategies are built-in Smart Lists that group your items based on their relation to the Buy BoxThis refers to the situation where a sel… More and how you want to compete for it so that you avoid price wars (sharing it, fighting for it, price matching, price hiking, etc.).
BuyBoxBuddy uses machine learning to monitor sales velocity, identify trends, sift out slow movers and top sellers. It takes proportionate measures to boost sales turnover and search rank. For instance, when you start using BuyBoxBuddy, 'above average' might be a sales volume of 10 to 50 times more than the median. But these benchmarks can change with time, based on your sales volume. 
Cleverly Adjusts Prices 24/7
This Q4 is very different. There are stock shortages, FOMO, Amazon's holiday gift list, and the new in-app universal gifting tool.
In fact, BFCM 2021 sales are already picking up, with plenty of orders throughout the day. So, it's important to rely on an automatic repricer that can adjust prices intelligently when you need it most. 
If you'd like to know more about this innovative Amazon repricing software, and you'd like to try your hand at using BuyBoxBuddy, sign in for a free trial.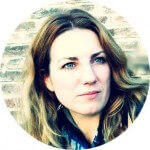 Melanie takes an active interest in all things Amazon. She keeps an eye on the latest developments and keeps Amazon sellers up to speed.