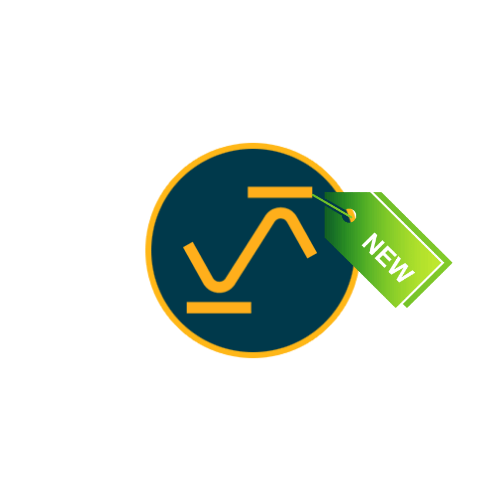 Editor's Note: BuyBoxBuddy is now released and ready to trial for free. 
If you've seen one Amazon repricing tool, you've seen them all. Or have you? We're taking automatic repricing to a whole new level with BuyBoxBuddy, our new Amazon repricer. Here's what you can look forward to from the upcoming launch of our price optimization tool.
Amazon repricers get a bad rap for being too slow or too complicated. In this Part 1 of our introductory series, we'd like to dispel some of the myths and put forward a new software solution: BuyBoxBuddy. Let's talk about how it can help you win the Amazon Buy BoxThis refers to the situation where a sel… More.
Why Use an Amazon Repricing Tool?
It's virtually impossible to single-handedly calculate and update prices on Amazon round the clock. And it's not just because of the constant ebb and flow of competitors pushing prices lower or higher to suit their needs.
It's also because of the lag between the time a price changes, the seller picks up on it, and the new price proposition is sent forth, reviewed by Amazon, and displayed. The sheer amount of time it takes to reprice manually is what drives sellers to use Amazon repricing tools instead.
And there's much to be said for automatic repricing. Automation lets you view the latest price updates on Amazon for countless items at a time. This then enables you to react to the changes quickly and maximize your chances of winning the Amazon Buy BoxThis refers to the situation where a sel… More.
Not All Repricers Are Created Equal
We can't stress this enough. Some don't change the price fast enough, which makes it easy for competitors to one-up. Some lower the price just enough for you to win the Amazon Buy BoxThis refers to the situation where a sel… More, but lose you money by not raising it back fast enough.
But the single greatest reason for missing opportunities on Amazon is not making the most of what the repricer has to offer. That's why, even sellers who use the best repricers and are eligible for the Amazon Buy Box can end up being sidelined if they're inexperienced.
As pioneers of repricing with nearly 2 decades of software developing under our belt, we see this problem all too often. Sellers either don't have the time to set pricing rules or have trouble implementing their strategy. When this happens, rules can override or contradict each other.
The New Age of Amazon Repricers
Classic, rule-based repricing has its merits. And seasoned sellers are very crafty when it comes to setting and tweaking these rules for price optimization. But this takes time and experience, and that's a luxury today's up-and-coming sellers might not have.
That's why we're thrilled to announce that we're about to have a new addition to the SellerEngine software suite: BuyBoxBuddy. It's cast in the same mold as Sellery, and it comes with many of the same features. 
But because it takes under 10 minutes to sync up with your inventory and start repricing right away, with minimal input, it lends itself very well to new sellers. All it needs from you is to set your price limits (the absolute lowest and highest you're willing to take your price to).
"So, how is this different from Sellery?" you might ask. Well, BuyBoxBuddy is an algorithmic repricer. It doesn't need you to set any rules. It's truly fully automated. It monitors prices and competitors 24/7, seamlessly adjusting the price based on algorithms. 
Here's What BuyBoxBuddy's Top Features Bring You
The best thing about BuyBoxBuddy? Like Sellery, it's safe. As long as you set your price thresholds, it will never cross the redline or get into price wars. But best of all, it's truly smart. It sounds like a bold statement, but here's what makes BuyBoxBuddy so smart: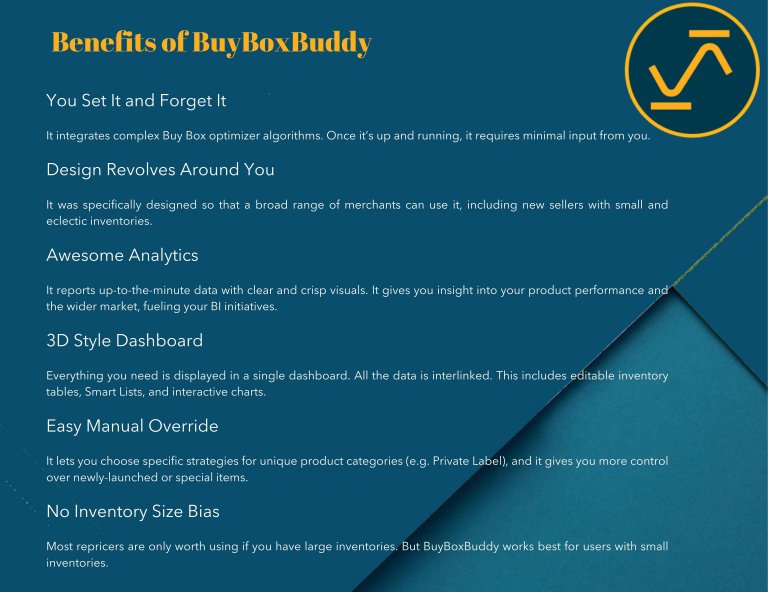 It was specifically designed so that a broad range of merchants can use it, including new sellers with small and eclectic inventories.
It reports up-to-the-minute data with clear and crisp visuals. It gives you insight into your product performance and the wider market, fueling your BI initiatives.
Everything you need is displayed in a single dashboard. All the data is interlinked. This includes editable inventory tables, Smart Lists, and interactive charts.
It lets you choose specific strategies for unique product categories (e.g. Private LabelThis is what you call products manufactu… More), and it gives you more control over newly-launched or special items.
Most repricers are only worth using if you have large inventories. But BuyBoxBuddy is a great choice for users with small inventories too.
That's all we can reveal for now about our latest project, BuyBoxBuddy. Please subscribe for news about the upcoming release, special offers, automatic repricing tips, and many other price optimization resources. We'll be sure to keep you in the loop!
Editor's Note: BuyBoxBuddy is now released, available on SellerEngine's website, and ready to trial for free.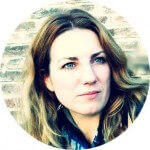 Melanie takes an active interest in all things Amazon. She keeps an eye on the latest developments and keeps Amazon sellers up to speed.