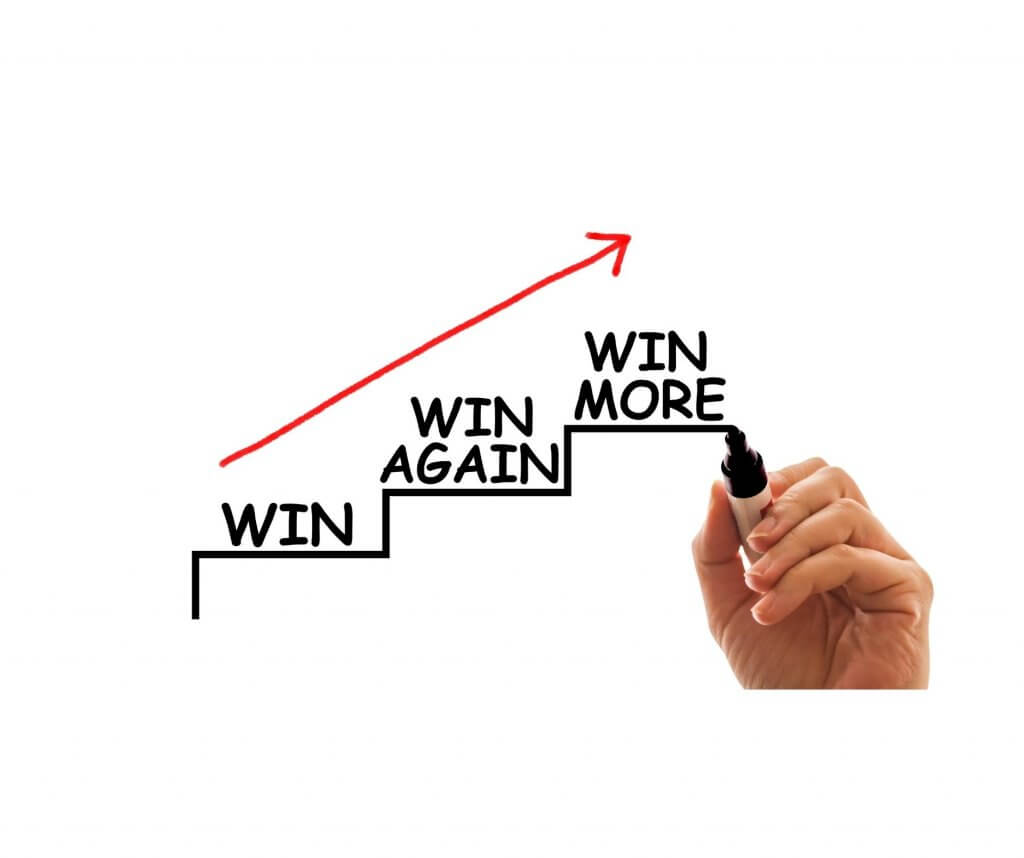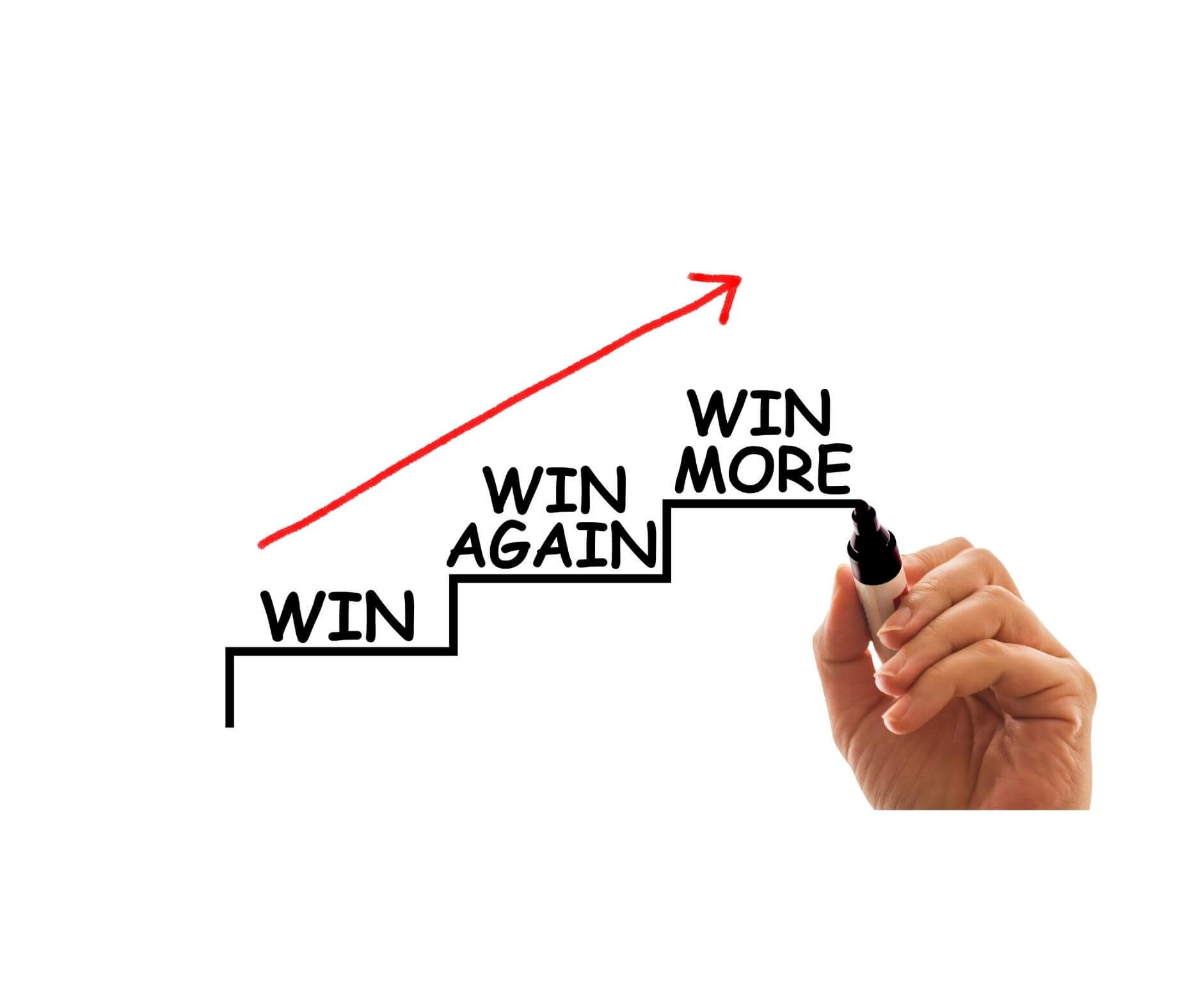 Q2 is right around the corner, and you might be looking for ways to win the Amazon Buy Box. Or, if you're a seasoned seller, perhaps boost your Amazon Buy Box Percentage? Whatever the case, BuyBoxBuddy can help you win the Buy BoxThis refers to the situation where a sel… More on Amazon fast.
Why Does Winning the Amazon Buy Box Matter?
Statista claims that 56% of all paid units on Amazon in Q3 2021 were sold by third-party sellers. How can that be, when there's so much competition and Amazon itself lists so many of these products with massive discounts? The answer is the Buy BoxThis refers to the situation where a sel… More.
Amazon's net revenue in 2017 was $470 billion, according to Statista. An estimated 83% of those sales went through the Buy Box, CED Commerce claims. In fact, when it comes to mobile shoppers, the figure is higher. Their orders go almost exclusively through the Buy Box.
What Does the Amazon Buy Box Mean?
We've been talking about the Buy Box on this blog for a decade. So, the term "Buy Box" has been part of the Amazon vernacular since at least 2012. The official term on Amazon US is "Featured Offer", but other venues are happy to call it Buy Box.
As we explained in our post, "How to Win the Amazon Buy Box", it's nothing more than a widget that features Amazon's preferred option out of all the offers available for an item. It helps shoppers buy without comparing sellers, relying on Amazon's algorithm instead.
The Amazon Buy Box may look different from one venue or device to the next. But as seen below, it usually shows the name of the seller, who fulfills the order (FBA/FBM), the price, the shipping charge, any import fees, and the buyer's gift wrapping and delivery options.
You might come across Amazon Buy Box suppression, as seen in the example on the right. In this particular case, the lowest offer is nearly twice the market value of that item. Amazon doesn't tolerate price gouging, so there's no featured offer for this listing.
You might also see two featured offers on the same listing, as shown in our post on how to win your Amazon Buy Box. More exactly, you'll see a recommendation to "Buy new" from one seller, and one to "Buy used" from another seller. Here's why:
Media items come with 2 Buy BoxThis refers to the situation where a sel… More offers; one for new products and one for used items.
Non-media 'Used' items offers can win the Buy Box too, but only if the offers are from Warehouse Deals or Amazon Renewed.
Why Did Amazon Create the Buy Box?
We may never know for sure why the Buy Box was launched and why it's still around a decade later. But it's safe to assume that there are at least 7 reasons for its continued existence:
Competition. There's too much competition on Amazon. Statista claims there were 2.89m active sellers worldwide in 2019. The Buy Box gives buyers all the benefits of a competitive market, with none of the fuss.
Fairness. The Buy Box is meant to level the playing field. Before it was launched, sellers could only attract buyers with stellar feedbackA performance rating on a scale of 1 to … More and low prices. This favored big, seasoned sellers. But with the Amazon Buy Box, even relatively new sellers can fight for buyers.
Peace of mind. Many shoppers buy from sellers, but think they bought from Amazon itself. The Buy Box gives them that added peace of mind. Even if they eventually realize the shipper is a third-party seller, they expect the same level of service.
Vetting. Amazon's name has clout. Buyers who know the meaning of the Buy Box also know that only high-performing sellers get featured. To their mind, these sellers are vetted by Amazon. They trust Amazon's decision, so they buy from the marketplace.
Fast sales. The Buy Box comes with two key options: add to the cart, or buy with a click. Either option will speed up the checkout process and streamline sales for Amazon. After all, in 2021, Amazon made $894,216/min. in net revenue. So, the faster the better.
More sales. Because the featured offer tends to be at a reasonable price point and Amazon buyers tend to be thrifty, the Buy Box minimizes indecision for buyers and secures more sales and more revenue for Amazon.
AdvertisingAdvertising is a means of communication … More. The Buy Box enables sellers to set up PPC campaigns on Amazon. Ads boost sales, which boost free promotional messaging like "We noticed…" or "Customers who bought this…". This leads to – you guessed it- more business for Amazon.
How Does the Buy Box Work?
No one seller can hold the Buy Box indefinitely, even if they're the only one listing an item. This is because of a little something called Amazon Buy Box rotation. Here are the 8 main principles of Buy Box rotation:
Amazon will swap the Buy Box even if there's no price change.
The Buy Box is shared proportionally, and all candidates get an equal share, all else being equal.
Rotation favors specific price points, so the candidate pool is smaller than the eligibility pool.
Choosing a price that's out of bounds will tilt the odds in your competitor's favor.
Amazon Buy Box rotation is fast and often biased toward specific sellers.
When there's a clear favorite, focus on them and don't overcut them.
Amazon can swap the Buy Box while an item is in the cart, and the buyer wouldn't even notice.
Once the Buy Box is yours, it stays yours for your share of time, all things being equal.
That last point is very important. Raising the price to a level that's still within bounds is your best chance to turn a profit quickly. How do you do that for hundreds or thousands of items at a time? The answer is BuyBoxBuddy.
It enables you to raise your floor price and boost margins while maintaining sales levels. It also lets you know if there are any listings with suppressed Buy Boxes. And if there's an opportunity to start competing for the Amazon Buy Box, it points you to it.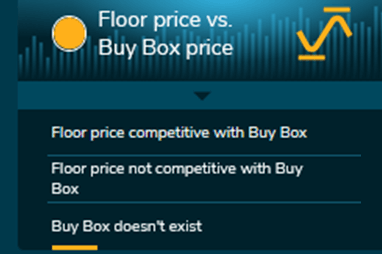 What Is the Amazon Buy Box Algorithm?
The Amazon Buy Box algorithm determines Buy Box eligibility and rotation. But its formula is Amazon's best-kept secret. Sellers have a pretty good idea of what the parameters are, but not what weight they each have. Yet, sellers on the Forums have noticed that it helps to have:
Better sales volumes than the competition.
Same-day replies via the Buyer-Seller Messaging tool.
Dispatch speed is comparable to Amazon's.
A variety of shipping options.
3 Factors That Affect Buy Box Eligibility
Before we look at some of the quantifiable factors for eligibility, we should first clarify something. Buy Box eligibility applies to listings, not sellers. To check that a listing is eligible for the Buy Box, sellers can follow these official instructions.
Seller CentralAmazon Seller Central is a portal or a h… More > Manage Inventory > Preferences > Buy Box Eligible > Save Changes.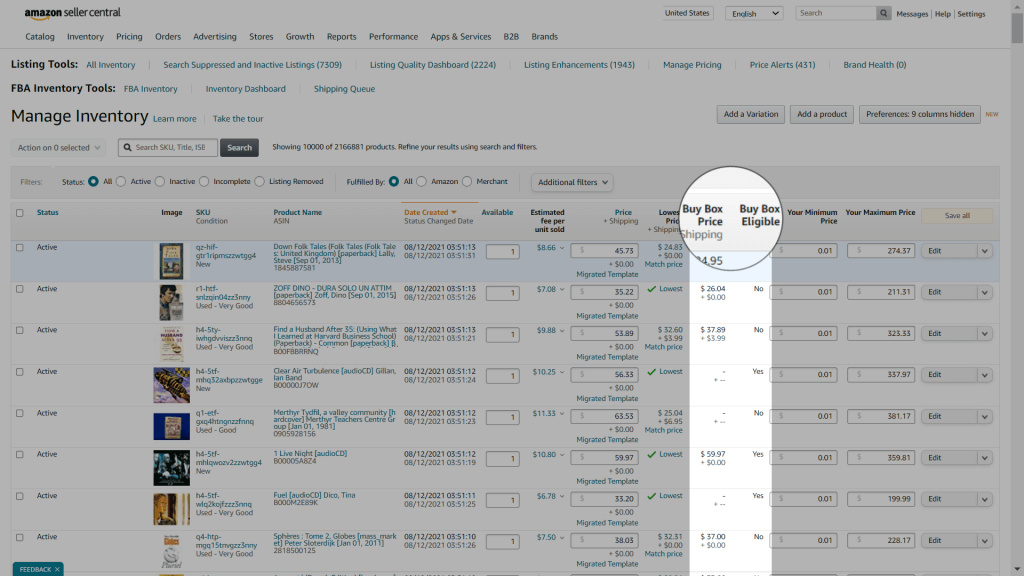 Secondly, Amazon might say different things on different venues. For instance, the Amazon.in Buy Box help page does not refer to fulfillment, but points to product ratings and return rates instead. But it's safe to say that the 3 basic qualifiers are: fulfillment, metrics, and price.
1. Fulfillment
FBA offers for items in 'New' conditionProducts can only be listed on Amazon if… More are automatically eligible for the Buy BoxThis refers to the situation where a sel… More. Anything else will go through the 'eligibility funnel'. It's Amazon's offers first, warehouse deals second, then FBA followed by SFP. Obviously, FBM offers come last.
2. Metrics
Performance metrics are an indicator for account healthAccount Health is an Amazon page which c… More. Depending on the type of fulfillment, merchants must meet certain thresholds to sell on Amazon. Buy Box eligibility takes these requirements a step further, and we know at least 10 metrics that affect your eligibility.
Of all these, it's customer experience metrics that matter most: Order Defect Rate, Cancellation Rate, and Late Shipment Rate. The lower they are, the better. Also, sellers who opt for FBM must build up a few months' worth of activity, so their sales and metrics build up.
3. Price
Price isn't everything. But a single price change can cause the Amazon Buy BoxThis refers to the situation where a sel… More to switch to another seller or disappear altogether. There are a few basic rules and policies sellers must follow when they list on Amazon to avoid pricing issues, Buy Box suppression, and delays:
The price can't be too high or misleading (e.g., multi-pack or bundle is more expensive than the individual units), based on the Amazon Fair Price Policy.
You can't 'fix' the price by convening with fellow sellers to keep it high, as the Seller Code of Conduct warns.
You can't change your prices too often. There's a daily cap on price updates. Go beyond it, and you'll get the 8182 error code in your feed.
Price changes don't usually go live right away. With Sellery and BuyBoxBuddy, you can push your price changes through in an instant, before competitors even have time to make their changes.
7 Ways to Boost Your Amazon Buy Box Percentage
Amazon offers a very helpful list of Best Practices for Buy Box Eligibility. But eligibility doesn't guarantee ownership. If you want to boost your chances of winning the Amazon Buy Box, start with these simple tips:
1. Switch Fulfillment Channel
Switching to FBA is the easiest way for new and small sellers to bypass sales volume and performance requirements. Likewise, switching to SFP brings you higher up in the eligibility funnel. Note that there's a waitlist for SFP applications.
2. Change Product ConditionProducts can only be listed on Amazon if… More
Bearing in mind that there's no 'Used' Buy Box for third-party sellers of non-media items, consider the prospect of selling new items only. You could also look into safer packaging, storing, handling, and shipping options.
If you sell media items, check if your items qualify as collectible, see if shrink wrapping is an option, and don't hesitate to downgrade an item from 'New' to 'Like New', if it's a viable option.
3. Keep Prices in Check
You stand no chance of pricing your items competitively by hand, unless you have no competitors at all. And using the most expensive repricing software on the market is no guarantee that you won't be dragged into price wars.
It's especially tricky if you plan to sell internationally. Even if you've ported your listings with BIL, you may not even feature as the Buy Box winner to buyers on other venues if you tweak the price. Testing prices and checking Buy Box ownership manually is a taxing job.
4. Strive for Prime
Switching to FBA or SFP isn't just about the fulfillment channel or the free customer service. It's also about the Prime badge. It reels in Prime members and boosts sales volumes, which feeds into your continued Buy Box eligibility. It's also a pull factor for Amazon business aggregators.
5. Streamline Your Inventory
You can't win or keep the Buy Box if you run out of stock. A good inventory management tool will notify you not when stock levels drop, but several days in advance, so you have time to replenish. A good tool will choose the best time to warn you based on sales forecasts.
6. Monitor Your Metrics
Not everyone has the time, patience, or resources to monitor, forecast, and improve performance indicators daily. One option is to outsource this side of your operations. With services like our Account Health Monitoring, there's always an extra pair of eyes, watching your metrics around the clock.
7. Find FeedbackA performance rating on a scale of 1 to … More
Seller authority is a major factor in Buy Box ownership. Feedback score, responsiveness, sales history – they all matter. If you have connections in your product category, ask about your category-specific sales volume Then figure out how many sales you need to have before you plan and budget for your feedback request campaignSellers and vendors have a variety of ad… More.
How Can BuyBoxBuddy Help You With the Amazon Buy Box
You can think of BuyBoxBuddy as your partner in … Prime. It brings together repricing, inventory management, and fulfillment tools so that you only need this one tool for all your operations.
BuyBoxBuddy repricing algorithm is focused on winning the Amazon Buy Box, and makes sellers more successful in winning and keeping the Buy Box at a higher price.
Once BuyBoxBuddy wins you the Amazon Buy Box, it will try to keep it for a higher price and will increase the price incrementally, unlike other tools that might take a long time to increase the price.
Being stuck at the bottom depends on the competitive context. To learn how to avoid this, please have a look at our tackling rock bottom pricing scenario explained.
With it, you maximize your Buy Box ownership thanks to features like these:
Smart Lists designed specifically to show Buy Box opportunities, like the Amazon Buy Box Percentage filter.
Inventory alerts for quick decisions based on real-time sales data from dedicated Smart Lists.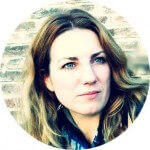 Melanie takes an active interest in all things Amazon. She keeps an eye on the latest developments and keeps Amazon sellers up to speed.