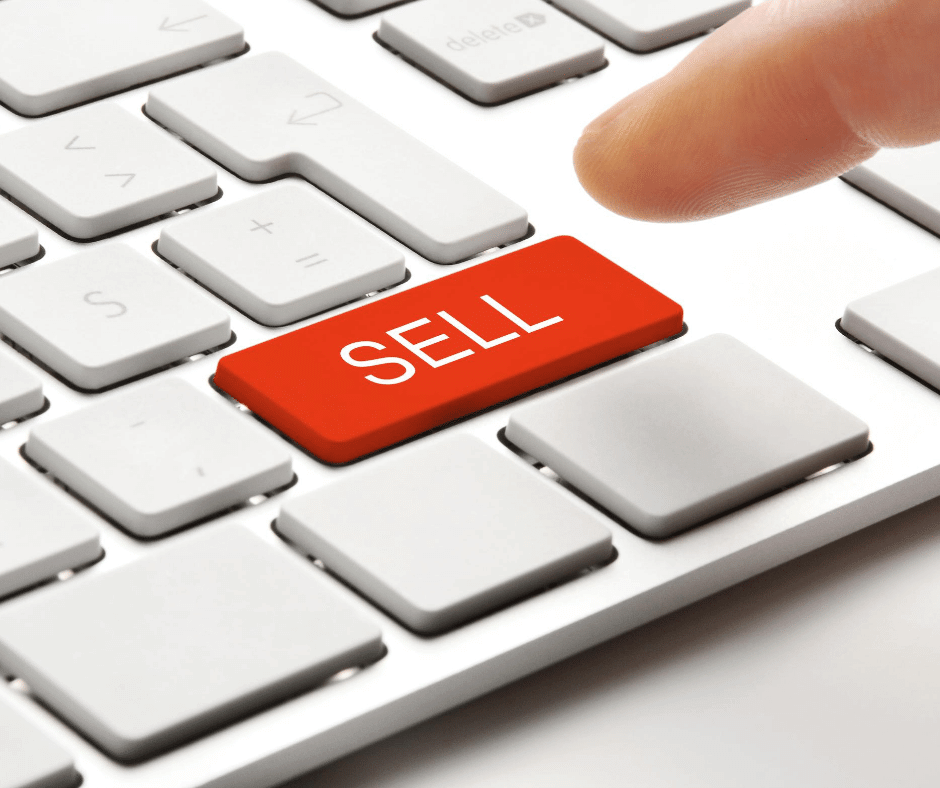 Have you ever thought about selling books on Amazon? Why not give it a try? You'll be up and running in no time, selling on Amazon from the comfort of your own home and having a blast. In today's step-by-step guide, we show you how to sell books on Amazon and complement your income.
According to eMarketer, roughly two thirds of people in the USA plan to do most of their holiday shopping online this year. And since books have always been a popular holiday gift, online booksellers have a busy few months ahead of them.
The Atlantic claims that 2 out of 3 book copies sold in the USA go through Amazon. Also, students will start ticking some last-minute textbooks off their shopping lists soon. And Amazon sellers are ideally placed to deliver textbooks to Prime Students quickly. 
So, if you're flirting with the idea of selling books on Amazon, you're onto a winner. This low-risk, low-budget, and low-cost initiative is perfect for fledgling entrepreneurs. But it all starts with figuring out how to sell books on Amazon. And that's a steep learning curve. Luckily, we can ease you into it.
How to Sell Books on Amazon?
… is the age-old question. Even Jeff Bezos asked himself that. After all, he started out as an entrepreneur by selling books on Amazon from his basement. A decade later, SellerEngine was pondering the same thing. So, as we developed our software suite, we were busy selling books on Amazon too.
How did we do it? Those were simpler times. Account suspensions, Buy Boxes, Sponsored Product campaigns, performance metrics, and fake product reviews weren't 'a thing' back then. Selling books on Amazon amounted to opening an account and trying to keep your feedbackA performance rating on a scale of 1 to … More score high. 
But that was then, and this is now. Today, Amazon makes you jump through hoops due to greater competition and customer expectations. Still, selling on Amazon can be a rewarding experience, the basics of which we covered in our series "How to Sell on Amazon" – soon to be an eBook. 
And books are an especially lucrative and straightforward product category, if you take selling on Amazon seriously. Here are some of the steps you need to take if you want to start selling books on Amazon:
Designing Your Business Model
First things first. Read up on ConditionProducts can only be listed on Amazon if… More Guidelines and ABAA Book Terms. Ask yourself if you want to sell used, new, or collectible books. As a newcomer, you're not ready to compete against Amazon. So, it's best not to sell new books for now. But if you can scale your business fast, it might be worth a try later.
The collectible books subcategory is 'gated Selling certain products and bran… More'. So, if you want to charge a premium price for your books by selling them as 'collectible', you need to get Amazon's approval. But you should first fulfil a set of conditions, such as high performance rating and full refunds on all books returned within 30 days. 
If you decide to sell used books, you might come across titles without an ISBN. To list them on Amazon, you should first request a GTIN exemption. It will take up to 48 hours to receive an exemption and a few minutes to manually change your inventory file once you get it, so remember to factor that in.
Also, bear in mind that books deteriorate over time. To protect them from foxing, warping, mildew, and color fading, you should store them in a cool, dark, and dry place. If you're unable to shrink wrap them, then dust or vacuum them regularly, as explained on this bookcare page and shown in the video below. 
Storing your books at home might work for now, but you'll probably need to expand soon. Outsourcing your warehousing operations might seem like a good idea. But quality control is very important on Amazon, where account suspensions are common. So, you'll need to be able to handle the books yourself.
After deciding what type of books you want to sell on Amazon and where you'd like to store them, it's time to think about sourcing your inventory. These two aspects (conditionProducts can only be listed on Amazon if… More and storage space) will determine where you can source books from, as seen below.
Choosing a Fulfillment Method 
As you build up your inventory, you might want to try different fulfillment methods. As explained in our How to Sell on Amazon series, there are a few ways to go about it:
Finding Inventory
Amazon sellers who deal with new books tend to get their inventory from several wholesalers and distributors across the globe. Their sources might include Ingram (USA), BookDepot (Canada), Gardners (UK), Libri (Germany), and various other book distributors and wholesalers. 
But on Amazon, new books are low-margin items. So, sellers can't afford to store them. Instead, they use EDI technology to list a wholesaler's entire catalogue on Amazon, push orders through to the supplier in real time via feeds, and have books delivered to them or straight to customers within hours. 
Alternatively, they might negotiate directly with self-published authors or publishers like Penguin Books. Or, if they can cover the kind of fees that come with exclusive selling rights, they can also work with smaller distributors like the ones on the IBPA bookseller list. But new sellers tend to stick to used books.
In fact, most newbies start off with a few books from their own libraries. Not only do they clear up shelf space and practice assessing the conditionProducts can only be listed on Amazon if… More of the books, but they also get a feel for the best way to describe them. Phrases like "from a pet and smoke-free home" and "gently read" come to mind. 
Next, people resort to clearance pallets, surplus stock, bundles, and job lots. Sources might include eBay, UsedWholesaleBooks, Craigslist, Letgo, FB Marketplace, auction sites, estate sales, yard sales, flea markets, book fairs, store liquidations, and clearouts from their local schools, churches, and libraries. 
However, these deals involve paying a great deal of money upfront. And that's not the only issue. Buying blind comes with a few other drawbacks:
Instead of buying in bulk, you could try to cherry-pick your books. If you're partial to profit and you want to put some effort into finding the right ones, try Profit Bandit. Simply scan a book's barcode to see its sales rankThe sales rank of products on Amazon ind… More, price history from Keepa and CamelCamelCamel, and your profit calculation.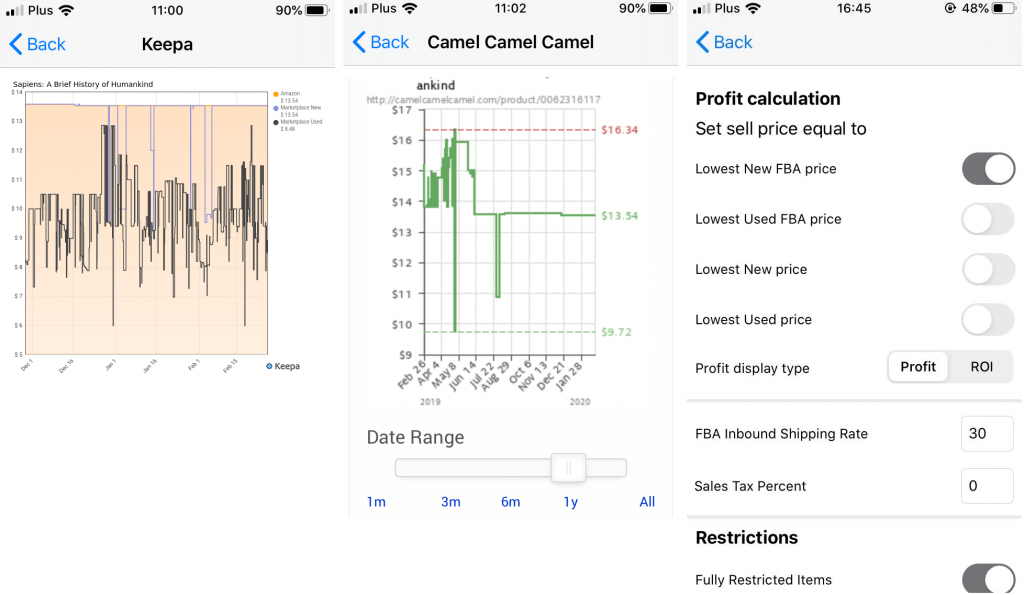 Doing Some Market Research
Once you have a book in your hands, how do you know if you should buy it or not? If you're selling new books, you'll probably want to check the Amazon Best Sellers list, this year's Booker prize longlist, celeb authors, or the latest VIP biographies to hit the shelves.
But if you're selling used books, you might want to know the sales rankThe sales rank of products on Amazon ind… More, the lowest Used price, the price history, and the number of competitors. These are all things Profit Bandit can reveal to you in seconds, title by title. And best of all, it also calculates your estimated profit, based on fulfilment channel.
Why do you need to know the Sales RankThe sales rank of products on Amazon ind… More? It's Amazon's way of quantifying how often a title sells every hour, relative to other titles. Think of it as the top 100,000+ of books. Bear in mind that it takes the number of orders into account, not the number of copies sold, so it can fluctuate a lot in a day. 
So, it's a measure of popularity and seasonality. But the lower the sales rank, the better. Anything under 10,000 attracts a lot of competition. And anything over 100,000 is hard to sell. So, with used books, you should always aim for a sales rank of 10k-100k. And let's not forget a net profit of at least $2.
Setting Up an Amazon Account
Setting up your Amazon account should only take a few minutes. Please read our "How to Sell on Amazon" step-by-step guide and make sure you have everything you need before you start. Your seller name is especially important, so think of a few eye-catching monikers that inspire trust.
If applicable, have your company registration and US business address ready. Also make sure you have your bank information, social security number, and ID close at hand. If you're registering as a business entity, you'll also need to apply for an Employer Identification Number (EIN) beforehand.
Listing Books on Amazon 
To start listing a book on Amazon, first check the ISBN on the copyright page, if there's no barcode at the back. Choose the right ISBN for the type of book you're holding (hardcover, paperback, etc.), as well as the edition you have. Older books may have printing mistakes, so cross-check with other websites.
Then check the ISBN on Amazon. For older books with an ISBN ending in 'X', you may need to replace the last character with 0 or another digit. If the book is already listed on Amazon, you should be able to find the 'Sell on Amazon' button right under the Buy BoxThis refers to the situation where a sel… More.
If you'd rather create your listings in Seller CentralAmazon Seller Central is a portal or a h… More, there are three conventional ways to list a book from your account. In our blog post titled "Listing and Launching Products on Amazon", we take you quickly through all three of them:
Whichever way you decide to list your book, you should know the title and quantity you want to list. You should also have a SKU for it and a good price. 
Wrapping and Shipping
Now that your books are listed, it's time to think about your packaging. Rather than jiffy bags and padded envelopes, you may want to look into good quality bubble wrap and panel wrap book boxes. BMVD sellers can't enable gift options, so make sure your boxes look presentable, just in case they are gifts.
Amazon's BMVD shipping rates usually cover Media Mail shipping costs. But with the latest USPS funding crisis and COVID slowdown, you may need to pay out of pocket for complimentary upgrades, at least until your sales pick up. The way things stand, massive mail delays are a real possibility.
As a professional seller, you can set your own shipping rates to cover shipping and insurance for expensive books. If you sell rare books, you may also want to factor in other wrapping supplies, such as odorless sticker remover or compressed air for blowing off any dirt and dust from antique books. 
Customer Service
As a bookseller, product reviews won't be an issue for you since you're not the author. Amazon's a bit more lenient on book reviewers, who are free to accept advance copies of books in exchange for a review, according to recent review guidelines. 
For people selling books on Amazon, it's the seller feedbackA performance rating on a scale of 1 to … More score that makes a difference. And it goes hand in hand with the level of customer service they offer. Sellers are expected to reply within 24 hours to every email from the buyer, and match Amazon's return policy. It's a big ask for a new seller.
Luckily, there are companies that offer cross-channel customer service with Zendesk and other integrated ecommerce help desks. And then there's always the option to switch to FBA and let Amazon handle it all; though there are a few downsides, as seen below.
The Cost of Selling Books on Amazon
There are various types of fees and costs you should factor in before you start selling books on Amazon. One is the 15% referral fee on books. The other is the $1.80 closing fee that applies to all media items. Then there's also the type of selling plan you choose (either a $0.99/item fee or a monthly $39.99 charge).
And these are just the up-front costs. But you also need to cover your operating costs, chargebacks, and any FBA fees that may build up over time. Aside from disposal and removal costs, FBA charges for storage, overage, handling add-ons and prep penalties, as explained in our Budgeting for Amazon post. 
Luckily, Profit Bandit can help you factor in these costs and decide what book to buy for each market and fulfilment channel you use. So, if you've been thinking about selling on Amazon, give it a try and see for yourself.
If you're still not sure how to sell books on Amazon, please browse our blog for more in-depth tutorials from our How to Sell on Amazon series. We promise to turn the series into an ebook soon, ready for you to download and enjoy at leisure. So, please follow our blog for more about selling books on Amazon.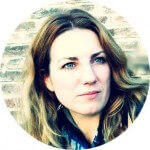 Melanie takes an active interest in all things Amazon. She keeps an eye on the latest developments and keeps Amazon sellers up to speed.