Just as our 2020 Forecast post predicted, m-Commerce is overtaking e-Commerce. That is to say people do more of their shopping on gadgets than they do on PCs. And easier, round-the-clock, shopping means more sales. So, why are Amazon sellers unhappy? Because the drop in Seller FeedbackA performance rating on a scale of 1 to … More is massive.
Experienced Amazon sellers are sharing their latest feedback tallies on the Seller Forums. And the figures are bleak. Sure, Amazon's feedback scores have their ups and downs. But reporting single-digit numbers on thousands of sales is highly unusual. After all, back in 2013, Amazon reps used to say this:

But let's not overestimate the importance of feedbackA performance rating on a scale of 1 to … More. Sure, negative feedback counts towards the ODR. And positive Amazon seller feedback lifts your overall score and raises your chances of winning the Buy BoxThis refers to the situation where a sel… More. But for buyers, an imperfect feedback score isn't a deal-breaker. Price and delivery speed prevail.
5 Tips to Boost Amazon Seller Feedback
Nobody saw this coming. And while some Amazon sellers are surprised, they don't mind much. But for others, it affects their sense of achievement and the image they want to relay to buyers. Whatever the situation, this isn't a lost cause. Amazon sellers can try to overcome it by understanding these 5 points:
1. Feedback Manager Tools: Not a Solution
Using feedback request generators affects all sellers. Years ago, when feedback manager tools were all the rage, some Amazon sellers went overboard. Then Amazon introduced the e-mail opt-out policy. Buyers could suddenly choose not to receive unsolicited seller messages. And they still do, in droves.
Sellers who still use these tools today continue to drive buyers to opt out. And some are manipulating scores by focusing their feedback requests on happy customers only. The result is that feedback is watered down to the point where it's virtually meaningless. So, try to boost feedback scores organically instead.
2. Amazon App: No Feedback Link
In the Amazon Shopping app, there's no feedback link. And with mobile shopping on the rise, Amazon seller feedback is flatlining. But feedback scores could pick up again if you make it easier for shoppers to rate you on their phones. Sending a feedback link for your order only may not be the answer.

How about sharing the universal feedback link with buyers? It displays every order without an Amazon seller feedback. Rather than scour emails or order pages for feedback links, buyers who can spare 5 minutes every few months can try this link. But remember to check the TLD (e.g. co.uk for the UK).
3. Amazon Website: Not Very Intuitive
As always, the feedbackA performance rating on a scale of 1 to … More button on the Order page is available only after confirming dispatch. But not all sellers are aware of this. And the same goes for buyers. So, if you deliver before confirming dispatch, you're wasting an opportunity for Amazon seller feedback. Confirm shipment first, ask for feedback later.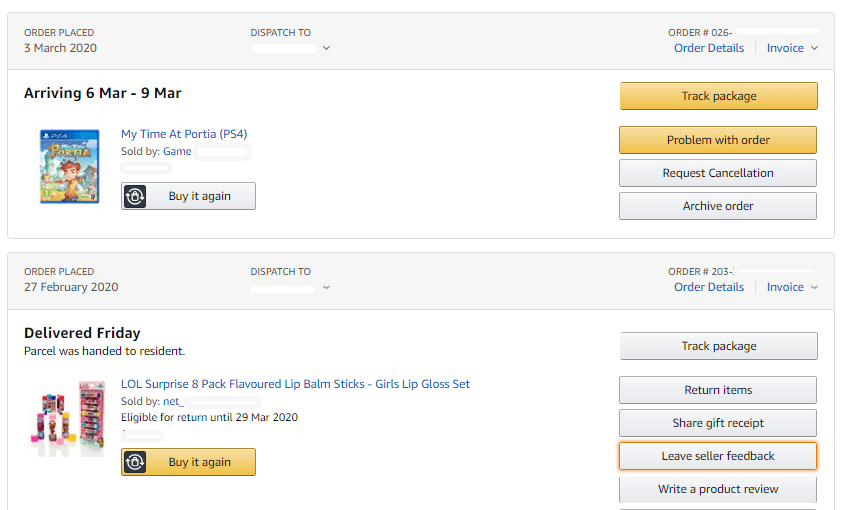 4. Nothing In It for the Buyer
You want buyers to send feedback as soon as you deliver. That's because, unlike a product review, Amazon seller feedbackA performance rating on a scale of 1 to … More can't be edited. Also, only people who've bought your product can share feedback. There's no in-app link for it. And few people read Amazon's automated feedback requests.
But for that to happen, you need to turn your attention away from avid Amazon reviewers. The people you should be focusing on are the ones who open the package. They may not enjoy writing testimonies. And they may not be the buyers. Even so, they can make feedback happen. So, make sure that:
The packaging is so impressive that the recipient won't discard quickly.
You have a note that shows an attentive person handled the wrapping.
There's a beautifully written feedback request on the packaging insert.
There's an easy-to-share, smartphone-friendly feedback link/ QR code for

the buyer

.
You clarify how important feedback is for your business using stars, not words like 'positive'.
5. Too Many Orders, Too Little Time
People genuinely don't have time for feedback. Especially not since they've developed a habit for leaving product reviews. But if you didn't get feedback right after delivery, all is not lost. You can still reach buyers by choosing the right type of email to send through the Buyer-Seller Messaging service.
When you send emails, ask customers to use the button below to let Amazon know that the issue was resolved. Subtly bring up the option to leave feedback. You can send emails like these anytime, but the fewer the better. After a short survey, buyers will be taken to a page with the two options on the right.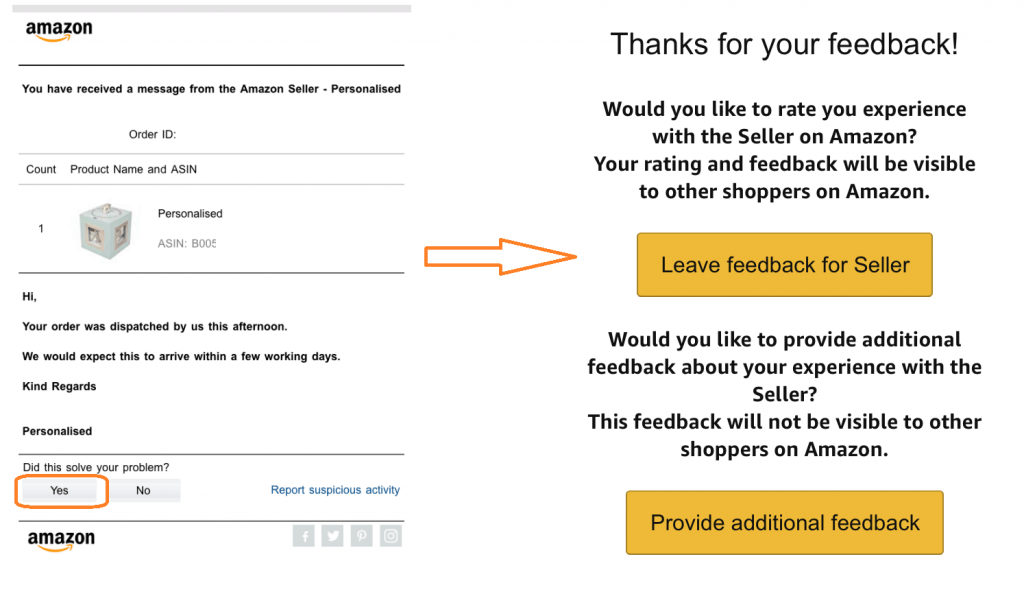 The first option is for public seller feedbackA performance rating on a scale of 1 to … More. The other is for private messages to Amazon about your service. Be careful not to make it easier for a dissatisfied or dishonest customer to complain to Amazon. Before hinting at feedback, always make sure that the item was tracked and delivered.
That's it for now on the topic of Amazon seller feedback. Of course, there are various other ways to boost feedback scores, like addressing negative feedback and adjusting the return window.

The takeaway here is this: less Amazon seller feedback means that the iconic star rating system is no longer an accurate indicator. Not for sales volume, performance, or even for customer satisfaction. Sellers who want to grow their business must adapt quickly to make sure that their feedback score still counts for something.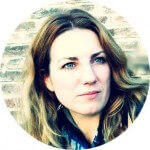 Melanie takes an active interest in all things Amazon. She keeps an eye on the latest developments and keeps Amazon sellers up to speed.