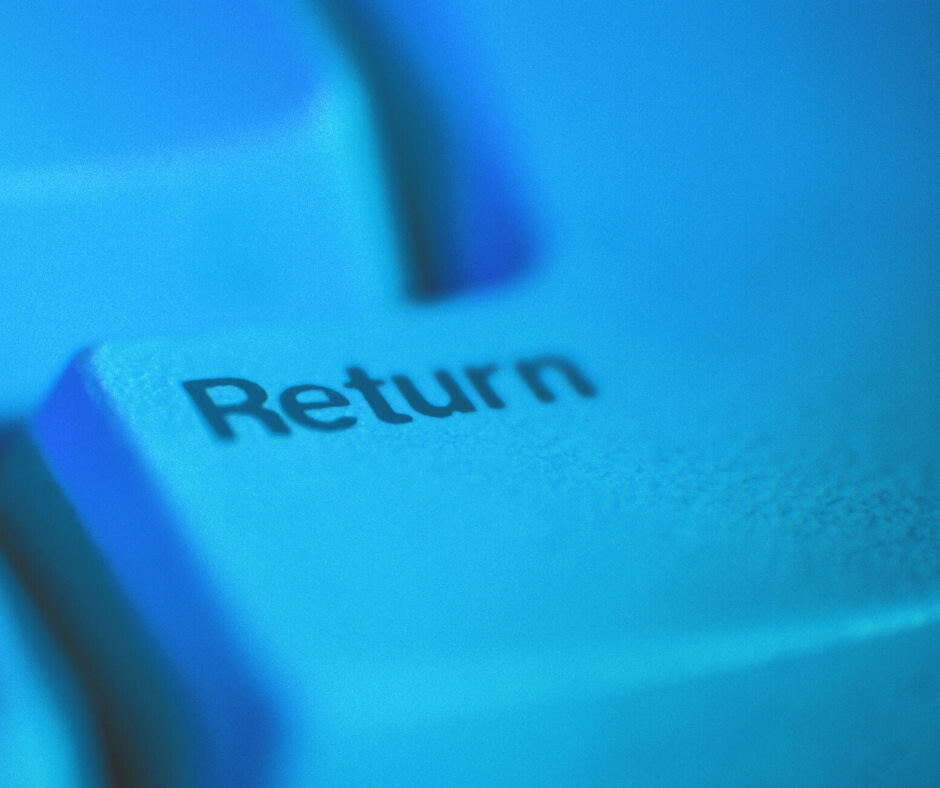 With 2020 only weeks away, now's the time for third party sellers to start working on their return strategy. But how can merchants make Amazon return policy work for them? We bring you 10 holiday returns best practices to help inform your decision-making.
Third-party sellers have their own ways of handling holiday returns. But it's safe to say that most of their ideas are based on existing Amazon return policy. First they formulate a brief list that looks something like this:
Contact information.
Return and refund deadlines.
What returning an item involves.
What fees are levied and when.
How the customer will be kept in the loop.
Then they stick to what's in there, and when buyers take issue with their policy, they rely on Amazon for help. But maybe it's time to take a different approach this year. Here are 10 holiday return best practices to give you some insight into what customers expect from you in 2020:
1. Rethink Return Windows
It stands to reason that lenient return policies boost sales. After all, they suggest quality and low risk. But don't they raise return rates, especially if the return window is very long? Not necessarily. This Harvard study identifies five leniency factors that affect return rates: monetary, time, effort, exchange, and scope leniency.
Here's a little marketing conundrum. When returning is easy for customers ('effort factor high') and they have plenty of time ('time factor high'), they're less likely to return an item. One reason is that they become attached to it. That's the 'endowment effect'. So, to minimize returns, you need to balance those five factors, not shorten the return window.
2. Be Careful with Gifts
Amazon UK clearly states that third-party sellers don't need to follow the extended Amazon return policy for items marked as gifts. But they must be at least as generous as Amazon is with its standard returns policy, which includes a 30-day return period. So, make sure your holiday returns policy mentions gifts.
Also clarify the rules for cancelling after delivery. Gift-wrapping costs are non-refundable. Sellers only need to refund their cheapest shipping service charge. And return costs are covered by the buyer, says the Third Party Seller Return policy.
3. Make Return Fees Fair
Amazon UK makes it clear that charging a restocking fee (i.e. issuing a partial refund) is allowed only if the return window closed or the customer damaged the product. For faulty items and merchant errors, third party sellers need to issue a full refund.
But there's no reference to the restocking fee on the equivalent Amazon US help page. Luckily, there's a little more clarity for FBA sellers. The FBA Amazon Return Policy says sellers are charged a Refund Administration fee of 20% of the item price.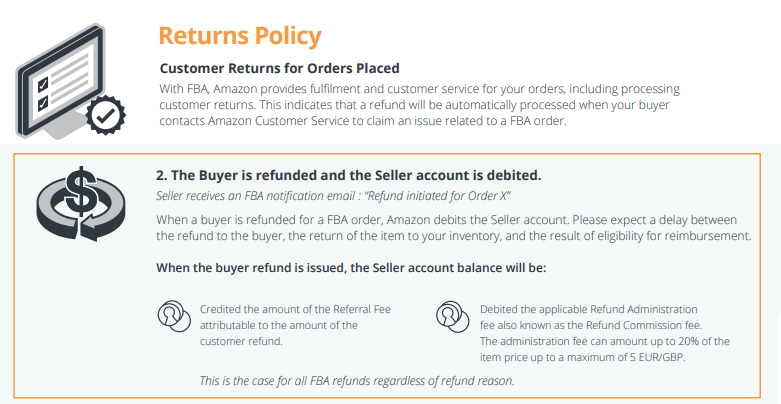 4. Think Category
If you sell FBA products in categories with free shipping like watches and accessories, then you're also charged the Returns Processing Fee, equal to the FBA fulfillment fee A flat fee charged by Amazon for … More. And if the buyer damages the product, you can no longer sell it. Instead, you pay Amazon to dispose of it.
5. Beware Alexa Voice Shopping
Amazon claims voice orders tripled over the 2018 holiday season. That's great. But not for you. All non-digital products bought by Alexa are eligible for free returns. So, unless buyers disable Voice Purchasing, they can buy just about anything from the Amazon's Choice range with the Alexa Voice Shopping platform.
6. Monitor Returns
An Appriss Retail report claims that back in 2017, the NRF estimated that 6.5% of total returns were the result of return fraud and/or abuse. But over the holiday season, things were even worse. About 1 in 10 products were holiday returns, and out of these 9% were fraudulent.
In the UK, retailers like Marks & Spencer are investing in technology to lower return rates. With the digital fitting room from Texel, retailers can sell well-fitting clothes on the spot. Online shoppers can also buy clothes that fit perfectly thanks to the Virtual Fitting Room.
Even Amazon tries to minimize return rates. Just look at the Echo Look and Personal Shopper by Prime Wardrobe. But for Amazon sellers, banning serial returners for life is the only option. Unfortunately, there's no software that flags them up for sellers. So, they need to personally monitor the names and addresses on return labels.
7. Compare Outbounds and Inbounds
Sellers are conned by buyers who swap an original item for a fake. Once they make the swap, they return the fake to the seller for a full refund. Not much can be done to tackle this, except keep a photographic record of outbound and inbound items. For private label sellers who use FBA, Transparency is a better option. It makes sending and receiving counterfeits virtually impossible.
8. Offer Label-Free Returns
Back in January, Royal Mail launched its 'Labels to Go' service in the UK. Sellers who sign up to it can send return authorization emails with QR codes. Buyers show them to postal workers when they bring their items to the drop-off point. Postal workers then scan the code, print the label, and return the items to sellers. Amazon UK uses this service. Why shouldn't you?
Similar no-label services are available in the UK from couriers like Hermes. With Print in Store, buyers bring the items to their local drop-off point. They enter their reference numbers and print their return labels on the spot. Hermes even makes returns to specific retailers easy. Not to be outdone, UPS offers a Label-less Returns service in the USA.
9. Use Security Tools
If you sell expensive items, consider marking the packaging with UV ink and security stickers. For fragile items, you could use stickers and stamps with messages like "Not returnable if seal broken". It may be a while before invisible barcodes are widely available. But keep an eye out for them at the Interpack Processing & Packaging Trade Show in Düsseldorf.
10. Learn from Returns
Monitoring your holiday returns enables you to learn from buyers. Are they more likely to return products sold at full price? Do they prefer refunds or replacements? Are buyers from certain states more likely to return specific products? Will they accept a restocking fee if you offer incentives on future orders?
That's about as deep as we can go today with our suggestions for a new strategy on holiday returns. But we're always here for third party sellers, and we're happy to help with questions about Amazon return policy and how it applies to you. So, please follow our blog and don't hesitate to get in touch with the team here at SellerEngine for feedbackA performance rating on a scale of 1 to … More, questions, and ideas.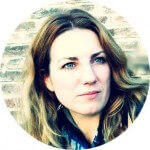 Melanie takes an active interest in all things Amazon. She keeps an eye on the latest developments and keeps Amazon sellers up to speed.