Amazon already opened the submission window for Prime DayPrime Day was initially a one-day sales … More deals.
So, you might be eager to plan for this year's shopping event. But selling on Amazon has its risks. Just look at technical issues. Bugs and glitches should definitely be part of your Prime Day prep plan.
Some of our readers may remember the algorithm update of 2015, when megasellers had the Buy BoxThis refers to the situation where a sel… More to themselves for a few hours. But for most of us, the phrase "Amazon glitch" brings back more recent events.
Here are a few examples of bugs and glitches on Amazon:
The 2016 cart glitch, when buyers couldn't add items to their carts on Prime Day, as Business Insider reported.
The website crash of June 2017, documented by The Verge, which was due to a power outage.
The 2017 Prime Day Glitch, which caused the website to slow down, the add-to-cart button to fail, and the checkout system to accept multiple discounts on the same item.
The Prime Day Crash of 2018, when the website and the app weren't functional for several hours due to cart issues, missing buttons, and dead links.
The 2019 search results bug causing Amazon to show different color variations than the ones being searched. This was thought to be caused by an A9A9.com is the branch of Amazon that deve… More algorithm update.
The launch of the new Suspected Intellectual Property Violations (SIPV) dashboard in May 2019, which flagged up legitimate listings in the lead up to Prime DayPrime Day was initially a one-day sales … More.
The cart and pricing glitch that happened on Prime Day 2019, as reported by CBS News.
The 2019 Prime Day cart glitch. Note that this was the 4th year in a row that this type of glitch happened.
The Buy Box Glitch of July 2020, where the Buy BoxThis refers to the situation where a sel… More was stuck for days on random offers, despite the fact they didn't meet the Buy Box criteria.
The search results glitch of Sep. 2020, when sellers reported on the forum that their listings dropped in search results from prime position to around the 30th mark. This lasted over a month and was believed to be because of an A10 algorithm update.
The current app bug causing Amazon UK to show items that differ from the search words (e.g. navy clothes instead of black ones, even though there's never been a black option for that parent-child variation) or not show the price of a child product at all when you select a specific color and size (see below the selection for '4-5 years' in 'black'). Without the price, you can't 'add to cart'.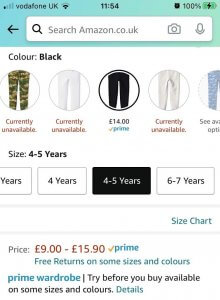 Website Crashes
Amazon will not reimburse you for any lost business. So, it's up to you to make sure that you don't lose a sale.
To minimize the risks of selling on Amazon, you should be ready to offer customers other means of buying the products they want:
Run blog and social media ads for your brand and best-sellers before the event, with your Amazon store URL and simple hashtags that buyers can remember.
Encourage buyers to save, bookmark, add items to their wishlists, and check the hashtags on social media for any price updates.
Run your own website. If Amazon crashes, you can step in and let buyers know through social media where to buy the items they've been following on Amazon.
Invest in back-end website infrastructure. Focus on payment authorization, widgets, CSS, database queries, and HD images so customers stay on your website.
Check your server performance, reconfigure server stacks, and look for virtual queue management software so you don't drive customers away with process overload.
Cart Glitches
Several things can go wrong with the cart feature. But it usually means buyers won't be able to proceed to checkout.
For instance, when the "Add to cart" button fails, buyers may try to add the item to the cart several times, and then give up.

But when buyers can't see the price of a specific child listing, even though the color or size variation seems to be in stock, then there's no way for them to even try to add the item to the cart.
And there's also no way to contact the seller because they can't access the offers page.

So, there's only one way to mitigate the risk of buyers giving up on your product. Simply let buyers know beforehand on social media that you have plenty of units in stock, and in the event of a cart glitch, you can continue to fulfill these orders on your own website.
Buy Box Glitches
The last time there was a Buy BoxThis refers to the situation where a sel… More glitch, the reshuffle was arbitrary. Some sellers lost the Buy Box, even though they had no competitors. Others won it without fulfilling the Buy Box criteria. But by and large, megasellers and brand owners had the upper hand.
Another interesting fact is that the glitch made it so that you couldn't add any non-Buy-Box offers to the cart.
So, what if there's a repeat of last year's glitch and you're hit with this double-whammy of losing the Buy Box, and then also your non-Buy-Box sales?
To begin with, you should have another look at Buy Box rotation and pricing scenarios.
You'll notice that there are a few things you can do to win back the Buy Box with a repricer like Sellery.
But until then, you should try to set the stage, so that you get to keep it for longer:
If you lose the Buy Box, consider suspending any campaigns for that item. Then schedule them so that they go live when you're fairly certain to win the Buy Box.
Lower the price by 1%-2% without breaking MAP rules and then bring it back up as soon as you win the Buy Box again.
If you believe Amazon has a preference for a specific seller (e.g. the brand owner), wait it out until they run out of stock, ignoring their listing or blacklisting them altogether.
Monitor your competitor's stock levels and pounce on the opportunity to undercut as soon as their stock levels dwindle.
Pricing Glitches
They're not a myth; pricing glitches are real.
But pricing mistakes aren't always Amazon's fault. They're more likely to be caused by typing errors or price wars.
The only way to avoid these situations is to have a clever repricer that will flag up these mistakes and even fix them before the price goes live.
With a repricer like Sellery, you can set your own rules and make sure that prices never go too low or too high.
Search Results Glitches
When Amazon used the A9A9.com is the branch of Amazon that deve… More algorithm, it weighed keywords based on the order they appeared in (title, back-end keywords, bullet points, product description etc.).
So, sellers crammed the best keywords in the title, which made them sound awkward and unprofessional.
Now that A10 gets to call the shots, it's the keywords with the best conversion rates that matter most.
So, if you're selling on Amazon in 2021, you need to make the entire listing engaging.
But even if your listing is perfect, you can still drop in search rankings due to bugs.
In fact, nowadays, whenever there's a search result glitch, sellers tend to blame it on an algorithm update bug.
But code updates are necessary, so the odd bug is unavoidable. And since the troublesome piece of code is hard to pinpoint, it can take days or weeks to fix.
There's nothing you can do from your end to avoid or fix this situation.
But if you reach out to Amazon for help, they're very likely to ask you to change something about your listing, to see if this makes a difference.
So, next time a search result glitch happens, beat them to it.
Read up on Amazon's search terms rules, and make sure that you can tick these boxes:
Your title, bullet points, and product description are rich in keywords and easy to read.
Your backend keywords are logical, written in order, and with single spaces.
There are no duplicates, repetitions, or typos (except if you know buyers often misspell).
You don't use anyone else's brand name.
You don't mention any ASINs or other identifying codes.
There are no stop words like "by", "an", or "such".
There's no keyword stuffing.
That's it for today, but please be sure to follow our blog for the next installment in our Prime DayPrime Day was initially a one-day sales … More prep series. Now that we've covered Amazon glitches, we're ready to get down to the nitty-gritty of selling on Amazon, including Prime Day tips and strategies.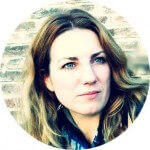 Melanie takes an active interest in all things Amazon. She keeps an eye on the latest developments and keeps Amazon sellers up to speed.