Third-party sellers are still waiting for an answer to that puzzling question: "When is Amazon Prime Day 2020, already?". As CNBC warily mentioned back in July, Amazon Prime DayPrime Day was initially a one-day sales … More 2020 is October 5 (TBC). With that in mind, we put together a list of FAQs, tips, and to-dos to give sellers a head start.
Is Amazon Prime Day 2020 Really Going Ahead?
In July, Amazon celebrated 25 years since the website was launched. Since 2015, the celebrations have been marked by a Prime Day event.
This year, it would have been Amazon's 6th anniversary. But the pandemic brought in some changes.
Despite getting off to a rocky start, the year 2020 has been good for Amazon.
According to year-on-year growth data from the latest quarterly reports, this Q2 Amazon doubled its net income.
So, it would be unusual for one of the world's fastest growing companies not to go ahead with Prime Day.
Are we 100% sure? Well, Amazon says 'it's coming.'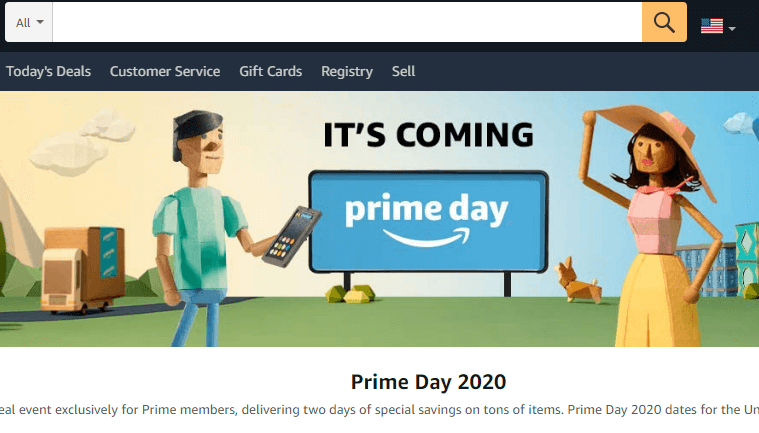 It looks like, due to COVID-19, Amazon is applying a 3-month courtesy deferral for Prime DayPrime Day was initially a one-day sales … More.
It imposed per-ASIN storage limits, lowered the IPI threshold for overage charges, and waived removal fees.
Having had ample time to clear up space and rev up logistics, there's every indication that Amazon Prime Day 2020 is in the pipeline.
What Are the Timing Implications?
As we mentioned in 7 Seller Tips for Amazon Prime Day 2020, October 5 comes just as the back-to-school season ends and Black Friday preparations begin.
So, a Prime Day event held in Q4 would eat into people's holiday shopping budgets, as well as the profits of sellers who don't prepare properly.
Note: Amazon's holiday guide is skimpy this year, and the Key FBA holiday selling dates list hasn't been updated yet.
However, based on last year's figures, it's safe to assume that the cut-off dates mentioned in the infographic below are reasonable estimates. If so, FBA Prime Day shipments should be on their way this week.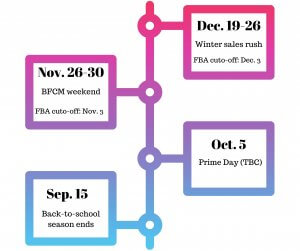 Also, let's not overlook Amazon's holiday selling requirements.
Anyone who plans to sell toys and games this Christmas must have stellar metrics. Not only that, but they must also ship 25 seller-fulfilled orders from mid-August to mid-October.
So, with mere days to get that ball rolling, new sellers shouldn't send all their inventory to FBA!
But whatever the product category, sellers who intend to send inventory to Amazon for sale this Q4 should prepare. Use the ASIN Limit column in your inventory reports to flag up ASINs that are off limits.
Also, time your FBA shipments so that Prime DayPrime Day was initially a one-day sales … More inventory has time to sell before BFCM and you don't run up storage bills.
Finally, let's not underestimate the effects of FBA shipment delays. This year, third-party sellers have every reason to focus on their Amazon Prime Day prep. By November, large sellers with no Prime Day inventory will have had time to recoup. They'll adjust their strategies so that they sell out on BFCM weekend.
Amazon Prime Day Prep List
Expect the Unexpected
Suspensions come in waves. And they peak just before Prime Day. So, we expect to see a new Amazon suspension campaign in the coming weeks. If you think Amazon might have concerns about authenticity, price gouging, or selling used items as 'New', then you may find this list of proactive tips helpful.
Budget for Delivery Upgrades
People who shop on Amazon expect fast delivery, whether they are Prime members or not. But USPS has recently been reporting service disruptions due to COVID-19, wildfires, and hurricanes. According to CNN, cutbacks and slowdowns are also affecting transit times.
Time Your Ad Spend
Amazon Prime Day's overlap with the holidays will probably turn the spothlight on more sellers this year.
They'll be investing more than the average $381 daily ad spend on Lightning Deals and Spotlight Deals, so that their products get displayed on the Today's Deals page and Prime Day page. But don't panic!
The rules say sellers can only register a product for Spotlight Deals if it hasn't been listed as a 'deal' (of any kind) in the 30 days prior to October 5.
So, if you think your competitor's waiting for a Spotlight Deal on Prime Day, then create Lightning Deals so your products sell out by then.
Likewise, if they have Lightning Deals, start working on a Spotlight Deal.
If you believe your competitors haven't signed up for any deals due to supply chain disruptions, then focus on your own Amazon Prime Day 2020 deals.
Try to sell as much as possible on Prime Day. That way, when their inventory goes live before BFCM, you've already moved on to other products.
Easy With the Discounts
Shortages and shipment delays are bringing costs up. So, discounts should be smaller overall than in previous years. But stock limits and overage fees may have the opposite effect on some products, causing them to sell fast at rock-bottom prices.
So, if possible, why not adjust your prices based on your competitor's stock levels?
Rather than lower your prices, Amazon Prime Day 2020 is the perfect opportunity to sell bundles and subscription boxes or join the FBA Subscribe and Save program. Subscribers would only be able to review your products once, though, so invest some extra resources into building the product's reputation without breaking the rules.
But if you must lower your prices, try Sellery. Unlike other repricers, it doesn't ask you to enter a minimum price off the top of your head. Instead, it calculates it for you. It only asks you for your existing costs. It then factors in Amazon's latest fees, along with the product's weight, size, and source, and fulfillment channel. And it enables you to set your own margins and markups.
So, you'd never sell for anything less than the absolute minimum you're comfortable with. And that's not all. Sellery can also reprice in real time! Other repricers take several minutes to update your prices on Amazon. But when you reprice with Sellery, they go live within seconds. So, by the time your competitor's new price goes live, you've already updated yours and beat them to it.
Win the Buy Box more often and accelerate sales
No Credit Card needed. Easy sign up for free trial.
Prime Day, BFCM, or Both?
Sellers are asking themselves if they should prioritize part of their listings for Prime DayPrime Day was initially a one-day sales … More.
The way we see it, it's not an either-or situation.
All your listings should be live, active, and attractive for BFCM as well as Amazon Prime Day 2020. And you should have ample inventory for both events.
But as things stand, you may struggle to sell if tougher lockdowns come into effect.
So, on that note, our advice is to try to diversify your inventory and your supplier list.
The goal this Q4 is to sell as many types of products, on as many venues, and in as little time as possible. All without running out of stock before these key dates, of course: October 5, November 26-30, and December 19-26.
But why not branch out this Q4? As an FBA seller, you have a variety of add-on services that can help you make the most of Amazon Prime Day 2020.
You could try shipping a few units for fulfilment through the EFN or PAN-European networks.
Better yet, opt for the MCI service, and get to choose the European fulfillment centers you'd like to use and the venues you'd like to list on. With Amazon Sweden launching soon, you have one more reason to try selling to customers across Europe.
So, we hope that answers most of your questions. Granted, you might still be asking yourself when is Amazon Prime DayPrime Day was initially a one-day sales … More 2020, exactly? But at least you've got some rock solid solutions as to how to sell on the big day. And as you churn through those sales and enjoy your profits, we'll take comfort in the thought that our Amazon Prime Day Prep list had a hand in it.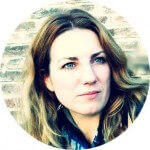 Melanie takes an active interest in all things Amazon. She keeps an eye on the latest developments and keeps Amazon sellers up to speed.