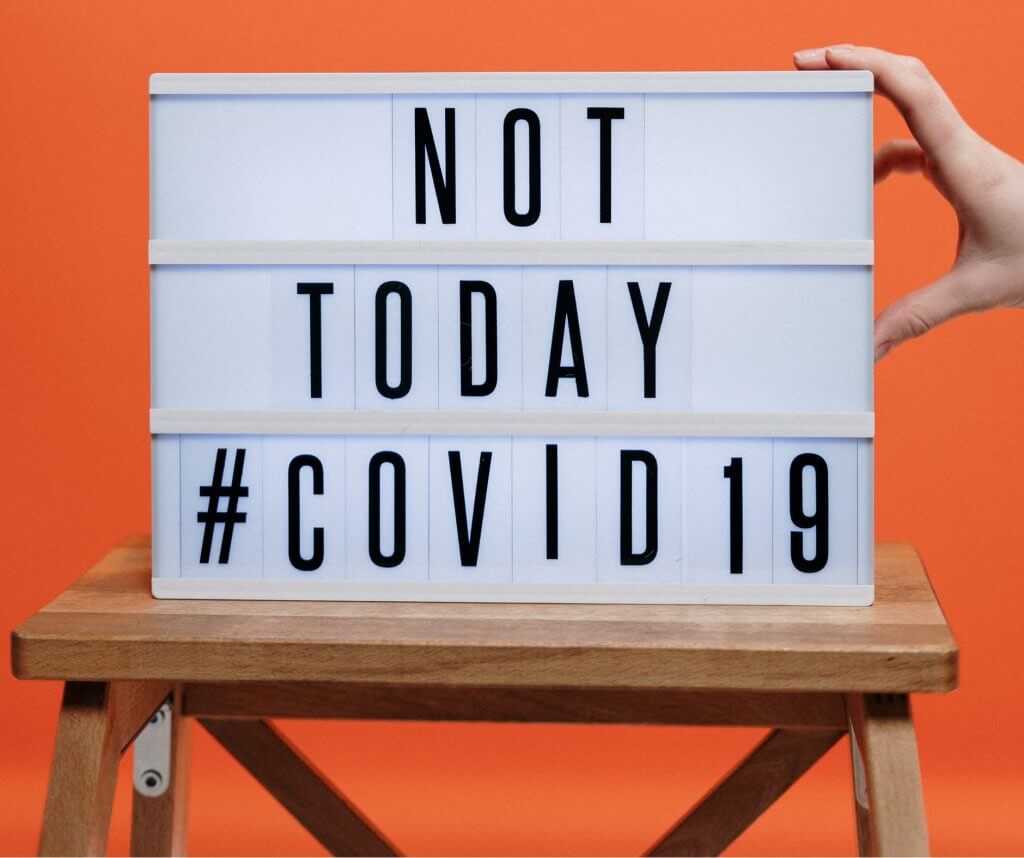 For sellers on Amazon, the last few weeks have been confusing. Health fears, job uncertainty, and conflicting advice are making our heads spin. But is COVID-19 a threat to Amazon businesses? Here's how the pandemic is affecting people who want to carry on with order fulfillment on Amazon.
With 1 in 5 people in lockdown across the globe, according to some media outlets, sellers on Amazon are faced with difficult decisions. Sweeping changes are being made to the way they run their Amazon businessAmazon Business is Amazon's wholesale … More. Here are the most important ones based on the type of fulfillment:
Fulfillment by Amazon (FBA, EFN, Pan-European, MFC, etc.)
FBA is prioritizing certain inbound products at the moment. Medical supplies, household staples, and other products in high demand are being fast-tracked through fulfillment centers.
FBA shipment creation is disabled for non-essential items until at least April 5, 2020.
Buyers are no longer able to track some international FBA deliveries. Sellers could be faced with an influx of shipment status queries, even though these deliveries are out of their hands.
Following temporary regional restrictions, Amazon is resuming FBA operations in Italy. Now that the government announced that online sales and commercial transportation are allowed.
The German government decreed a ban on exports for medical protective equipment. Amazon and sellers can still deliver domestically, to German residents.
If FBA centers are under quarantine, outstanding shipments to buyers across continents will be fulfilled when quarantines are lifted.
Some fulfillment centers across the world are currently closed for business, with sellers, their merchandise, and their personnel banned from the premises.
Shipments to most FBA fulfillment centers are still allowed, though delivery may be delayed.
Estimated delivery dates may be increased automatically, depending on location.
Cross-border deliveries may be disabled at any time due to insufficient capacity. Some cross-border orders may be canceled by default.
Prime Air shipments may suffer delays due to staff shortage. Amazon's own airport is due to open next year. But until then, the company is reliant on airport ground handling crew, as seen below.
Seller Fulfilled Orders (MFN, Seller-Fulfilled Prime, etc.)
Sellers in 'red zone' areas with restrictions in place must deactivate listings, use the 'on holiday' setting, or increase handling and delivery time. The 'on holiday' setting only affects MFN items.
Amazon may extend the estimated delivery time. Even though customers are shown during checkout that their order may take much longer to be delivered, the sellers' handling time does not change.
Sellers must alert buyers of possible delivery delays through Buyer-Seller Messaging.
If sellers in affected areas can't fulfill an order, they are allowed to ask buyers to submit a cancellation request.
If buyers are unwilling to submit a cancellation request, sellers must cancel the orders themselves and notify the buyers through Buyer-Seller Messaging. These notifications to buyers will be taken into account in performance evaluations.
If buyers request a cancellation through Buyer-Seller Messaging, sellers must reply asking them to submit official cancellation requests.
To make sure cancellations don't count against them, sellers must follow the Standard Cancellation process, as explained on the Order Cancellations page.
Other Issues Affecting Sellers on Amazon
Price Gouging
Amazon.com claims to have suspended thousands of accounts in recent days. But price gouging is still very much an issue on European venues. Here, many price gougers' listings are deactivated every day. But some find loopholes. Below is one of the latest face mask offers on Amazon UK.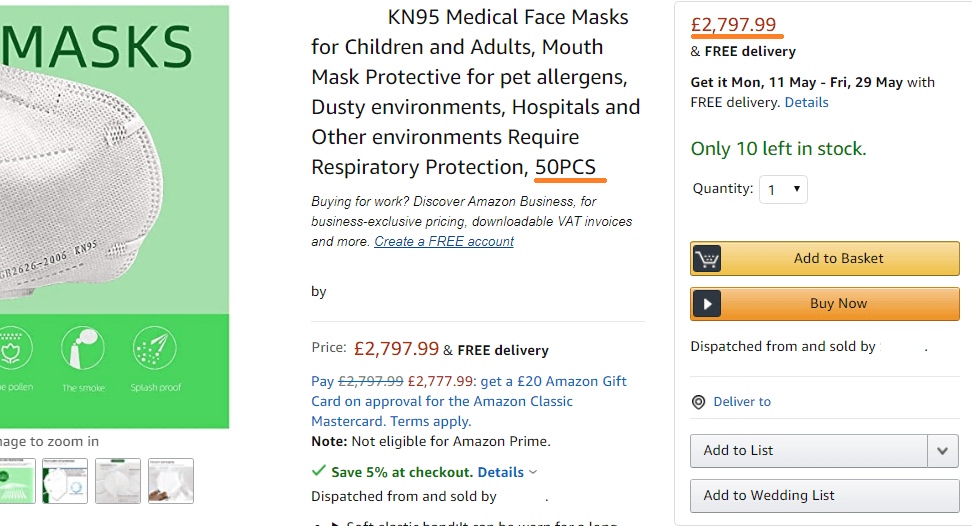 It's a controversial topic, but sellers are allowed to report price gougers for violating Fair Pricing Policy. Some sellers on Amazon US forums blame it on staff shortages or higher supply and shipping costs. But nearly all US states have declared a state of emergency. So, price gouging is now punishable by law.
Hijacked Listings
An unexpected effect of the pandemic is that listings are being hijacked. Sellers are being driven off their own listings by people who resort to profiteering. Brand owners on Amazon UK, for instance, include warnings in their descriptions, asking people to only buy from them. But their offers are not displayed.

Fewer Couriers
Many of the world's couriers are independent contractors, gig workers, or temps. As delivery drivers begin to self-isolate, availability could be affected. Shipping rates could rise, cheaper services could disappear, and some shipments may be prioritized over others.
Timely deliveries may be out of the question in the weeks to come. Amazon businesses are bound to scale down their operations, like it or not. For sellers on Amazon who don't already have any essential items in their inventory, now is not the time to ramp up purchase orders.
General Malaise
COVID-19 FAQ pages were set up for buyers on the Amazon US, UK, and India website. But for buyers who are anxious about their deliveries, they probably won't do much to set their minds at ease. Unfortunately for sellers on Amazon, this could mean an onslaught of INR emails, refund requests, and claims.
Tips for Sellers on Amazon
It's times like these that bring out the worst and the best in the world.
Sellers on Amazon have a unique opportunity to give back to their communities and to throw a lifeline to their employees. This crisis may last several months, and work restrictions may change throughout. But here are some of the ways they can help:
Create removal orders for stranded inventory, write it off for tax purposes, and donate it.
Do spring cleanup, free up floor space, and offer any unsellable items to employees.
Look into renting sterilizing robots or buy UV wands for peace of mind.
Offers screens, room dividers, or rearrange the layout of the office to minimize contact.
Hire local seamstresses to make masks and lab coats for their employees and nearby businesses.
Come up with ways to remove and dispose of protective gear without touching it.
Replace old equipment with newer models with antimicrobial surfaces.
Brainstorm new product lines and crisis-proof services with the employees.
Have weekly video conferences with all stakeholders during lockdowns.
Discuss recent legislation and its effects with the hardest-hit employees.
Join small business webinars relevant to their field of activity and their location.
Get in touch with philanthropic organizations setting up community response funds in their area.
Look into funding from the SBA, COVID-19 state relief, and small business grants. Then share what they learned with other sellers on Amazon.
We hope all our readers will weather through this crisis and come out stronger. And for those who need a helping hand, our friendly Services team is always ready to assist.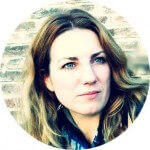 Melanie takes an active interest in all things Amazon. She keeps an eye on the latest developments and keeps Amazon sellers up to speed.