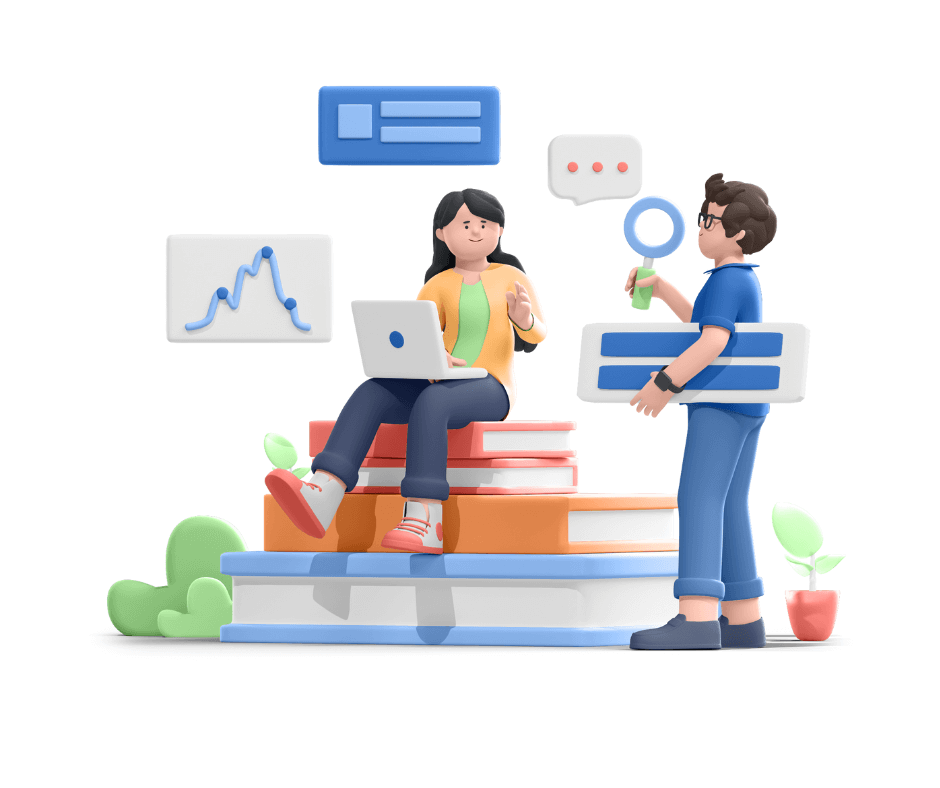 Trying to find profitable items to sell on Amazon and turn a side hustle into your main earner? With the right software, you can go it alone and still get off to a good start. Here's how to find profitable items to sell on Amazon with a little help from tools like Profit Bandit. 
Amazon is changing fast. The 2022 Letter to Shareholders is proof positive. It's building AWS Graviton processors and it launched its own AI platform (Amazon Bedrock). On the flip side, Prime growth is slowing, so millions of sellers are fighting for a piece of that shrinking pie.
If Amazon is only a side job for you but you want more, you may be wondering how to find profitable items to sell on Amazon in spite of these changes. Well, why not blend the old with the new? Analyze historical data using software. Here's how to find profitable items to sell on Amazon without the hassle.
Key Elements of Product Research on Amazon
Selling on Amazon is tricky. It's the kind of place where good items fly off the shelves and bad products go to die. But how can you tell the difference before you list them? Well, any product worth selling on Amazon must hit the trifecta: high demand, good margins, and low competition.
To gauge how well a product would do on Amazon, you need a way to quantify these 3 elements. You need figures like sales, revenue, profit, and ROI. But you can only get realistic estimates when you base them on accurate and relevant historical data; data like: price history, sales rankThe sales rank of products on Amazon ind… More, and units sold.
Why Do You Need Product Research on Amazon?
Why does it all matter? The past matters. Michael Ende said it best in "The Neverending Story": without a past, you can't have a future. Sales analysts might think of it as extrapolation. Whichever way you look at it, historical data is useful. It allows you and other sellers on Amazon to:
Identify trends in an item's popularity. On Amazon, products come and go. Some go viral due to social media influencers and then fade into oblivion. Others only really take off at sales events. Tools like the Helium 10 browser extension can show a keyword's monthly search volume, daily sales, and sales rankThe sales rank of products on Amazon ind… More. But a glimpse at historic sales charts can give you a much better understanding of when is the best time to list an item.


Tell when a product is past its prime. Lots of products are seasonal. But that doesn't mean they'll sell well this season. There's always the option to use the Jungle Scout Sales Estimator and input the product's sales rank to get an idea if an item is likely to sell again. But looking at older sales data can show if this type of item truly is nearing its decline stage.


Understand customer needs. Sellers often try Google Ads, create an account, pause their campaignSellers and vendors have a variety of ad… More, and gain free access to the keyword planner. They also look at Google Trends for specific keywords (e.g., vegan). But people's needs change. This change will influence demand. Buyers can grow to expect new-fashioned features. But they can just as easily grow tired of fancy doodads and prefer a cheaper, no-frills option.


Keep an eye on the competition. Knowing your competitor's product and stock levels can help optimize FBA shipments, ad timing, etc. Lots of sellers check their rivals' stock levels daily by adding 999 units to their cart and letting Amazon display the maximum available quantity.


Decide what part of the history is worth repeating. It's not unusual to run out of stock mid-season or miss out on a sales event altogether (e.g., FBA shipment is late). Knowing when buyers tend to order most means you can time your inventory so that it's sold at the right time.


Avoid analysis paralysis. Sellers can overthink things and waste time haggling with suppliers or focusing on minor design issues instead of launching their item. A quick look at daily sales estimates can bring things back into focus. Is saving $2,000 worth losing 7 days of sales, for instance?


Prevent bias from clouding your judgment. It's easy to become biased with a passion product. As we pointed out in Best Product Categories to Sell on Amazon in 2023, historical data can help detangle yourself from the allure of an item you like a little too much. Look at your own purchases and ask yourself what you wish would pop up in your Amazon search, but don't assume all customers want the same thing.
Using Historical Data Together With Software
Gathering and analyzing all the data you need on prices, sales, the market, and your competition takes time. That's time you don't have. Multi-channel sellers have it even harder. They might also ask how to find which product to sell on Amazon, eBay, or another website.
Product research software can show you how to find profitable items to sell on Amazon. Some can even offer you a glimpse into other platforms. You'll find everything you need, nicely set out in graphs, charts, and filtered tables.
Profit Bandit: Instant Product Research With Historical Data
A good product research tool features comprehensive historical data from across websites, accurate sales estimates, and detailed cost and profit calculations. So, you never need to ask yourself 'What if?' Profit Bandit is like that. It's a scouting app with lots of great features:
Instant Profits

Scan any barcode and get your profit delivered directly to your phone within 5 seconds. Scan with your phone camera or connect to a bluetooth scanner for even faster output. Using Amazon API and 15 factors like CoGS, shipping rates, weight, and Amazon fees, the live lookup feature ensures you have up-to-date data every time you scan. Tap your profit estimate to see how it was calculated, to the penny.


Restricted Selling certain product categorie… More Item Alert

A product is only worth buying if it can be listed on Amazon. It can't be a restricted or banned product, and its category and brand must not be gated. Profit Bandit features a Restricted items alert. With it, you can check if a product is restricted for you as soon as you scan the barcode or type in the ASIN.


Sales and Price Graphs

Is it seasonal or a flash in the pan? Swipe on the dashboard to see sales rankThe sales rank of products on Amazon ind… More and price history graphs via Keepa integration. Go back weeks, days, and months to see when's the best time to sell your product and for what price. As far as we know, Profit Bandit is the only scouting app with Keepa integration!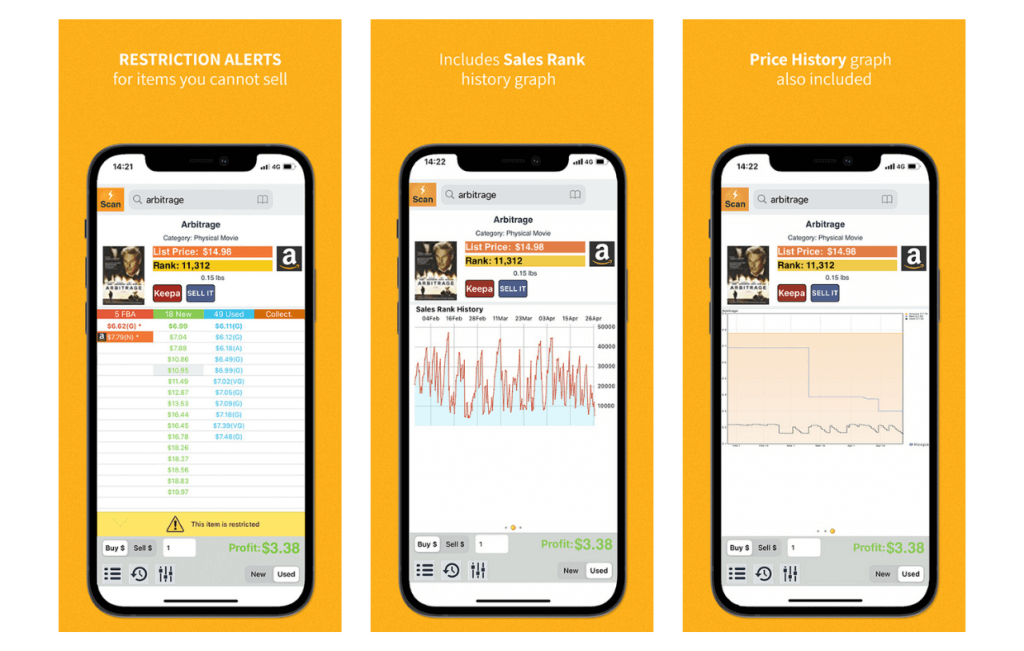 Buy BoxThis refers to the situation where a sel… More Friendly

An asterisk next to an offer shows you who has the Buy Box. It's not always the lowest price! With Profit Bandit, you know who you're up against, be they MFN, FBA, or Amazon. And you can keep an eye on them and their stock levels to make sure you time things right.


Amazon & FBA Offers

That's all well and good, but what about Amazon? With ProfitBandit, you can see how Amazon themselves have priced the item over time. Also, FBA offers are preloaded, so you can see info on every FBA offer on your phone and get up-to-date pricing data around the clock and on-the-go. With the Advanced Search option, you can also look for listings on other Amazon marketplaces.


Cross-channel Research

As a Pro app subscriber, you can use the built-in cross-channel research tool. It enables you to access additional product information from a range of websites like CamelCamelCamel and eBay. Simply click the product title. All this for just $9.99/month.


Stellar Support

SellerEngine tools come with seller savvy- over 20 years of it. So, forget the guesswork and say hello to a software tool with expertise written all over it. Download it for free, start making data-driven decisions today, and count on our stellar support service to show you how to find profitable items to sell on Amazon!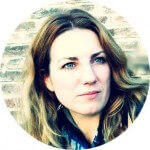 Melanie takes an active interest in all things Amazon. She keeps an eye on the latest developments and keeps Amazon sellers up to speed.