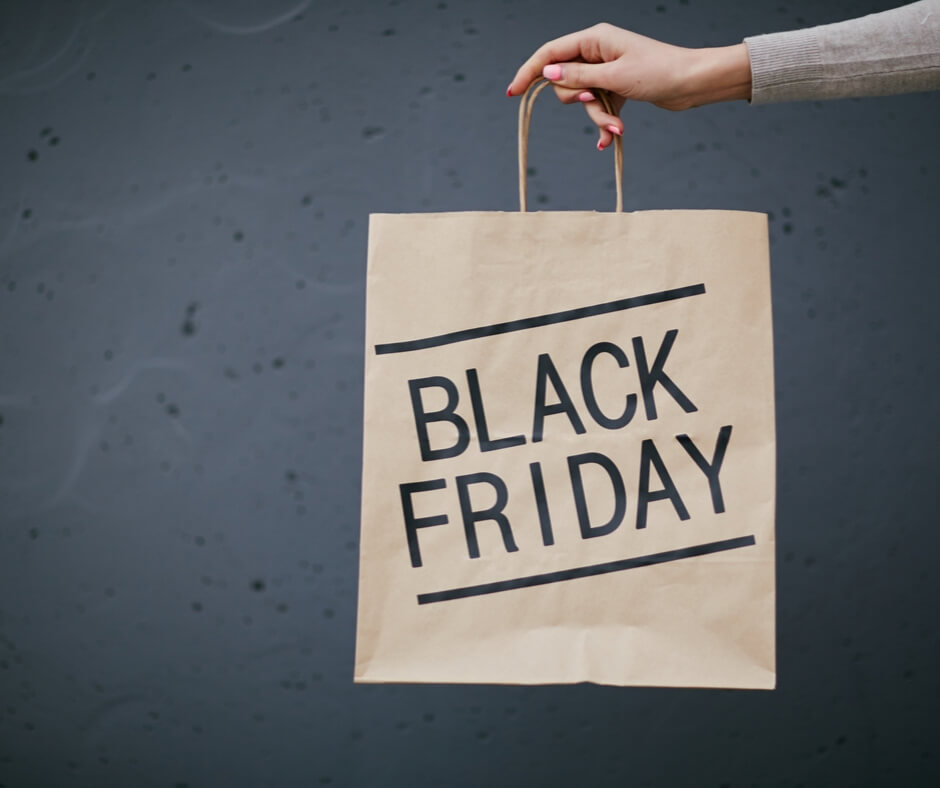 Amazon Black Friday is right around the corner, and everyone wants to put their two cents in. It's all been said before, but not here! We give you 5 tips on how and why to time your pricing and shipments right for more Black Friday sales on Amazon.
With mere weeks to go before Black Friday sales on Amazon, the giant is busy prepping. Don't let the empty Amazon Black Friday page fool you. It's dishing out brand new help pages, putting out a holiday selling guide, and giving people performance metrics advice for Q4 2019.
Amazon Black Friday: Then and Now
Like last year, Amazon is waiving monthly storage fees for newly launched products. Unfortunately, it's also not easing off on MFN sellers before the holidays. With last year's Amazon Black Friday sales raking in $6.22 million, who could blame it?
Let's quickly go through what happened in 2018. More specifically, let's review some of the trends we noticed the last time we had Black Friday sales on Amazon:
Black Friday is growing faster than Cyber Monday.
Promos are being launched earlier in the week.
Sales are rising, despite people spending less per item.
Cart abandonment is especially common with phone shoppers.
More people browse on their phone, but end up buying via computer.
Back to sellers. Last year, toy sellers got the worst of it. This year again they're hit hard by holiday selling requirements in Toys & Games. For them, performance metrics are evaluated yearly, on every venue. Over a period of 9 weeks, Amazon tallies up every seller-fulfilled order for any item in any category.
Take a look at the diagram below. The left panel lists baseline performance goals. Every seller must comply with these every day, or risk losing their selling rights. But toy sellers' listings are inactive the entire holiday season if they don't meet the requirements on the right-hand side.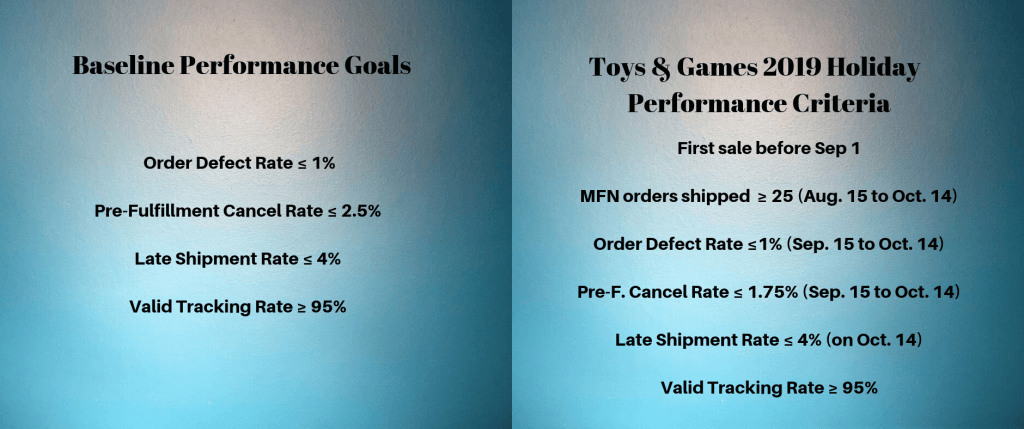 These requirements aren't new. A quick look at our 2013 and 2015 Toy Selling Guides will show that baseline performance metrics have stayed the same. But the timeframes have shifted to an earlier date. This year, as in 2018, the shipment count starts in August.
Any merchant who fails to meet the criteria will receive a notification sometime before Nov. 1, 2019. Listings for seller-fulfilled toys and games will become inactive until Jan. 3, 2020, when all items need to be relisted. However, FBA listings will not be affected.
Speaking of FBA sellers, they're not off the hook either. A quick glance at the quarterly review schedule below will reveal that the next IPI evaluation week is fast approaching. Note that we added the start date for the next eight evaluation weeks to Amazon's review schedule diagram.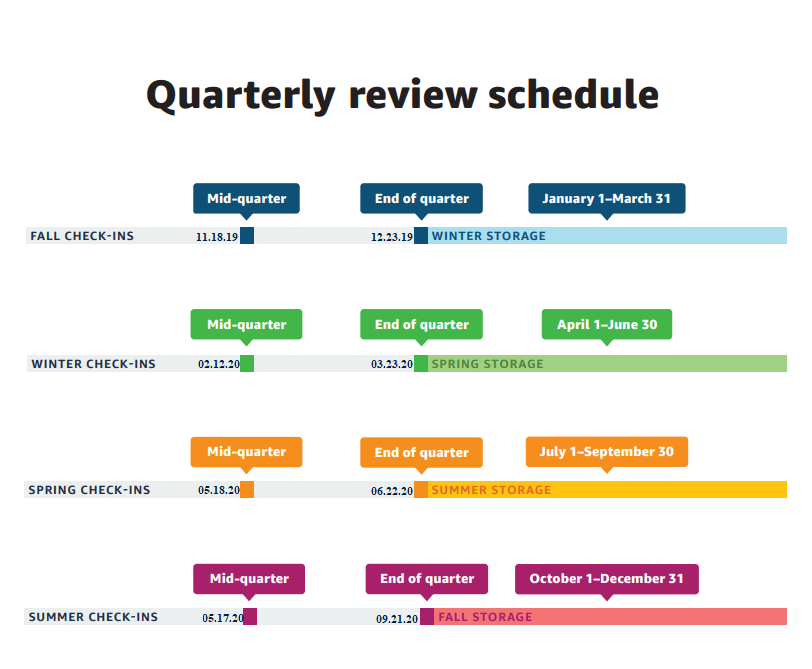 Getting Ready for Black Friday Sales on Amazon
Anyone trying to prepare for Black Friday sales on Amazon should start with the 2019 Holiday Guide. Kudos to Amazon for setting up this webpage for the benefit of merchants. NB Amazon Outlet listings may affect your eligibility for Deal of the Day offers and Lightning Deals.

Based on Amazon's guide, we've put together the 2019 Holiday Season Timeline shown above. Kindly note that Amazon replaced the more commonly used phrase 'Thanksgiving weekend' with 'Black Friday weekend'. But whatever you call it, it's right in the middle of the timeline.
5 Tips for Better Black Friday Sales on Amazon
How do you get ready for Amazon Black Friday? We've given you lots of marketing advice in the past. And last year's 10 Seller Tips to Boost Black Friday and Cyber Monday Sales still apply. But none of this matters if your timing is bad. So, this year, remember to:
Switch to FBA for Toys & Games if MFN performance metrics are sub-par on Oct. 14.
Be sure to have your FBA shipments delivered to fulfillment centers by Nov. 6.
Read up on Inventory Basics and clear out excess inventory before you ship to FBA.
Price parity no longer applies, so feel free to tweak your prices with Sellery by Nov. 28.
Review your MFN returns policy by Nov. 1 to say you can't match Amazon's offer (returns for holiday orders are accepted until the end of January 2020).
By the way, now is a good time to start thinking about your sales and performance later on in Q4 2019. Take another look at the Holiday selling guide and timeline. Bear in mind that:
The cut-off date for Xmas inventory is right after Cyber Monday. In other words, if you sell out on Black Friday, you won't have time to replenish FBA stock for Christmas. So, get enough units to fulfilment centers by the end of Black Friday Weekend.
If, on Sep. 30, Amazon told you it's Strike 1, do everything in your power to raise your IPI score above 350 by the end of the year. Otherwise, you risk having to remove your inventory from fulfillment centers in 2020 or pay hefty overage fees.
Now that we've covered the basics of Amazon Black Friday, we can take you through all the other important dates in Q4 2019. Follow our blog as we look at Cyber Monday next, with plenty of tips and tricks of the trade.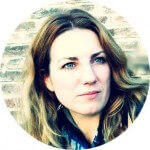 Melanie takes an active interest in all things Amazon. She keeps an eye on the latest developments and keeps Amazon sellers up to speed.