Even though it might still be 80 degrees in some parts of the country, the Christmas selling seasons is right around the corner. If you've never sold on Amazon during Q4, get ready to hold onto your hat. It's a wild ride and one that you don't want to miss out on.
With good reason, Toys & Games is one of the most profitable categories during the Christmas season. Many toy sellers make 35-45% (or more) of their yearly income between Thanksgiving and Christmas Eve. But to make sure that Amazon.com customers have the best possible buying experience, Amazon implements Holiday Selling Guidelines to make sure only the best and most reliable 3rd-party sellers can sell in Toys & Games between November 19th and the first week of January.
What does it take to be part of this exclusive club? Let's take a look.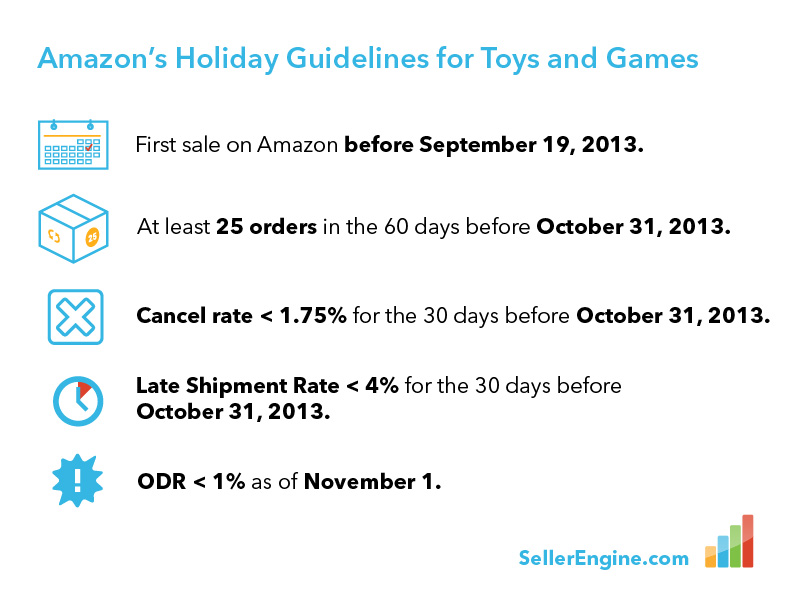 You must make your first Amazon.com sale before September 19th. Most of you reading this won't have a problem with this. But if you're a brand new seller, you'll need to get cracking. Start adding items to your inventory now! Get that first sale sooner rather than later. Getting approved for Toys & Games in time for Christmas is a great goal to set for yourself!
Process and ship at least 25 orders between September 1st and October 31st (orders in any category, not just Toys & Games). You'll need to average a bit under 2 orders per day to meet this goal. And remember that it's orders SHIPPED, not just received. So don't cut it too close. Try to hit this target a week early. If you're set on qualifying for Toys & Games, consider accepting a lower profit margin on more competitive items in order to increase sales. You may even find that you'll sell more items and make more overall profit using this strategy. Consider using repricing software like SellerEngine Plus or Sellery to reprice your inventory and manage your margins.
A pre-fulfillment cancellation rate under 1.75% during October 2013. Your best bet for hitting this metric is to maintain stock on hand and to ship promptly. In our experience, most pre-shipment cancellations come when a seller is out of stock and customers (rightly) become impatient.
A late shipment rate under 4% during October 2013. This one's simple. Ship your orders on time. Confirm your shipments. Make sure your stock on-hand matches your Amazon in-stock quantity.
Short-term ODR of under 1% as of November 1st. If you're new to selling on Amazon, read our article about ODR.
The Big Exception
If you're an experienced seller, you'll probably notice that I haven't yet mentioned the big exception to all of these requirements. As long as you're selling through FBA, you don't have to worry about this. Just make sure your account is in good standing and you can FBA Toys & Games.
Just be aware that FBA receiving during the holiday season can be notoriously slow. And watching your shipments sit in "processing" for days can be frustrating, especially when you're missing out on sale after sale during the busiest and most profitable time of the year.
Many experienced FBA sellers are starting to send in Christmas inventory now just to make sure everything is in place to start selling come Christmas. If you do this, make sure that you're maximizing your profit on these items. Don't compete with sellers now if you don't have to. Set an artificially high price and wait until the holiday season to get more competitive. Just remember to take into account your monthly storage fees between now and Thanksgiving when pricing during the holidays.
Extra Help
Do you want to make sure you're on track to qualify to sell in Toys & Games this holiday season? Join the SellerEngine & Profit Bandit Facebook group, tell us your story and ask for help.
Or you can ask SellerEngine Services for help. We can work with you to show you how to manage your ODR, maintain a positive feedback rating and make sure that your workflow is optimized for quick processing and fulfillment of orders. Just email services@SellerEngine.com and tell us how we can help.