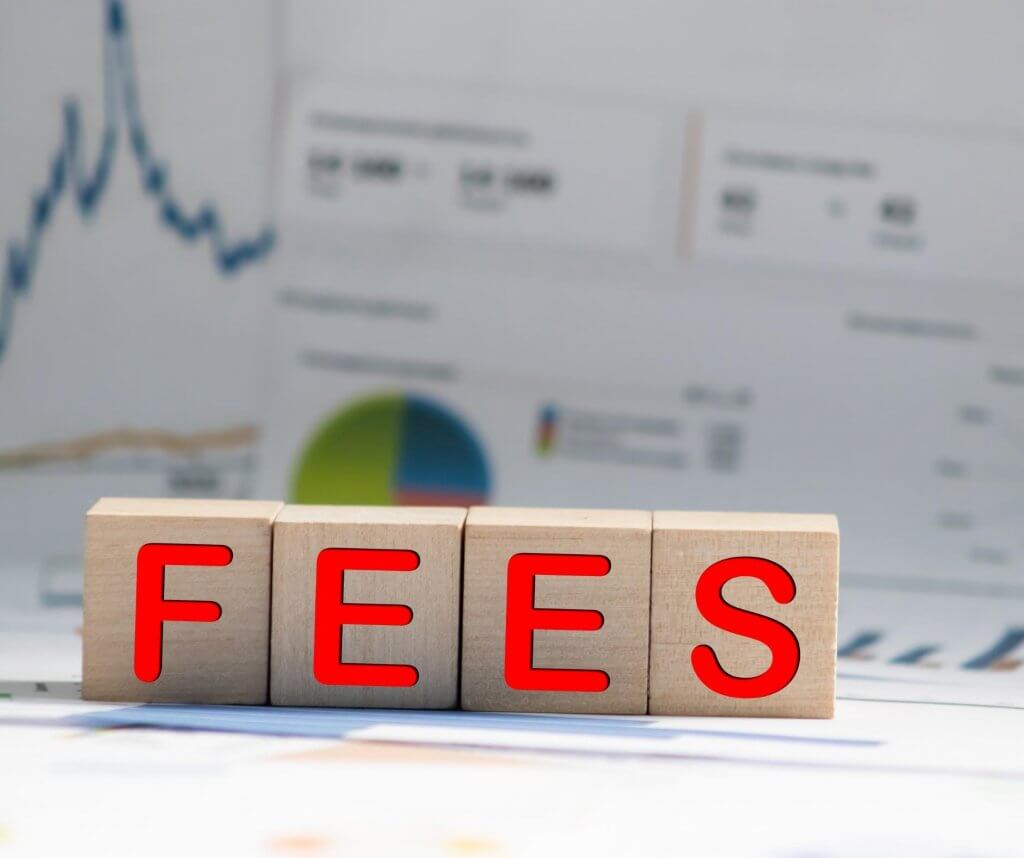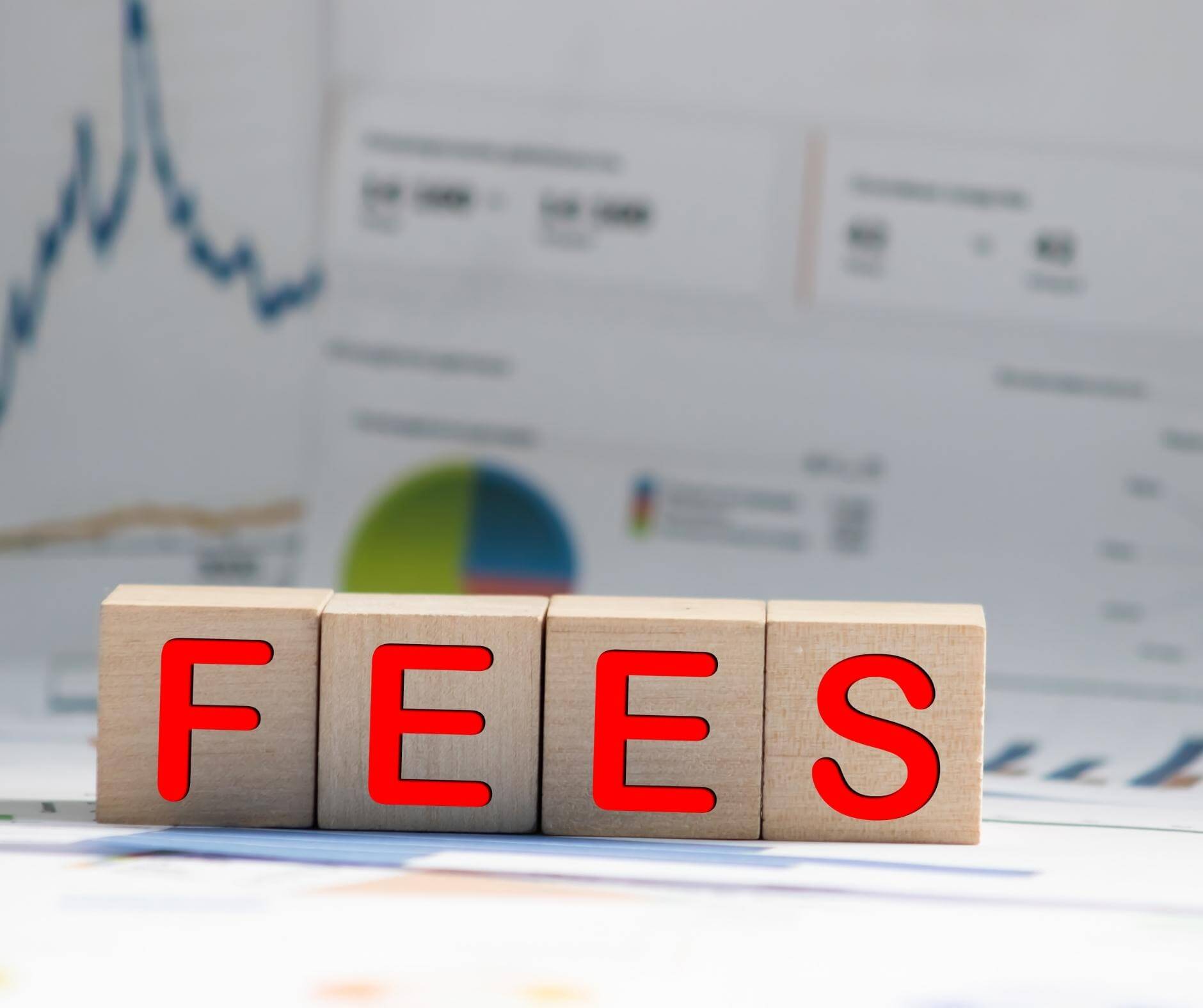 As FBA fees skyrocket, what other Amazon fees should sellers look at in 2022? With all your Amazon seller fees explained in plain English, this is one blog post you won't want to miss.
Since our latest edition of the "Amazon Fees Explained" series, a lot has changed for buyers as well as sellers on Amazon.
There are no more ASIN-level storage limits, Early Reviewers, buyer details in FBA shipment reports, or Scan & Label tools.
Instead, we have country of origin (COO) requirements, lower IPI thresholds, higher FBA fulfillment fees, new size tiers, and free replacements for self-fulfilled orders.
We also have programs like Amazon Explore, Heavy & Large, and Amazon Selling Partner 360, which come with new Amazon fees.
But let's cut to the chase. Here's what Amazon seller fees will look like in 2022.
How Much Does Amazon Take from Sellers?
When Poland and Egypt joined the list of marketplaces in 2021, Amazon became the proud owner of 21 online venues.
For as long as we can remember, the fee schedule has been similar across venues, in terms of exchange rate parity (e.g. 4$=€3).
Canada, USA, Mexico, Brazil, Germany, France, Spain, UK, The Netherlands, Italy, Sweden, Poland, Turkey, Egypt, Saudi Arabia, United Arab Emirates, India, Singapore, Japan, China, and Australia.
But last year, we started seeing large differences between venues.
For instance, small envelopes cost sellers in Italy 58% more in FBA fulfillment fees than those in Germany.
For now, though, let's focus on Amazon fees for sellers in the USA.
The first 3 types of fees mentioned in this post are pretty straightforward. You'd be able to estimate them using Amazon's Cost Calculator.
For FBA items, you can also see a cost breakdown using the FBA Revenue Calculator. It's at points 4 through 10 that things get complicated.
Monthly Selling Plan Fees
Merchants pay for the privilege of selling on Amazon. These payments are known as selling plans and come in two flavors.
Depending on the venue, you may sign up to either one of these as soon as you set up your selling account:
Individual Plan – you pay Amazon a fee of $0.99 / £0.75 / €0.99 / ¥100, etc. per unit sold.
Professional Plan – you pay $39.99/ £30/ €39/ ¥4,900, every month.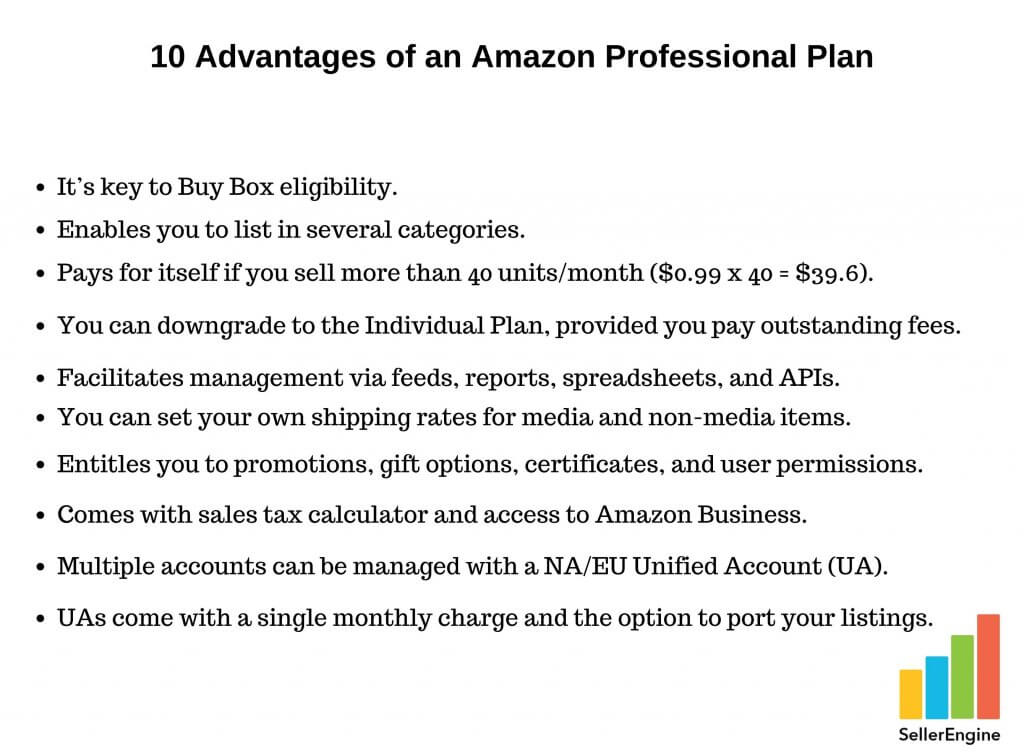 Referral Fees

On Amazon, referral comes with a finder's fee, which makes up the bulk of your seller fees. The fee estimate is displayed when you list a product on Amazon.
But you'll ultimately be charged based on your selling price, not your listing price, so factor that in when you tweak your prices.
Depending on the venue and category, you're charged anywhere from 8% to 45% of the total sale price, minus taxes calculated through Amazon's Tax Calculation Service.
But then there's the minimum referral fee (usually $0.3). Amazon might charge this instead.
How do you know what Amazon will charge? It's always the higher of the two.
So, if you sell a stationery item for less than $2, (15% of which is $0.3), Amazon will still charge you $0.3, the minimum referral fee for office products.
Most sellers give Amazon a percentage cut of the item price, shipping charge, and gift-wrapping cost, as soon as they make a sale. But this year, some referral rates are different.
It costs more to sell PCs and entertainment collectibles, but less to sell full-size appliances, shoes, and handbags.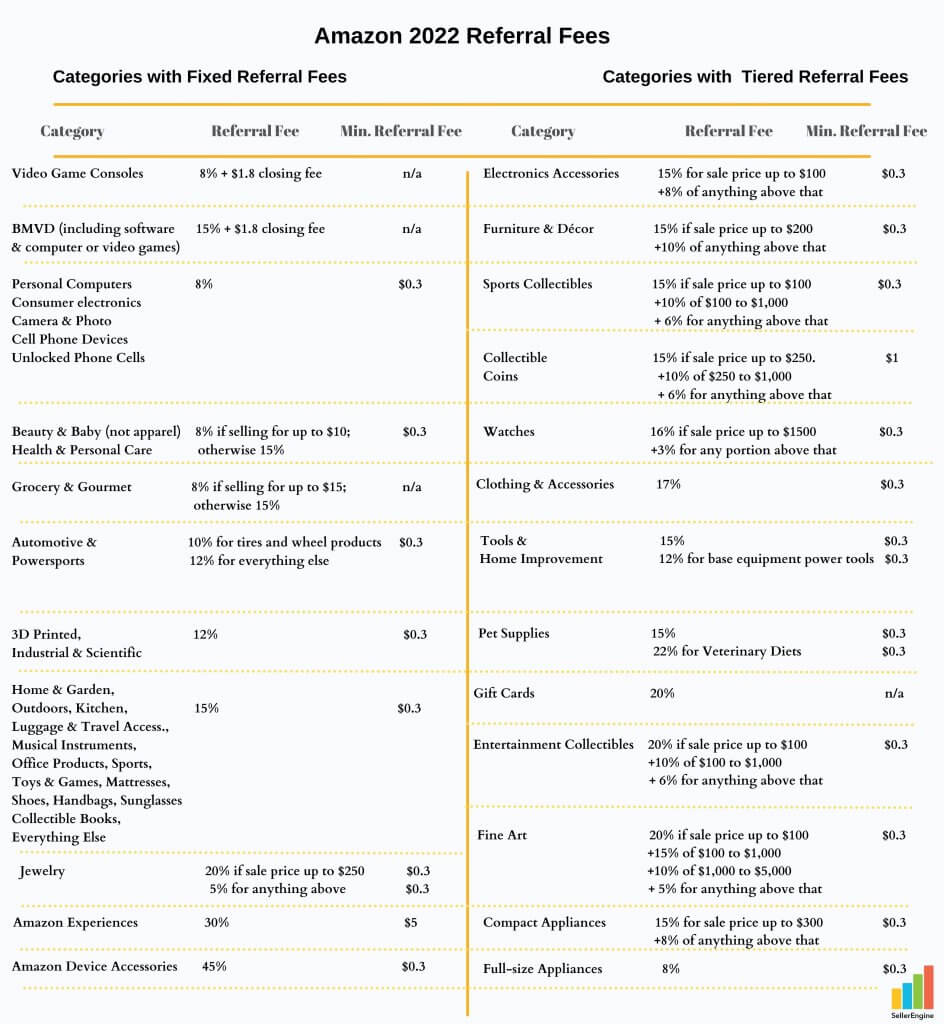 There are a few exceptions. The minimum referral fee for an Amazon Experience is $5.
For gift cards and grocery items, there's no minimum at all.
There's also no minimum referral fee for BMVD, software, video games, and consoles either, but there's a $1.8 closing fee (as seen below).
Fulfillment Fees

Fulfilled by Merchant (FBM/MFN) Fees
Sellers who fulfill their own orders don't really pay any fulfillment fees.
But because what the buyer pays for shipping doesn't always cover their shipping expenses, you could think of the remainder as a fulfillment cost.
As for Pro sellers who offer free shipping, they waive any shipping credits and foot the bill.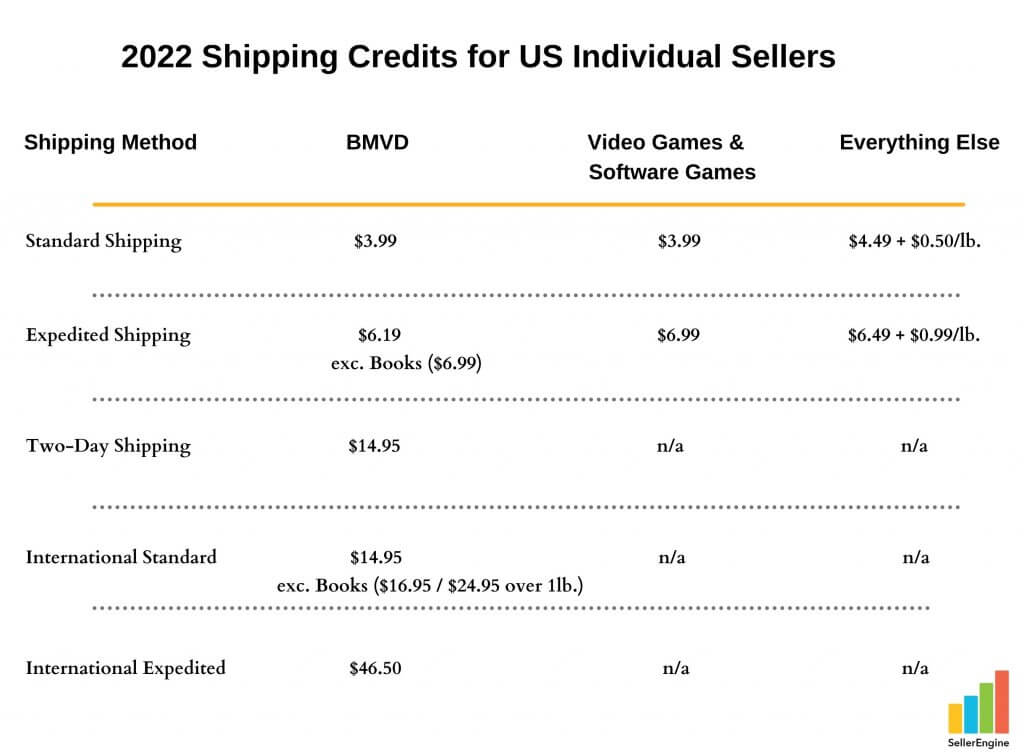 Fulfilled by Amazon (FBA) Fees

If you rely on Amazon to fulfill your orders, you must pay two types of fees: storage and fulfillment fees.
Storage fees are charged monthly, between the 7th and 15th of each month, while fulfillment fees are charged at the point of sale.
Monthly inventory storage fees are based on the product size tier, daily average volume (in ft3), time of year, and type of product. The formula is: Fee/unit = Avg. daily units x V/unit x Rate.
Example: You store 10 units per month, on average, of a standard-sized 'dangerous goods' product, each taking up 0.05 ft3. You'd pay Amazon $0.495/unit/month (10 units x 0.05ft3/unit x $0.99/ft3) for storing the items from Jan. to Sep. But you'd pay $1.815/unit/month the rest of the year for storing those same items.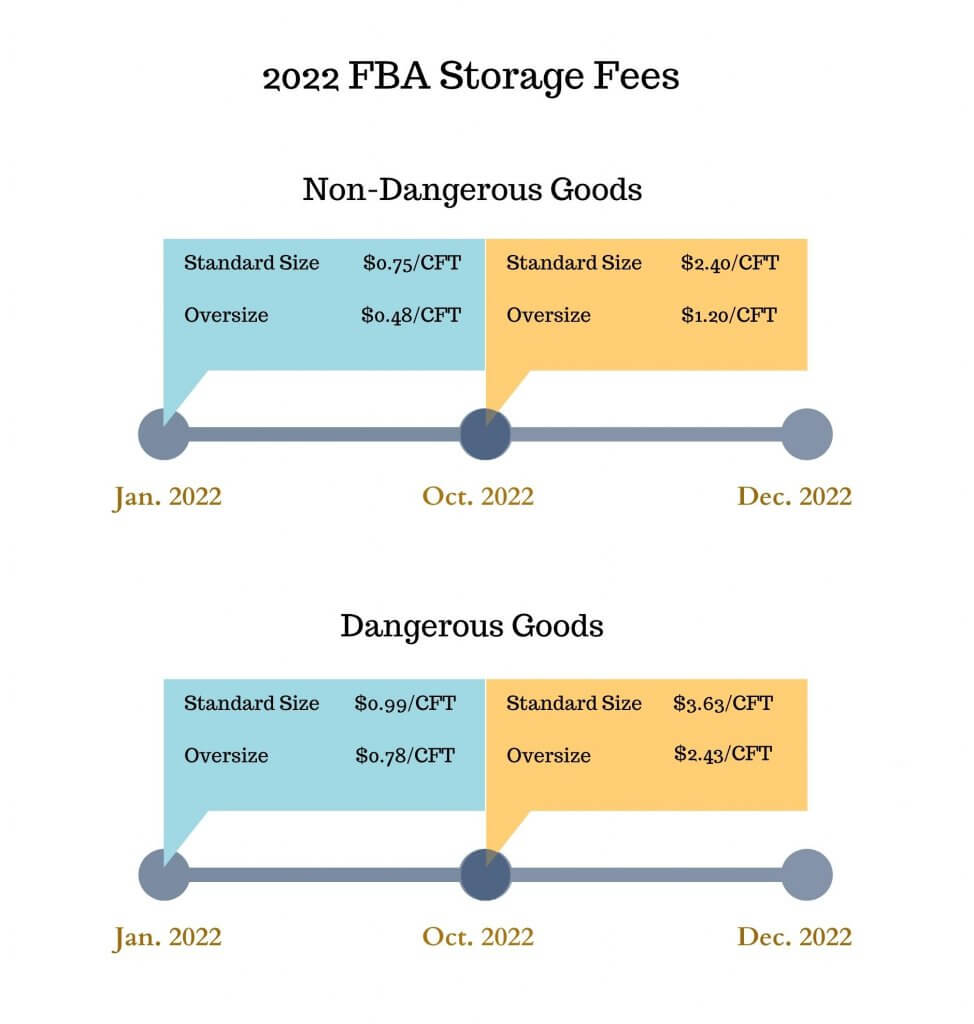 Fulfillment fees are charged to cover picking, packing, shipping, and customer support for your orders. It's the same for every type of product, except apparel and dangerous goods.
The rate is based on the size tier of unpacked items and their shipping weight (dimensional or unit weight – whichever is greater).
There are a few exceptions, though. These apply to items that are eligible and enrolled in programs like FBA Small and Light or Multi-Channel Fulfillment.
Here's a quick explainer of how Amazon calculates these charges:
Various processing fees may also be due for certain items:

FBA Manual Processing Fee of $0.15/unit for inbound shipments received between Jan. and Oct., versus $0.3/unit during peak season.
Planned Prep Service Fee of $0.50 to $2.30/unit, depending on size and the need for labels (costing $0.3).
Unplanned Prep Service of $0.2 to $4.2/unit, depending on the amount of labeling, taping, bagging, and/or bubble wrapping required.
Repackaging & Refurbishing Service fees vary based on the amount of processing.
MCF Branding of $0.70/box.
Label Service fee of $0.30 per item.
FBA Return Fee of 50% of the initial fulfillment fee A flat fee charged by Amazon for … More.
Removal and Disposal Order Fees

These are due when you ask for an FBA item to be removed from storage and either returned to you, disposed of, donated via the FBA Donations Program, or liquidated.
You may need to remove parts of your inventory because it's:
close to the monthly storage, quarterly overage, or yearly FBA cleanup threshold.
unfulfillable (e.g. damaged, mislabeled, or misplaced).
stranded (e.g. with incomplete, missing, or inactive listings).
FBA Liquidations fees start at $0.25/unit, with an added 15% for referral. They are charged as soon as the eligible inventory is shipped to a liquidator. They are taken out of the gross recovery value of 5%-10% of the average selling price. The net amount is paid in 60 to 90 days.
Long-Term Storage Fees (LTSF)
On the 15th of every month, Amazon takes a snapshot of items stored at fulfillment centers and sends a notice.
Anything older than 365 days will incur LTSF fees.
Some 3-7 days later, you are charged for every qualifying unit either $0.15/unit or $6.95/ft3- whichever is greater.
Overage Fees
FBA inventory storage overage fees amount to $10 for every extra CFT of inventory.
They are only charged when:
your IPI score at either one of the last quarter's checkpoints drops below the minimum value allowed. The current IPI threshold is 400, though it varies.
Amazon sets a storage limit for your inventory, and you go over this limit. You will not be able to send in any shipments until you've removed items and cleared some storage space.
Refund Administration Fee

When you issue a refund, Amazon gives you back some of the money, proportional to the refund percentage you've issued. You get back your referral fee, but Amazon withholds a refund administration fee of $5 or 20% of the referral fee- whichever is less.

There is one exception, though.
When it comes to BMVD items, Amazon doesn't charge you for refund administration, if you issue a full refund. But if you're offering the buyer a partial refund only, Amazon gets to keep the closing fee.
In other words, you get either RF – $5 or 80% of RF.
So, as your total price grows, the refund administration fee grows, and the refund credit shrinks.
To compensate for this, you must maximize your prices and shipping charges or add non-refundable services like gift-wrapping.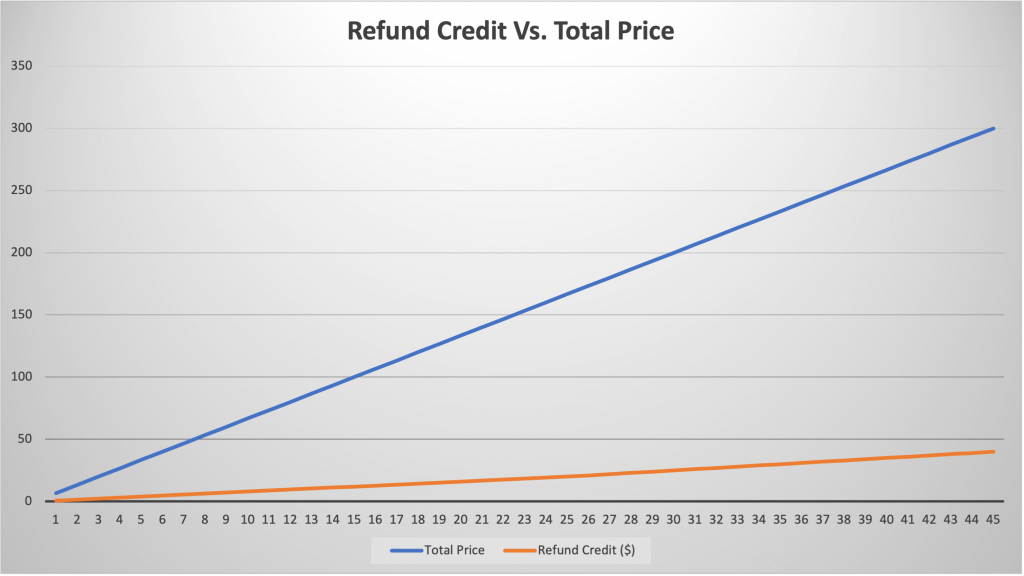 High-Volume Listing Fees
Unlike last year, these fees apply to all SKUs, including books, and regardless of sales.
If you have over 1.5 million active SKUs, Amazon will charge you $0.001 on the first day of the month for every SKU that goes over this limit.
That's $1/month for every 1,000 extra active SKUs.
Amazon Currency Convertor for Sellers (ACCS) Fees
If your bank account isn't based in the USA, you can use the Amazon Currency Converter for your disbursements.
Fees are based on net proceeds over the trailing 12 months, and they range from 0.75% to 1.50%.
Merging (aka 'linking') accounts entitles you to lower rates. The only exception is the Chinese Yuan (CNY), which benefits from lower fees (0.4% to 0.9%).
Miscellaneous Amazon Selling Fees
That's our not-so-short list of Amazon seller fees for this year. But don't let it weigh you down. As we like to remind our readers in every issue of our "Amazon Fees Explained" series, only a small fraction will apply to you in 2022. To keep up with the latest in Amazon fees, please be sure to follow this blog.
Disclaimer: Any Amazon seller fees mentioned in this blog post are accurate, to the best of our knowledge. However, they are subject to change. Please carry out your own inquiries before committing to selling on Amazon.
Don't miss the chance to get fresh Amazon News and Amazon expert insight articles right when we post them directly in your inbox.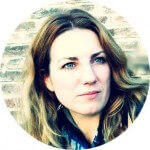 Melanie takes an active interest in all things Amazon. She keeps an eye on the latest developments and keeps Amazon sellers up to speed.