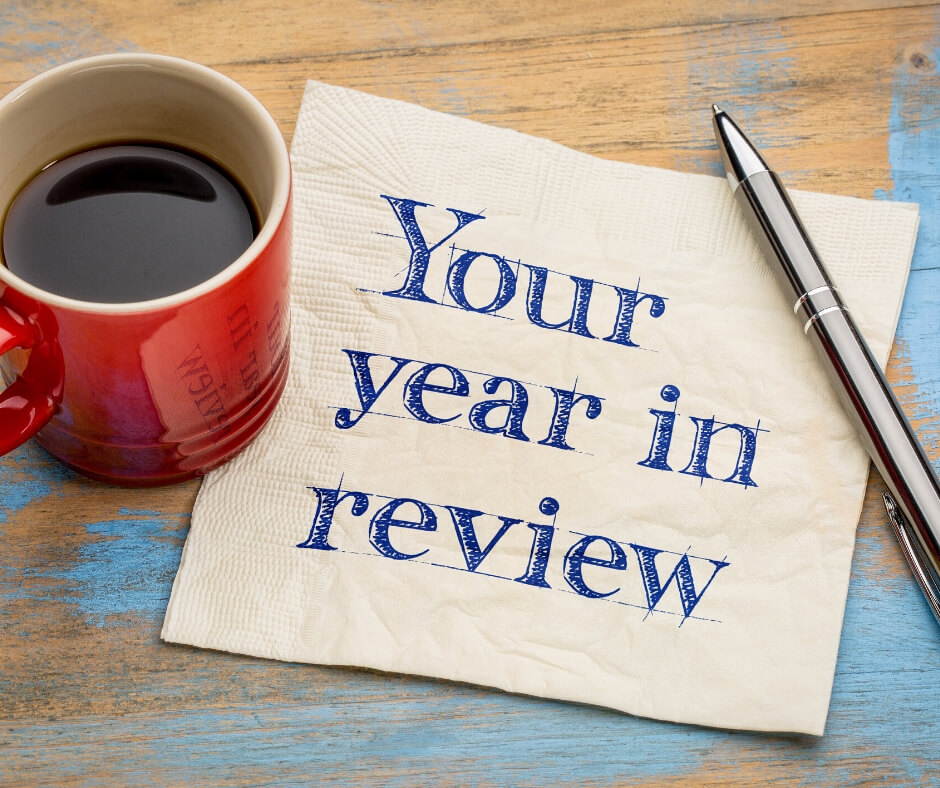 It's a time to review and reflect on the year's developments in the world of Amazon. Read about the 10 defining moments for Amazon sellers in 2019, and join us as we outline fresh forecasts for the year to come.
Cloud Hosting First, Prime Second
The world of Amazon is bigger than the economy of most world countries. That we knew. What most Amazon sellers don't know, though, is that online retail is no longer the mainstay of Amazon's business model. Most of Amazon's revenue now comes from AWS cloud hosting, Prime subscriptions, and advertisingAdvertising is a means of communication … More.
Growing Marketplace Network
As of Dec. 2019, Amazon has 17 venues across the world. Here they are in chronological order: Amazon USA, UK, Germany, France, Japan, Canada, China, Italy, Spain, Brazil, India, Mexico, Netherlands, Singapore, Australia, Turkey, and United Arab Emirates.

Those last few additions seem a bit random. But there's a method to the madness. Over the last 2 years, Amazon has been putting roots in Western Asia. It also closed its venue in China to 3rd party sellers this year. So, it's safe to assume it's branching out away from China – possibly with an eye to doing business in Africa.
But is Amazon really going pancontinental? AWS is already available in South Africa. It's only a matter of time before Amazon finds a way to bypass, buy out, or squash the largest local e-tailer, Jumia. With cash-on-delivery and in-store cash deposits, customers in Africa may soon be persuaded to switch to Amazon.
Rising Popularity
An estimated 8 million people across the world have Amazon seller accounts. Around 3 million of them are active sellers on Amazon. That's 17.7% more than the year before. And about 1.2 third-party sellers joined this year. More than half of them launched on Amazon US, UK, and India.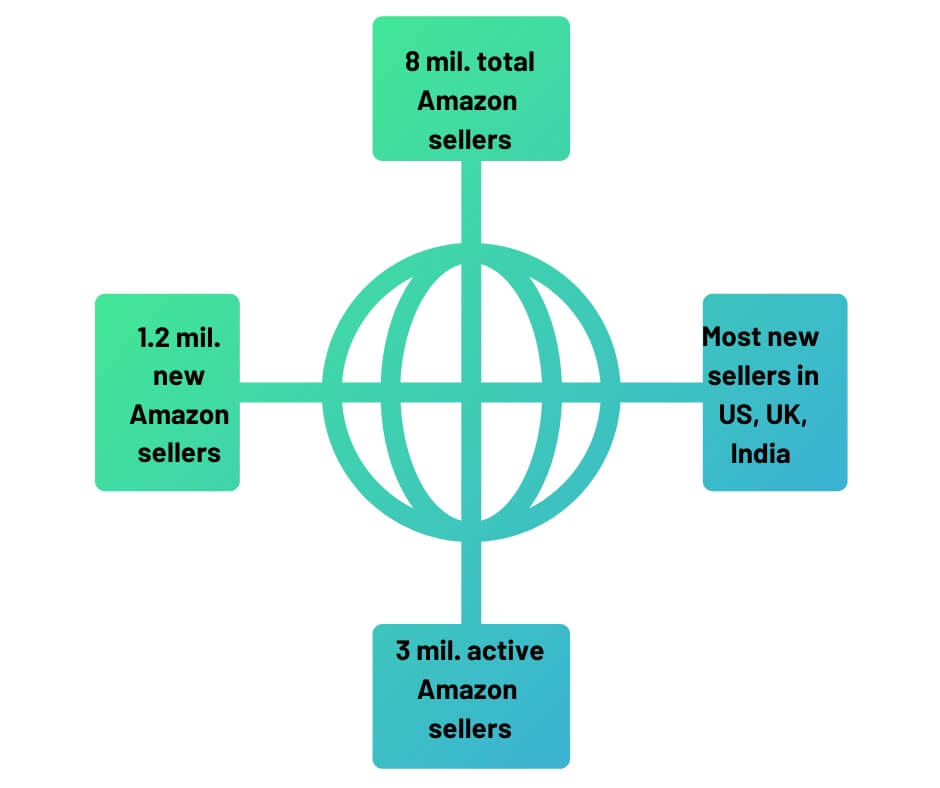 But don't break out the bubbly just yet. About 42% of all active Amazon sellers are based in China. Last year, that figure was closer to a quarter. And the 5-year churn rate for top sellers is 70%. This means only 7 out of every 10 top sellers who launched in 2015 are still active today.
Private Label Soaring
Over 100 new brands were added to the catalogue in 2019. So, sellers now have 19% of all private label sales on Amazon. The rest goes to Amazon's own brands and Exclusives. There are now 26 Our Brands, but hundreds more brands that work exclusively with Amazon.
But private labelThis is what you call products manufactu… More has its flaws. Most of these products are common, cheap, easy-to-make, and very similar. So, search results look alike. And because buyers can't tell them apart, it enables even more private label sellers to pop up. Many of these listings are low-quality and redundant.
The rise of private label means search results are constantly reshuffled. The market is much more volatile. Products come and go, and only the ones with the best discounts sell. And when they sell, they sell well. So, sellers keep their best-selling tag for days rather than weeks or months.
FBA is Being Rewired
More than 50% of top sellers on every venue offer Prime delivery – except Australia, where FBA launched last year. And that's great, because Prime is changing. In June, Amazon offered One-Day Prime delivery for over 10 million products.
When Seller Fulfilled Prime (SFP)A fulfillment model that enables third-p… More was suspended, it looked like Amazon wanted to invest more in FBA storage than in 3PThird-party sellers are independent indi… More fulfilment. But it wasn't. It's now piloting the Amazon Storage and Replenishment service. It lets sellers on Amazon store their items close to fulfillment centers, rather than inside them.
The point of this new service is to help sellers replenish their stock quicker. And because Amazon now lists items as available to sell even before they're reached the fulfilment center, this means there will be a constant flow of products from manufacturer to seller to Amazon.
Vendors Getting Downgraded
When vendors didn't receive their weekly orders from Amazon in Mar. 2019, everyone feared the worst. A new type of platform was supposedly due to be released for merchants. Amazon One Vendor would have merged Seller CentralAmazon Seller Central is a portal or a h… More and Vendor CentralVendor Central is an invite-only platfor… More into a single system.
But it never happened. Instead, thousands of vendors were downgraded to sellers. And all Amazon sellers are subject to regular listing and account purges. Without invoices, dishonest sellers can't have their accounts reinstated. But it doesn't stop them from opening new ones.
Advertising: the Crown Jewel
Advertising is Amazon's new cash cow. According to eMarketer, $10 billion were spent on ads alone on Amazon US in 2019. And we expect more growth in 2020. Especially since Sponsored Display was launched in September, enabling sellers to advertise on and off Amazon.
For one thing, prime real estate is limited. Amazon sellers are forced to spend money on sponsored ads and deals. There's hardly any room for organic search results anymore. Not with all the space that deals, recommended products, and Our Brands take up.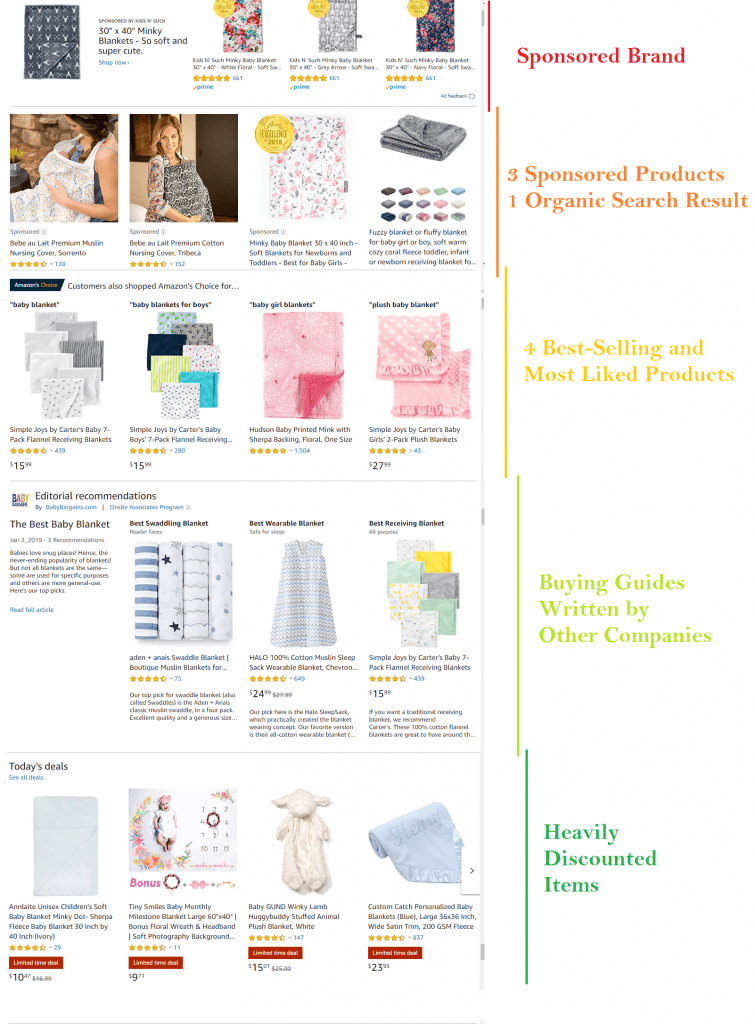 But Amazon AdvertisingAdvertising is a means of communication … More is not just about display ads. It's such a huge moneymaker because sellers like to bid. Any seller can bid on a keyword with a competitor's brand in it to push up their own listing in search results and steal customers away from that brand.
Dawn of Brand Analytics
Brand Analytics is a tool launched and made available to sellers who signed up to Brand RegistryAmazon Brand Registry is a tool that ena… More. It displays top search terms, products buyers buy alongside or instead of others, demographics, and advertising's impact on sales. It ushered in a new era for sellers on Amazon.
Project Zero Takes Off
Launched in Feb. 2019, Project Zero is a tool that allows brand owners to remove sellers of fake items. The 'Self-service counterfeit removal' interface lets them search and purge sellers from their listings, and it also keeps a record of removals.
Amazon Business is Blooming
Amazon Business launched in 2015. It expanded to Germany, the UK, Japan, India, and France. And it reached Canada at the end of this year. More than 150,000 US sellers signed up for Amazon Business. Bank of America expects Amazon to take 10% of the B2B US market by 2021.
There you have it; the world of Amazon in 2019, as seen through the eyes of Amazon sellers.
We would like to send our best wishes and our heartfelt gratitude to our readers for joining us as we welcome the new year. Here's to a better, brighter, and even more rewarding year to come for all the wonderful sellers on Amazon! Cheers to an awesome 2020!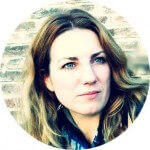 Melanie takes an active interest in all things Amazon. She keeps an eye on the latest developments and keeps Amazon sellers up to speed.