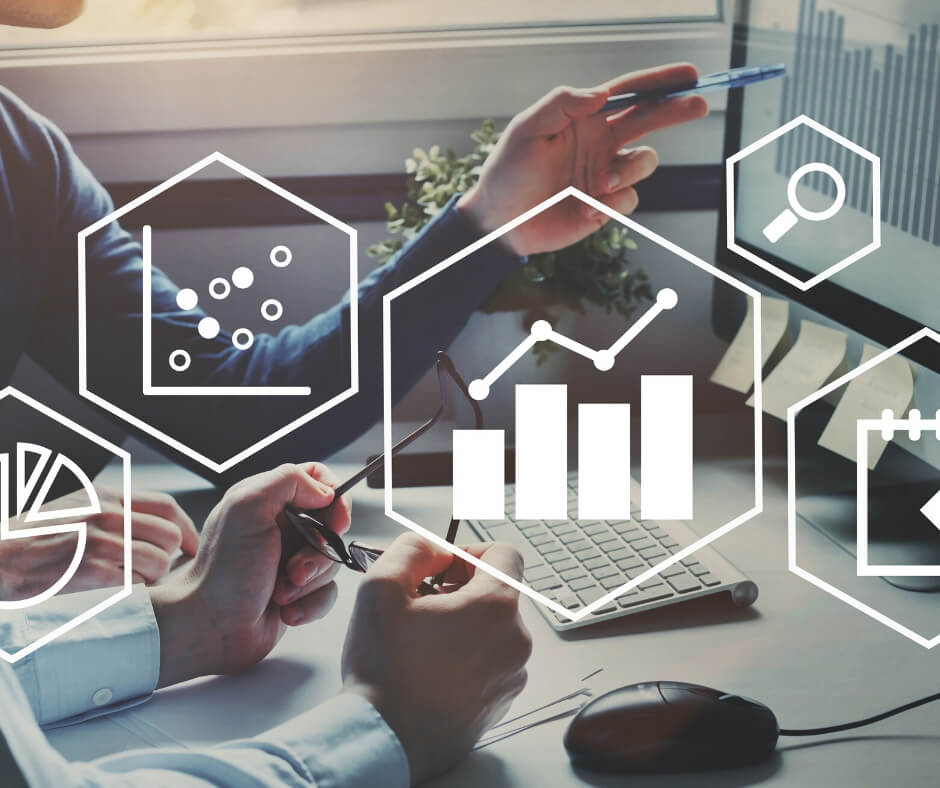 BFCM 2019 may be behind us, but the hype is still going strong. Find out what happened in the lead up to Cyber Monday, including everything we know about Amazon BFCM sales. Read on to see how the Black Friday bonanza will affect your business this holiday season.
Every seller wants to strike it big on Black Friday. And virtually every online retailer knows that Cyber Monday is the best day of the year for e-commerce. BFCM 2019 was a huge success with over 190 million shoppers. But let's take a step back and look at the bigger picture. After all, even for Amazon BFCM figures can change from one year to the next.
Sales Are Up, Growth Is Down
Statista put together a great graph of historic BFCM online sales. But a closer look shows that YoY growth was nowhere near 2018 levels. Sales are thankfully up. But Cyber Monday seems to be the only day with good and steady growth.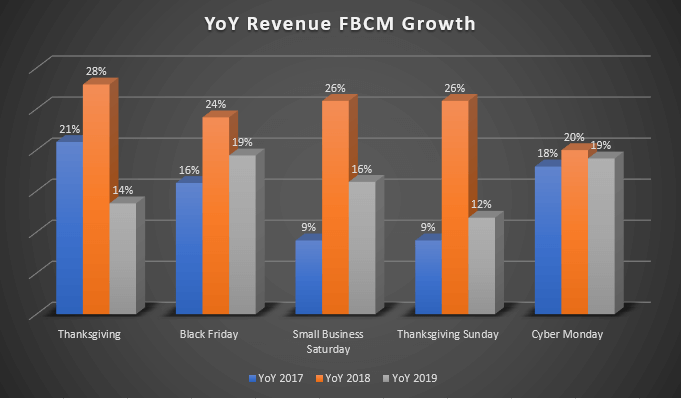 Online Holiday Shopping Started Earlier
People started shopping for gifts earlier this year because the holiday season is shorter. Luckily, BFCM sales still toppled the charts. But Adobe's Holiday Shopping Report makes a surprising revelation. The holiday shopping season was basically pushed forward to Veterans Day, Nov. 11.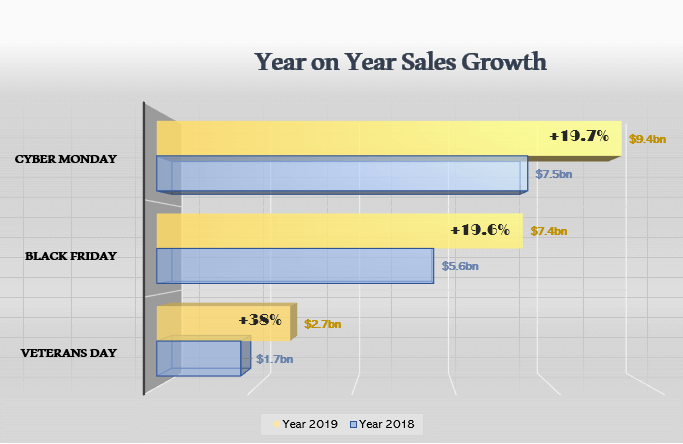 People Wanted More For Less
Year-on-year spending from Nov. 1 to Dec. 2 dropped from $126 billion to $81.5 billion. Yet, sales grew on Veterans Day and BFCM. So, people saved their money for the days with the best deals. Below are some of the deals they've come to expect.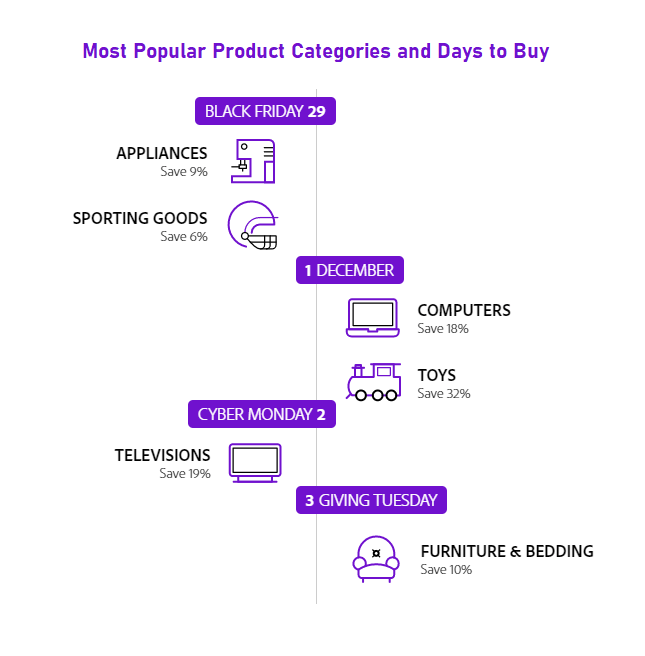 Desktops and Smartphones Battled It Out
According to Adobe Analytics, desktops got about 37% of traffic and 59% of purchases over the same period. And vice-versa for smartphones. They got 58% of traffic and 36% of sales. As for tablets, they supported 5% of all traffic and got the same percentage of purchases.
Let's compare these figures with 2018 BFCM results from MarketWatch and Adobe Analytics. They didn't stretch as far as Nov. 1, but we can surmise that:
The share of orders and revenue from tablets dropped by about half.
Desktop traffic share is about the same, but revenue share grew from 47% to 59%.
Tablets and desktops continue to have the best conversion rates.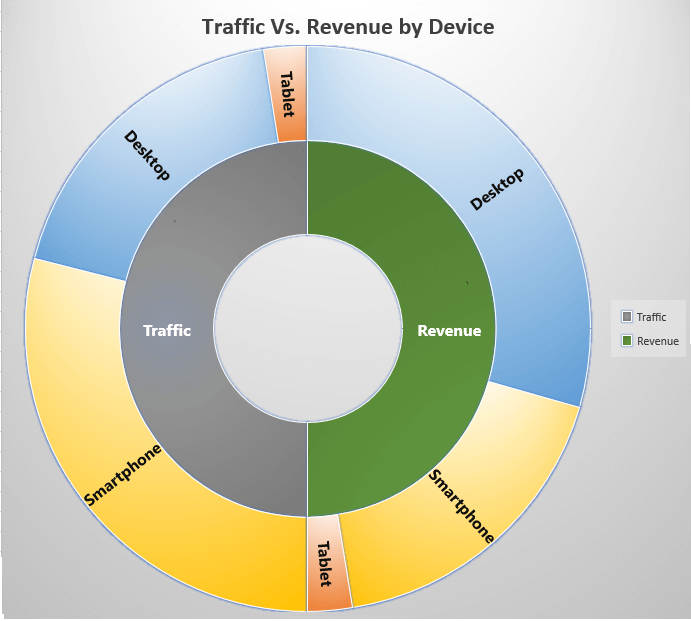 So, what can we make of all this? Not every user intends to buy. But let's assume they did. And even if they did all intend to buy, not all traffic leads to a conversion. People get signed off, products are sold out, credit cards bounce, etc. But let's assume every view leads to a purchase.
Compare BFCM traffic and revenue by device, and it looks like all smartphone users ended up buying on their desktops and vice-versa. It's more likely, though, that some smartphone users switched to their laptops half-way through an order.
Either way, smartphones generated fewer conversions than they did last year. It's not all that surprising. But it is a worrying trend. There could be several reasons for this:
Smartphone users are more likely to window shop since mobile browsing is faster.
More smartphone users wait to get on a laptop before they place their order.
More mobile users reserve products online and change their minds before paying.
Smartphone users are getting younger; may not be the ones making buying decisions.
It's just getting harder to convince mobile shoppers to commit to a purchase.
Top Sellers List Typical
This year, the top sellers list comes as no surprise. The best-selling BFCM 2019 categories and products for online retailers were:
Toys. Frozen 2 and L.O.L. Surprise dolls.
Appliances. Samsung, LG, and Fire TVs, Instapots.
Devices. Apple Laptops, Nintendo Switch.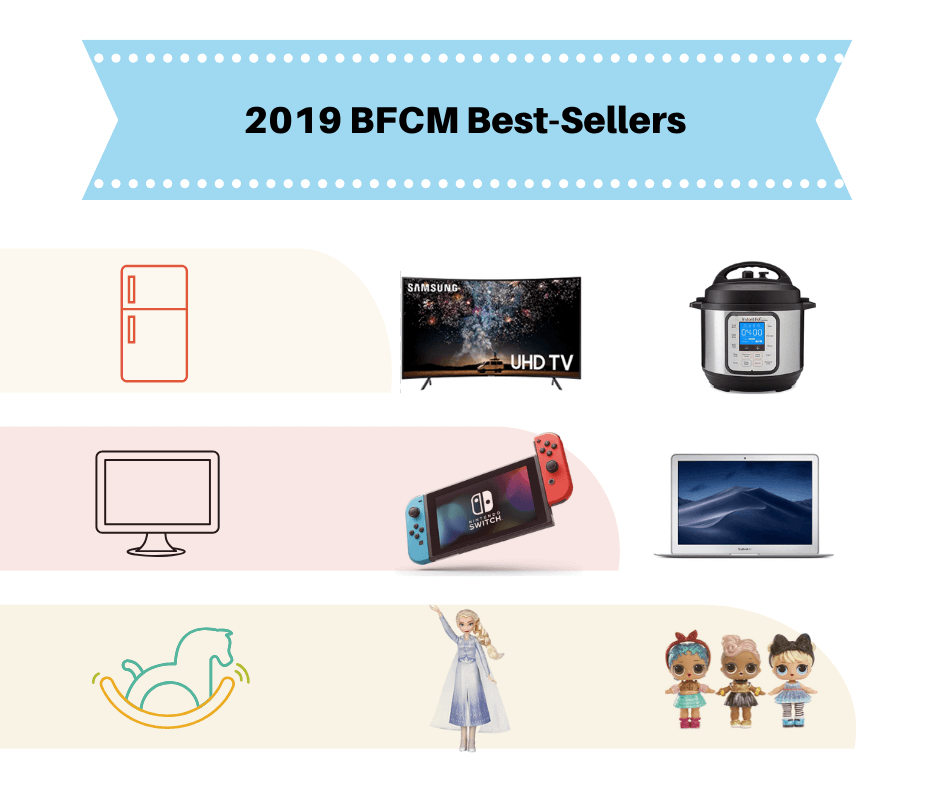 As for Amazon, its best-selling items are mentioned in a recent press release. Here are some of the best-performing items on Amazon.com for BFCM 2019:
Toys. LEGO Darth Vader's Castle, Monopoly Frozen 2, Jenga, L.O.L. Surprise! Winter Disco.
Fashion. Carhartt Men's Watch Hat, Champion Men's Powerblend Hoodie.
Home. Instant Pot Duo80, iRobot Roomba 675, Echo Dot, Fire TV Stick with Alexa.
Health and Personal Care. 23andMe genetic test.
Amazon's report also claims Black Friday and Cyber Monday 2019 came with record-breaking sales. But that's about as far as Amazon goes with the details. And it wouldn't be wise to go by their figures anyway, had there been any. But here's what we know.
Last year, Amazon claimed it sold 180 million items on BFCM. This year, it shied away from giving 3-digit numbers. Presumably, 'hundreds of millions' of items were sold on BFCM 2019. So, 200+ million is a safe bet.
Here's what Amazon does say in its press release, though:
over 25 million Home items were sold on Black Friday & Cyber Monday.
4 million more beauty products sold on Cyber Monday 2019 than the one before.
more 3rd party items sold online and in Amazon Stores this Cyber Monday than ever.
Sensing some evasiveness? You're not the only one. It could very well be that this year's disappointing growth in U.S. online sales is taking its toll on Amazon. Luckily, it's not going down without a fight. So, for the rest of the holiday shopping season, customers can enjoy:
Free delivery on over 100 million items for all customers.
10 million items with free One-Day Delivery and millions of other items with
Same-Day Delivery in 46 major cities – Prime members only.
Free and fast grocery delivery for Prime members in the U.S.A. who sign up to Amazon Fresh and Whole Foods Market.
Thousands of Counter pickup points in Rite Aid, GNC, Stage stores, and Health Mart.
Home-delivery to Prime members in 50 cities with Key by Amazon.
We'll close here and round off with a tip for our readers. This year, we learned that Black Friday sales are still growing but slower, and people started shopping earlier but spend less overall. So, BFCM 2019 was not so much about impulse buying as it was about thrifty shopping.
Are your prices right for a more demanding customer base? Why not let Sellery tweak your prices in real time and reel in those dithering smartphone buyers? Sign up now and try it for free for 2 whole weeks; no Credit Card required.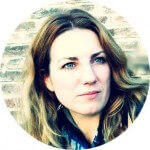 Melanie takes an active interest in all things Amazon. She keeps an eye on the latest developments and keeps Amazon sellers up to speed.