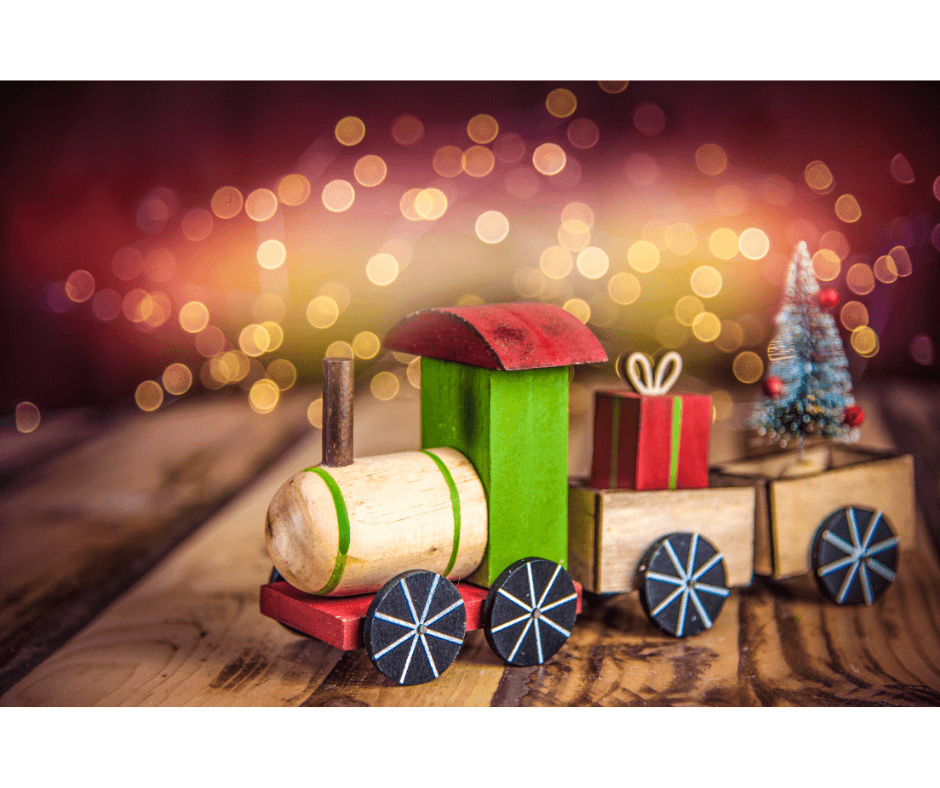 Editor's Note: Originally published on Nov. 14, 2019. Last updated on Nov. 16, 2022.
Q4 is the best time of year to turn a profit if you sell on Amazon. For some, it's the only time. But getting back in the black is no easy feat for Toys & Games sellers. Find out what you need to do to sell toys this Amazon holiday season.
'Tis the season to be jolly, or so they say. But let's save the chuckles for when those hefty discounts pay off and the sales start pouring in. After all, just because you sailed through last year's Christmas campaignSellers and vendors have a variety of ad… More doesn't mean you'll strike it rich again.
Holiday Restrictions for Toys & Games on Amazon in 2022
This year, Amazon is going all out on ads and deals. It tasked Taika Waititi with bringing magic to its holiday campaign. Also, with pages like Oprah's Favorite Things, Most Gifted, Holiday Gift Guide, and Launchpad Gift Guide, you know it's game on. Buyers can even look up friends' Gift Lists this year, or make their own gift registries for the world to see.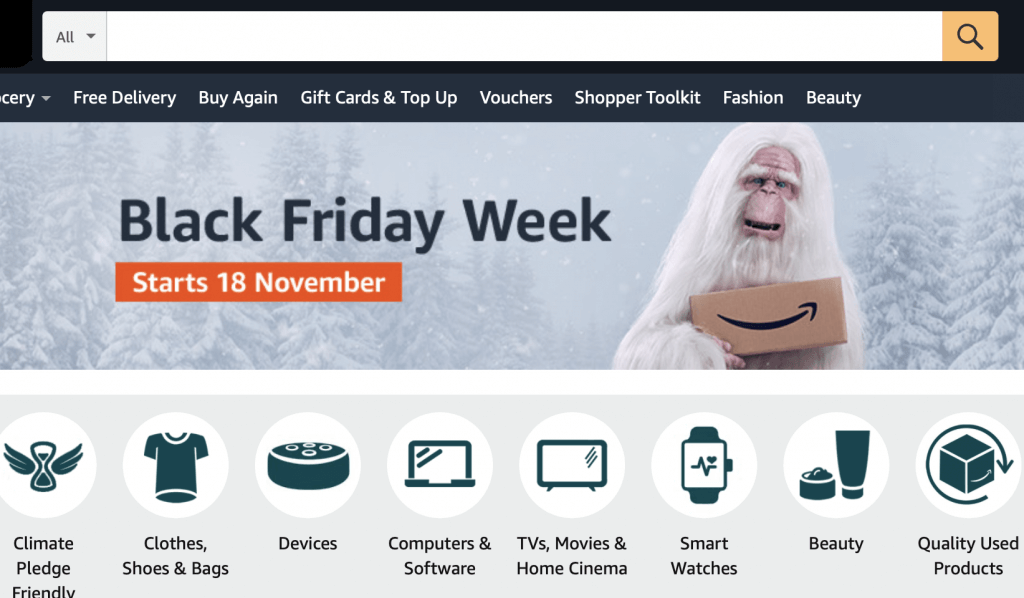 The Holiday Toy List is also up and running, with many great deals to be had. So too are the Holiday Kids Gift Book and the Most Gifted Toys pages. But don't think Amazon will let just any old seller waltz in and start selling in the Toys & Games category this Christmas season. That privilege is reserved for FBA sellers and the best third-party MFN sellers.
If you have toys to sell on the Merchant Fulfilled Network, then now's the time to get busy. Merchants with toys have gone through a tough vetting process every year since 2006. And even though there's no sign of the old holiday restriction help page, it's safe to assume that these rules still apply. In total, there are 6 general requirements to sell toys over the holidays.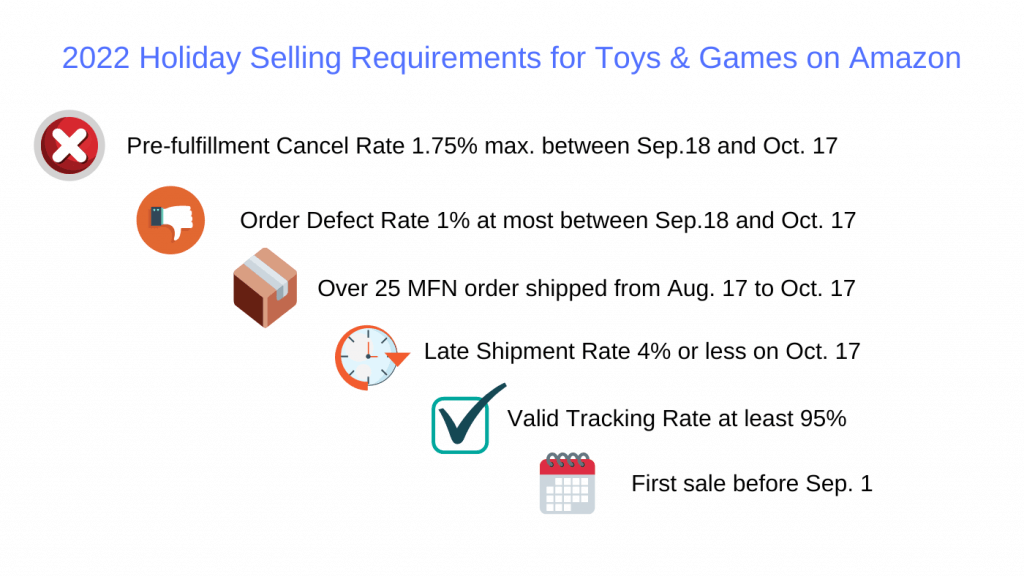 But aside from these performance criteria, sellers must be ready to show invoices and photos of their products and packaging to Amazon. Most importantly, they comply with toy safety standards. Ever since the toy purge of 2021, Amazon has been very strict with regard to product compliance with federal, state, and local laws.
The full list of documents and certifications Amazon US needs to see is available courtesy of ComplianceGate. Note that the list varies depending on the marketplace, age group, and subcategory, and Amazon may change it at any time. Amazon UK, for instance, currently requires sellers to comply with the EU Toy Safety Directive (TSD) and follow BTHA Guidance.
Anyone who lists toys on Amazon but doesn't meet these criteria can expect to have their listings deactivated, but Amazon would probably send a notice beforehand. This also applies to Handmade Toys.
If you lose your eligibility to sell toys on Amazon over the holidays, you may be able to reactivate your listings in January. However, if you lose your Featured Offer Eligibility overnight for a good chunk of your inventory, you should contact your local Seller Support Team.
Switch to FBA Fulfillment
If all else fails, send your stock over to Amazon. The official cut-off date for Christmas inventory was Nov. 2, but you could still hope to sell some toys if you deliver them no later than Dec. 2. You'll miss BFCM sales, but at least your FBA offers are more likely to have a shot at the Buy BoxThis refers to the situation where a sel… More.
If you choose to switch to FBA, SellerEngine Plus can help you manage your inventory efficiently and send the right item to the right fulfillment center. You can configure your SKUs, print your labels, and reprice your products before you ship them off.
Once your items make it to Amazon, Sellery can reprice them for you in real time. To find out more about how this software works, check out our demo videos. They show you exactly what to do to eliminate loss, control your margins, keep the Buy Box, and apply your own strategy.
We'll sign off here knowing that third-party sellers are in good hands this Amazon holiday season. Why not try Sellery for free for two weeks and see for yourself what a difference it makes to the way you sell on Amazon? Whether you want to sell Toys & Games only in Q4 or you'd like to branch out, sign up today, and let's take that leap together.
Win the Buy Box more often and accelerate sales
No Credit Card needed. Easy sign up for free trial.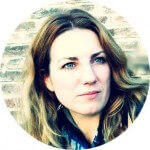 Melanie takes an active interest in all things Amazon. She keeps an eye on the latest developments and keeps Amazon sellers up to speed.