Amazon seller scanning apps don't get enough credit.
It's high time we turned the spotlight on them, showing our readers how an Amazon seller scan app can benefit them this Prime DayPrime Day was initially a one-day sales … More and beyond.
If you're new to Amazon or in search of new ideas, start your scanning app quest here.
The Basics of Amazon Seller Scanning Apps
What Are Amazon Seller Scanning Apps?
All items listed on Amazon come with printed or stamped barcodes.
One example is the ISBN printed on the back cover of books.
But barcodes can also come in the form of stickers, such as GTIN codes (UPC, EAN, etc.) required for new catalog entries and FNSKU labels used by fulfillment centers.
Using optical character recognition (OCR) and other technologies, Amazon seller scanning apps can scan, detect, translate, store these barcodes, and look them up on Amazon.
The apps then return product details, helping sellers estimate their possible profitability selling on Amazon.
Who Are Amazon Seller Scanning Apps For?
Retail arbitrage It's the practice of buying pro… More used to be the main reason sellers needed an app to scan products to sell on Amazon.
But with new listing guidelines, product restrictions, gated brands, and itemized invoice requirements, it became harder for people to buy products in-store and then sell them quickly and safely on Amazon.
But merchants can still make ample use of an Amazon seller scan app.
This includes sellers who still do a bit of arbitrage on the side.
It's also an option for new sellers trying to expand or diversify their product portfolio, and for small sellers with connections in physical retail.
Where Can Amazon Sellers Use Amazon Scanning Apps?
Amazon scanning apps aren't always exclusive to merchants selling on Amazon.
They often feature multi-channel tools and drop-shipping capability for eBay and other platforms.
However, some come with restriction alerts, reverse ASIN tools, and niche finders that are specific to the Amazon ecosystem.
When Is the Best Time to Use Amazon Seller Scanning Apps?
Using an app to scan products to sell on Amazon comes in handy when sellers are getting ready for the sales season and need to stock up on popular items, bundles, and subscription products.
This includes Back to School, Prime DayPrime Day was initially a one-day sales … More, Black Friday, and the Holiday Rush.
Top 6 Amazon Seller Scanning Apps
Even though they serve the same purpose, sourcing apps often come with some sort of USP to set them apart from the competition.
Here are the Amazon seller scanning apps with a proven track record and with features that make them a must-have for a seller's product research toolkit.
Not your run-of-the-mill barcode scanner, Profit Bandit uses Amazon API to source information about virtually any product listed on Amazon.
This includes Amazon fees, competitor offers, and Buy BoxThis refers to the situation where a sel… More data, which then feeds into Profit Bandit's profit calculations, ROI estimates for both FBM and FBA listings, and Buy Lists.
This smartphone scouting app can pair with a handheld scanner via Bluetooth to speed up scanning for larger inventories.
It comes in two versions.
The full-featured Pro Merchant version is available to sellers on 8 marketplaces: US, CA, UK, DE, FR, IT, ES, and AU.
The second, which you can access without logging into a Pro seller account, currently supports the US venue only.
Universally available features include sales rankThe sales rank of products on Amazon ind… More and price history graphs, which you can access via integration with Keepa directly from the dashboard by swiping.
Another must-have feature is the Restricted Selling certain product categorie… More items alert.
With it, you can check if a product is restricted for you as soon as you scan the barcode or type in its ASIN, so you don't invest in a product you would otherwise be stuck with.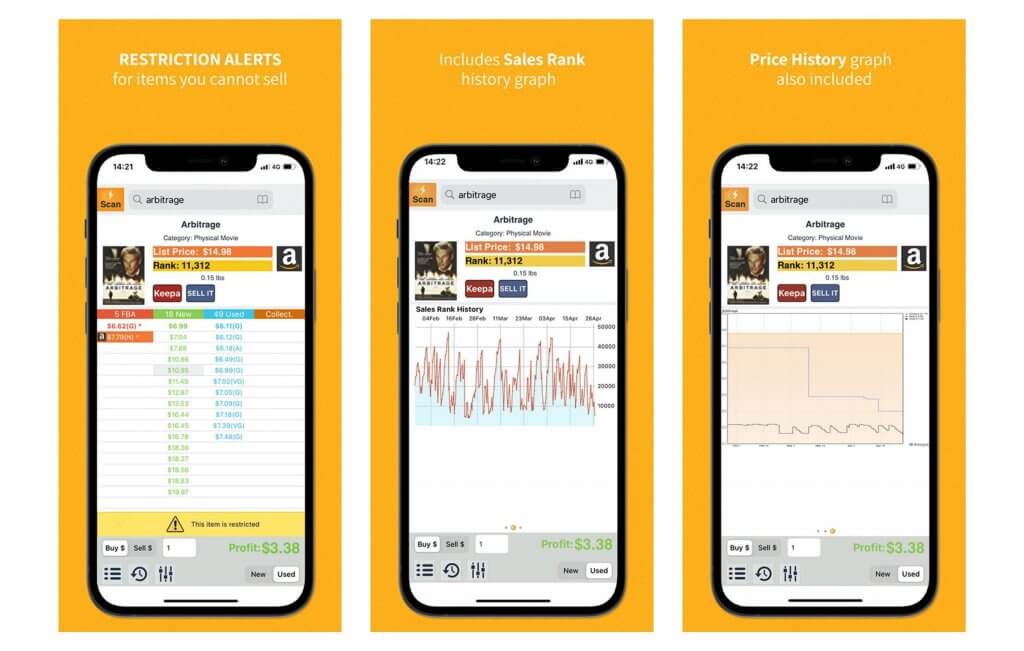 One feature exclusive to users who use the Pro version of the app is the built-in cross-channel research tool. It enables you to access additional product information from a list of websites, such as CamelCamelCamel and eBay, by clicking the product title.
All this for just $9.99/month.
And on top of that, you get stellar support from a team with 20+ years in the industry.
Amazon Seller App
Amazon Seller is essentially a mini-version of Seller CentralAmazon Seller Central is a portal or a h… More.
It features listing, inventory, communications, order management, subscription setting, and account monitoring tools.
But it only works if you sign in to your Amazon account, and its profit calculation excludes hidden fees.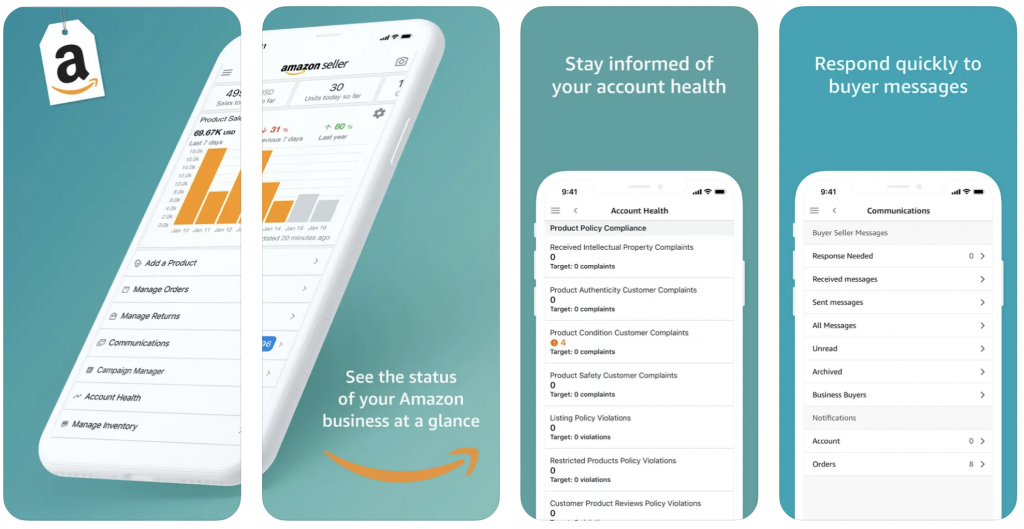 The great thing about Scan Power is that it's available on 10 Amazon venues, with relevant tax formulas built into COGS and ROI calculations.
It also lists FBA items on the spot, finds hidden listings and variations, and checks for restrictions.
However, it's only available to use with a seller account and a paid subscription.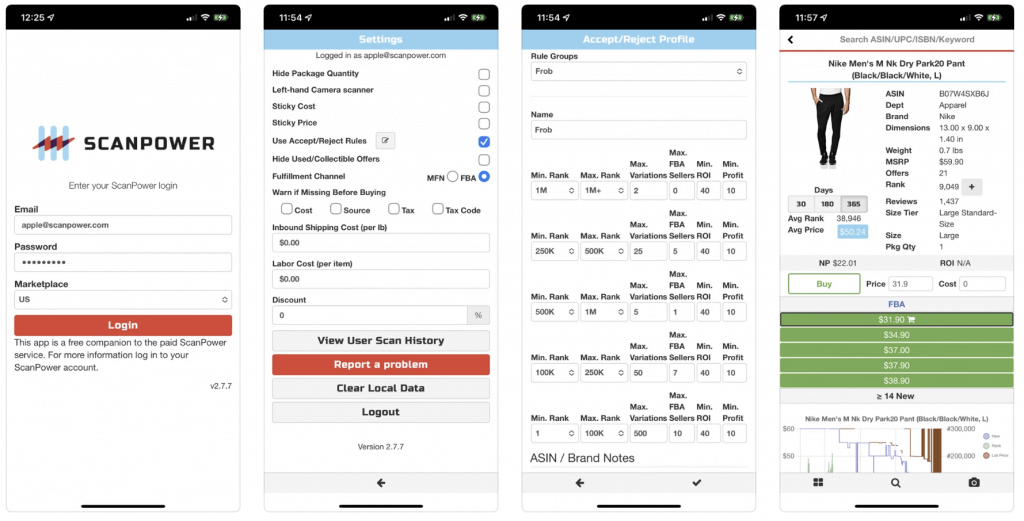 This app is similar to Profit Bandit in terms of design, visuals, and Bluetooth barcode scanner support.
You get Keepa sales rankThe sales rank of products on Amazon ind… More graphs, Buy Lists, restriction alerts, and customizable profit calculations, just as you do with Profit Bandit, but on your smartphone, tablet, and smartwatch.
It works with 2 other marketplaces, eBay and BookScouter, and it features a database scanning mode for offline scanning.
Two other USPs are average sales rank calculation and profit triggers that alert you when an item has potential.
But inexperienced sellers using these features can make mistakes because they underestimate FBA costs or a product's popularity, for instance.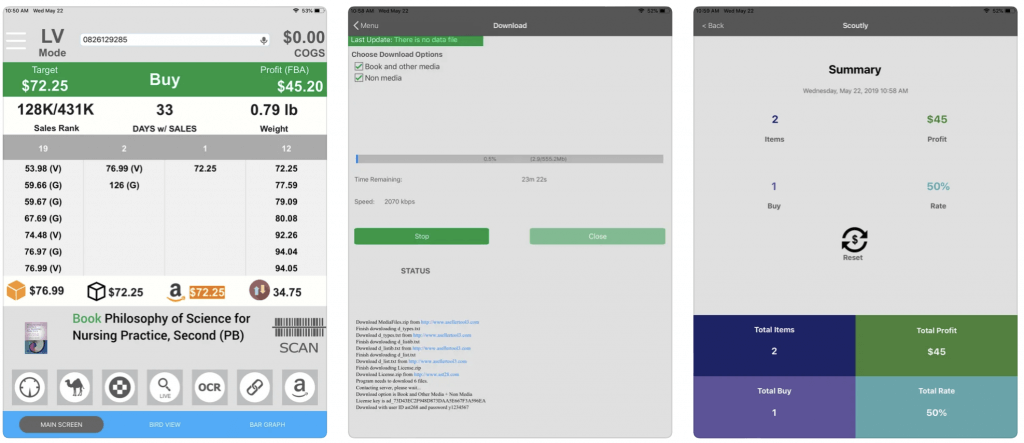 Scoutify 2 comes with an uncluttered UI that renders well on smartphones and tablets.
It can connect with Keepa and CamelCamelCamel, it features Buy Lists, and it supports searches on eBay, Google Shopping, and other marketplaces.
It also works with Bluetooth scanners.
An important USP is the new Hazmat restriction alert.
However, it's slower than Scoutly, it doesn't come with multi-channel support, and it doesn't provide sales rankThe sales rank of products on Amazon ind… More averages.
Also, as it's part of the InventoryLab suite, it doesn't come cheap.
It's $49/month.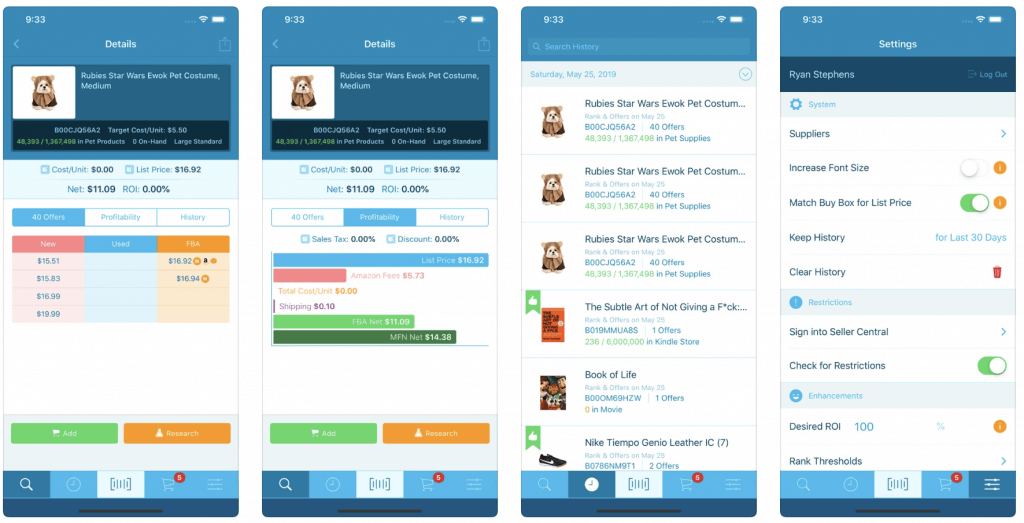 Keepa needs no introduction.
This Amazon price tracker is available as a browser extension for Mozilla, Chrome, Opera, Safari, and Edge, as well as a mobile app.
It works with 11 venues, including Brazil, Mexico, India, and Australia.
For the low price of around $20/month, it sends Amazon availability and price drop alerts, generates individual variation reports, and reveals warehouse, collectible, refurbished, and eBay data.
All 6 contenders are worthy candidates for the title of best Amazon seller scan app.
But Profit Bandit's strong suit is 20 years' worth of software-building knowledge instilled in every little chunk of its code.
We're sure you'll enjoy using it to scan as many items as you want for only $9.99 per month!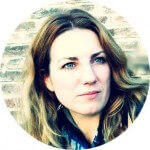 Melanie takes an active interest in all things Amazon. She keeps an eye on the latest developments and keeps Amazon sellers up to speed.