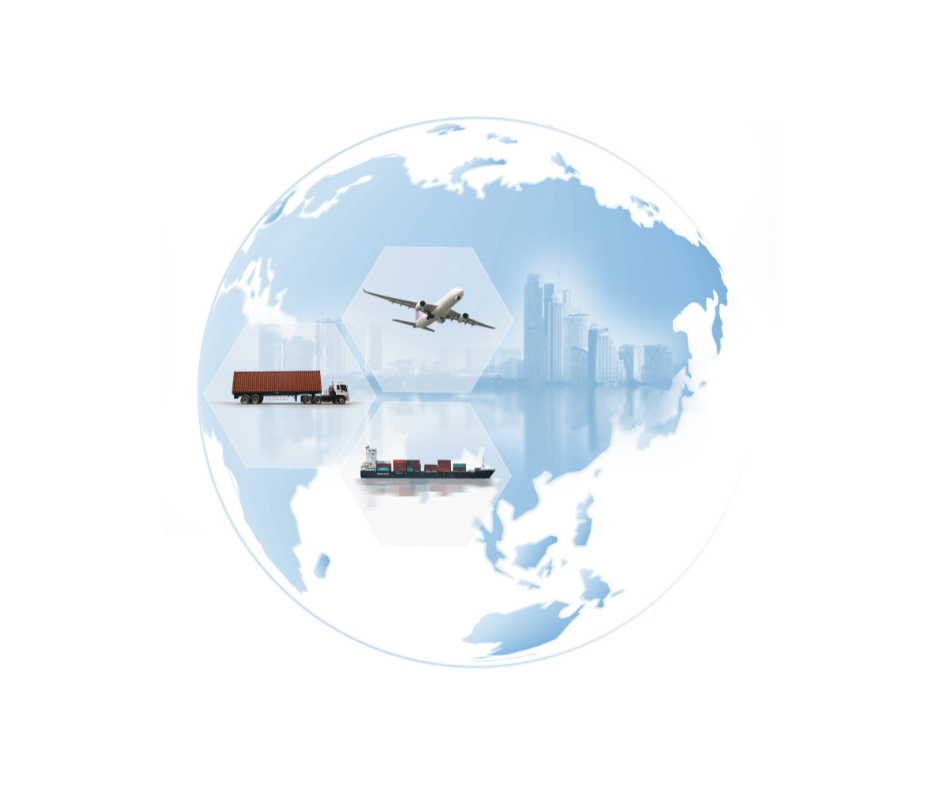 After finding your supplier, it's time to think about how you'll ship Amazon products to the US market. Like so many other foreign sellers on Amazon, you can rely on the established Amazon logistics network (FBA) or the emerging Amazon Global Logistics (AGL) network. Here's what you need to know.
Foreign sellers on Amazon.com make up the bulk of active accounts, based on eComCrew reports. It's no wonder hordes of Private Label sellers on Amazon are based in China, given the amount of resources Amazon invests in promoting its Global Selling network and streamlining RMB payments.
With the New Seller Incentives program extended to include ASINs launched after Mar. 1, 2023, it's likely more Chinese sellers will sign up for Brand RegistryAmazon Brand Registry is a tool that ena… More, use FBA fulfillment, issue coupons, and set up ads on Amazon.com within their 90-day deadline and in time for Black Friday.
Fulfillment Options for Foreign Sellers on Amazon
So, how can you get in on the action? There are 4 main shipping options available to foreign sellers on Amazon, as explained in the Logistics and Warehousing section of the official Global Selling page:
Self-fulfillment (MFN). This involves confirming the order, printing shipping labels, packing the item, transporting it across borders, handling export customs declarations, liaising with import customs for clearance, delivering the item to its buyer overseas, and handling returns and refunds.
Multi-channel fulfillment (MCF). This involves outsourcing to Amazon's third-party logistics (3PL) service. From its warehouse in China, Amazon will send the seller's products across the world, to customers from a variety of platforms and websites, and also handle returns.
Amazon Logistics (FBA). As we explained in Shipping Strategies for FBA Sellers, this involves preparing the items to meet packaging and labeling requirements and shipping it overseas to Amazon's warehouse of choice, but it hands over all aspects of order fulfillment to Amazon from then on.
Amazon Global Logistics (AGL). This service is a one-stop logistics solution whereby Amazon handles all freight, customs, and cross-border compliance issues. As seen below, it also covers FBA fulfillment within the USA, while also giving the seller full visibility into its operations.
Advantages of Amazon Global Logistics
According to eComCrew, Amazon has been promoting AGL since the seller conference of 2019, where the AGL booth took center stage. At the time, it was billed as a service that can shorten port-to-inbound time to about 18 days. While Amazon no longer promises priority warehousing, it's safe to assume that large AGL shipments are processed quicker than most.
As seen below, this is a white-glove service. It can involve shipping straight to a fulfillment center, a satellite warehouse (STAR), or even the seller's designated warehouse (STS). Amazon collects the shipment from the seller's warehouse in Asia, palletizes it, labels it, ships it overseas, clears customs, and delivers it. All the seller needs to do is book, pay, and track shipments.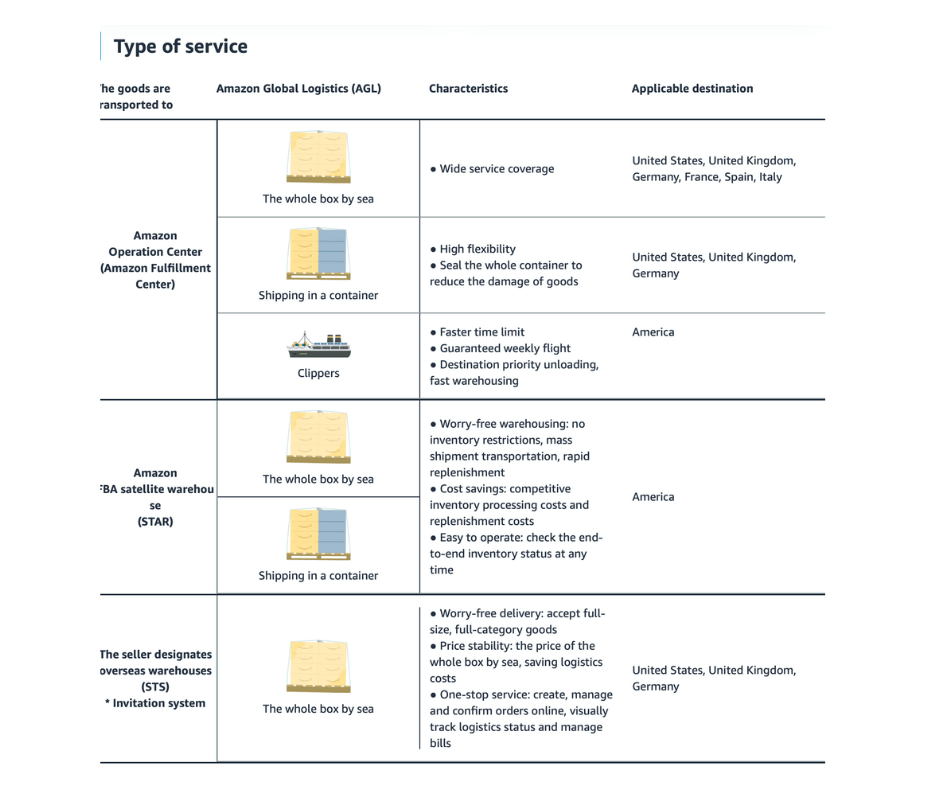 How to Ship Amazon Products Yourself
Sellers who would rather go it alone have every reason to be optimistic. With heavily discounted USPS shipping rates and generous sales tax waivers at home, they can expect to make a profit with Amazon Global Selling, dubbed "the most cost-effective way to sell" in the USA.
Foreign sellers on Amazon hoping to bring their products to the US market without making full use of their Amazon logistics options should first consider these key steps:
Find a good customs broker. Importing goods into the USA by sea involves doing paperwork, paying taxes, sorting out product documentation, etc. Some customs brokers can handle not only the customs process, but also inventory storage and freight forwarding, so it's worth looking for professionals with experience in Amazon shipments from China.


Opt for air freight services. When you use air freight services (e.g., DHL, FedEx, UPS), you don't need a customs broker. But you may be asked to cover some costs for speedy customs clearance, on top of some already hefty air freight costs.


Budget for customs fees. Depending on the type of shipment, you will be charged a Merchandise Processing Fee (MPF). As the CBP explains, it ranges from $27.75 to $538.4 per shipment, equaling 0.3464% of its value. You may also be charged a Harbor Maintenance Fee (HMF) of 0.125% on any ocean freight, as well as Harmonized Tariff Schedule (HTS) rates and Federal Excise Tax (FET). USA Customs Clearance has more on this topic.


Consider other costs. Aside from the costs associated with customs duties and tariffs, you'll also be liable for varying freight costs imposed by the port, costs associated with the size of your shipment, costs for splitting or merging shipments, insurance costs, document processing fees, and accessorial charges.


Prepare for the unexpected. If you end up shipping directly to Amazon FBA, it's not just about prepping and making shipping lists. Get ready to ship to Amazon's chosen warehouse or sorting center, which could be in a far-flung place like Alaska. This could add a few more days to your ETA and thwart your plans to launch on Amazon when a sales event is in full swing.
Amazon Logistics Tip for Private Label Sellers
It's plain to see why, with so much planning involved and so much at risk when you ship Amazon products, most customs experts recommend finding a good customs broker. But if they can also provide additional services, you get the best of both worlds. Here are some of the services you should look for:
Sampling the items to check that they match what you bought from the supplier and what you listed on Amazon, fixing any discrepancies before the shipment makes its way to a fulfillment center or the buyer.


Carrying out simple quality assurance tasks, or outsource the service to a specialist provider at your request. This way, you can address production flaws before they spiral out of control.


Prepping your inventory in line with Amazon packaging and labeling requirements. They can also outsource any assembly work to a third-party prep center at your request, saving you the trouble of paying hefty hidden costs.


Storing your items to avoid long-term storage and overage fees, especially if you anticipate going over your monthly capacity limit.
Now that you've seen what it takes to ship Amazon products to a warehouse in the USA, follow our blog for even more tips for foreign sellers on Amazon. Next up in our series: strategies for creating compelling product listings that resonate with the American buyer.
Don't miss the chance to get fresh Amazon News and Amazon expert insight articles right when we post them directly in your inbox.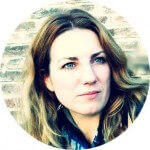 Melanie takes an active interest in all things Amazon. She keeps an eye on the latest developments and keeps Amazon sellers up to speed.