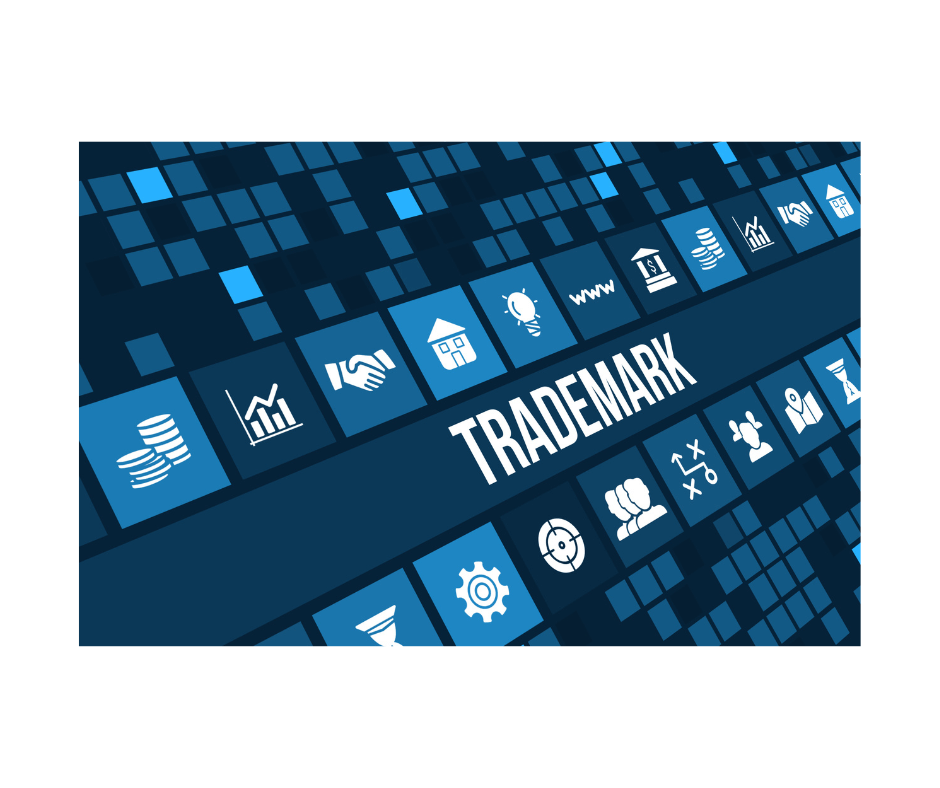 How do you protect and build your brand identity on Amazon? Easy. Get your USPTO registered trademark, become a registered brand on Amazon, and make full use of all the amazing tools that can help protect your Intellectual Property A collection of ideas, concepts, … More.
As a third-party seller, it may feel like you need to compromise on your brand identity on Amazon in return for more sales. In this give-and-take, your Intellectual Property A collection of ideas, concepts, … More is easy prey. But there are ways to steer clear of issues like counterfeiting, piggybacking, and copyright infringement on Amazon.
Apply for a Registered Trademark with the USPTO
Trademarks are a type of Intellectual Property (IP) that identify the product and set it apart (e.g., logo, slogan). As explained in the USPTO video below, your trademark is an official acknowledgement of your brand, its source, and your product quality.
Registering with the USPTO is a prerequisite for selling on Amazon under the Brand RegistryAmazon Brand Registry is a tool that ena… More program. But registering a trademark only protects specific products from specific categories, not the entire brand. Products in a new trademark class will lack any trademark protections.
As attorney Yael Cabilly pointed out in her trademark protection guest post, if you registered the trademark "baboon" for your puzzles and another seller uses the same branding for phone covers, you can't do anything about it. But if they were to sell board games, you'd probably be able to delist them.
How to Obtain a Registered Trademark
Trademark applications are lengthy processes and they are regional. You must file them in every territory where you want your brand to be protected, and it can take 7-8 months for them to start coming through. Also, different territories have different trademark requirements.
For instance, the USPTO expects brand names and logos to feature words or letters. But if your application is rejected, you may still be accepted for the Supplemental Register, featured in TM searches, and allowed to use the ® symbol.
Also, your trademark applications in other countries may be prioritized. But you'd only be eligible for the USA's Principal Register after 5 years, so you can't sign up for Brand RegistryAmazon Brand Registry is a tool that ena… More on Amazon until then. Here is a list of government trademark offices:
Tips on Trademark Application
Anyone, from any country, can apply for a trademark. But before you begin your registration, there are a few things to consider. Here are some of the most important ones for any Amazon seller who wants to apply to the USPTO:
As of 2020, electronic filing is mandatory.


An application can cover several products, but only a single brand.


Every trademark is unique to a particular field.


You must check that your trademark is available in your category and unique to your field.


To look up your preferred trademark, check the Trademark Electronic Search System or the equivalent for your region.


You can use the ™ symbol anytime, even before you file for a Trademark, but only if it's available.


You can only use the ® symbol for a registered trademark with a valid certificate of registration.


You must classify and define your products in accordance with the [USPTO] rules.


You can register in several categories, as long as you can prove that you sell in each of them and you pay the added fees.


You must file a "Statement of Use" and show that you are using the mark in your region (i.e., selling products labeled with that trademark).


"Proof of use" can be a photo of your product/packaging with your chosen mark.
How to Register a Trademark With the USPTO
Pass the ID checks. You'll need an ID.me account. It's here that you'll submit your Social Security Number and your biometric information (photo ID and selfie). You'll also give ID.me access to your credit profile. This won't affect your credit score.


Decide between TEAS Plus and TEAS Standard filing. The former is not only cheaper, but much quicker if you're filing for a single trademark category/class. As you file your application, you should also make note of any colors, characters, translations, and transliterations that apply to your mark.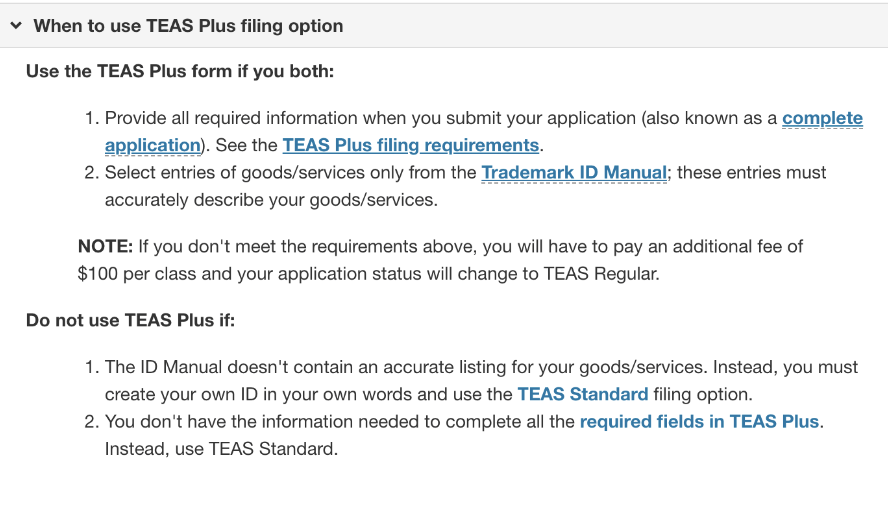 Submit Registration information. This is where you must decide if you want to register your mark as "Special Form" (e.g., stylized logo with special font size, color, and style) or "Standard Character". The first option involves sending your logo design file, description, and evidence that you use it in trade (e.g., billboard, signage, photos, brochures, website printouts).


Declaration page and signing. As you reach the end of the application process, you'll be given the option to "Sign direct" or "email form to a second party for signature".


Payment. As the USPTO fee schedule shows, it costs $250 to file a single-class trademark application with the TEAS Plus form, but petitions and appeals can run into thousands.


Submit the application.
How Amazon Tools Protect Your Intellectual Property
Registering your trademark is a prerequisite for Amazon protections and an incentive for the Seller PerformanceA measure of how well Amazon sellers are… More Team to help you. If you're not yet fully registered, you can still warn hijackers that you applied for your ™ and even complain to Amazon, but that's about it.
Amazon Brand Registry
Once you have your certificate of trademark registration, you can sign up for Brand RegistryAmazon Brand Registry is a tool that ena… More, a self-service IP protection tool launched in 2007 and available to sellers on 22 venues.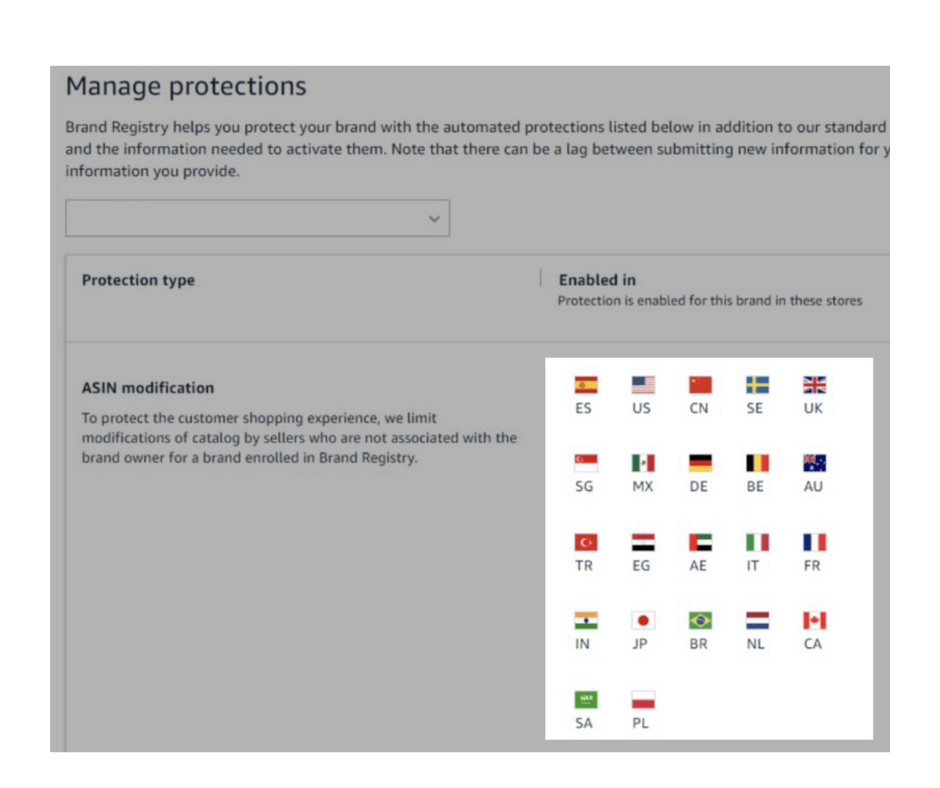 Amazon will check that your ™ is officially registered with a trademark office with jurisdiction on its market, and that the ™ matches the branding on your product and packaging. Once accepted, you can enjoy an array of amazing perks, including:
More control over your brand's presence on Amazon.


Access to brand-related programs like New Seller Incentives.


A dedicated team at Amazon that helps escalate your cases and report tech bugs.


Enhanced Brand Content (a.k.a. A+ Content). Sellers can add their brand story, use enhanced images, and change the layout of their product page to boost rankings and conversions.


Stores (a.k.a. Store Fronts). A custom-made retail website on Amazon. When buyers click on your seller name, they are taken to your Store, which talks about your brand your way.


Brand Analytics. Get insights into buyer demographics, buying behavior, search terms, catalog performance, and pin-point the target customer.


Sponsored Brands Pay-Per-Click (PPC) ad platform f… More. These were once banner ads shown above search results to boost brand visibility. But they can now display as images, brand logos, and even video content anywhere within search results and on product pages.


Amazon Live. This is a broadcasting service that enables sellers to showcase their products and deals via interactive video streaming. It's a good way to engage with customers and build trust.


'Report a violation' tool. Look up listings, ASINs and images globally, either one-by-one or in bulk and make complaints quickly using the same EIN.


Automated brand protections (ABP). Leverage Machine Learning (ML) bots to look up millions of listings in the background, identify bad actors, and prevent their listings from going live.


Transparency. Apply unique codes to your items that show their journey from manufacturer to buyer and prove authenticity via the Amazon Shopping or Transparency app.


Project Zero. Access this invite-only program and feed trademarks, logos, and other key information to Amazon's bots, so they can bring down counterfeit listings. There's also a self-service, abuse it & lose it counterfeit removal tool for taking out listings manually.


Counterfeit crimes unit (CCU). This global team liaises with brands, customers, and law enforcement to detect, investigate, and remove counterfeits from Amazon, as well as refer bad actors for prosecution.


The Impact Dashboard. As this LinkedIn screenshot of this Brand RegistryAmazon Brand Registry is a tool that ena… More dashboard shows, Amazon blocks or removes countless hijackers from a single brand's listings. This shows vulnerable products, venues, and long-term trends.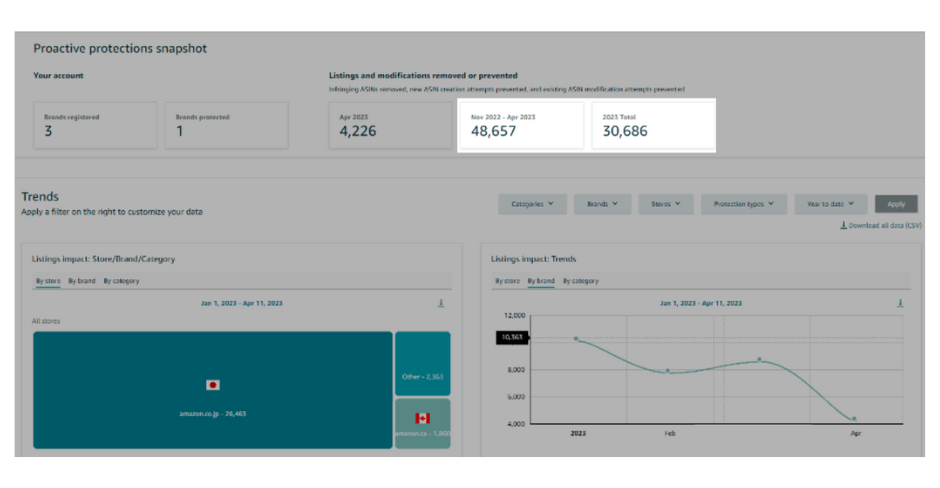 But bear in mind that a registered trademark on Amazon isn't a magic bullet. If you sign up for Brand RegistryAmazon Brand Registry is a tool that ena… More, this protects the content of your listings, such as your product photos and descriptions. It doesn't protect your brand on or off Amazon. Counterfeiters can keep on making knock-offs.
How to Sign Up to Brand Registry
Anyone who owns the rights to a brand can sign up for Brand Registry, including Private Label sellers. Current eligibility requirements state you can sign up if you haven't sold on Amazon before, as long as your trademark is registered or pending and you have an active text-based or image-based trademark.
Before you hit that Enroll Now button and create your Brand RegistryAmazon Brand Registry is a tool that ena… More Account, make sure you tick all these boxes. Amazon's bots will use this information to verify you and block other sellers who use the same credentials or claim to be producing the items in other countries:
A list of the product categories you think your brand should be listed under.
The list of countries where you make and distribute your products.
Images of every product and packaging that displays your branding.
Your website's URL and/or a link to your webshop page (WordPress is fine).
Your chosen key attribute (model, style, catalog, or part number).

It can take as little as 24 hours to get approved, but give it a few days. Also, be sure to apply separately for each marketplace and to check that your product isn't already registered. Amazon will send a code, usually by email, using the contact details given, and notify you.
Other IP Enforcement Tools
Even if you don't sign up for Brand RegistryAmazon Brand Registry is a tool that ena… More, you can still use a suite of tools to protect your brand identity on Amazon. For instance, the Report Infringement form is available to brand owners only, but there are links on the page that both sellers and buyers can use to file infringement claims, which sellers can then appeal.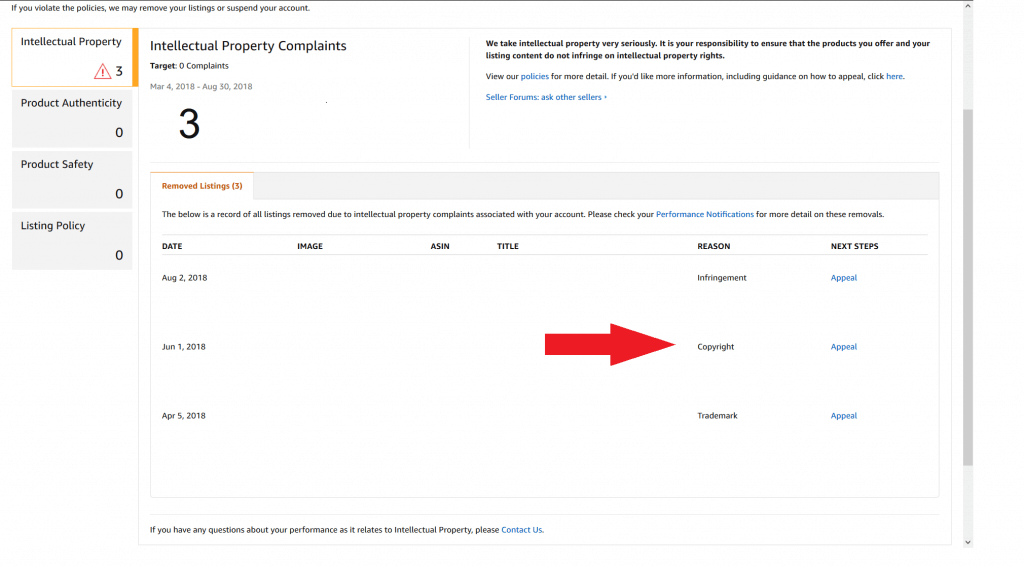 Also, patent owners can join the Amazon Patent Evaluation Express (APEX) program through the Report a Violation tool, preferably after hiring a patent attorney. They can then ask Amazon to check up to 20 ASINs at a time for patent infringement. Amazon appoints a neutral attorney to look into the claim. Within 2 months, a decision is reached amicably and confidentially, as explained by Plus IP.


As you can see, there's no shortage of ways to protect your Amazon brand identity, whether you're a registered seller or not. But only if you apply to the relevant authority for a registered trademark certificate and then take definitive steps to guard your Intellectual Property A collection of ideas, concepts, … More and prevent copyright infringement on Amazon.
Don't miss the chance to get fresh Amazon News and Amazon expert insight articles right when we post them directly in your inbox.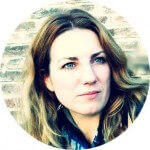 Melanie takes an active interest in all things Amazon. She keeps an eye on the latest developments and keeps Amazon sellers up to speed.