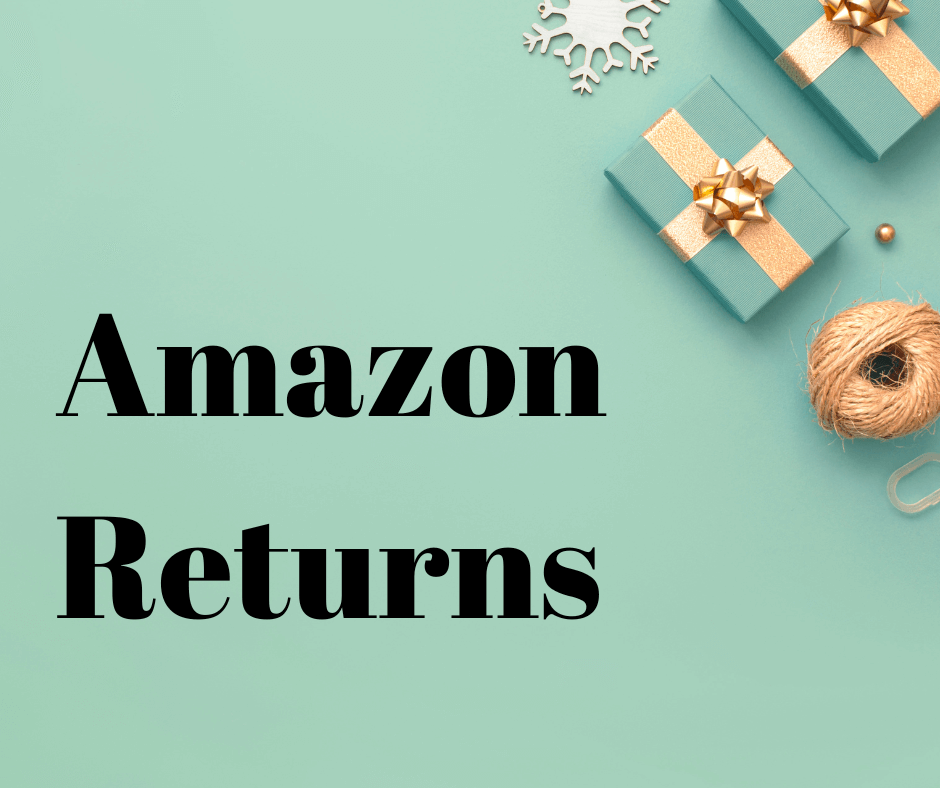 Editor's Note: Originally published on Jan. 1, 2021, last updated on Oct. 26, 2022.
With winter sales starting earlier this year, it's important to get ready for another season of rampant Amazon returns. So, before sales pick up, let's make sure your Amazon return policy is ready for a busy Q4. 
According to the NRF, nearly half of holiday shoppers want to start buying their gifts and seasonal items early this year. In response, retailers are starting their deals and promotions earlier too. So, now is the time to brush up on the latest Amazon return policy.
After all, Amazon's already published its Holiday Toy List and Toys we love selection. Not to mention the Prime Early Access Sale from 2 weeks ago, which already ate into people's budgets. But why start thinking about Amazon returns this early on?
Thanks to a generous Amazon return policy, buyers have until the end of Jan. to return items bought as early as Oct. 11. So, whatever you can do to minimize returns now will manifest when you need it most. That is, when sales are down and metrics are at risk.
5 Tips on Handling Your Amazon Returns
    1.  Know What You're Up Against
It's tough times and people are weary of inflation rising. Nowadays, 58% of holiday shoppers care about sales and promotions, compared to 48% of them at this time last year, the NRF claims.
But this thriftiness may induce buyer's remorse and motivate people to return more products. The fact that the average returns rate for online orders was 20.8% last year, 2.7 percentage points higher than the one before, points to a worrying trend.
Customer expectations are changing too. The Pulse of the Online Shopper shows that everyone expects easy and free returns or replacements, fast refunds, and easy-to-print labels. But only 81% of people expected free returns in 2015, claims the same UPS report.
Today, the 'buy-several-keep-one' tactic is seen as reasonable. Offering a variety of return options is a way to boost customer loyalty. Finally, the transparency of the reverse logistics process is seen as a way to shape buyer opinion and bring about repeat business.
Even in India and China, where the onus is usually on the customer to pay for returns, attitudes are changing. Amazon's return policy may have been ahead of its time a few years ago, but these days, it's the bare minimum. Here's a list of important return stats:
Poor return policies drive up to 82% of online shoppers away, ReadyCloud claims.
92% of shoppers are more loyal to companies that offer free, no-hassle returns.
A poor return service will drive away 30% of online shoppers, Apex Insight says.
    2.  Off-set the Cost of Free Returns
Restocking isn't cheap. But that's not something a buyer wants to hear. You can only refuse a return if the return window has closed. So, your knee-jerk reaction might be to withhold some money. But it's only allowed if it's damaged by the buyer, used, or out of policy.
So, how much can you charge a buyer for returning an item? Amazon's guidelines for restocking fees are very clear on that. Here's what sellers are allowed to charge Amazon buyers:
Sellers are expected to at least match this in their version of the extended Amazon return policy. Since the return window has been extended to the end of Jan. 31, 2023, restocking fees should only be charged if the item has been used, damaged, or shipped before Oct. 11.
But you need to absorb more than the cost of handling your returns, storing, listing, mending, and offsetting their wear and tear. Amazon will claw back 20% of the original fees as refund administration, up to a maximum of $5 (or £5, €5, etc.) per title.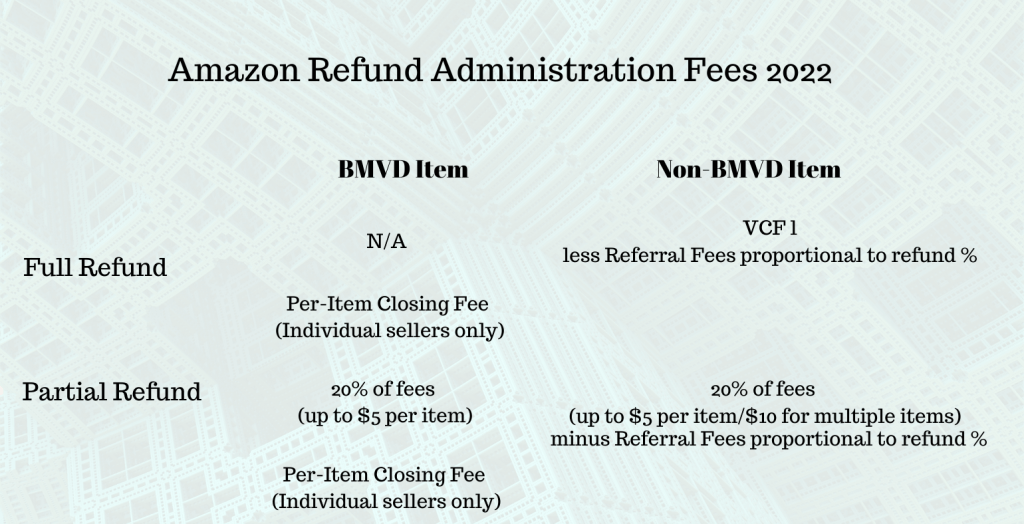 So, don't charge for the return. Charge more for the item. When you price your item, factor in Amazon's 20% refund fee, your average holiday restocking fee, and the estimated rise in return rate (e.g. 23%). With a repricer like Sellery, it only takes a minute to set a markup.
One way to avoid paying a refund admin fee is to enable Returnless Refund. This enables buyers to keep the item and also get a refund or a free replacement. Here's how it works. The buyer has 30 days from the time they receive the item to make a replacement request.
If they don't do it on time, Amazon will send you a request instead. They then have 7 days to return the item. Amazon will issue a new, 0 value replacement order. You must ship a replacement item once the original item is scanned by the courier on its way back to you.
This way, you'll do your best to avoid going over the 10% threshold for Return Dissatisfaction Rate. And you won't step on Amazon's toes. Also, make sure that you mention if they're entitled to a refund on their shipping costs or return costs.
    4.  Inspect Every Item
Whether the item being returned to you was fulfilled by FBA or MFN, you should make sure to check it before you issue the refund. Here are some of the reasons you may want to keep a record of every item and give your returns a once-over before you part with your money:
It's not unusual for Amazon's staff to mark an item as "Customer Damaged" and relist it, when it should have been classed as "Defective" and marked for removal as unfulfillable inventory.
There have been reports of fake items being returned to Amazon FBA, and later relisted. When Amazon catches up, an investigation may ensue, but refunds would still be issued at the seller's expense.
If you signed up for FBA virtual tracking (a.k.a. commingling or stickerless inventory), you may be held accountable for another seller's faulty products.
FBA items that are brand new may be returned to you as "Defective", just because buyers want a free pass. Resolving the issue is as easy as opening a ticket in Seller CentralAmazon Seller Central is a portal or a h… More and sending a photo of the item and the packing slip.
You may be able to charge the customer a restocking fee if they aren't entirely honest about the conditionProducts can only be listed on Amazon if… More of the item, or if they return the item too late.
Dishonest buyers may think twice about returning an item if they know you keep a detailed record of what moves through your warehouse.
    5.  Have a System in Place
Don't expect Amazon to watch over your returns and refunds. To minimize the cost of processing returns, you must enforce an accountability system within your own company. Make sure you task your most experienced staff with these tasks:
Keep track of every return authorization, claim, and outstanding refund, so that you don't miss your deadline for resolving the issue or agreeing to and issuing the refund.
Keep a record of pending refunds and cross-check it with your refund notification emails from Amazon.
Check that every Prime order is returned to Amazon FBA within 45 days. If not, they must let Amazon know and request a reimbursement.
Personally inspect every item that comes back to the warehouse and determine if and how they should be restocked and relisted.
Maintain a database with unfulfillable inventory, relisted FBA items, removal orders, and MFN returns, so that no order slips through the cracks.
Liaise with customer support staff so that troublesome buyers and products are flagged up.
Determine the kind of manpower needed at peak time, so that you can extend working hours or hire seasonal staff in advance, if needed.
Set up a separate department to handle reverse logistics issues.
Increase warehousing space to reduce the risk of damage and speed up returns processing.
That's a wrap for now, but you can be sure that the topic of Amazon returns will pop up again on our blog in the coming months. Follow our blog and make sure your Amazon return policy keeps up with the latest guidelines and trends.
Don't miss the chance to get fresh Amazon News and Amazon expert insight articles right when we post them directly in your inbox.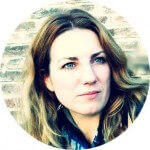 Melanie takes an active interest in all things Amazon. She keeps an eye on the latest developments and keeps Amazon sellers up to speed.