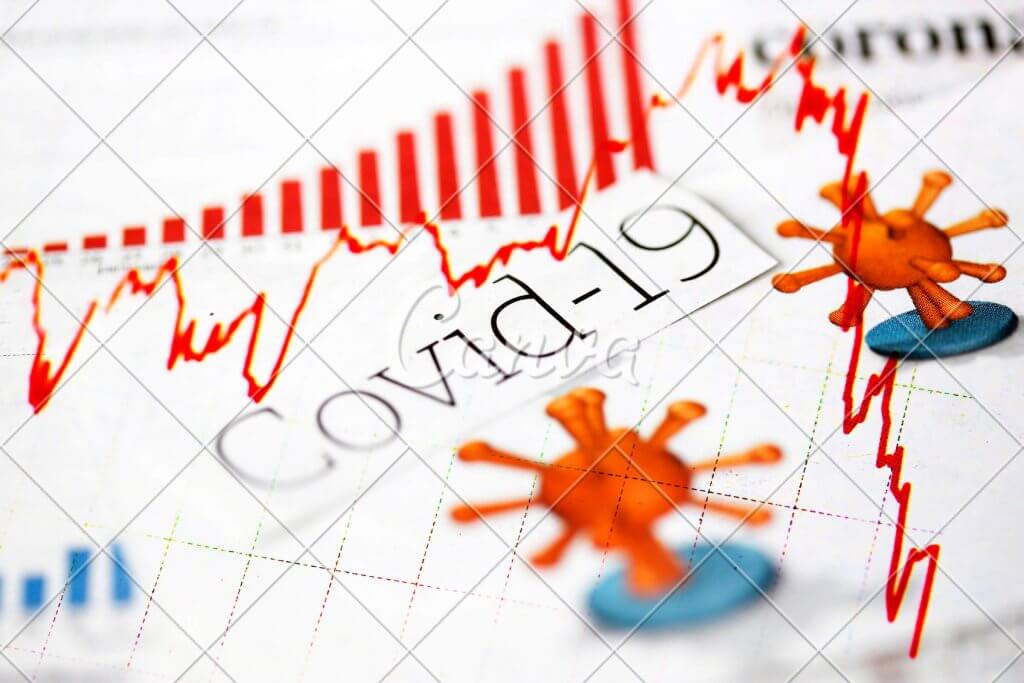 The effect of the novel coronavirus on Amazon? Probably a click frenzy the likes of which we've never seen before. But how can people tell the difference between Amazon sellers and coronavirus opportunists? How can anyone protect their Amazon Account from COVID-19 and its effects? And how can sellers help tackle the pandemic?
It's all over the news. The novel coronavirus, also known as 2019-nCoV or SARS-CoV-2, is becoming a household name. It's caused a pandemic of coronavirus disease, a.k.a. COVID-19. Health concerns aside, for anyone with an Amazon Account, COVID-19 could spell trouble. 
The unprecedented disruption to people's lives is changing buyer behavior. Just like the pandemic, these behavioral changes are happening on a global scale and affecting all online retailers. And health crises like this could last for months at a time. So, how can Amazon sellers and coronavirus outbreaks co-exist?
The Effects of the Novel Coronavirus on Amazon
People are avoiding their local stores and turning to online shopping. Not so much because they need lots of supplies to self-quarantine. But because panic buying is on the rise. Shelves are empty. And people fear being stuck at home with the disease, and having nothing but an empty pantry to show for their altruism. 
Sources like the eMarketer claim people will continue to steer clear of shopping centers in the days to come. And there's a consensus among business experts and journalists that online orders will continue to soar. That's because, panic buying aside, people are likely to do the bulk of their grocery shopping online. 
Borders are closing. Bustling city centers are ghost towns. This may sound like great news for companies like Amazon, whose biggest problem is soaring demand. But all online retailers are scrambling to cope with the fallout. Just this month eBay removed listings for masks, hand sanitizers, and disinfectant wipes.
Meanwhile, Amazon's been very busy. Here are 10 of the steps it's taken these last few weeks alone to tackle the effects of the pandemic:
Promised to take the effects of coronavirus on Amazon sellers' performance metrics.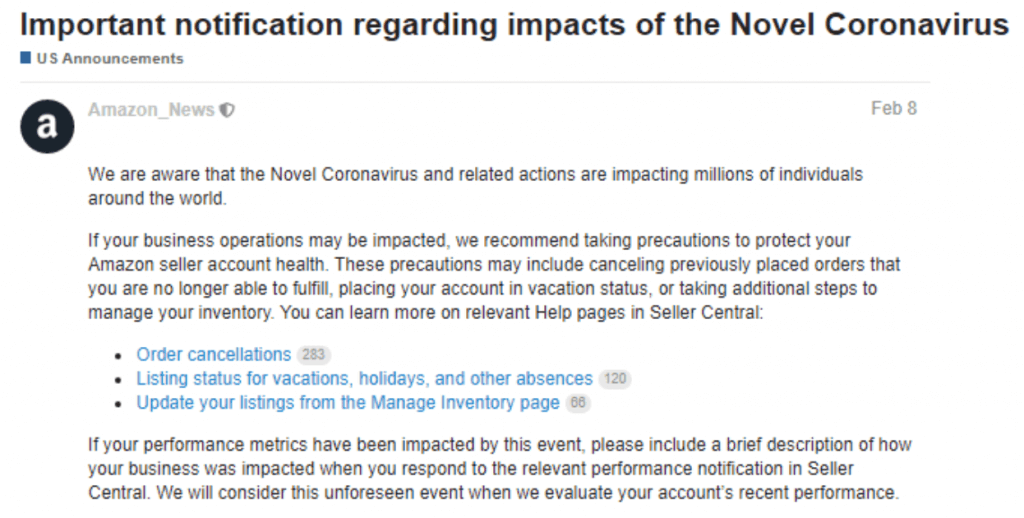 Ways to Protect Your Amazon Account from COVID-19
From the Seller Forums to private pages like the Amazon Sellers Facebook group, social networks are buzzing with questions. Some about the banning of the term coronavirus on Amazon. Others about the way some Amazon sellers and coronavirus myths are thriving. But to safeguard your Amazon Account against COVID-19, all you need to do is remember these 9 things:


1. The Pricing Rules
Amazon Marketplace Fair Pricing Policy forbids you from inflation MSRPs to look like your offer is a bargain. You're also not allowed to raise prices too high, as compared to recent prices. You can't sell units in a multiple pack for more than you'd sell them for individually. And you can't hike up shipping price.
Minimum and Maximum Price Validation rules have more to say on this. Your price can never be lower than the referral fee for your category. And it can never be more than either $200 or 6 times the most recent sales price – whichever is greater. You can only go over this limit if you manually adjust prices using the Manage Pricing tool or feeds.

2. AdvertisingAdvertising is a means of communication … More Best Practices
As demand rises, you're likely to have trouble replenishing stock. To make matters worse, Amazon's algorithm can downgrade your offer in search results for running low on stock. Your knee-jerk reaction could be to raise the price and make the most of those last few units. But if you own the Buy BoxThis refers to the situation where a sel… More, think again. It's exactly the kind of thing that takes it away from you.
If you own the Buy Box, one solution could be to advertise. But only if you're sure you can keep a steady supply from then on. Otherwise, it's best to cut your losses and focus on products with more units in stock and a less volatile demand. As for search results, you can rank non-essential products higher up now with low-search-volume keywords.


3. Long-Term Thinking
Looking at the effects of the novel coronavirus on Amazon, it's easy to see that Amazon's affluent buyers have shifted focus. It's no longer about thriving; it's about surviving. Self-containment must-haves are selling like hotcakes.
But the seasonal demand for masks, hand sanitizers, and disinfectants is likely to wane as the disease spreads and the focus shifts from prevention to treatment. So, take a long-term approach when you resupply this month. Ask yourself what you'd need if you were bedridden and alone.


4. Surge in Prime Sign-Ups
There's bound to be a drop in the proportion of non-essential items sold on Amazon. But that's not necessarily a bad thing. Not if you factor in all the new Prime members that will be signing up over the next few weeks. With FBA, the Buy Box, and a bit of advertising, you could make this effect of the coronavirus on Amazon work in your favor.


5. Safety Matters
Not every seller has robot decontaminators at their beck and call. And not all buyers believe that packages from abroad are virus-free just because they travel longer than the virus can survive. In fact, this idea is a fallacy based on many assumptions – too many for comfort- like:
no infected person comes into contact with the box en route.

warehouses and sorting hubs are not contaminated.

COVID-19 behaves just like other coronaviruses do in transit.

last-mile delivery is virus-free (sterilized vans, couriers keep their distance, etc.).

At this point, it's best to err on the side of caution. If you have any means of isolating and disinfecting packages and their contents before dispatch, you should. And if you work with couriers that have a plan to tackle the spread of COVID-19, such as Royal Mail, don't hesitate to let the buyers know.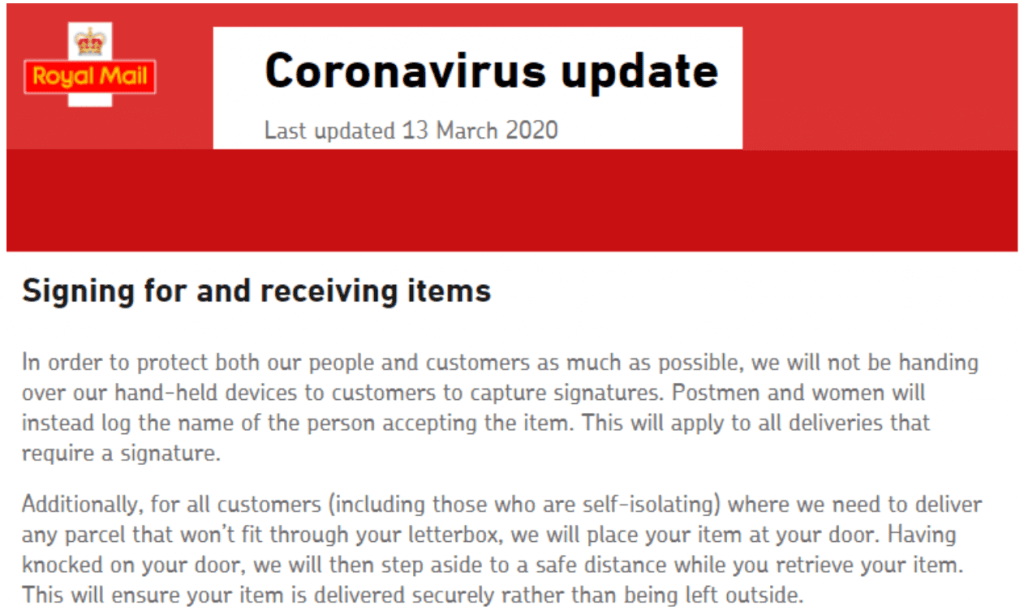 6. Surge and Stock-Out Preps


Factories in China are slowly resuming production. Meanwhile, to address stock-outs, Private LabelThis is what you call products manufactu… More sellers and other merchants who rely on Chinese manpower are thinking about diversifying. Not just the product line, but supplier base too. Their 2021 outbreak contingency plans feature countries in Europe and Africa. 
Stock-outs go hand in hand with sales surges. Countless arbitrage sellers were suspended for price gouging this month. And since they can't sell on Amazon anymore, they're sitting on thousands of units of essential items, according to the New York Times. But claim their prices were fair because shipping costs are prohibitive for goods classed as hazardous material. 
Others, such as face mask private labelers, claim dishonest sellers took over their listings and used their brand to sell inferior products at inflated prices. Unfortunately, the only advice we can offer is to think of these surge and stock-outs as cycles, not one-off events. Signing up for Brand RegistryAmazon Brand Registry is a tool that ena… More and understanding IP theft tactics on Amazon is all you can do to stop dishonest competitors. 


7. FBA is Going Local
Since many factories in China are still closed because of the mass quarantine, whole supply chains are affected. Orders placed before the Lunar New Year have not been delivered yet. FBA inbound shipments are late. And because of the pandemic, Amazon no longer accepts shipments coming straight from China. 
So, now's the time to take advantage of offers like Amazon's fee waiver for new-to-FBA products. Enrol in the FBA New Selection Program before the end of the month to enjoy free monthly storage, returns, and removals until 2021 for up to 500 new parent ASINs. 


8. Information is Key
Our advice for Amazon sellers is to not underestimate this virus or its effects. Keep up with developments on the official WHO page for COVID-19. Bear in mind that experts know precious little about this new virus. And non-experts know nothing at all. Here are three things to bear in mind:
Nobody knows exactly how long COVID-19 can survive. A

new study

claims it can last up to 3 days on certain surfaces, but it's not peer reviewed yet. So, it should be taken with a grain of salt. 

The incubation period varies. A

recent study

claims most people develop symptoms in about 5 days, while others develop symptoms after 2 full weeks from exposure. 

The disease can be asymptomatic. There's no way to know how many of the people with no symptoms carry the virus. An

estimate

for the asymptomatic ratio on a

quarantined

cruise ship was 17.9%
9. If All Else Fails….
There's always vacation mode. It's the only way to take a break from the coronavirus on Amazon without losing face and having your rank downgraded. But if you're taking a breather, don't forget to let buyers know when your Amazon Account is COVID-19 ready and live again. In the meantime, please come back to our blog to keep up with the latest developments on Amazon sellers and coronavirus relief efforts.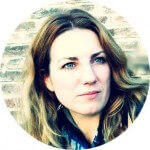 Melanie takes an active interest in all things Amazon. She keeps an eye on the latest developments and keeps Amazon sellers up to speed.