Editor's Note: Originally published on May 21, 2020, updated on Feb. 23, 2023.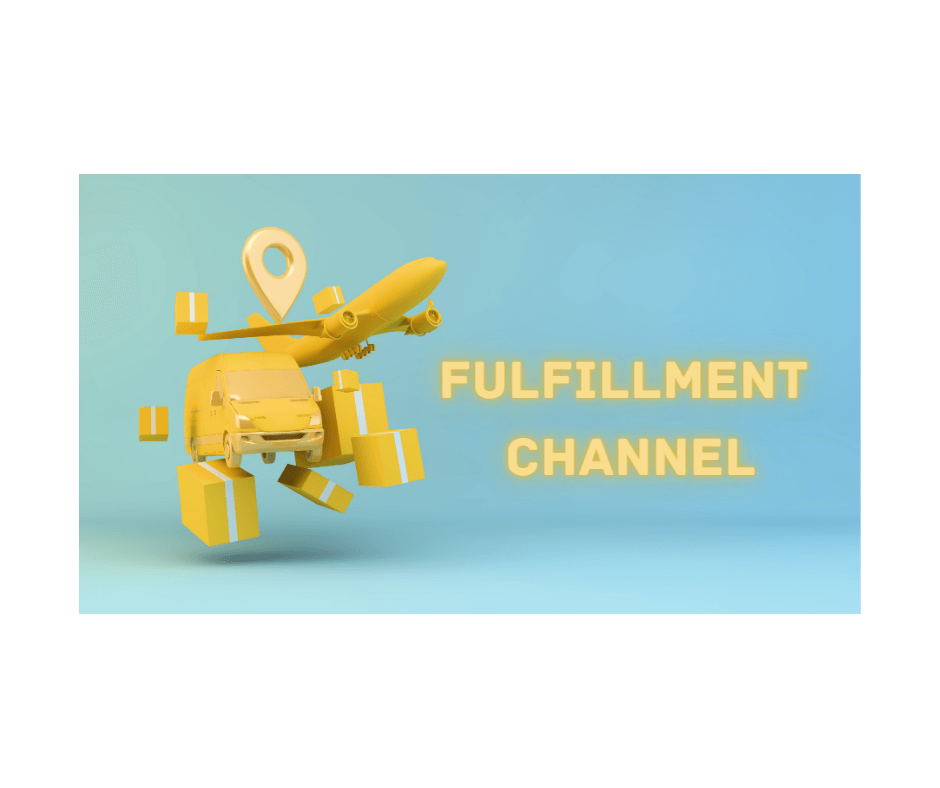 Hoping to sell on Amazon in 2023? Then you need a fulfillment channel that's right for you. There are pros and cons to every type of Amazon fulfillment, but this brief explainer will give you some valuable pointers on Amazon FBA, MFN, and so on.
Types of Amazon Fulfillment
There are many ways to sell on Amazon in 2023. Your choice of fulfillment channel will dictate how you fulfill your orders for the items you sell. How you store, ship, deliver, handle returns, settle claims, issue refunds, and provide customer support will all come down to that one decision.
When it comes to fulfillment, sellers tend to use more than one model (a.k.a. hybrid fulfillment). They can also switch between them, moving inventory around to cut down on cost. But it's best to get it right the first time, choosing the right type of inventory for every one of these four main fulfillment options:
Fulfilled by Merchant (FBM): sellers fulfill their own orders in-house from start to finish, as part of the Merchant-Fulfilled Network (MFN).
Seller-Fulfilled Prime (SFP): eligible sellers fulfill their own orders but display the Prime badge and deliver with approved carriers.
Fulfilled by Amazon (FBA): sellers ship items to Amazon's fulfillment centers and hand over all post-sale operations to them.
Multi-Channel Fulfillment (MCF): drop-shipping model where Amazon stores and ships items ordered in the seller's storefronts across several platforms.
Choosing the Right Fulfillment Channel: FBA vs. FBM
For most new sellers, the choice really comes down to two options: self-fulfill via FBM or outsource to Amazon via FBA. There are many advantages as well as cost implications to both. Here are a few reasons sellers might want to opt for one fulfillment channel over the other:
Merchant fulfillment (FBM): complete control over packing, shipping, delivery, returns, refunds, and customer support.
Amazon fulfillment (FBA): fast delivery, access to FBA Small and Light, Subscribe and Save, the New Seller Incentives program, FBA Export, FBA Pan-EU via the European Fulfillment Network (EFN), Amazon's multilingual customer service, and Prime customers.
As explained in the Accelerate Getting Started webinar, some products are not well-suited for Amazon FBA. This includes perishable, meltable, frozen, counterfeit, damaged, and restricted Selling certain product categorie… More items (e.g., alcohol, tires). But small, cheap, seasonal, and CPG items are ideal for FBA.
Amazon FBA vs. MFN Fee Comparison
Setting up your Amazon account is free and easy, as seen here. You are only charged $39.99 per month in selling fees if you sign up for the Professional selling plan. And if you sell more than 40 items per month, the plan pays for itself (because it spares you that per/item fee of $0.99).
But there are other fees to consider. For seller-fulfilled orders, they're pretty straight-forward. As stated in the Selling on Amazon fee schedule, sellers pay only the following fees for orders that they fulfill themselves:
closing fee of $1.8 (media items only).
referral fees of either $0.3/item or a percentage of the sale price (usually 15%, depending on category) – whichever is higher.
If you're thinking about paying Amazon to do it all for you, tools like the FBA Revenue Calculator can give you an initial cost estimate per unit. But don't just compare MFN seller fees with these up-front FBA fees. You're not comparing like-for-like figures.
MFN fees are charged immediately, whereas FBA fees can build up over time. So, even though it might seem like you'd sell more and make more money off of FBA now, your long-term FBA fees might be higher if you don't manage your inventory properly.
Here is a breakdown of what a seller might end up paying 6 months after first shipping 'Small Standard' media items to Amazon. Notice that the bulk of FBA fees (in red) refer to overage, long-term storage costs, and prep penalties. These can easily be avoided with adequate inventory management.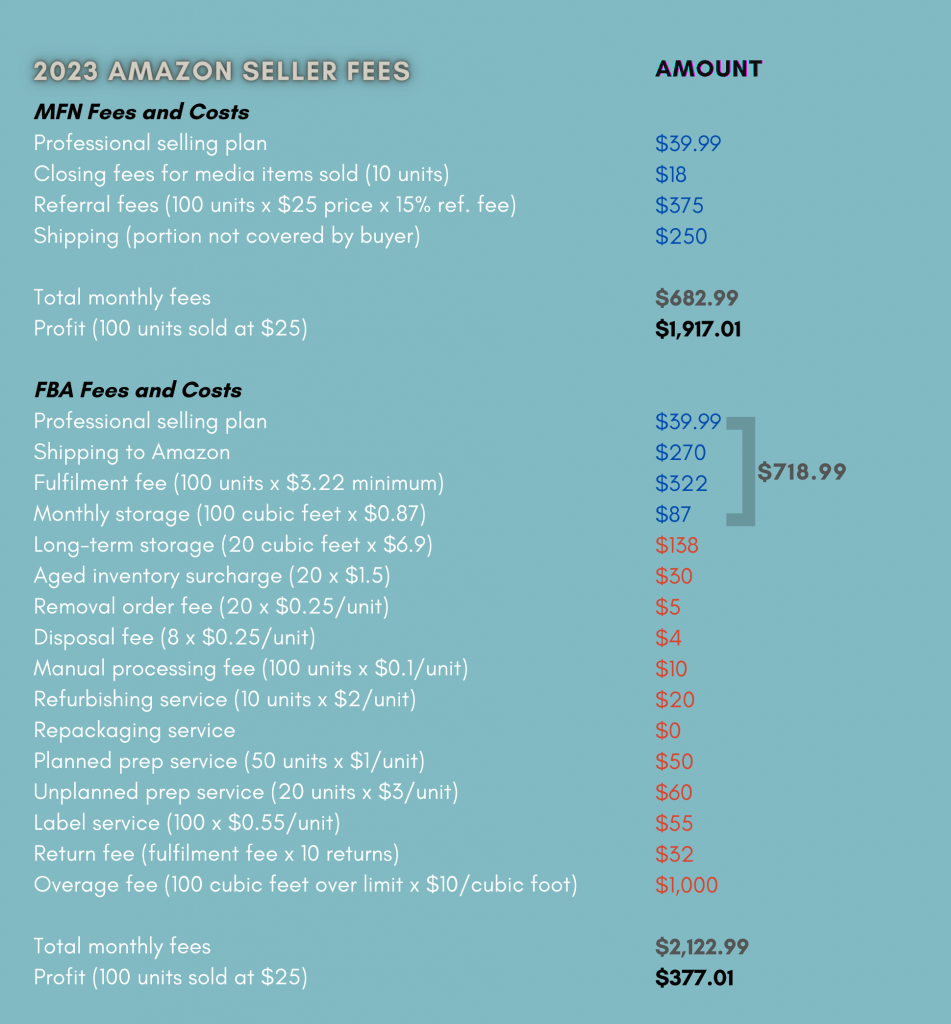 Without all these handling add-ons and storage penalties, it would have been much cheaper to sell through FBA, cheaper even than FBM. If you're not sure you can handle it all, but you don't want to hand over your entire stock to Amazon either, go hybrid.
Only send Amazon items that are small, light, hardwearing, and inexpensive, but also useful, worthwhile, and profitable. And check your inventory regularly. It's the only way to avoid runaway costs.
That's a wrap from us. Would you like to try an easier and faster way to budget for Amazon sales and choose the right fulfillment by default? Then please browse the website for more information about what BuyBoxBuddy can do for you.
If you want to sell on Amazon in 2023, there's no better tool to show you the way. It comes complete with all Amazon fees and costs, built in and up-to-date. And you can tweak your prices and margins in real time. So, whether you opt for Amazon FBA or MFN, sign up today and try it for free!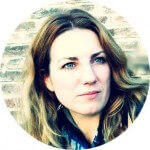 Melanie takes an active interest in all things Amazon. She keeps an eye on the latest developments and keeps Amazon sellers up to speed.