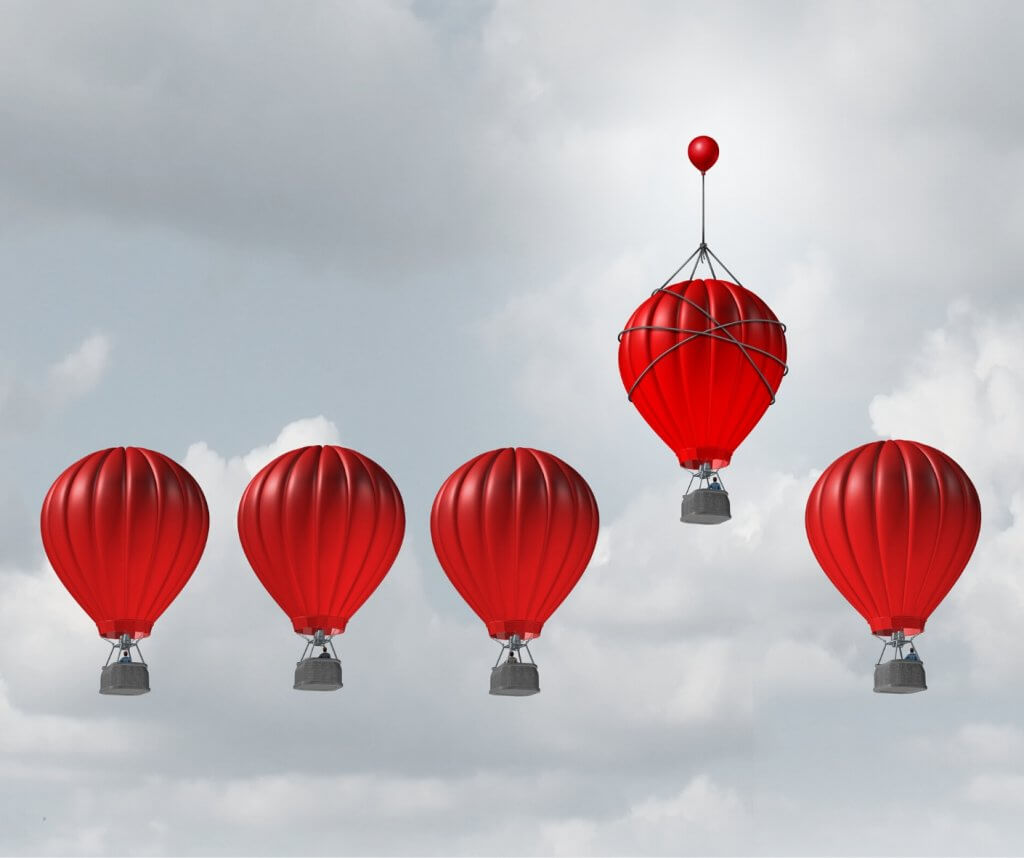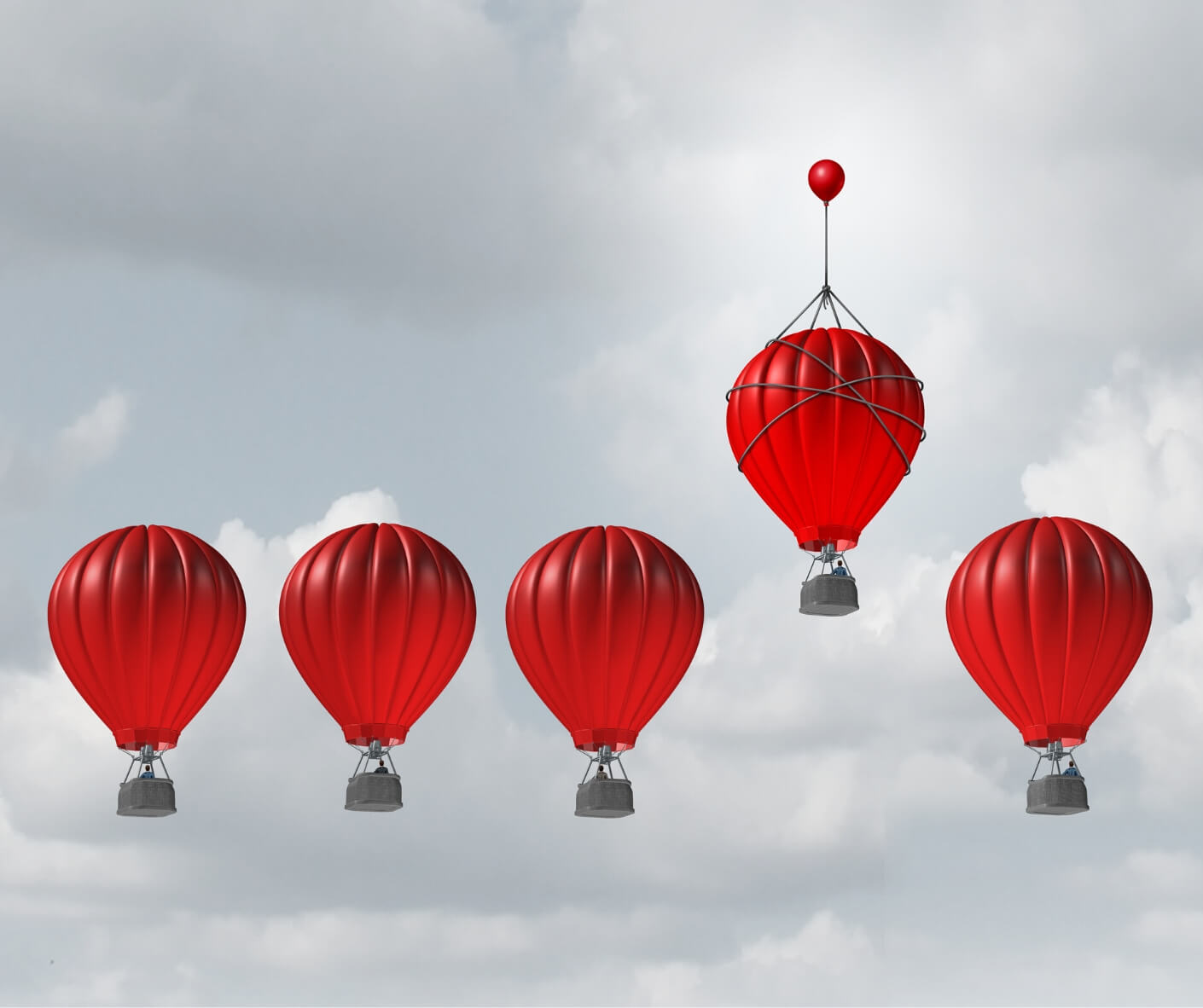 Editor's Note: Originally published on June 4, 2020, updated on Apr. 20, 2023.
It'll be Prime DayPrime Day was initially a one-day sales … More before you know it, so now's the time to boost those sales. Staying competitive on Amazon is getting harder and harder, so if you want to sell and come out on top, don't forget our list of 7 key Amazon selling tips.
In Q4 2022, sellers accounted for 59% of units sold on Amazon, according to Statista. But even so, many small US businesses are clinging to survival due to inflation, claims the NFIB. So, the market could look very different this quarter. If you're a newcomer, this may be good news.
But a competition reshuffle isn't enough of a reason for your items to sell on Amazon in 2023 and beyond. If you want to weather the storm, setting yourself apart from the get-go and staying competitive on Amazon is a must. Luckily, you can't go wrong with these 7 Amazon selling tips:
7 Amazon Selling Tips for Competitive Sellers
Build Up Your Feedback Score
A good feedbackA performance rating on a scale of 1 to … More score will bring more orders your way. And a reputation for prompt, high-quality customer service might also make disgruntled buyers think twice before going public. But there are a few reasons why newcomers may find it harder to build a good feedback score on Amazon in 2023:
More people are shopping on the Amazon app, where there's no order overview with direct link to seller feedback; instead, buyers need to click on each order to see feedback options.
People are buying more on Amazon, and the more they buy the less time they have for feedback.
The seller feedback window isn't as big as it used to be. Once the return window closes, buyers can no longer leave feedback in most cases.
The 'Amazon effect' means buyers expect more from sellers, including newbies.
People's shopping habits have shifted due to changes in their circumstances.
We're not out of the global supply chain crisis, as war, inflation, and energy instability keep developing.
Buyers seem to mistake Seller Feedback for Product Reviews or seller communication, more than was the case before the pandemic.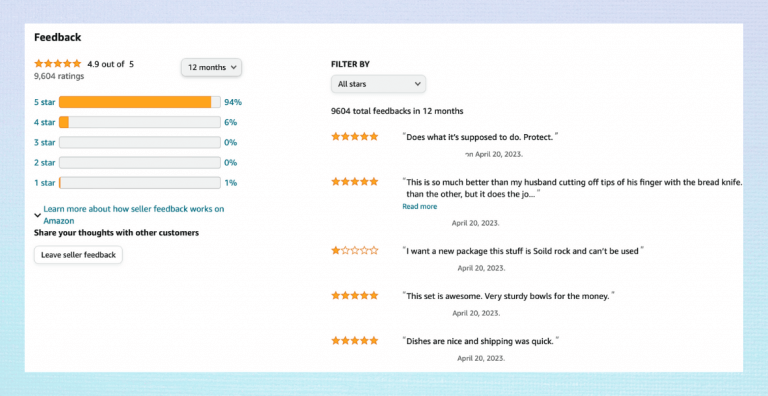 To mitigate these issues, you should embrace automation. For instance, you could send automatic thank you emails after receiving orders and/or feedbackA performance rating on a scale of 1 to … More requests a couple of days after delivery. But you should also harness your soft skills where needed (e.g., customize your packing slips with messages that feel personal to the buyer).
Encourage Product Reviews
It's been said before, but it's worth repeating. You need genuine, objective reviews, with photos or videos. You should try to boost the tally without breaking the rules. For instance, you can offer exclusive discounts for existing customers, swag bags for influencers, and freebies for reviewers.
But remember: your offer shouldn't be contingent on positive reviews. Also, you shouldn't know the reviewers personally. And you're not allowed to use review websites. But most importantly, none of your employees or associates are allowed to use 'black hat' tactics to solicit reviews either.
Why bother? Not having reviews plays into the hands of your competitors. When buyers scroll down your product page, reviews are the only thing stopping them from focusing on a competing item. Not convinced? Look at the screenshots below. What do your eyes fall on?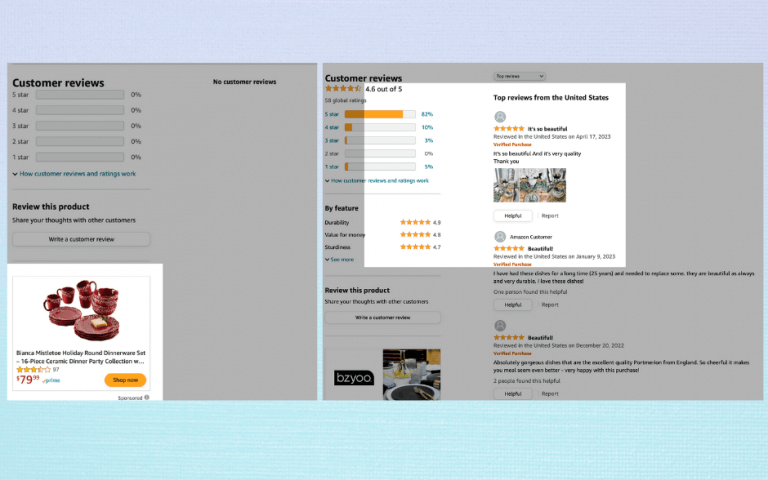 But that's not the only place buyers see reviews and ratings. If you've registered your brand and activated A+ content, your product page will display your ratings breakdown right under the bullet points, with a link to reviews. Now that the Early Reviewer Program is closed, this is the best way to showcase your reviews on Amazon.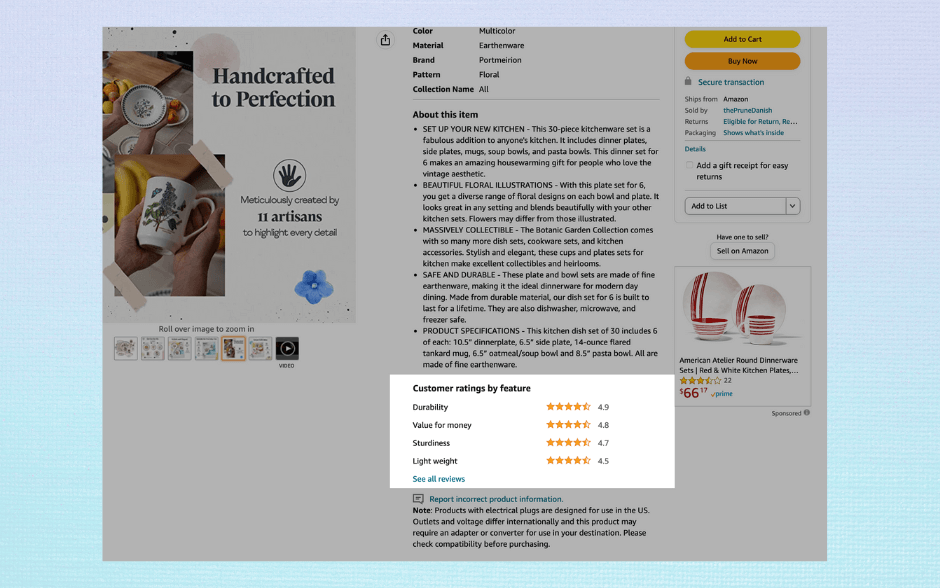 Get to Know Your Competition
Once you've built up your reputation, it's time for a thorough competitor analysis. As we explained in our earlier blog post, you can start by counting FBA and FBM offers. Then check your competitors' storefronts, business background, listings, keywords, and promotions.
You could also place a few test orders to see how and where they ship from. To get an idea of their daily sales volume, you can add 999 units of their product to your cart, and watch Amazon display their available quantity insead. Repeat over a few days and you'll know how much they sell, on average.
Price Competitively
A recent Statista survey claims that there are 4 main reasons people buy on Amazon.com: cheap shipping, fast delivery, low prices, and Prime benefits. Product variety seems to have fallen off the radar since last year's report. Prices are so important, Amazon even urges buyers to report cheaper stores.
Because price is king, most seasoned sellers use repricing software on Amazon. This kind of tool takes over the task of adjusting prices based on the market. The main perk is that it works round the clock, saving you a great deal of time. So, you don't need to keep checking and tweaking your prices.
Then there's also the fact that your price data is easy to visualize, however large your inventory may be. For instance, in BuyBoxBuddy, you can view your price history charts and keep an eye on specific products and their prices using Smart Lists (groups of items with built-in filters).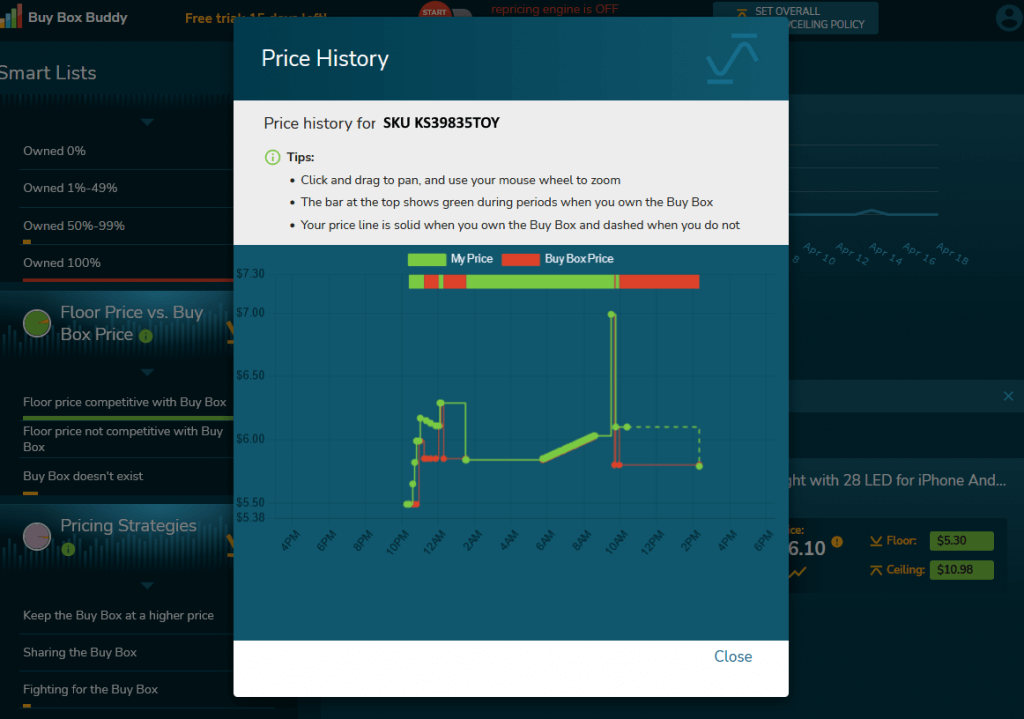 Most importantly, Amazon sellers use automatic repricers to boost sales and profits. These tools can spot a change in a competitor's price as soon as it happens. So, they can bring your price back into line quickly. But there's one major caveat with these repricers: it takes time for price adjustments to go live.
The lag is usually a few minutes long. With BuyBoxBuddy, a real-time repricer, there's no lag. This means that it can change your price faster than your competitor, giving you more time in the spotlight. And with the right strategy, it can make a competitor's next move pointless.
Another awesome BuyBoxBuddy feature is that it calculates all your Amazon fees and shipping expenses based on the item's estimated weight. Also, as soon as there's a change in Amazon's FBA fees, it takes it into account. So, your fee estimate is always accurate.

And here's the best part. Unlike other repricers, BuyBoxBuddy doesn't get caught up in price wars. Your price point is set in stone. Once you set your ceiling and floor prices, you can rest assured that BuyBoxBuddy will obey.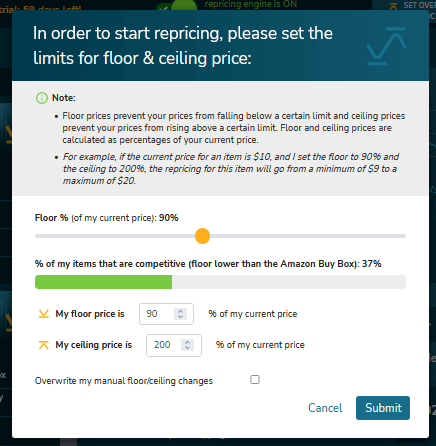 Win the Buy Box
Most transactions on Amazon go through the featured offer, a.k.a. The Buy Box. It's the default option for customers who check out without looking at the offers page. It's free, you can access it if you're eligible, and it operates on what is known as the elusive Buy Box rotation system.
If you don't know who owns the Buy BoxThis refers to the situation where a sel… More at any given moment, you're in the dark. Your chances of selling your item fall dramatically. But BuyBoxBuddy can help with that too. It shows you where your price isn't competitive enough, the Buy Boxes you're missing out on, and what you can do about it.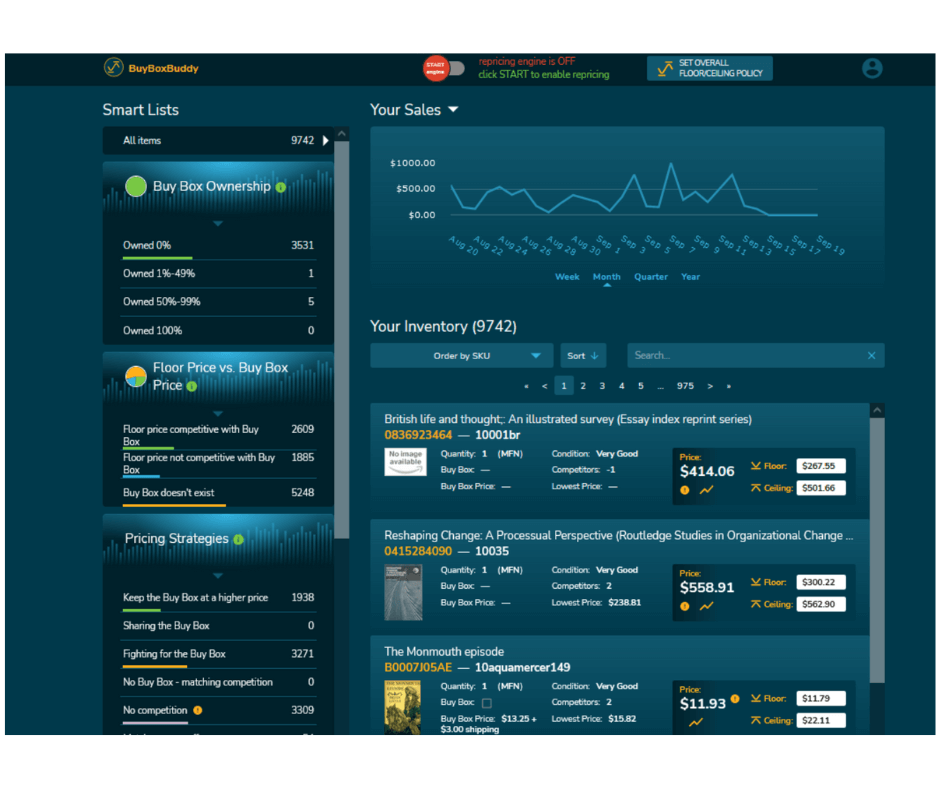 Offer Plenty of Perks
There are reports that Prime memberships are stagnating due to subscription fatigue. So, with an estimated 3 million active accounts on Amazon, based on Marketpulse claims, sellers may soon be vying for a shrinking pool of Prime buyers.
Aside from free shipping and volume discounts, up-and-coming sellers should consider the FBA Subscribe and Save program. It enables them to build up a pool of loyal customers. But bear in mind that repeat customers can leave seller feedbackA performance rating on a scale of 1 to … More time and time again, but only review a product once.
Also, you may have noticed that the subscription box is gaining momentum on Amazon. This bespoke service can include any type and number of items, from a bouquet of flowers to coding manuals. If you want to sell subscription boxes on Amazon, note that the A-to-Z guarantee applies to these listings too.
Advertise on Amazon
Advertising is Amazon's fastest-growing department. And it's an option you should seriously consider if you want to promote your product on Amazon. But as this Guide to Amazon Advertising explains, not every advertisingAdvertising is a means of communication … More option is right for a new seller.
If you sign up for Brand Registry, you gain access to consoles like Amazon Attribution, Creative Manager, and the Amazon DSP platform. They enable you to manage Amazon CPM campaigns like video and display ads. You can even use them to create and analyze off-Amazon ads.
But most new sellers only really have one option: PPC (pay-per-click) campaigns. These are free ads displayed on Amazon search pages. The seller only pays Amazon when a user clicks on them. There are two such types of campaigns on Amazon, with a very different look:
Sponsored Brands Pay-Per-Click (PPC) ad platform f… More – Brand logo, images, and/or video displayed anywhere on the product page.
Sponsored ProductsPay-Per-Click (PPC) ad platform for Amaz… More – search result displayed preferentially at the top or bottom of the page.


Both campaigns have their perks. But for new sellers, it's probably best to use them together, at least at the beginning. Amazon recommends that you try some of each, just to get a feel for what the customer is looking for and the keywords you should bid on.
Note that there's now a Similar Brands reel that runs above the product review section. It can have several pages, and only the first video on the current page goes into auto-play, while the rest are displayed as stills. That prime spot is what you should strive for to maximize sales.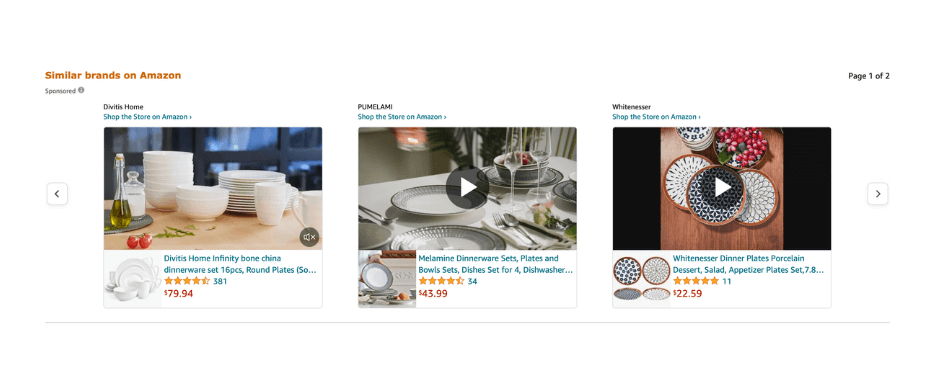 There are pros and cons to advertisingAdvertising is a means of communication … More on Amazon. Campaigning is an essential part of staying competitive on Amazon, but it's best to diversify ad spend. So, at the risk of repeating ourselves, please keep your options open.
Against a backdrop of rattled supply chains and fragile economies, it's important to be proactive if you're going to sell on Amazon in 2023. So, for more Amazon selling tips, please follow our blog post and keep an eye on our 'How to' series, where we discuss everything, from metrics to feedbackA performance rating on a scale of 1 to … More.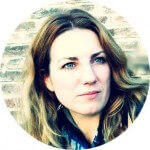 Melanie takes an active interest in all things Amazon. She keeps an eye on the latest developments and keeps Amazon sellers up to speed.