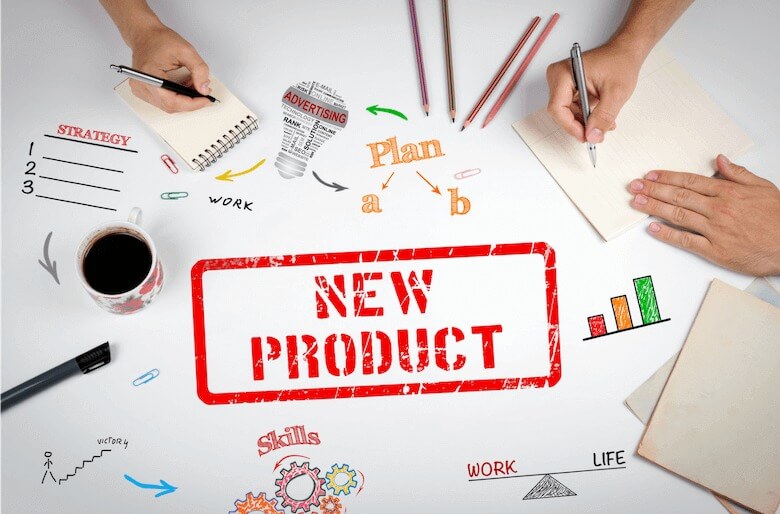 Amazon can be a minefield for sellers who don't do their research. Even more so for private labelThis is what you call products manufactu… More retailers and brand owners. If you developed a product and you're thinking about listing it on Amazon, here are a few things you should know.
Selling your own product on Amazon is no mean feat. So, if you want to start off on the right foot, you need to adopt a very broad perspective. But before you think about all the aspects involved in this new business plan, you'll need a few practical pointers.
If you're not listing a Handmade product, and you can't sign up to Amazon LaunchpadLaunchpad is a platform that features ve… More or the Amazon Storefronts platform, then being a third-party seller is your only option. At least until you become eligible for a Vendor account.
How do you go about it? A mindmap is a good place to start. But before you can begin to connect the dots, you need research and practice. Here's how you can launch your product on Amazon:
Check Listing Guidelines and Restrictions
Before you go on investing any resources in your Amazon shop, be sure to read Amazon conditionProducts can only be listed on Amazon if… More guidelines and the updated restricted Selling certain product categorie… More products list. They can help you see if your product falls in a 'gated' category or if you need to take extra care listing, storing, or shipping them.
Note: These official help pages are for sellers operating on the US venue. Pages for other venues are easy to find online.
See If It's Worth Listing on Amazon
Before you launch, have a look at the list of Amazon selling fees. If you can find a product from the same category and roughly the same size, you can use the Amazon FBA Revenue Calculator to estimate your margin. Enter your costs, including purchase price, labor, storage, and packaging material. The calculator will show your fulfillment costs with both the merchant fulfilled network (MFN)When the seller is in complete control o… More and fulfillment by Amazon (FBA)Rather than shipping the merchandise to … More.
The screenshot below shows a comparison of margins as a table and graph. Note that the storage fee figure quoted for Amazon fulfillment is a monthly fee. Secondly, the Selling on Amazon fee of $39.99/month for Professional sellers or $0.99/item for Individual sellers has not been added. Also, think about shipping costs for individual packages sent to MFN customers. Would they cost more or less than the pallets sent to Amazon fulfillment centers via FBA?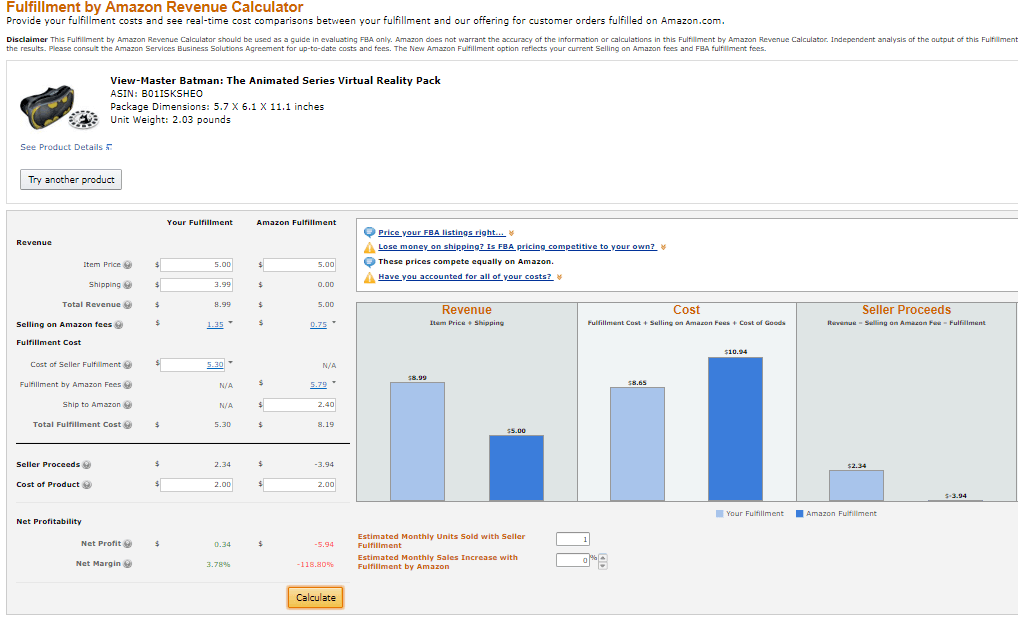 Choose How You Want to List Your Product
Assuming you've already signed up for a seller account, you can start listing right away. As explained in this Amazon Seller University tutorial, there are several ways to list something on Amazon:
Uploading a file (Inventory Loader) with listing information for existing products

Uploading new listing information in bulk using the File Upload Template

Using software tools like

SellerEngine Plus

Adding a single

new product

to the catalog with the Add a Product Tool

Matching existing products with the Add a Product Tool and the 'Sell on Amazon' button
List Your Product on Amazon
The Add a Product Tool is probably your best option. If so, then Amazon Seller University tutorial below can show you how to add your product to the catalog in a matter of minutes. Before you begin, check out our Private LabelThis is what you call products manufactu… More listing FAQs and listing optimization tips to avoid suspension issues down the line. Also, be sure to read up on product variations if your product comes in a variety of colorways, textures, finishes, etc.
Advertise on Amazon
Once your product is launched and you checked the listing for typos or other errors, start advertisingAdvertising is a means of communication … More. Sellers who sign up for Sponsored ProductsPay-Per-Click (PPC) ad platform for Amaz… More, Amazon's pay-per-click campaigns, sometimes receive free clicks. Also, consider offering quantity discounts with voucher campaigns.
Another option is to invest in the new Amazon Moments program. It involves paying Amazon money to advertise your product to buyers with the promise of an incentive. When buyers fulfill a goal, Amazon gives them credit using the money you put into the program.  
Register Your Brand
If you have an active registered trademark, then you can also sign up for Brand RegistryAmazon Brand Registry is a tool that ena… More when you become eligible. If you're a new seller, it may take some time to build the sales momentum and reputation. But once you sign up, you can personalize and have more control over your listings.
Read Up On Project Zero
As a brand owner, you're now able to oversee product authenticity yourself. Under Project Zero, Amazon requires you to use special serial numbers for all the products sold on the venue. The program gives you access to a self-service tool that deletes counterfeit listings.
That's a wrap for today, but we'd love to hear your comments and questions below. Have you had difficulties listing your own items? Whether you do private label or you sell handmade goods, any insights you can share with our readers on how to launch a new product and sell on Amazon would be greatly appreciated.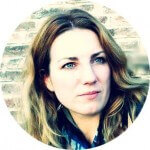 Melanie takes an active interest in all things Amazon. She keeps an eye on the latest developments and keeps Amazon sellers up to speed.