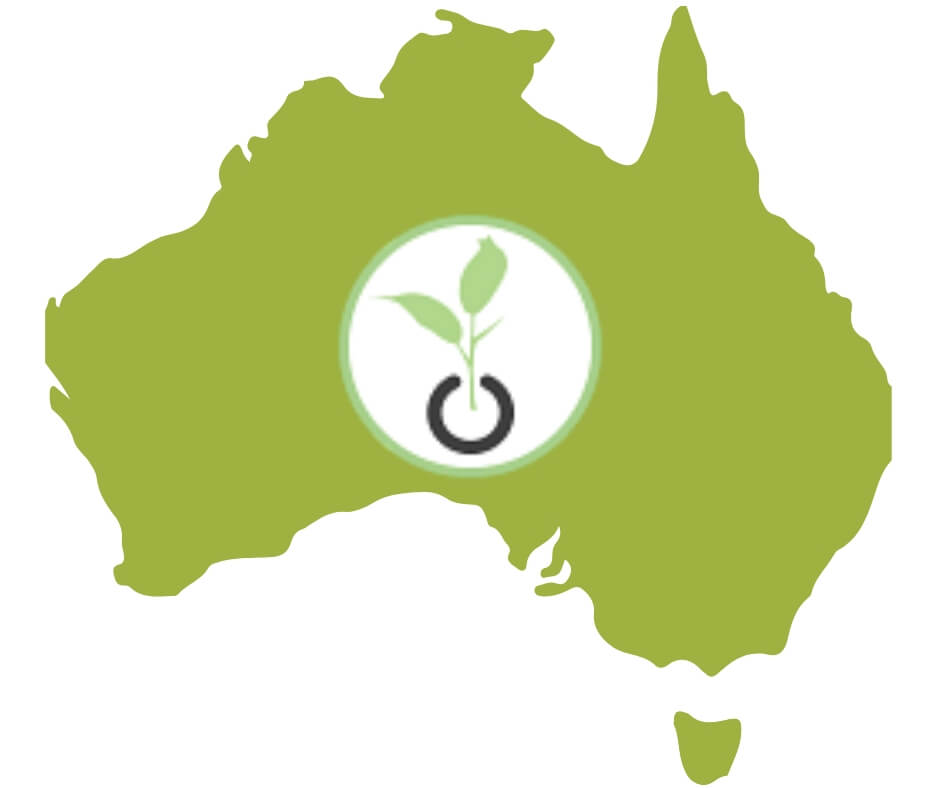 Looking for repricing software designed for people who sell on Amazon Australia? You're in the right place. Not only do we have an Aussie-friendly scouting app, but there's now an Amazon repricer to boot.
Earlier this year, we announced the launch of a new feature in Profit Bandit. It enables merchants to scout for items to sell on Amazon Australia. Not to be outdone, our Amazon repricer Sellery can now adjust your list prices on the venue too, making sure everything is priced to sell.
Why Sellery for Australia?
Australia is a growing market. It's currently the world's tenth-largest eCommerce market by revenue, with a national average YOY growth of 20.2%. And Amazon is happily riding this wave, making Amazon.com.au its fastest-growing venue.
This is good news for third-party merchants who would like to sell on Amazon Australia too. The Land Down Under is fertile ground for international expansion. Here's why:
Australia has 20.3 million online shoppers, with an average yearly rise of 1 million users.
YoY revenue growth in Australia's eCommerce market is 15.1%, Statista claims.
57% of Australia's online shoppers buy from abroad, according to WebAlive.
eCommerceDB estimates Amazon Australia net sales at $80 million in 2018.
There's less competition on Amazon Australia than on other venues.
How Many People Sell on Amazon Australia?
It looks like there's plenty of room to sell on the Australian venue. A recent Statista report claims that there are only about 20,000 Amazon Australia sellers. Compare this to global figures and you'll soon see the potential.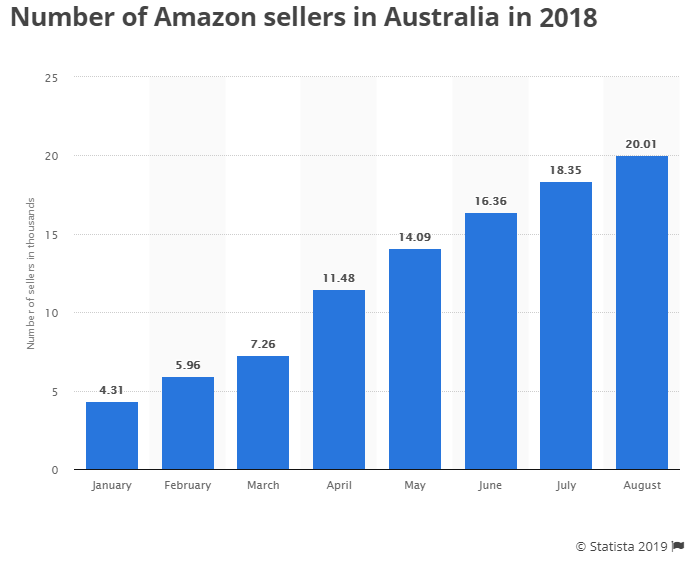 Amazon has 310 million active customers worldwide, according to nChannel. And there are 2.5 million sellers with products for sale on Amazon, MarketPulse claims. In other words, 0.32% of all the people in the world sell on Amazon, and about 4% of all the people in the world buy on Amazon.
Now let's look at Australia. It has a total population of roughly 25 million. About 20 million of them shop online. And only about 20,000 are Amazon sellers. So, 0.08% of all the people in Australia sell on Amazon, and as many as 80% could buy from Amazon, eventually.
Should I Sell on Amazon Australia?
It can't hurt to try. First, you need to sign up to sell on Amazon Australia. You can use your existing company information. You don't need an ABN or a locally registered business. But you do need is an Australian bank account.
Wait, are you asking if there's profit to be made on this venue? There sure is, because Aussies don't mind paying top dollar for something they can't find locally. But bear in mind that Oz isn't like other marketplaces. Here's what you should know:
Sellers with an Amazon.com.au account pay 10% extra in LVIG tax.
65.5% of online orders come with free shipping, claims WebAlive.
A quarter of shoppers buy via mobile, according to this Australian Post report.
Most online orders are placed between 7 pm and 10 pm, the postal service says.
What Should I Sell on Amazon Australia?
You should only invest in things to sell on Amazon Australia if you're sure you'll turn a profit. That's where Sellery comes in. It's not just the world's only real-time Amazon repricer. It's also one of only a handful of repricing tools that cater to Amazon Australia sellers.
With some tweaking, Sellery can help you help reprice any ASIN on Amazon. It can give you a breakdown of all your costs in AUD, help you estimate your profits, and drive sales with real-time price changes.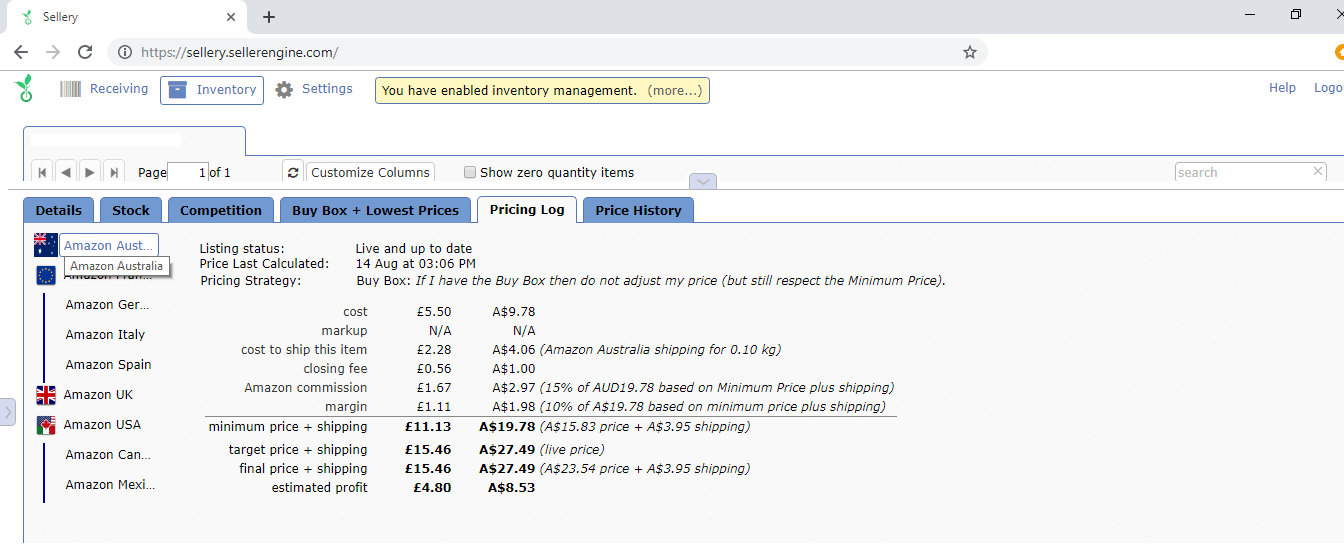 It can help you manage massive amounts of data and shift large inventories with a few simple smartlists and pricing rules. Simply enter an ASIN to visualize margins by type of fulfillment. Or run slow-moving inventory through Sellery and check what you'd sell it for on Amazon.com.au.
For extra visibility, use it alongside Profit Bandit. Take an item, scan it, and run it through Profit Bandit to see if you can sell on Amazon Australia. Check the competition and access heaps of historical data, including sales rankThe sales rank of products on Amazon ind… More.
Sellery – Real-Time Amazon Repricer for Global Sellers
Our Amazon repricer was designed to cut your losses and help you put all your resources into moneymakers. So, if you're thinking about selling globally, this is the repricer for you. It supports 9 venues and 9 currencies.
Prices start at US $50/month, charged as a percentage point of your gross monthly sales. So, you pay 1% of what you sell, up to US $2,000/month max. Not sure? No worries; you can try our Sellery for free.
The same goes for Profit Bandit. Unlimited scanning costs US $9.99/month. But sign up for a 2-month free trial and enjoy our software package for free. Give us a nudge at profitbandit@sellerengine.com, and we'll set it all up so you can buy and sell on Amazon Australia.
Wait, there's more! We've been working hard for Amazon Australia sellers this year. But we don't want anyone to feel left out. If you'd like our Amazon repricer to support other venues, please let us know using the comment section below. We'll give it a go, promise!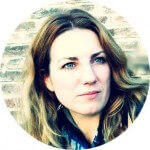 Melanie takes an active interest in all things Amazon. She keeps an eye on the latest developments and keeps Amazon sellers up to speed