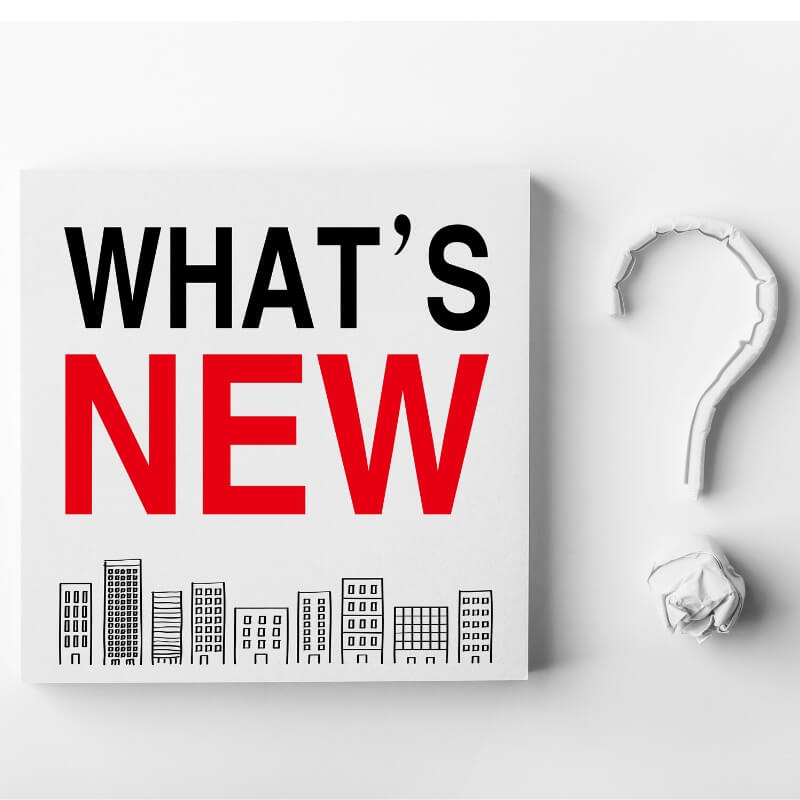 Too much to do, too little time? Find out what you should be focusing on with a few pointers from this month's Amazon Digest.
We have all the latest Amazon seller news about suspension, fee waivers, return windows, refund dead-lines, delivery disruptions, webinars, new features, and Prime DayPrime Day was initially a one-day sales … More deals.
Suspensions Back on in June
Amazon announced on the Seller Forums on May 14 that the suspension hiatus would be extended until the end of May. But on June 1, it will start to enforce performance standards again. Order Defect Rate, Cancellation Rate, and Late Shipment Rate will count against sellers from then on.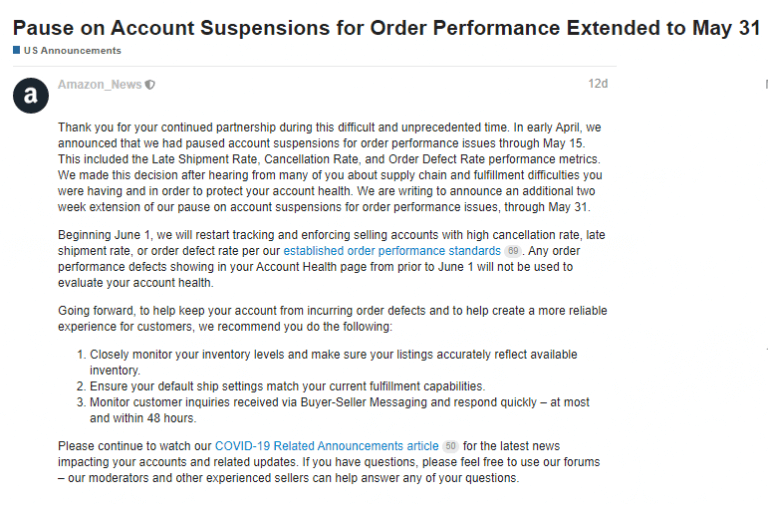 Amazon Europe Accepting Prime Day Deals and Coupons
Sellers were recently sent an email asking them to submit their Lightning Deals, Spotlight Deals, and Prime Targeted Coupons for consideration. Here is a list of these deals, along with restrictions and instructions on how to create them.
FBA Fee Waiver Extended
According to this Seller Forums post, FBA sellers can resume shipping many non-essential FBA items. Amazon waived May 15 LTSFs across 7 EU countries. Sellers with inventory in any of these countries should take this opportunity to clear slow-movers and unsellable items.
Refund Deadline Extended
Throughout the month of May, sellers who fulfill their own orders have 14 calendar days from the time an item is returned to issue a refund. On June 1, this refund window will revert to 2 days. For Amazon prepaid label returns, sellers have 90 days to file a reimbursement and a SAFE-T claim, but 60 days from June on.
Return Window Extended Abroad
Sellers in the UK and Turkey must continue to accept returns for items ordered from mid-February to the end of April until June 30. French sellers must accept returns until July 8 for items brought between mid-February and June 7. Spanish sellers must accept returns until 30 days after freedom of movement is restored.
COVID-19 Supplies Recruiting Sellers
Amazon.com's not-for-profit COVID-19 Supplies program prioritizes access to PPE for front-line organizations. Amazon is now extending a request for European manufacturers and suppliers of PPE to take part as well. Anyone joining will not pay referral fees for these items. Italian suppliers can sign up here.
Price Gouging Suspensions Reversed
Amazon recently acknowledged that it accidentally suspended good listings for price gouging. Apparently, even innocuous words like "respiratory" triggered suspensions. Rather than appeal such decisions, Amazon now allows sellers to reactivate their listings themselves. Here are the steps involved in reinstating a listing: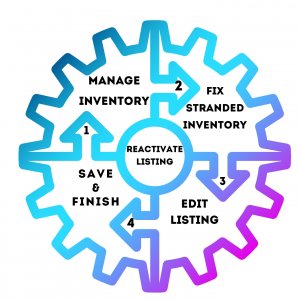 USPS International Service Disruption
The USPS is no longer accepting international mail consignments for over 100 destinations worldwide due to lack of transportation and service suspensions abroad. Sellers are advised to change their shipping templates and settings to reflect the change.
Delivery Mix-Ups
A new Amazon youtube video indicates that packages may show up as delivered when they're not. But Amazon claims that they will be delivered asap if buyers contact the carrier. So, is Amazon promising people redeliveries? Or is it just letting them know that the original delivery info may be wrong?
It's not unheard of for couriers to mark packages as delivered in advance, just so that they can end their shift on time. Not Amazon drivers, though. They can be monitored with map tracking. But just in case, sellers should keep an eye on their FBA orders and flag up any delivery feedbackA performance rating on a scale of 1 to … More intended for Amazon.
Amazon India Collects Ad Tax
As of May 1, 2020, Amazon is collecting service tax automatically for sellers based in India who have not provided their Goods and Services Tax (GST) ID. This tax applies to Amazon AdvertisingAdvertising is a means of communication … More services as well. Sellers can enter their GST ID through Settings > Account Info > Tax Information > VAT Information.
Upcoming Small Business Academy Webinars
Amazon is putting together a series of free webinars for US-based sellers happening in June. Sellers can register on the Small Business Academy page to access tutorials on how to publish their e-books, use the Seller CentralAmazon Seller Central is a portal or a h… More dashboard, sell services on Amazon, and more.
New Amazon Custom Features
It's now possible for sellers who signed up to Amazon Custom to give buyers even more options to personalize their products. And sellers can also preview the customer's experience before launching the listing. New features available on the Manage Inventory page make it easy for buyers to:
Select from 100+ fonts or up to 20 extra fonts uploaded by the seller.
Personalize up to 5 surfaces, each with tens of individual customization selections.
Upload their own images anywhere on the product, depending on the seller's settings.
Create text in different colors and wrap or stack it based on the seller's pre-set limits.
Use special characters and emojis, if made available by the seller.
Use select customization options in exchange for a fee.
Get the Latest Amazon News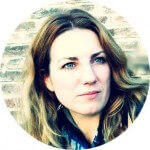 Melanie takes an active interest in all things Amazon. She keeps an eye on the latest developments and keeps Amazon sellers up to speed.