Back in May, the Wall Street Journal reported that Prime DayPrime Day was initially a one-day sales … More 2020 is being postponed until fall. And several sources say that it's been penciled in for early September. So, it could coincide with last-minute back-to-school shopping sprees. All the more reason for sellers to start prepping.
What is Amazon Prime Day?
In 2015, Amazon celebrated its 20th birthday on a Monday with a sales event called Prime Day. It was met with mixed reactions. But it's grown in popularity ever since, dragging on for 2 days. And Amazon Prime Day 2020 is bound to be off the charts too, despite the health crisis.
What Does Prime Day Mean for Amazon Sellers?
Essentially, Prime Day is a recruitment event. In the days leading up to it, more people sign up for the Amazon Prime service than at any other time of the year.
Why?
Because only Prime members have access to Lightning Deals and other time-limited offers on Prime Day.
Of course, access isn't everything on Amazon. But budgets are pivotal. And a Prime member's yearly budget is more than twice that of a regular Amazon buyer. Or at least that's what Statista claims.
So, for sellers, Prime Day means access to a customer base with deeper pockets.
And it's a massive customer base. Last year, there were over 150 million Prime members.
Roughly 75% of them were U.S.-based.
That's 1 in 3 Americans! And the figures probably ballooned this year due to the pandemic.
Still, it's worth remembering the 3 key stats below.
What it Means for Buyers
Amazon Prime Day is like an exclusive playground for bargain hunters. Prime members get first dibs on Goldbox Deals and Prime Early Access Deals.
Here are some of the perks of being a member of this massive club on Prime Day 2020, based on a recent seller announcement:
Gold Box Deals
Deal of the Day offers are available for one day only (while stocks last). On Amazon Prime DayPrime Day was initially a one-day sales … More 2020, these deals will be available to non-Prime users too.
They're displayed at the top of the Gold Box page. They're also called Spotlight Deals, and they're basically regular Lightning Deals that Amazon upgrades for free.
To qualify for the spotlight on Prime Day 2020, the item must be sold new.
As a minimum, it should also have a 4-star rating, 5 reviews, a 30% discount, and the best price of the year to date.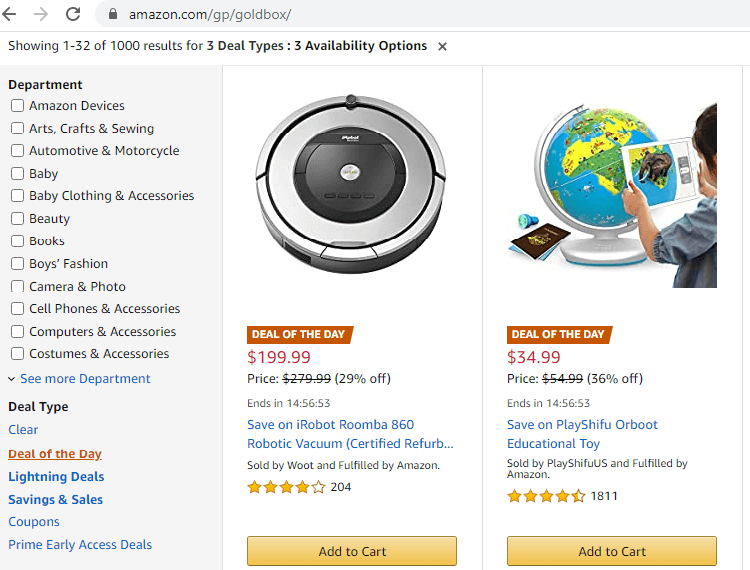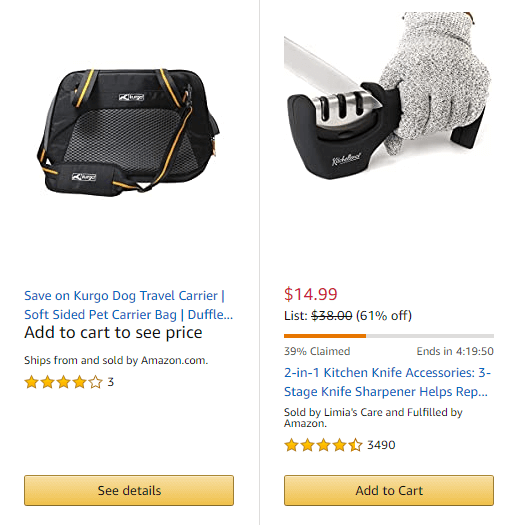 Lightning Deals last a few hours only.
Discounts usually range from 10% to 50%.
On Prime DayPrime Day was initially a one-day sales … More 2020, these deals will only be available to Prime members.
They come with a limited number of discount offers.
Once buyers claim all the offers, the deal is replaced with another one that meets the requirements.
Prime Targeted Coupons (a.k.a. Vouchers) will only be available to subscribers on Amazon Prime Day 2020. They'll be featured on the Coupons page too.
But buyers won't be able to see the offers unless sellers select Prime members as the target customer for the campaignSellers and vendors have a variety of ad… More.
Luckily, sellers have up until Prime DayPrime Day was initially a one-day sales … More 2020 to create these offers.
Any item that's meant to be sold with a coupon on Prime Day 2020 needs to be eligible for Prime. And it should also have at least a 3-star rating and a 20% discount.
With coupons, the discounts don't apply automatically. Buyers must 'clip' them (i.e. check the box) during checkout.
Note: buyers often clip them when they compare similar items in their basket.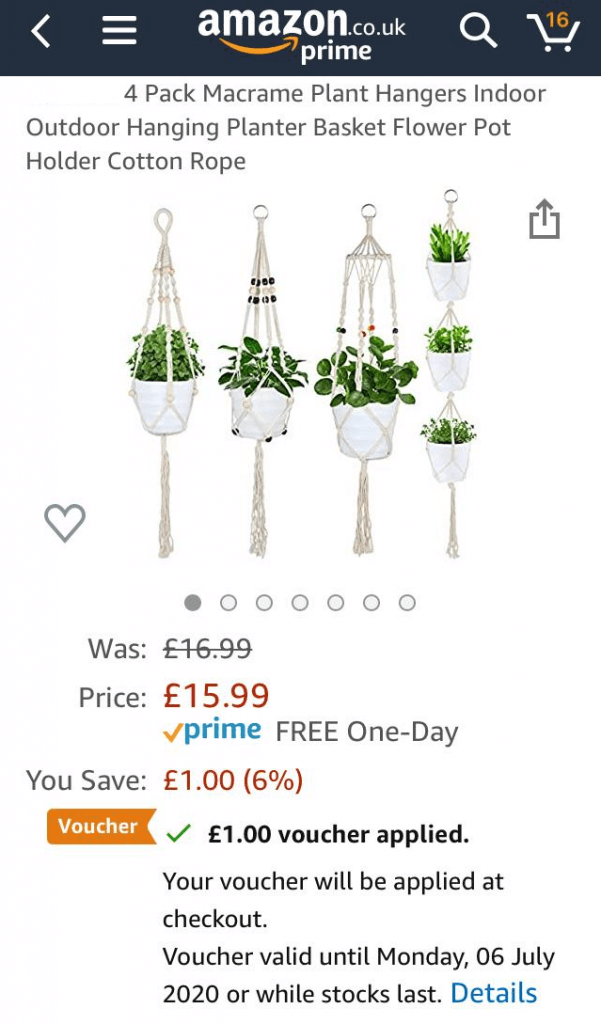 Savings and Sales are ongoing offers. They can apply to a whole range or only specific items from a trusted brand.
These offers are not exclusive to Prime members. The discounts usually range from 10% to 40%.
They're featured on the Savings and Sales page. It's not to be confused with Amazon UK's Business Sales & Savings page (the Business Gold Box).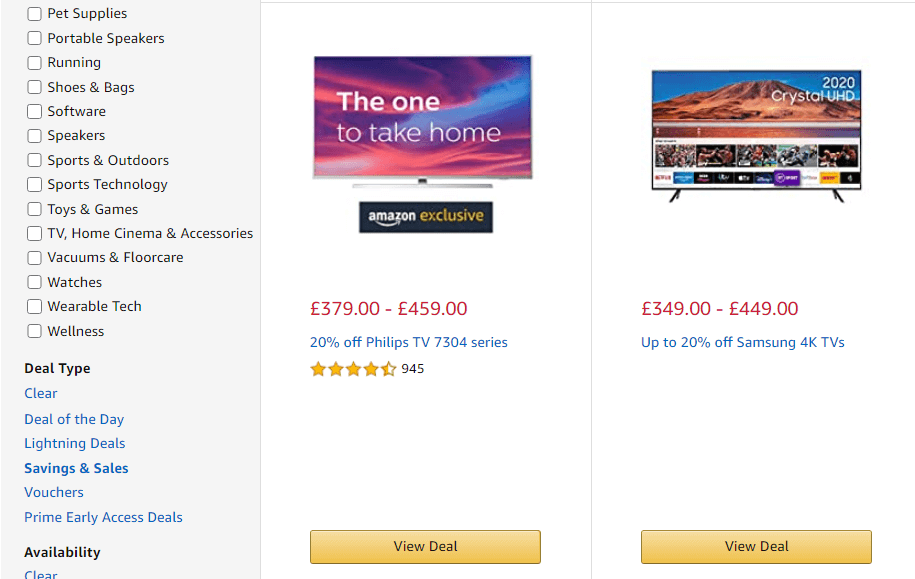 Prime Early Access Deals
These are also deals featured on the Gold Box page. But Prime members get a half-hour head start. Prime members who use the Amazon Assistant on their computers and the Amazon app on their mobile devices will see those offers pop up 30 minutes before they officially go live.
This is all possible thanks to watchlists and waitlists.
Amazon US doesn't currently have any featured offers. But Amazon UK's Watching page has plenty. It also tells buyers how to get early access to deals with the 'Watch this Deal' feature and push notifications.

Other Amazon Deals
Whereas the deals above will help third-party sellers boost their sales on Amazon Prime DayPrime Day was initially a one-day sales … More 2020, there are a few others that may hinder them.
Alexa Deals, Digital Deals, and Treasure Truck deals, for instance, can make a dent on a buyer's Prime Day budget. And then there's also:
Subscribe & Save are offers available to buyers who commit to paying for regular shipments of a product.
Only FBA sellers can enroll in this program. They also tend to be brand owners. Non-FBA competitors should take this discounted price into account.
Warehouse Deals are and have always been fulfilled by Amazon. These open-box products are a real bargain. But luckily for private labelThis is what you call products manufactu… More sellers, they're usually only available in limited quantities.
Outlet Deals are cheap as it is. On this page, discounts are usually close to 50%.
But for Prime Day 2020, these overstock items could sell for even less. Since these are mostly FBA items, Prime members won't have to worry about shipping costs either.
Woot! Deals will be available to all Amazon users on Prime Day 2020. But Prime members get free domestic shipping. And we'd expect there to be plenty of Woot! 'Appsclusive' deals on the day.
Refurbished Deals are few and far between. They're not much of a threat to sellers. But the Renewed page also features Renewed Coupons and Renewed Deals. Note that in the example below, the Deal of the Day is sold by Woot! and fulfilled by FBA.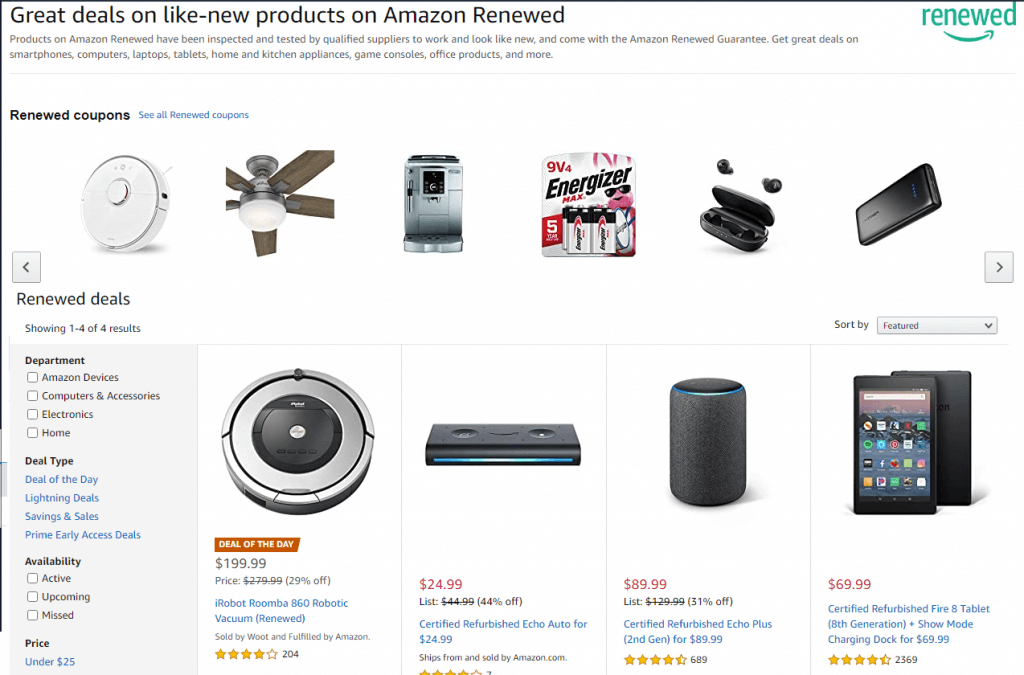 What to Expect from Prime Day 2020
Oscar Wilde once said "To expect the unexpected shows a thoroughly modern intellect." And so far, 2020 has been full of surprises. But as we reel, regroup, and recover our wits, it's becoming clear that Prime DayPrime Day was initially a one-day sales … More 2020 will be unique.
Here's what we make of all this:
The exact date hasn't been made public yet, but it's safe to assume it's either Sep. 7 or 14.
Many sellers may not sign up for Spotlight Deals by then due to supply chain disruptions.
The overlap with back-to-school will probably make competition fiercer.
Costs are being driven up by shortages, so discounts will probably be smaller this year.
Amazon will probably rev up pre-Prime-Day suspensions over the next few weeks.
And it's not all about the marketplace. Economies are reeling too. So, governments are flirting with the idea of raising taxes for the eCommerce sector. For instance, the UK's DfT suggests a delivery charge on last-mile logistics. This could spell the end of Prime UK, Tamebay claims.
But let's not focus on the challenges of Amazon Prime Day 2020. Let's instead hope that this shake-up will make Prime Day 2020 a rare success story. If and when Amazon decides to hold the event, that is.
So, if you're still wondering "When is Amazon Prime Day 2020?", be sure to join us next week. We'll share 7 seller tips for Amazon Prime Day 2020. And if Amazon makes it official, we'll share the final date with you as well.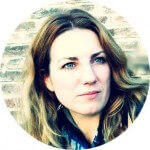 Melanie takes an active interest in all things Amazon. She keeps an eye on the latest developments and keeps Amazon sellers up to speed.