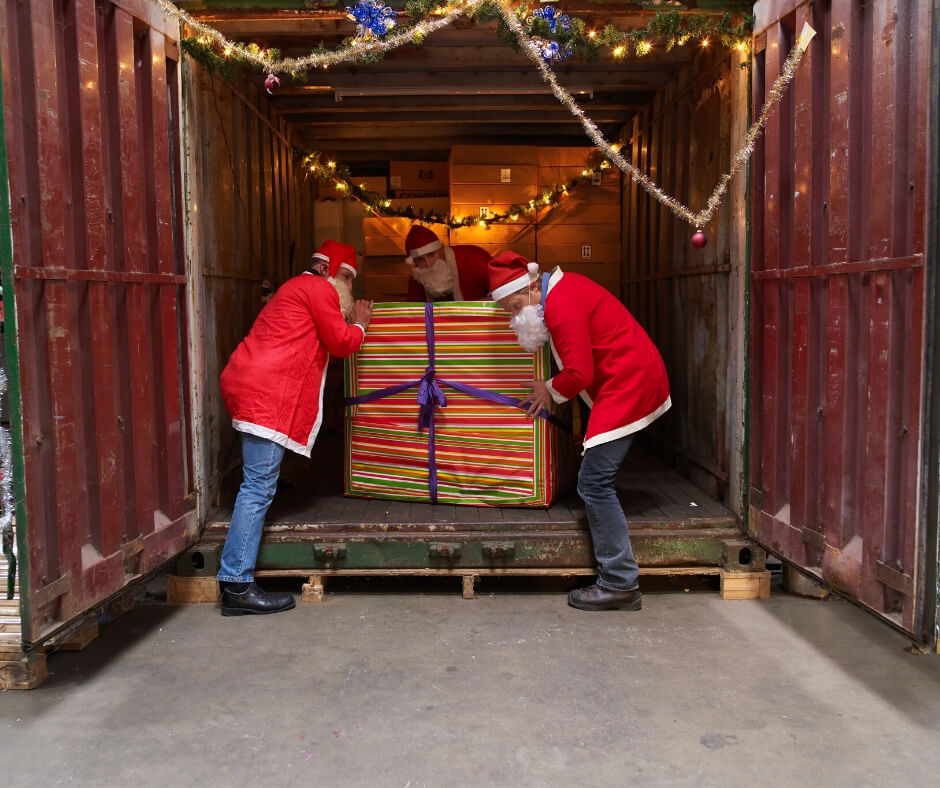 We're all looking forward to an uptick in sales and massive profits this holiday season. But is your FBA inventory ready for record-breaking sales? Here are 7 of our 2019 Amazon Holidays
tips to get the most out of your FBA products in Q4.
Sellers are gearing up for the 2019 Amazon Holidays with warehouse prep work in full swing and gift wrapping elves lining up to take on the extra workload. But FBA inventory is just as important.
If you've already skimmed through the Inventory Basics page and you need more tips on FBA products, we give you 7 to choose from:
1. Stock like you mean it
Amazon thoughtfully launched the 2019 Holiday Guide. It doesn't compensate for the hefty storage fees sellers pay in Q4, but it does help visualize their goals. One of these is timely FBA inbounds. This year's FBA inbound cut-off dates are as follows:
As shown above, the cut-off date for Xmas inventory is Dec. 3. That's right after BFCM. In other words, there's no time to replenish FBA stock for Christmas if you sell out on Cyber Monday. So, the real deadline is Black Friday Weekend. That's only a month away.
Most sellers aim to have about 4 times as many units per SKU this holiday season than they normally stock. But bear in mind that you only have 3.5 weeks (from Black Friday to Christmas Eve) to sell your FBA inventory this year.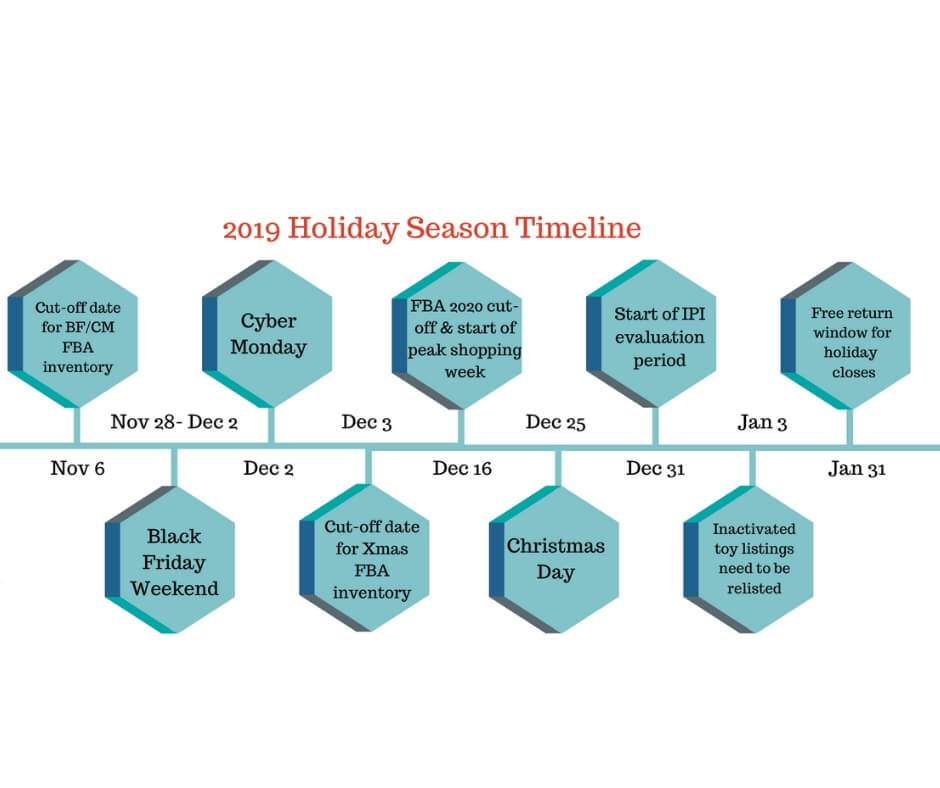 Selling toys in Q4 is a different kettle of fish. If Amazon notified you that you don't meet MFN toy requirements due to low IPI score, switch to FBA. To sell on BFCM, make sure the shipment arrives by Nov. 6. To avoid having to reactivate MFN listings on Jan. 3, sell out before Christmas.
2. Budget for Bids
Holiday season campaigns have been pushed all the way up to September. However, sellers sometimes don't budget for longer campaigns. They overdo it with the Bid+ button, and run out of funds too early.
So, try to lower your ACoS by focusing on FBA products with top-of-mind potential. Optimize top-performing keywords before you start bidding. And spread out your campaigns all the way to Christmas Day.
3. Scout for New Ads
With clever campaigns, you can expect your conversion rates to double during the holiday season. But what holiday shoppers type in when they look up products on Amazon can be very different from what buyers usually search for. So, use a good keyword scouting tool to find long-tail keywords for your FBA products. Make sure scouting results are fresh and relevant.
4. Push Those Deals
Promotions and BOGOF deals are the norm in November. But you can also use promotional sites to get the word out. If you're planning to market your deals on Amazon, bear in mind that the US version of Amazon Giveaways has been disabled. However, the UK version is still live.
You can also have your products featured on the Bargain Finds page and Amazon Outlet. But your eligibility for Lightning Deals and Deal of the Day may be affected. Make sure you don't waste money promoting products also listed by Amazon Warehouse Deals, Renewed, and Woot!
5. Embrace the Software
Keep track of your shipments, sales, and payment balances. Manage your Sponsored Products campaigns with the Amazon Seller App. Low inventory alerts will single out products likely to sell. This gives you time to replenish stock by Dec. 3, the cut-off date for Xmas inventory.
Use this app in tandem with Sellery. Whenever you receive a price alert on the Seller app, go straight to Sellery for real-time price tweaks. You can use it to experiment with other sales channels too, now that you're free to set your prices higher than on other websites.
6. Prepare for Theft and Loss
Return rates are high over the holidays. But so are non-delivery claims too. Even tracked services are vulnerable to theft. To minimize the risk, consider selling items that fit through mail slots. Check FBA packaging and prep requirements before discarding excess packaging.
If your FBA products are expensive, it's worth reading up on FBA Lost and Damaged Inventory Reimbursement Policy (sign in required). To get the gist of it, click on the FBA Customer Returns and Refund Requests infographic. A section of it is shown below.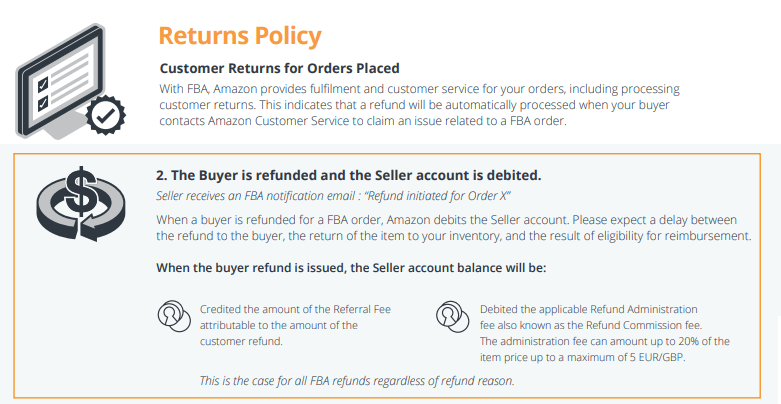 It says you're charged a Refund Administration fee of 20% of the item price. However, if customers damage your products, you need to dispose of them. Note that they have until the end of January to return items.
Also consider overage fees if your first IPI evaluation results were low. To avoid paying them in Q1 2020, raise your IPI score by Dec. 23. Otherwise, you will need to pay to have your inventory removed from fulfillment centers.
7. Speed Up Orders for Q1
The 2020 Chinese New Year falls on Jan. 25. If your suppliers are from China, your R&D, orders, and deposits for Q1 inventory should be ready before this 2-3 week hiatus. After all, a Spring Festival this early is bound to put pressure on ports, as Port Technology warns.
That's about it from us today, but don't hesitate to get in touch with our own friendly elves at SellerEngine if you'd like more help handling your FBA Inventory. And as the 2019 Amazon Holidays draw closer, please feel free to explore the ways Sellery can help you sell more FBA products with a free 2-week trial.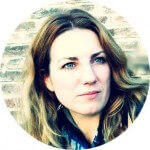 Melanie takes an active interest in all things Amazon. She keeps an eye on the latest developments and keeps Amazon sellers up to speed.