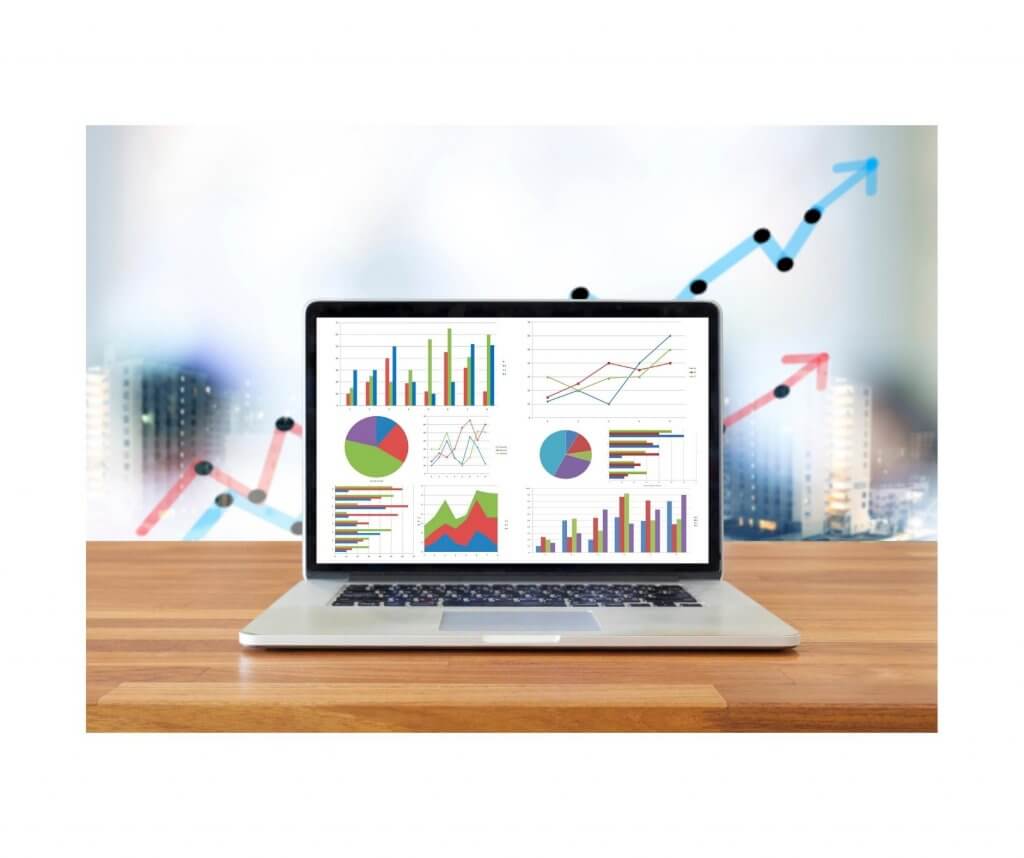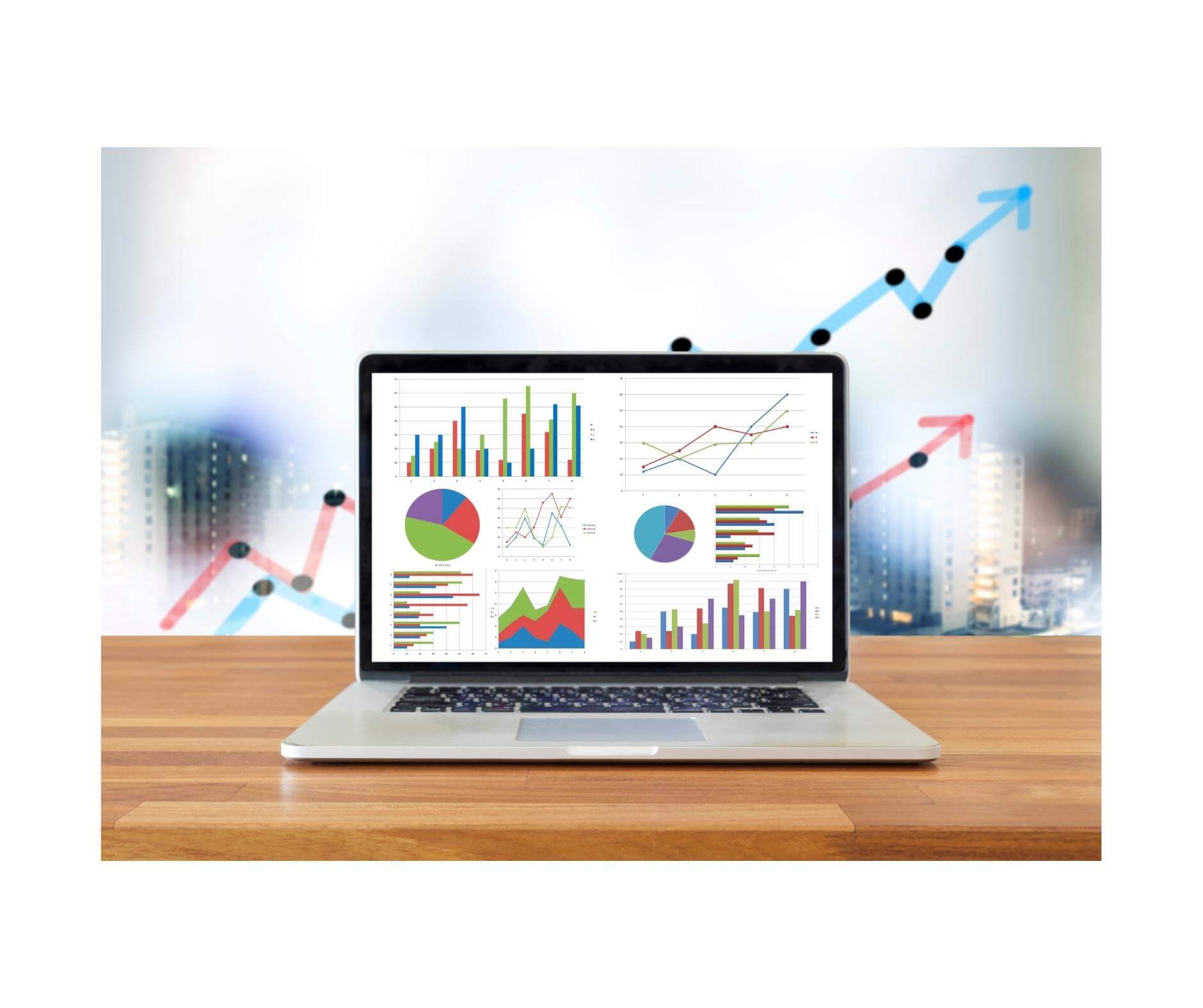 Today we'll be sharing with our readers 10 of the most important Amazon statistics for Amazon sellers trying to grow their business on Amazon. We'll point out the hidden opportunities that spark our ot these Amazon statistics. 
Amazon statistics matter. But only if they're accurate, relevant, and well-explained.
Of all the stats that come our way, we selected 10 that are bound to inspire your next business venture.
Give us a minute of your time, and we'll give you the figures.
Last year, MarketPulse reported that there were 6 million third-party sellers on Amazon.
But figures as high as 9.7 million have been flying around.
Whatever the true number, it's clear that most sellers operate in North America.
Amazon India is the fastest growing major market, set to overtake Europe's 7 venues in a matter of years.
Of the newer venues, Singapore, UAE, and Saudi Arabia are the ones with the highest projected growth.
But take these stats with a grain of salt.
For one thing, only 1 in every 6 seller accounts were active. That's because a seller's chances of staying in business decrease with time.
Then there's also the fact that even active accounts may not be very 'active'.
On Amazon, sales dynamics follow the 'Marketplaces Power Law', whereby 20% of sellers generate 80% of the sales.
According to Statista, 1.3 million sellers joined Amazon in 2020.
Of these, a quarter signed up for accounts on Amazon US and India.
The proportion of new sign-ups on European venues and amazon.ca was between 7% and 8.5% each.
Mexico, Sweden, and Japan had 15.5% of new sign-ups between the three of them, while the UAE accounted for 1.6%.
The 7 remaining marketplaces scored less than a percentage point each. That's Singapore, Australia, Brazil, China, Saudi Arabia, Poland, and Turkey.
More sign-ups means more competition, especially since new accounts tend to be active accounts.
So, sellers who feel that they maxed out on their local venue could find new horizons on these unsaturated markets.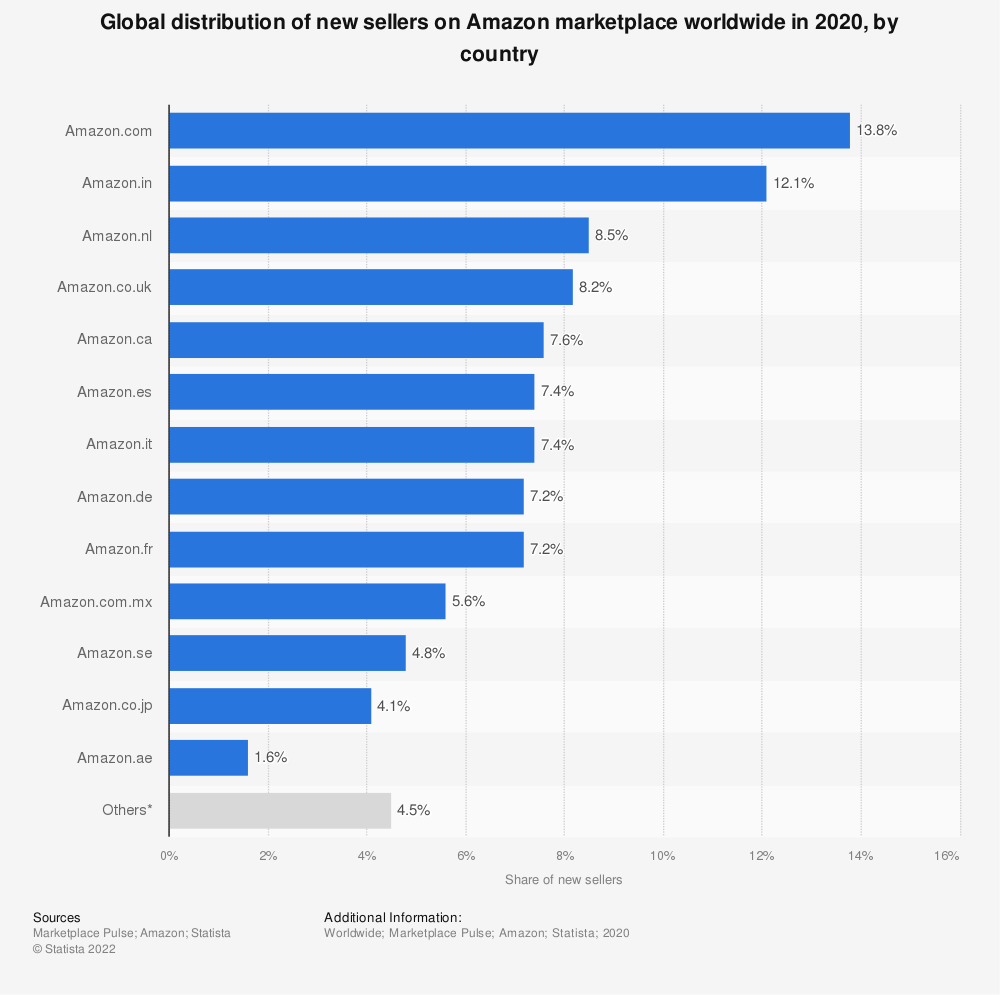 Since we're on the topic of marketplaces with potential, it may surprise you to learn that the world's top seller, MEDIMOPS, operates on the German marketplace.
Judging by customer feedback, Webretailer places a seller from Amazon India in second place, followed by one from the UK, namely musicMagpie.
However, when taking the total number of top 1,000 sellers on a marketplace, the list of top 3 venues has been the same for years.
It's the USA first, the UK second, and Germany third.
Note that Sweden hasn't made the list yet, even though it launched in 2020.
Also note that Turkey, UAE, Singapore, the Netherlands and Saudi Arabia had 0 top sellers at the time.
Mexico, Brazil, and Australia's numbers were in the single digits.
Yet another incentive for sellers to explore the possibility of expanding to one of these less competitive markets.
Another Statista report claims that 57% of all paid units sold on Amazon in Q2 2022 came from 3PThird-party sellers are independent indi… More sellers.
Surprisingly, it also states that Black Friday is the most successful sales event for sellers, followed by Prime DayPrime Day was initially a one-day sales … More and the Summer Sale.
Note that winter sales didn't even make the synopsis.
This suggests that 3P sellers have even greater opportunities at the start of Q4 this year, provided they have the right pricing strategy and fulfillment (i.e. FBA or SFP).
After all, most Amazon sellers use FBA or SFP fulfillment.
This boosts their chances of winning the Buy BoxThis refers to the situation where a sel… More and automatically qualifies their listings for Prime.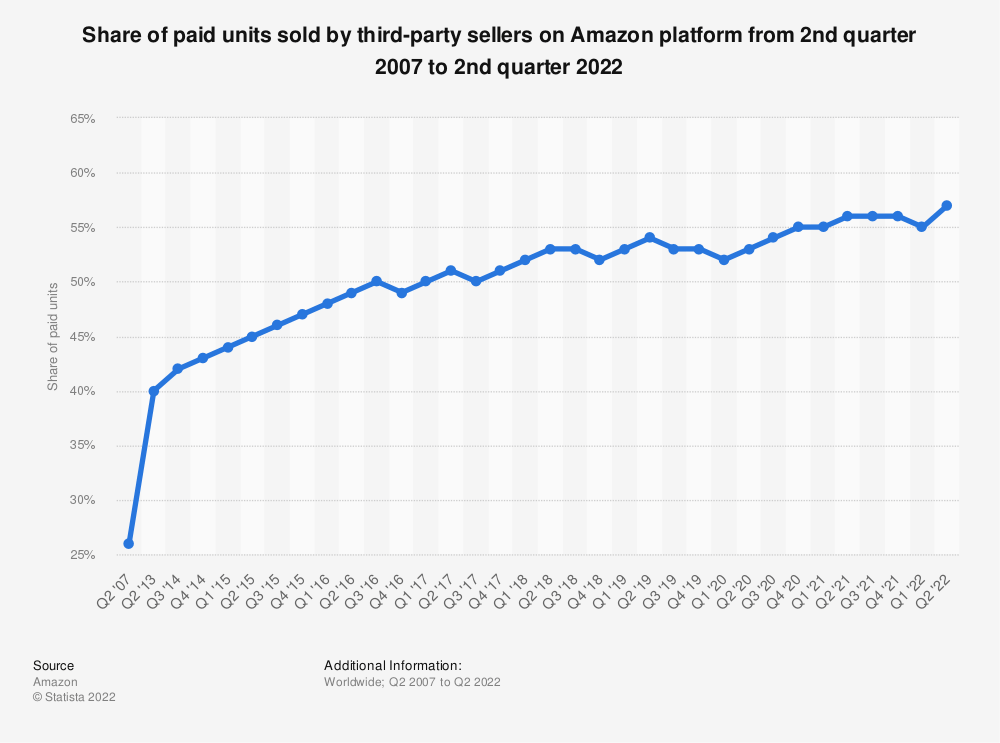 Speaking of Prime members, earthweb claims there were over 200 million of them last year.
It would be hard to argue with this claim since Jeff Bezos himself first made it in his 2020 Annual Report.
Crucially, 9 out of 10 Prime members subscribe for the free shipping option.
3 out of every 4 are in the USA, and 8 out of 10 of them are under 35 years of age.
However, bear in mind that Amazon is raising membership rates from Sept. 15, 2022 by as much as 43% on some of its venues, as Reuters explains.
This may briefly boost membership figures in Q3.
But they're likely to taper down in Q4.
So, FBA and SFP sellers will need to fight even harder for buyers' bucks as they tighten their purse strings.
This signals a shift in priorities and a possible move away from competing so much with 3PThird-party sellers are independent indi… More sellers online.
With over 700,000 registered brands and more sellers using a hybrid (1P and 3P) model than ever, as Consulterce reports, it's no wonder Amazon might be looking for new horizons too.
If so, it could mean new opportunities for merchants.
   7. Top Product Categories
If your goal is to make the most profit possible, JungleScout can point you to categories like Handmade, Apps & Games, CD & Vinyl, Industrial & Scientific, and Luggage & Travel Gear.
If you're interested in sales turnover, you may want to consider Computers, Musical Instruments, and Industrial & Scientific gear.
For sellers with little to no prior experience on Amazon, some of the best categories are Toys & Games, Books, and Appliances.
As a Private LabelThis is what you call products manufactu… More owner, you may find many like-minded sellers in categories like Handmade and Home & Kitchen.
For arbitrage, games are quite a popular product category.
Categories like Electronics, Computers, and Collectibles & Fine Arts are popular with drop-shippers.
Likewise, wholesalers tend to opt for groceries and musical instruments.
But as JungleScout points out, sellers should avoid the most popular categories and look for a low-competition niche instead.
Through the years, Amazon has made massive improvements to its mobile app, with Lightning Deals popping up on phones and push notifications regularly pointing buyers to discounted items in their shopping carts.
Also, the website itself is more mobile-friendly, so there's no need for browser extensions and browsing through pages.
It's a long-held belief that most buyers start their browsing on their mobile devices, but check out on their desktops.
But events like Black Friday can skew the figures in favor of mobile shopping, as Drip will show.
Sellers can anticipate this shift with more Sponsored Product and Sponsored Display ads, as well as Sponsored video ads.
As a recent Statista report points out, 3PThird-party sellers are independent indi… More seller services have grown too.
In Q2 2022, there was a 13% rise in their value, as compared to the same period last year.
These figures include referral commissions, fulfillment fees, and shipping fees, as well as any charges for VAT services and products that no longer benefit from FBA New Selection rebates.
Over the coming days, sellers should be prepared for rising fees, given the current economic climate.
It seems that 80% of Amazon sellers also do business on other platforms, BigCommerce reports.
This squares with our own impression, and it's certainly something we've been recommending to sellers for years. Especially since the price parity rule was scrapped.
That's 10 of the most important Amazon statistics of our time, in our view.
They paint a picture of great potential for sellers from across the world, whatever their budget or level of experience.
For more ideas on how to grow your business on Amazon, please follow our blog.
Also, don't forget to get in touch if our seller services and software tools speak to your needs.
Don't miss the chance to get fresh Amazon News and Amazon expert insight articles right when we post them directly in your inbox.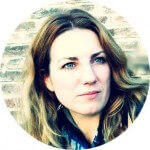 Melanie takes an active interest in all things Amazon. She keeps an eye on the latest developments and keeps Amazon sellers up to speed.