For weeks now the Seller Forums have been swamped with reports that there's a Buy BoxThis refers to the situation where a sel… More glitch. Countless sellers claimed to have written to Amazon that they lost the Buy Box, only to receive boilerplate messages. Some were even told in error that they're no longer eligible for the Buy Box.
Luckily, the issue seems to have been fixed. Whether it's because sellers escalated to Captive Team Leaders, we simply don't know. And the fact that it was solved 3 weeks later is of little consolation to merchants who have seen their Amazon sales plummet this month.
The Buy Box Glitch Explained
But that's not all they saw. Thanks to some very detailed contributions on the forums, we know that several issues occurred on July 1, 2020 or soon after. It seems that they didn't affect every seller and every brand, but these were widespread issues nonetheless:
Sessions and page view data didn't update (0 sessions shown in business reports).
The 'Buy Box Wins' widget showed dashes instead of percentages (as shown below).
The Buy Box eligibility rating ('Featured Offer % below') stopped updating daily.
The Featured Offers percentage graph in the Pricing Health dashboard flatlined.
Buy Boxes were being awarded arbitrarily, without rotation.
FBA and FBM sellers lost the Buy Box, even if they were manufacturers with no competitors.
Listings appeared to be suppressed, with no price displayed (as with price gougers).
Sellers were unable to add their non-Buy-Box offers to the cart for checkout.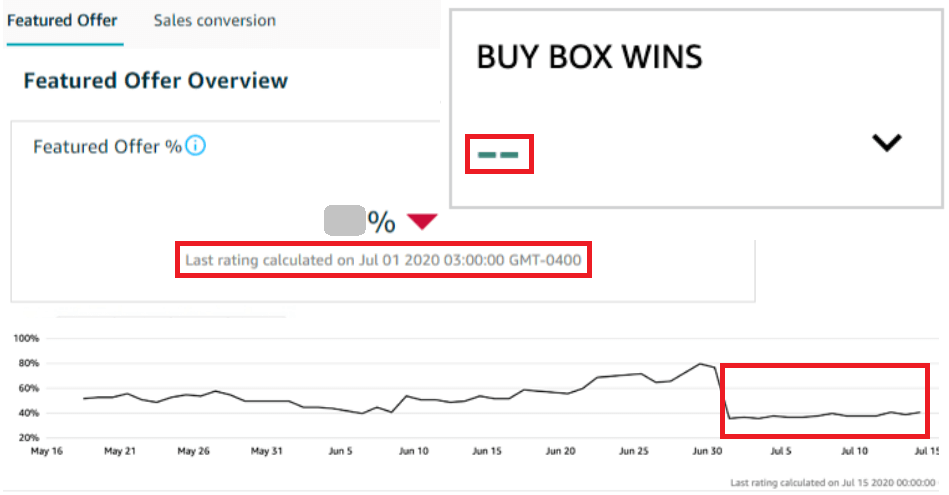 Some sellers also reported that the Buy BoxThis refers to the situation where a sel… More seemed to work on a 'Preferred Seller' model since July 1.
In other words, one seller had the Buy Box throughout, and rotation only resumed when they ran out of stock.
This looks like a throwback to the algorithm update of September 1, 2015.
But unlike 5 years ago, the Buy Box didn't appear to be locked-in on megasellers. Even seasoned Amazon sellers reported losing the Buy Box to newcomers with poor ratings and low inventory levels.
And it's not just the Buy Box glitch that puzzled sellers, either.
Some got to keep the Buy Box. But the 'Buy Another Way' offer just below the Buy Box would feature offers with higher prices and slower shipping.
In fact, sometimes Amazon seemed to promote a competitor simply because they had a higher feedback count, as the Smartest Amazon Seller explains:
As for FBA sellers, they've reported a backlog of inbound shipments dating back to the start of the month.
This prompted some sellers to infer that Amazon might be trying to reduce warehouse footprint.
Others concluded that it's trying to slow down sales altogether due to COVID-19.
Why Did Amazon Sales Plummet?
There's a lot of speculation about what caused some sales to take a nosedive. And sellers have tried very hard to find a common denominator for listing suppressions and Buy BoxThis refers to the situation where a sel… More bias.
Some have gone so far as to suggest that the cryptic Buy Box algorithm is changing. We believe this isn't the case.
While Amazon may be feeding new information into the algorithm constantly, it shouldn't have such a dramatic impact on sales.
To us, this looks more like a perfect storm: widget, rotation, and sweetheart deals. For one thing, the Buy Box widget is being phased out, as user TheVoIPMart pointed out.
Then there's the fact that Buy Box rotation stopped – a technical glitch.
In most cases, it stopped on the megaseller or brand owner, but sometimes the underdog won the Buy Box. Since megasellers have better chances to begin with, it makes sense that the roulette wheel would stop at these offers.
This would explain why the problem is so widespread, yet not universal. And it doesn't go against the fact that 'preferred sellers' with 100% Buy Box ownership aren't taking to the forums. Having your sales triple overnight at a time when online orders are soaring isn't as surprising as having no sales at all.
To make matters worse, sellers reported a double-whammy of interference from Amazon. Some were squeezed out of the Buy Box by Amazon.
Others had their supply chain compromised. It seems Amazon is reaching out to manufacturers and brand owners with sweetheart deals, cutting them out of the picture.
But regardless of the reason for the sales plunge, there is a bigger issue here. The algorithm is a secret. And this lack of transparency makes it a more level playing field.
So, what can you do when a Buy Box glitch like this happens?
Tackling Buy Box Glitches
Be Smart About Repricing
When Amazon sales plummet because of a glitch, one short-term solution is to lower your price by 1-2 percentage points to win the Buy Box. Then, as soon as you win it, raise the price. You won't be able to do this manually, though. You need a real-time repricer like Sellery to stay ahead.
Watch Out for MAP Rules
It's not unheard of for sellers to get caught up in price wars and break MAP rules. To address this issue, you need a repricer that will let you set your MAP yourself, but also calculate your lowest price Simply the lowest price an Amazon… More for you. That way, you never sell at a loss AND you don't risk getting suspended or losing your supplier.
Exclude Preferred Sellers
There's talk on the forums that some brands have 'Prefered Sellers'. If you don't think your competitor won the Buy Box by chance, and it looks like the brand owner's pulling strings, you might want to sit this one out until they run out of stock. With Sellery, you have two options: Seller Blacklist and Ignore.
Eyes on Stock Levels
If sellers with lower stock levels have the upper hand, then the obvious choice is to swoop in with a lower price just as they run out of stock. There's only one way this can work, though: using a real-time repricer like Sellery. Unlike with other repricers, there's no lag, so your price goes live in seconds, not minutes.
Time Your Campaigns
Paying for clicks when you don't have the Buy BoxThis refers to the situation where a sel… More will send all your buyers to the competition. So, when a glitch pops up, take some time to rethink your campaignSellers and vendors have a variety of ad… More (search terms, budget, etc.). And schedule it so that it goes live as soon as you win the Buy Box, and stays live throughout.
Amazon never ceases to amaze. If you lost the Buy Box and saw your Amazon sales plummet this month, now's the time to get behind the idea of real-time repricing. Try Sellery for free for two whole weeks, and safeguard your business from the next Buy Box glitch.
*Disclaimer: We are not endorsed by, affiliated with, or bound by sponsorship agreements with any of the sellers featured in this post. Any inferences made above are based purely on conjecture. Please carry out your own inquiry and analysis if you lost the Buy BoxThis refers to the situation where a sel… More and your sales have been affected.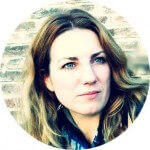 Melanie takes an active interest in all things Amazon. She keeps an eye on the latest developments and keeps Amazon sellers up to speed.