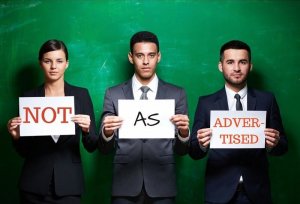 Customers have come to expect perfect products and exceptional service every time they order from Amazon.com. So, warning emails and account suspensions are the norm when buyers don't receive exactly what they ordered. But if you're at risk of losing your seller privileges for selling items that are not as advertised, we may be able to help.
Continue reading to see how to reinstate your account and redeem yourself.

In our last post, we gave you a walk-through of the typical appeal process for those who have been accused of selling inauthentic items on Amazon. We'll be moving on now to the issue of selling items that are not entirely as described, not as advertised on the product page, or different altogether.

First of all, let's see what could have caused the warning email or the suspension. Anything that makes your offer even slightly different from what the product page says will probably trigger a reaction from Amazon.
For a comprehensive overview of all the flaws and discrepancies.
1. Start by looking at:
the ASIN and UPC codes, to see if they match what you stock, what the customer received, and/or what the customer returned;
the product page, to see if the picture, title, subtitle, publisher/manufacturer, color, and format matches, among others;
bullet points, so that you know if it should have come in a gift box, with a warranty, with a supplement, if it's missing some features or if it doesn't perform as it should;
product details and specifications, looking for weight, dimensions, model number, compatibility, etc.;
the product description, to see what the manufacturer has to say;
product reviews, to learn about functionality, specific components, or ease of use, for instance.
2. Check sales history for that item. Find the pattern, if there is one. Do the customers return it for similar reasons?
3. Then check your inventory for other units. If you've had trouble with this item before, consider withdrawing your listing for it.
4. If the item in question is part of your FBA inventory, open a case with Amazon, so that they check the rest of the inventory for you.
5. If it's part of your commingled inventory, you may prefer to have the item returned to you, rather than disposed of. Occasionally, you may find proof that the problematic item was not part of your stock, such as labels or shrinkwrap that don't match your own.

There may be a few things you could try to avoid triggering another email or account suspension:
Don't sell anything using a listing that doesn't match the product;
Create new listings for anything that isn't a 100% match to what's already been listed*;
If there's a recurrent issue, with customers asking the same question, mention the answer in your item notes;
Provide clear return and refund information, with leaflets bearing your logo in every package;
Review your Return Report regularly to see how many items were 'not as described';
Optimize quality control, from sourcing to shipping, and avoid drop-shipping or having your suppliers delivering your products to the Amazon warehouse before you've had a chance to check them yourself;
Notify your supplier that the items don't meet customers' expectations;
If you don't use FTP data feeds to purchase your products, see if your supplier can reject orders for troublesome items automatically, or double-check with you before shipping;
Consider assigning blacklisters to spot items with recurrent issues, and to exclude these products from your listings and purchase orders.
If you're worried about selling these newly-listed items without sales ranks or reviews, consider using Amazon Promotions/ Amazon Sponsored productsPay-Per-Click (PPC) ad platform for Amaz... More to boost sales.

Not only will Amazon want to see that you've looked into the issue and dealt with it, but also that you've come up with a promising plan to avoid it in the future. So, after going through points A and B above, you may want to give Amazon some reassurance that you've purged your inventory in the meantime. Then, prepare a plan of action that focuses on targets like:
running regular inventory checks;
improving listing practices and tightening rules;
assigning staff responsible for double-checking listings;
opting out of having commingled inventory, and choosing to label your inventory instead;
setting up a program whereby the most problematic items are donated, to show there's no risk of relisting;
designing and printing leaflets to go inside every package, with clear return and refund information;
opting for internal quality control procedures, rather than having your products drop-shipped;
reaching an agreement with your supplier concerning these products, limiting the risk of sending them to buyers;
assigning more quality control staff, and preferably a blacklister;
drafting clear policies for those in charge of listing and blacklisting, outlining Amazon's listing standards;
changing supplier or drop-shipper.
Finally, when you muster up the courage to write to Amazon, try to adapt these generic solutions we recommended above to your specific business model. Also, the more progress you make on each one of your targets before you write your letter of appeal, the better. That said, try not to put off writing to Amazon for too long.
Our next post will discuss why appeals get denied so please stay tuned if you'd like to follow our advice on the matter.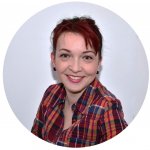 Irina H. is our International Business Development Specialist and our company do-all, whose motto is 'Never give up, never give in, and always give it your best'.